Market set at palace adds aristocratic touch to Christmas fun
by
Peter Jaeger
November 24, 2005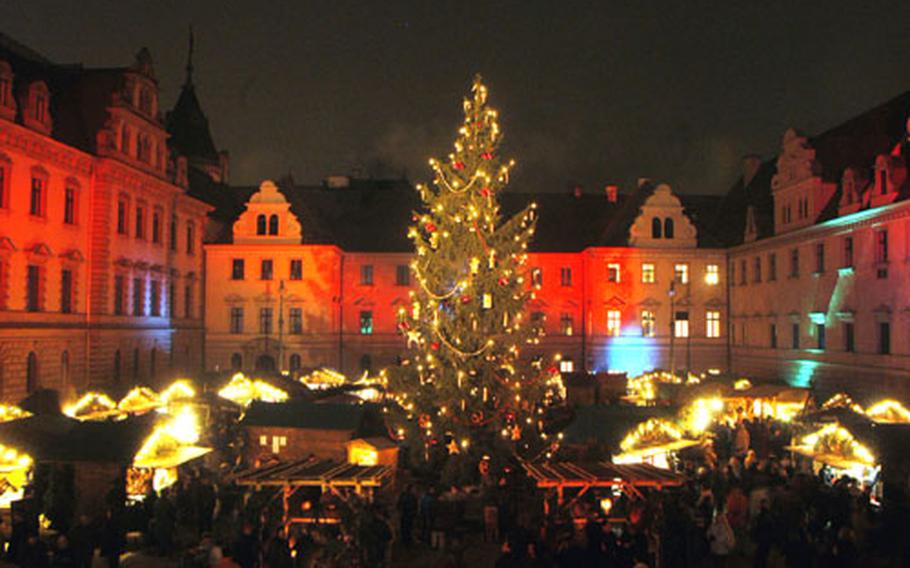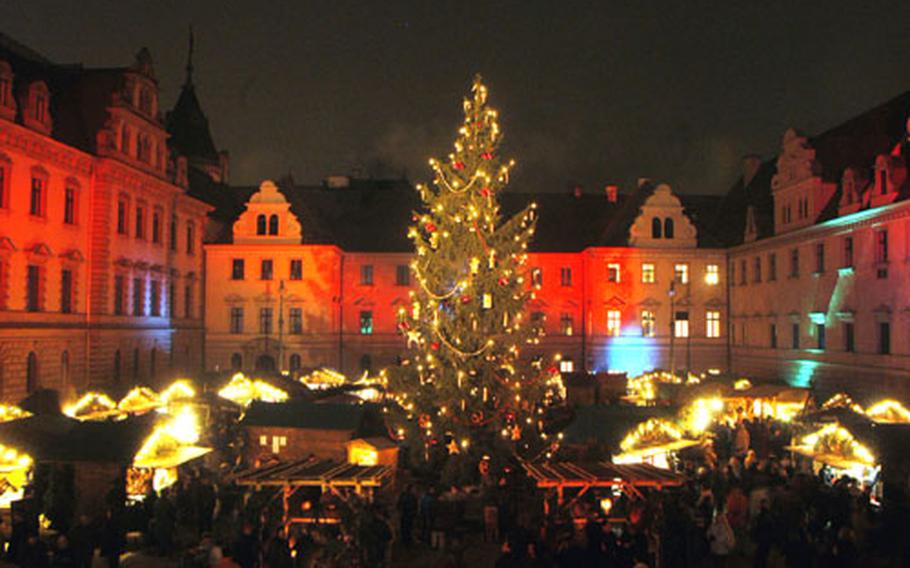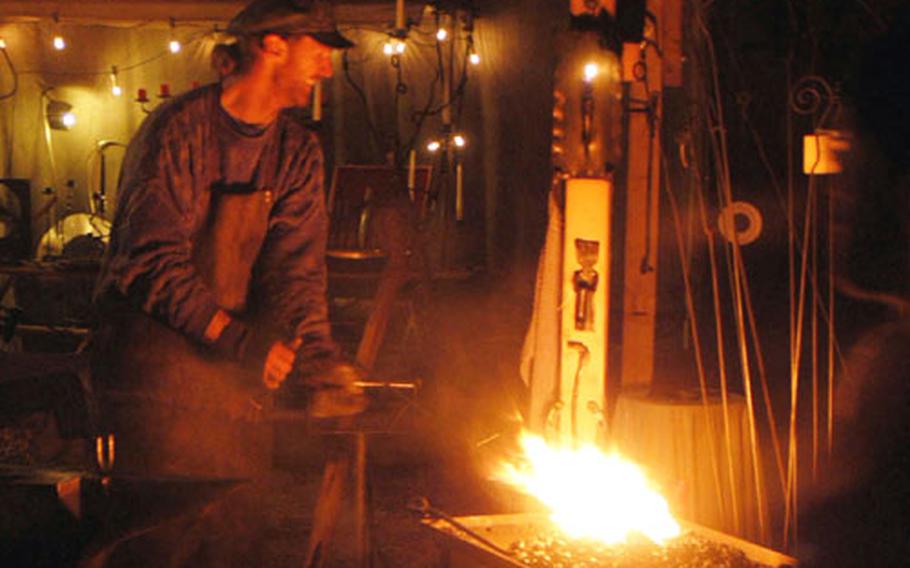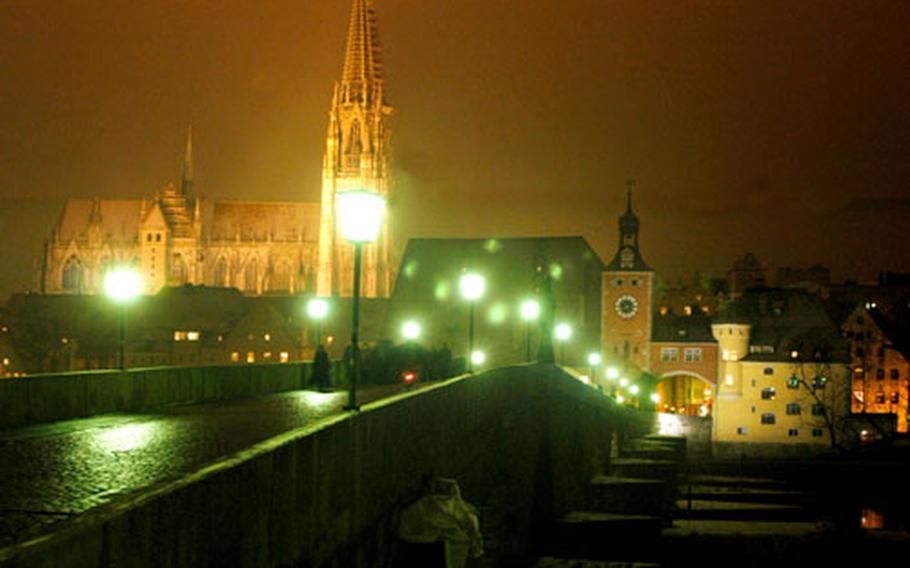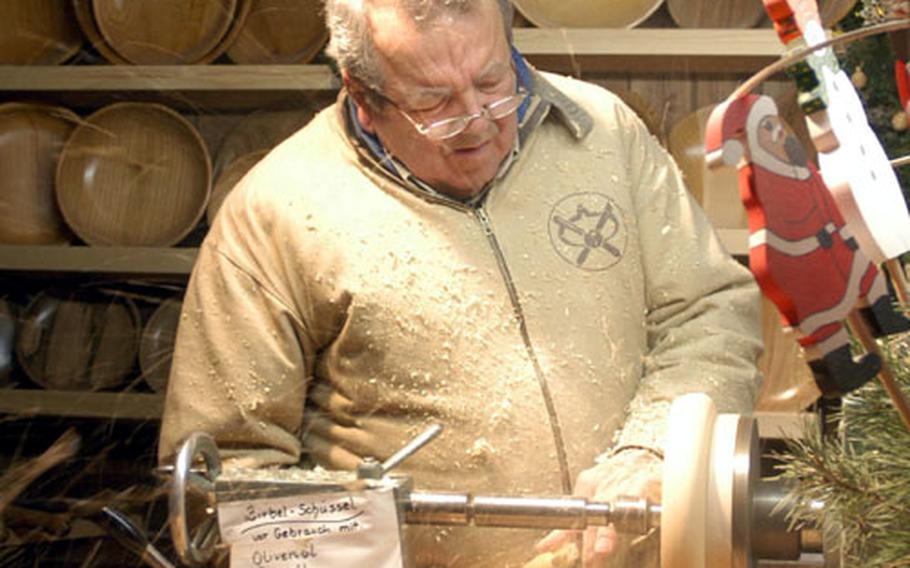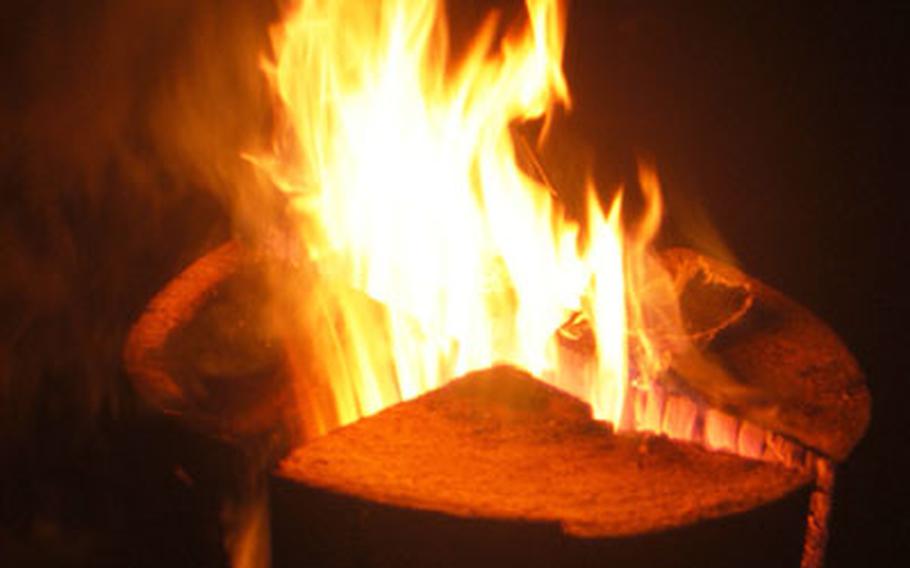 Let's face it. If you have seen one Christmas market you have seen 'em all.
The attractions are virtually the same at the hundreds of markets throughout Germany: Santas and angels, ornaments and decorated trees, candles and glass globes, Christmas carols and festive brass music, the smell of Glühwein and Lebkuchen. And the big eyes of the children.
What makes many of Germany's Christmas markets unusual is their location. Set in the center of centuries-old towns, the scenery fills the markets with the atmosphere of old Europe.
Take Regensburg, for instance. The medieval town on the Danube River was not damaged during World War II. It is one of the most beautiful old towns of Europe and worth a trip in itself. But during the holiday season, it is even better.
Regensburg has three local Christmas markets. One stands out above the others with an aristocratic touch. Located inside a courtyard of the city's castle, which includes the former Abbey of St. Emmeram and is sometimes called the St. Emmeram Palace, the market is called the Romantic Christmas Market in the Palace of the Dukes of Thurn and Taxis.
It is not only a traditional Christmas market with craftsmen, but also a visual spectacle with open fires, torches and colorfully lit walls and parks. The market is so popular with locals and visitors from all over Germany that Countess Gloria can charge an entrance fee. But it's worth every cent.
You enter the Christmas market via a walkway of flaming torches and illuminated trees through one of the royal parks. Sweden torches light the actual entrance gate to the palace (it's bigger than London's Buckingham Palace) and its inner court. A fascinating Baltic invention, a Sweden torch is made of a dry, thick pine trunk with a cross cut through its length by a chain saw and set aflame. Because of the oxygen that feeds the flame from four sides, the trunk burns like a torch.
When you reach the actual market, you encounter a Christmas wonderland of open fires and decorated wooden huts. A huge, colorful Christmas tree dominates the scene. The Baroque walls of the palace are bathed in different colors. The aromas of Glühwein, punch and baked almonds and delicious Regensburger bratwursts waft through the air.
All items for sale are high-quality handicrafts. A blacksmith transforms iron bars into ornaments, a woodworker turns out bowls, a hatmaker creates loden headgear, a butcher bakes wild boar sausages and other delicacies from the duchess' forests. Castle Ghost, a special schnapps created just for the Christmas market, is sold.
From a balcony above, "angels" sing, trumpets and hunting horns play and the Christkindel and Santa greet children.
And if you are lucky, Countess Gloria will appear on the balcony with a wave and an aristocratic smile — probably because of all the euros she is making at the very moment.
A local newspaper called the market something "out of an old children's book" because it is so much like something you'd imagine from the past. The only difference is: In this case, it is real.
Know and go ...¶ What: Regensburg is on the Danube River, about 60 miles southeast of Nuernberg and about 80 miles northeast of Munich. The palace, which includes the former Abbey of St. Emmeram, is in the south of the old city and can be reached by foot, because all distances in Regensburg's medieval heart are within easy walking distance. Parking is available only outside the city center or in parking garages.
Regensburg's other Christmas markets are on Neupfarrplatz and on Haidplatz and Kohlenmarkt.
¶ When: The Romantic Christmas Market at the palace is open through Dec. 23. The market's first day, Thursday, opens at 5 p.m. Otherwise, opening hours are noon to 10 p.m. Monday through Wednesday, noon to 11 p.m. Thursday through Saturday, and 10 a.m. to 10 p.m. Sundays.
¶ Entrance fee: 2 euros from noon to 4 p.m. and after 9 p.m. Monday through Friday, 3.50 euros rest of day; 3.50 euros on. Saturday; 4.50 euros on Sunday. 1 euro for children 6-16 at all times.
¶ Information: Call (+49) (0) 941-507-4410 or e-mail tourismus@regensburg.de. Web sites are www.veranstaltungsservice-regensburg.de or www.thurnundtaxis.de.
— Peter Jaeger