MainFrankenPark: Taste of the States
by
Steve Liewer
November 25, 2003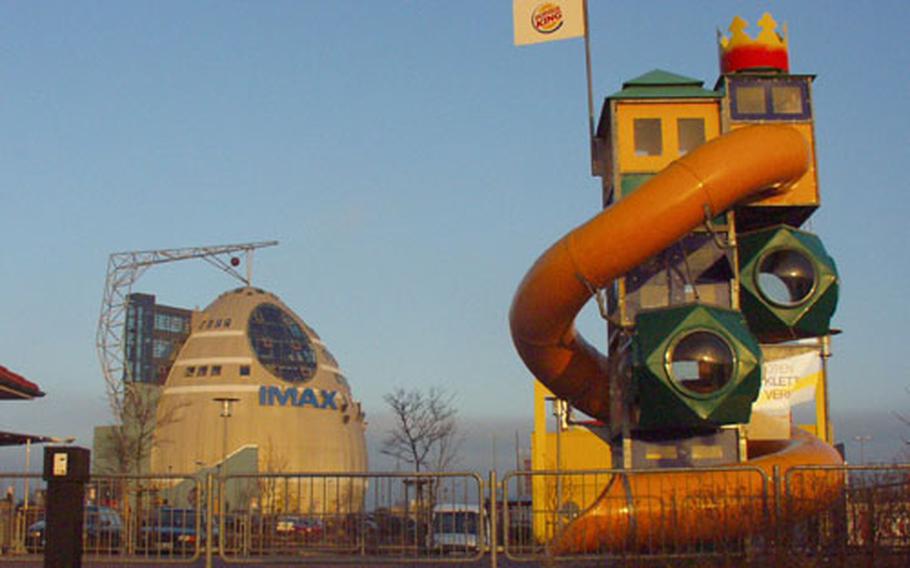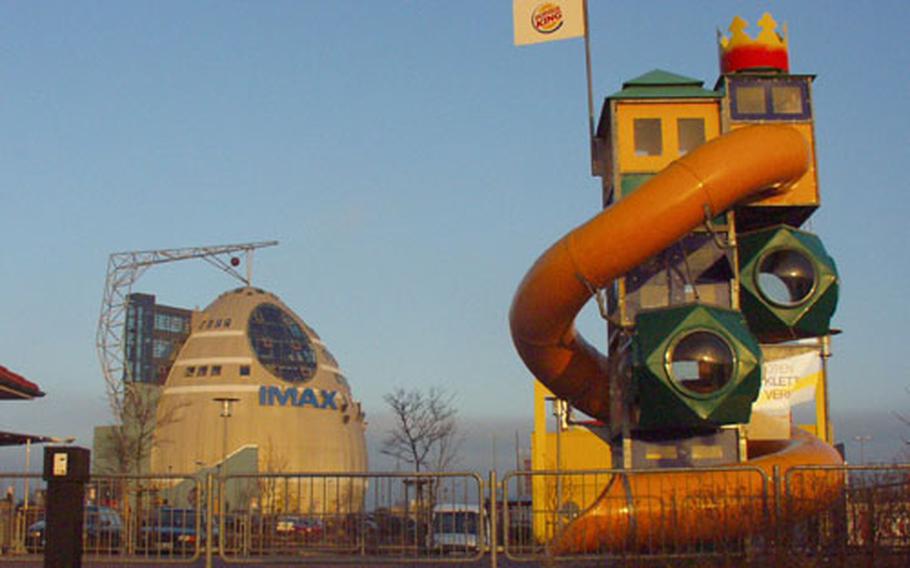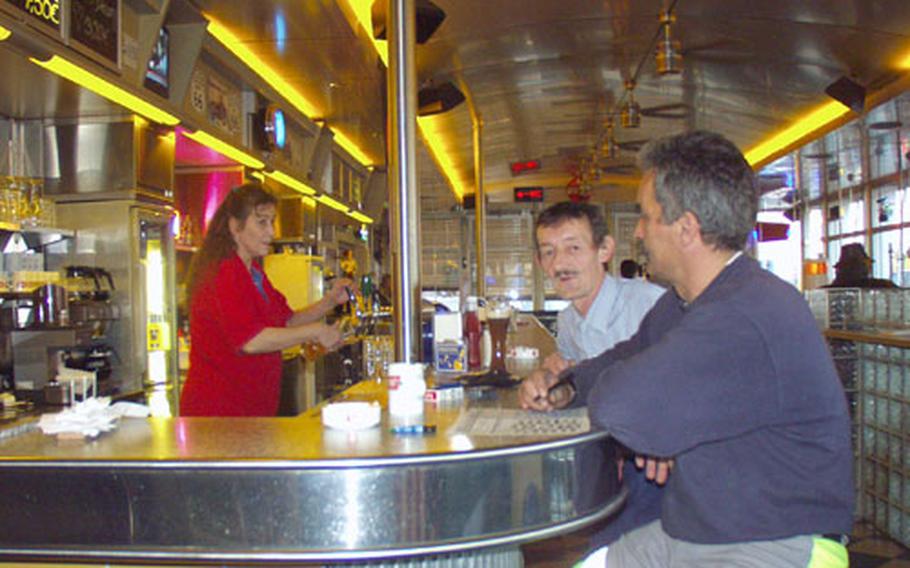 DETTELBACH, Germany — Look to your left as you drive on Autobahn 3 between Würzburg and Kitzingen, and you'll find yourself doing a double take.
Among the farm fields rises a clump of glass, steel and neon buildings, with a fat rocketlike structure in the center. It looks as out of place as would a herd of cattle grazing in Times Square.
This is MainFrankenPark, the would-be truck stop that has turned into much, much more since it opened in 1999. It has added Cineworld and IMAX movie theaters; an American-style diner; a Burger King; a steakhouse; a motel; a warehouse store; Harley-Davidson, Ferrari and Maserati dealerships; and one of Germany's largest disco complexes.
Though MainFrankenPark is geared toward Germans, many Americans visit, said Julian Siewert, IMAX theater manager and brother of developer Michael Siewert. He said about 70 percent of the customers at Louisiana Country restaurant and between 10 percent and 20 percent of the dancers at Capitol Music Palace are soldiers or family members.
"We have become more and more known by Americans," Siewert said. "We want them as our customers."
Building MainFrankenPark seemingly in the middle of nowhere isn't quite as crazy as it seems. It sits within one mile of the junction of A3, one of Germany's busiest east-west highways, and A7, a major north-south artery. The B8, which connects Würzburg and Kitzingen, boasts a new exit directly to the park.
The Louisiana Country (formerly Arizona Steakhouse) is so popular with Americans is practically cloned from the Roadhouse Grills and Outback Steakhouses of U.S. suburbia, down to the lacquered wooden tables and wall-mounted televisions tuned to sports. The menu is less extensive and the prices a bit higher than back home (10-15 euros for a meal), but there aren't many places in Europe where you can get a sloppy half-pound burger with jumbo fries. And the German beer you buy with it is two classes above anything served in the States.
Lara's Diner captures the atmosphere of an old-fashioned diner (complete with neon, jukebox and Route 66 signs), and the food — unfamiliar to Europeans — at least suggests a small-town greasy spoon.
The Cineworld multiplex, which Siewert says is one of the 10 busiest in Germany, shows "original version" (including English-language) films daily. It plays to houses packed with Americans. The weekly "original" showings at the IMAX have been moved to Thursday afternoon to accommodate the Army's family day.
The Siewerts bill the Capitol Music Palace as one of the top 20 discotheques in Europe. Its four clubs are open Thursday, Friday and Saturday evenings. Each features a different style of music, including techno, hip-hop, pop, dance club and, sometimes, American country music.
MainFrankenPark's biggest attraction may be yet to come. Michael Siewert has announced plans for a giant 36 million-euro indoor-outdoor water park called MainFranken Therme. It will include an indoor Olympic-sized swimming pool, a wave pool, waterslides, a diving well, a fitness training center, a sauna and an outdoor pool that will be frozen in winter for ice-skating.
But even without the cavernous swim hall, MainFrankenPark offers enough give homesick Americans a little taste of what they miss most.
On the QT
Directions: From Autobahn 3, take the Rottendorf exit and turn west on the B8 highway. MainFrankenPark is less than a mile away on the north side of the road.
Cost: No admission charge to the park. Prices for IMAX movies are 7 euros for adults, 4 euros for children (2 euros extra for 3D films). Prices for CineWorld are 7.50 euros for adults on Friday, Saturday and Sunday evenings, with discounts on weekdays and for matinees.
Time: MainFrankenPark is open 24 hours. IMAX Theater is open 3-10 p.m. Monday through Thursday, 3 p.m. to 2 a.m. Friday, noon to 2 a.m. Saturday, and 10:45 a.m. to 10 p.m. Sunday. Capitol Music Palace is open Thursday through Saturday nights.
Food: There are several eateries, including a Burger King, Louisiana Country and Lara's Diner serving "American-style" food.
Info: The park's Web site, www.mainfrankenpark.de, is in German only but fairly easy for English-speakers to navigate for movie times, prices, hours and other basic information. E-mail questions (German or English) to: imax@siewert.de. The phone number is (+49) (0) 9302-933933