Magic World: Visitors to Naples-area park skim across waters and fall from the skies
---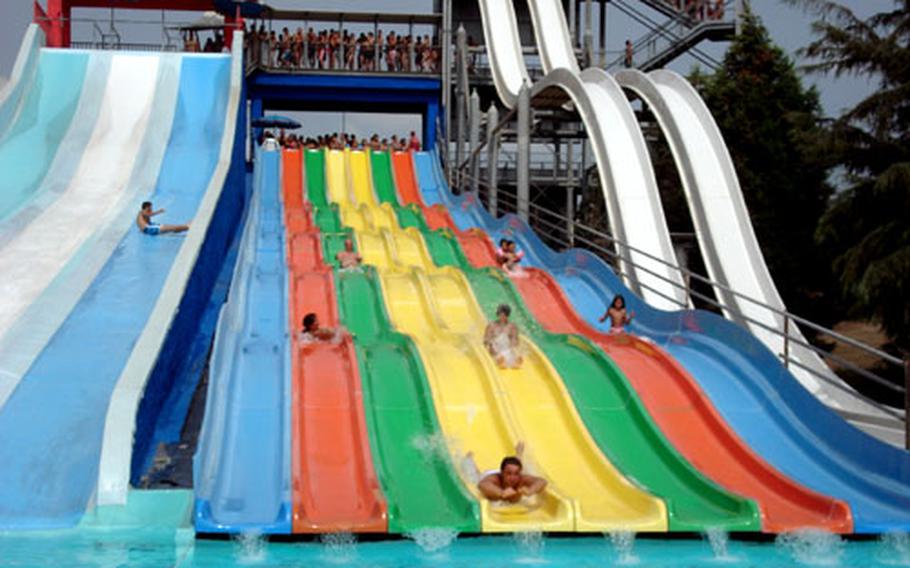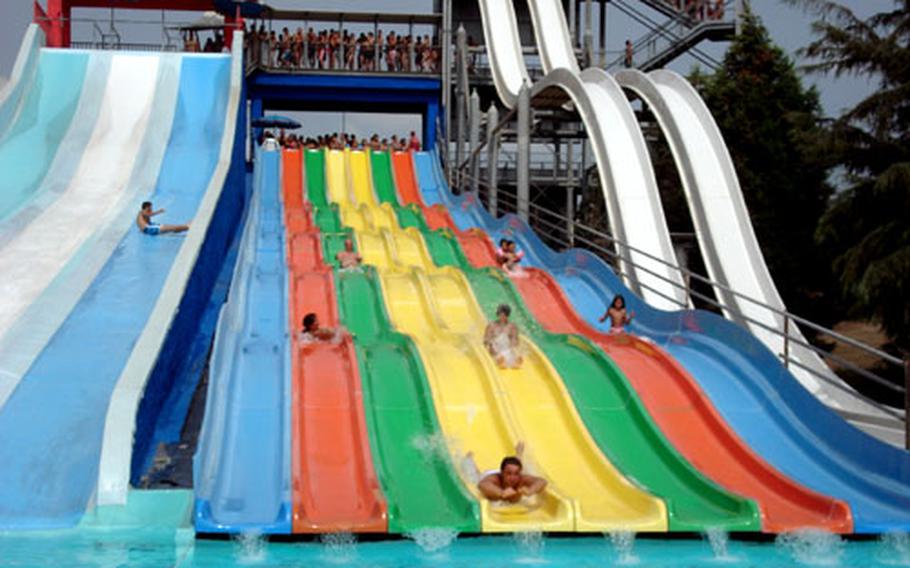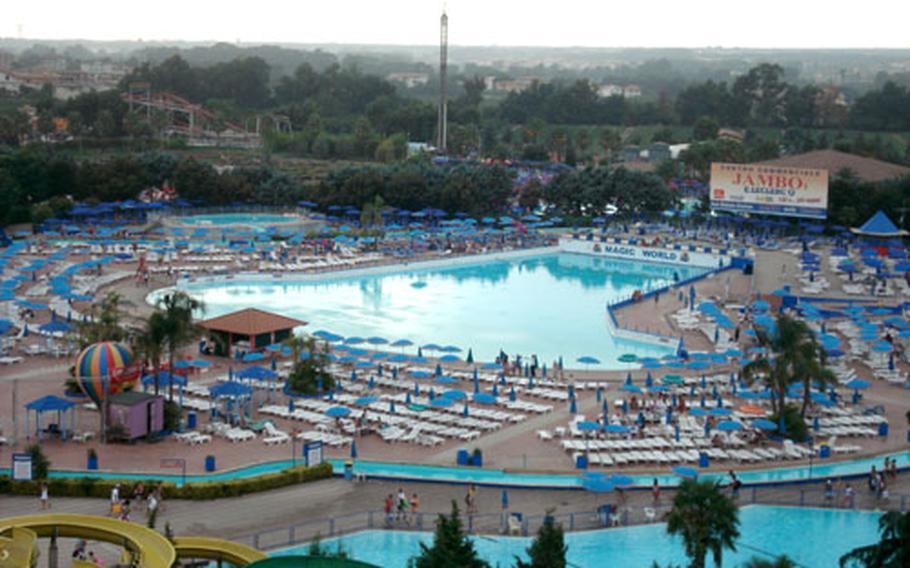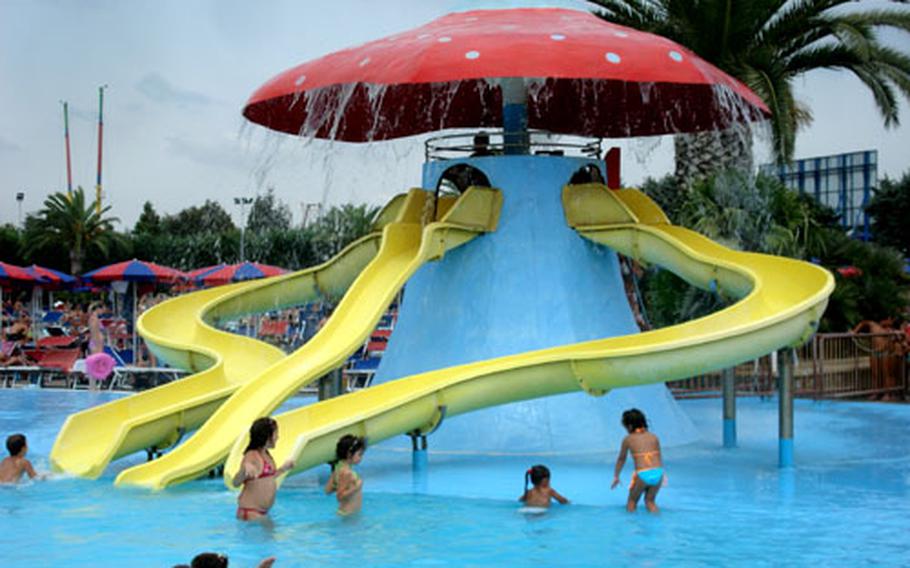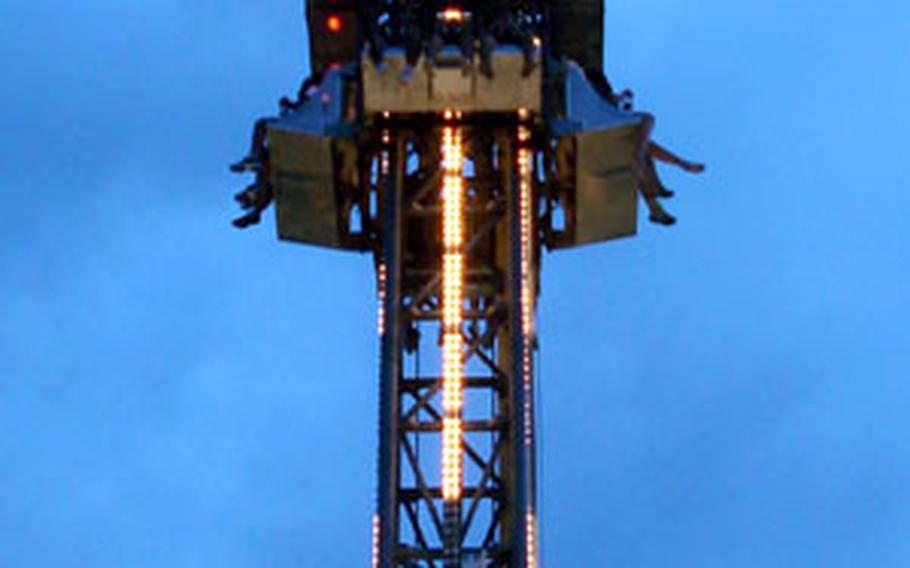 There should be no crying allowed at Magic World. The place is too much fun. The combined water/amusement park retreat on the periphery of Naples, Italy, offers great entertainment for kids and the kid in all adults.
Located off the Domitiana highway in the Neapolitan suburban town of Licola, the Aquapark of Magic World calls itself the largest water park in southern Italy, offering customers a wide variety of entertainment, from the popular wave pool to a 65-foot-high slide that whooshes you down at exhilarating speeds. And all for a rather reasonable price.
Among the features are a multicolored, eight-lane, 40-foot-high water slide that lets riders start simultaneously and race to the bottom. Or, for those who actually like each other, to slide down holding hands.
A slicker option is a 50-foot-high "foam" water slide that park officials have boasted is the slipperiest of slides.
Across the park is a kiddie pool with some tamer features. Among them is the "giant mushroom," which sprays water from its top and features three child-appropriate slides that go into a shallow pool. Lifeguards are on duty.
A "river" circumnavigating the main pool allows for a slow, relaxing journey, either by swimming or floating on brightly colored plastic inner tubes available through the park.
If you're looking to sprawl out on one of the park's lounge chairs, get there early to claim your seat. They go fast, as do storage lockers at the park's entrance.
Not looking to get wet? Check out the amusement rides on the other end of the park — again, with something for the young and, well, the not-so-young (but never, ever old.)
The park's Ejection Seat attraction seems at first like a spherical deathtrap harnessed to two poles with bungee cords that shoot you skyward at stark-raving-mad speeds. Upon closer inspection, it's a spherical deathtrap that shoots you skyward at stark-raving-mad speeds. Just kidding.
Another thriller is the Mega Drop, a 12-seat ride that takes you up, up and up — followed by a few seconds of a free-fall descent that produces shivers and screams alike.
The Magic Well Ferris wheel proved a bit of a disappointment since it goes around just once and stops every few seconds to let on other passengers. But at its peak, the ride offers a spectacular view of the entire park.
There are a number of kiddie rides, too, from the worm roller coaster to baby bumper cars, merry-go-round, choo-choo-train, flying Dumbo ride and flying Aladdin carpet ride, to name a few.
Seven of the park's attractions are not included in the admission price. They are the go-karts, small and large ATV rides, Babyland, Ejection Seat, Super Jumper and Bumper Boat. The additional prices are listed at all ticket sales booths.
Helpful hint: If you enter the water park after 2 p.m. (but before the amusement park's opening time of 5:30 p.m.), make sure you get a machine-stamped ticket, rather than one on which the ticket attendant simply writes the date. Some ticket booths won't accept the handwritten ticket, thinking it might be fraudulent. If you buy a water park ticket, you can get an amusement park ticket at half-price.
Know and go ...Directions: From Capodichino, take the Tangenziale toward Pozzuoli. After the toll booth, you'll be on the Domitiana highway. Take the Licola exit (also marked with a brown Magic World sign). At stop sign, make a right and follow signs to park entrance. From Gricignano, take the SS 7 toward Villa Literno. Follow exit signs for Pozzuoli, to the Domitiana highway. There is an exit specifically for Magic World, marked by brown directional signs.
Times: The water park is open 10 a.m. to 6:30 p.m. daily until Sept. 7; it reopens in June. The amusement park is open for varied hours through Sept. 7 and then weekends only through the first weekend in November; it closes for the season on Nov. 2.
Costs: Water park: For adults, 16 euros on weekends and holidays, 12 euros on weekdays. For children 1.5 meters (nearly 5 feet) or taller, 14 euros on weekends and holidays, 12 euros on weekdays; children shorter than 1.5 meters enter free. After 2 p.m. the price for all is 12 euros on weekends and holidays and 9 euros on weekdays. (Weekend rates are charged for Friday admission.)
Amusement park: 10 euros per person for unlimited access to the park's rides; admission alone (such as for parents who just want to accompany children), 3 euros. A 10-point ticket, giving access to various rides, costs 6 euros, with some rides "costing" more points than others. Children shorter than 1 meter (little more than 3 feet) enter free.
Food: A number of snack places throughout the park sell pizza, sandwiches, hot dogs, popcorn, etc.
Information: The park has a fantastic Web site, www.magicworld.it, but it's in Italian only. It's fairly easy to navigate and posts several pictures of the park's attractions. The park's telephone number is 081-854-67-89; staffers speak English.
— Sandra Jontz
---
---
---
---