Ludwigsburg Palace: Stop for the grand tour
---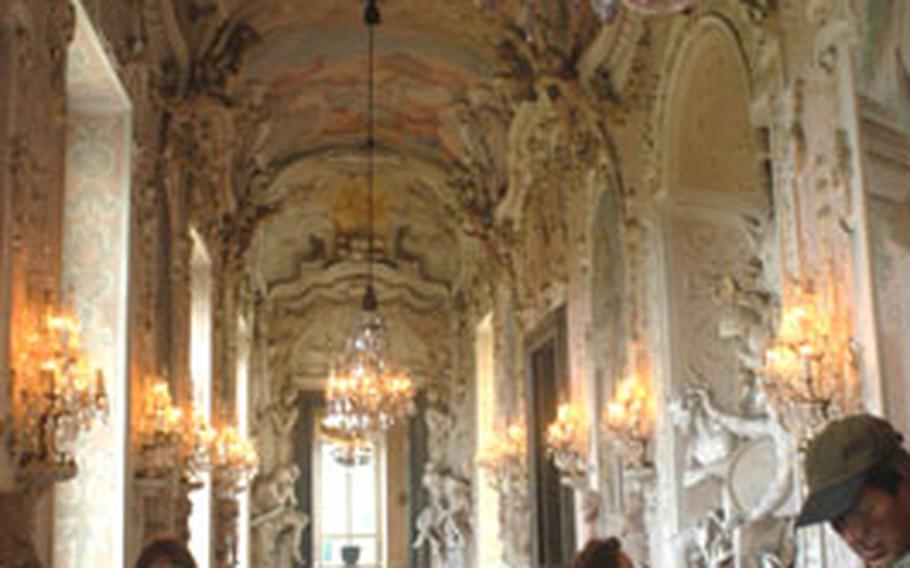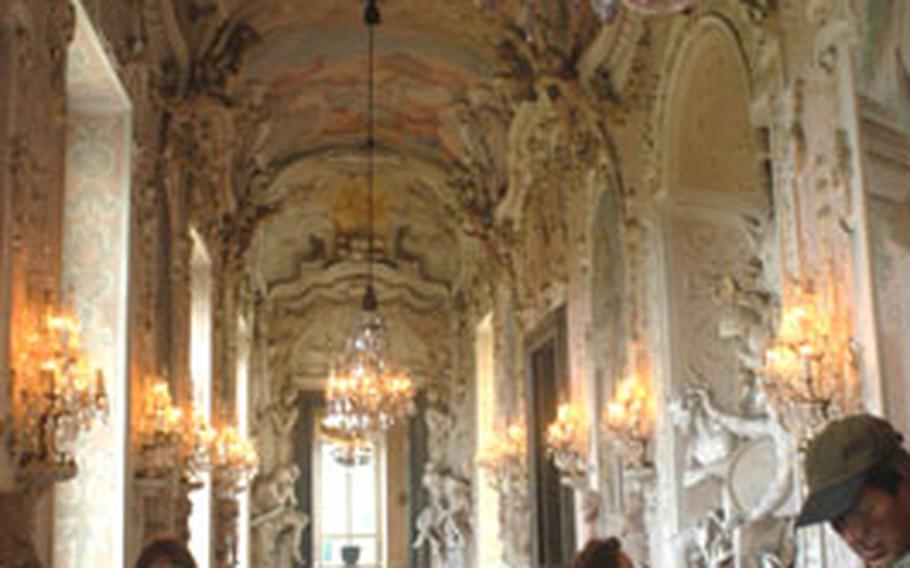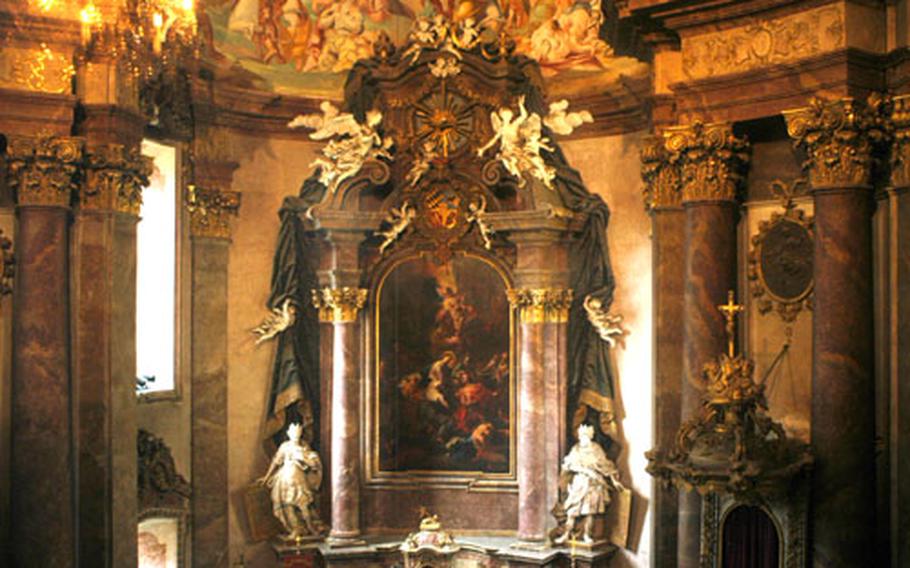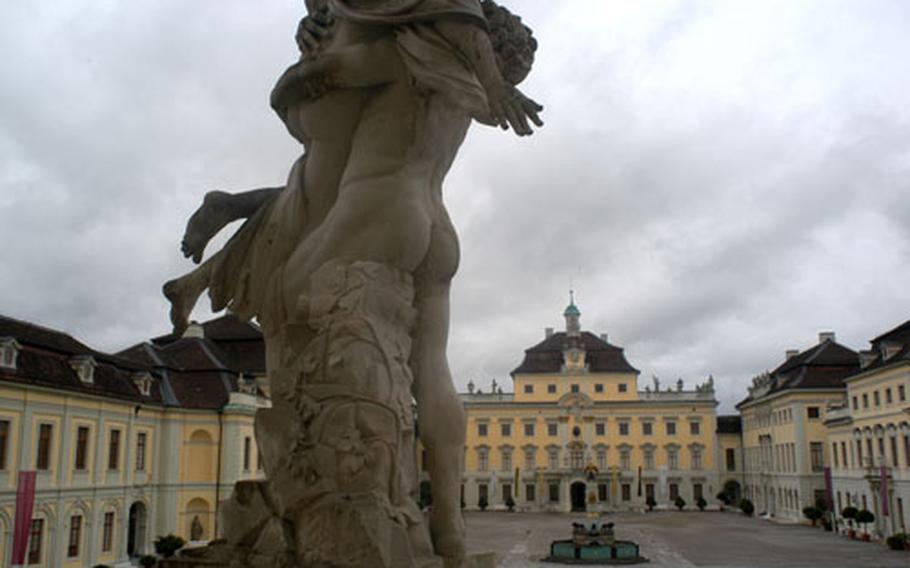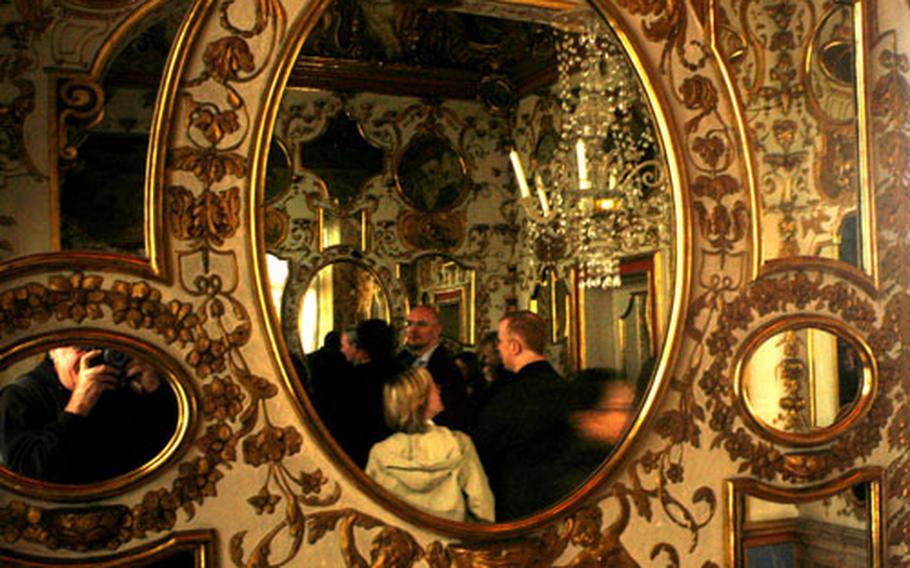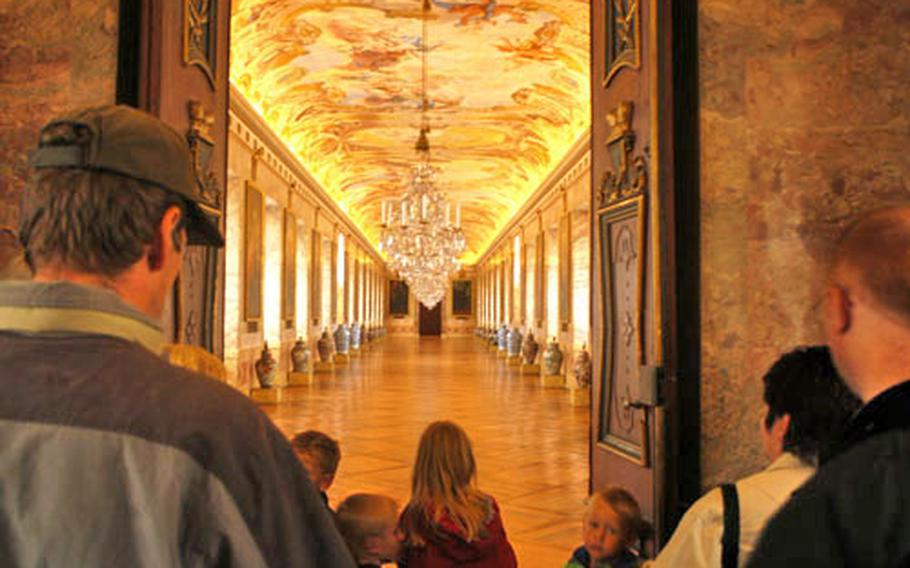 For Americans who live in southwest Germany, the Ludwigsburg Palace can be a drive-by experience.
"Oh, that's interesting!" you think, driving by. "We'll have to check it out someday." Sort of like New Yorkers who never go to the top of the Empire State Building.
So someday, instead of scurrying off to London or Paris or taking another mind-numbing trip to the PX, hop in the car or train and head for the Ludwigsburg Palace just north of Stutt- gart. You'll be glad you did.
Sure, the Ludwigsburg Palace is about one-fourth the size of Versailles. But like its primary resident in the early 1800s — the 6-foot-6, 440-pound King Friedrich — it is no shrimp.
The palace has 452 rooms. Visitors aren't allowed to see them all, but a 90-minute tour with an English-speaking guide will take you to enough of them to give you an idea of the gluttony and excess of those self- worshipping, royal swine from back then.
After all, that's what it was about: Who could build the biggest palace. Who could acquire the fanciest things.
"Mustn't have a shabby home for when Napoleon drops by, mustn't we?" Sort of a 19th-century version of "MTV Cribs," except way bigger.
Napoleon, by the way, did drop by in 1805 during his reign of plunder and pillage. Imagine the hubbub and fanfare at the palace as the then-Duke Friedrich and his minions prepared for the visit by the mighty Napoleon, of whom they'd heard so much.
Then, on the big day, as the gigantic Friedrich waited in his courtyard to receive the emperor, up trots this horse and from it dismounts little Napoleon. One can almost hear the snickers.
But Friedrich naturally had to kiss up to the emperor and become an ally, lest he get conquered, too. He pledged a large force of men to Napoleon, and in turn was given more land and the title of king of Württemberg.
With his title and riches came changes to the palace, which had originally been built by one of his predecessors, Duke Eberhard Ludwig (hence the name), as a hunting lodge and getaway for his mistress. It underwent various modifications and expansions until it became known as one of the grandest palaces in Europe. The palace underwent extensive renovations in time for its 300-year anniversary in 2004, restoring all its glory.
The palace's highlights are too many to list, but those on the tour include the theater, the chapel, the king's apartment and queen's apartment. There are also massive chandeliers and towering ceilings painted with frescos. And ornate vases — porcelain is big here.
The castle can be toured only with a guide, but English tours are given daily.
If being led around isn't your thing, the palace has four museums to wander: the Baroque Museum, Ceramics Museum, Fashion Museum and Carl Eugen's Apartment.
The uncle of King Friedrich kept a garish apartment upstairs on one of the palace's wings. It is adorned with paintings of young people frolicking by lakes and prancing through pastures. Life was good for those who didn't have to work.
As with many of the tourist attractions in Germany, there's a gift shop where you can buy a souvenir book with pictures of all the things you just saw. Only 5 euros — and in English!
On the QT
Directions: Ludwigsburg is 10 miles north of Stuttgart and a one- to three-hour drive from most U.S. installations in Germany. Take A-81, south from Heilbronn or north from Stuttgart, to Exit 15 (Ludwigsburg) and head for the city center. The palace is downtown and hard to miss. Trains also go to Ludwigsburg; consult your local DB — Deutsches Bahn — office for details.
Times: Palace and museums are open 10 a.m. to 5 p.m. daily in winter, and until 6 p.m. from mid-March to mid-November. English tours are at 1:30 p.m. Monday through Friday; and at 11 a.m., 1:30 p.m. and 3:15 p.m. weekends and German holidays. It is a good idea to phone ahead to verify.
Costs: The palace tour is 6 euros for adults, 3 euros for children and 15 euros for a family ticket. Museum tickets range from 1.50 euros for an individual child to 7 euros for a family ticket, and include a very helpful audioguide. Tours for larger groups can also be arranged. Tip the palace tour guide a euro or two each if you think she did a good job.
Food: I didn't see an open cafe during a winter visit. There are places to eat in downtown Ludwigsburg. Try See Strasse, the pedestrian area about a 10-minute walk from the palace.
Information: For more on the palace, click here or telephone 07141-182-004. The Ludwigsburg city Web site is www.ludwigsburg.de. There is an English version.
— Charlie Coon
---
---
---
---