Last call for revelers at Munich's Oktoberfest
by
Steve Mraz
September 28, 2006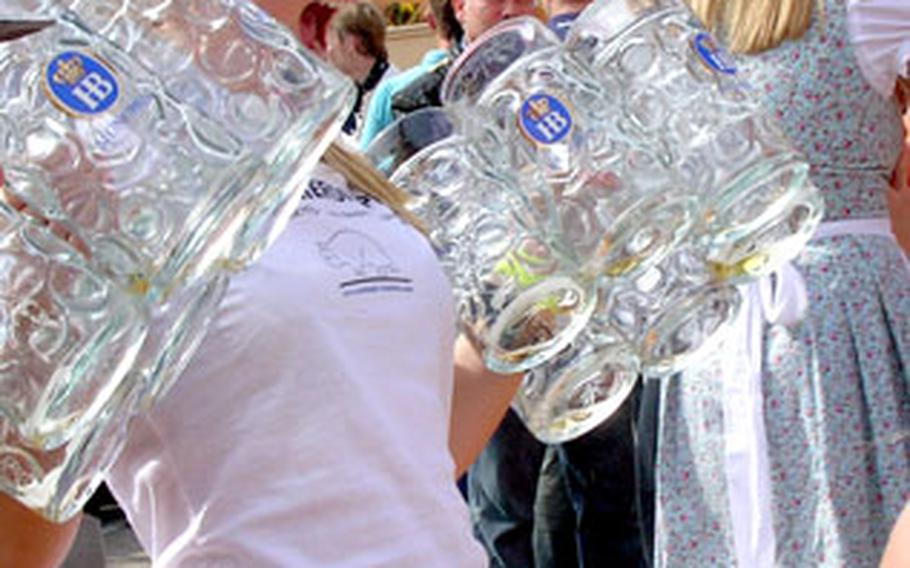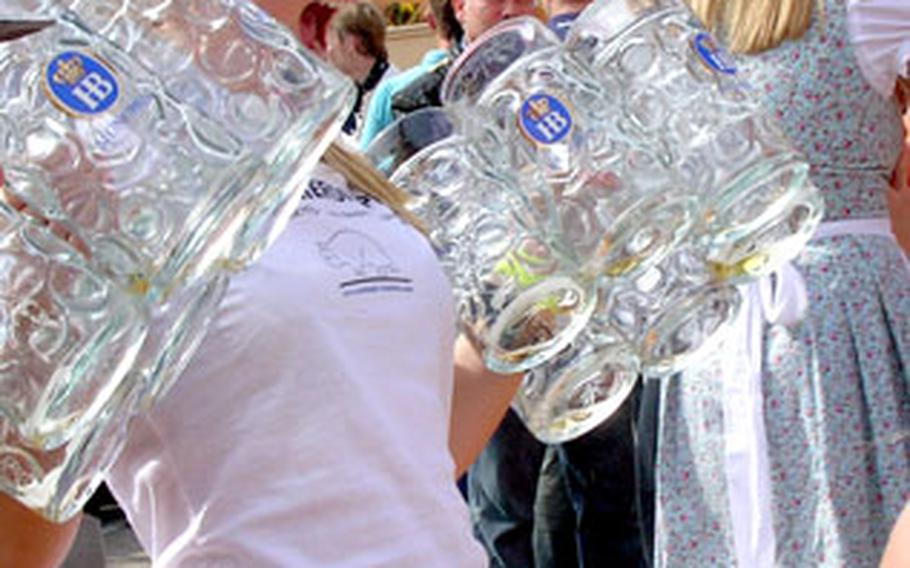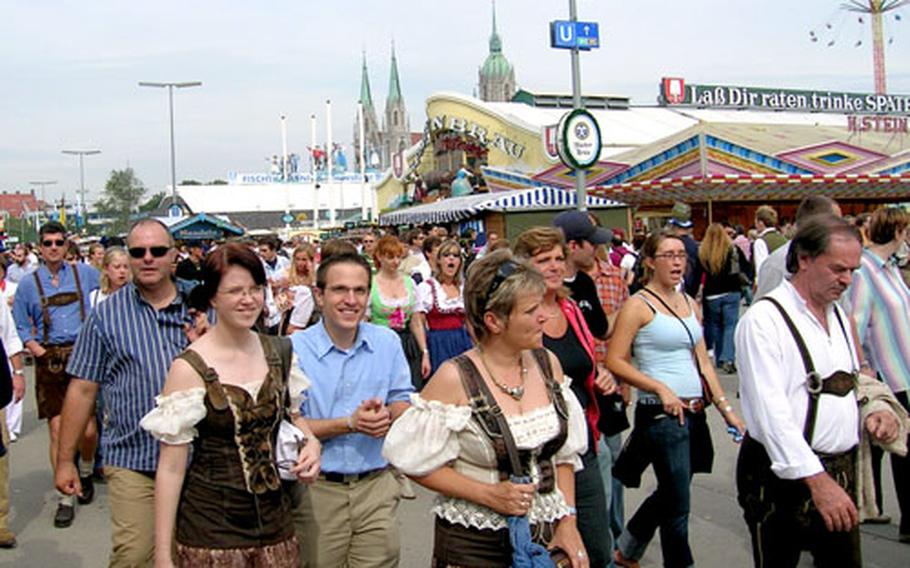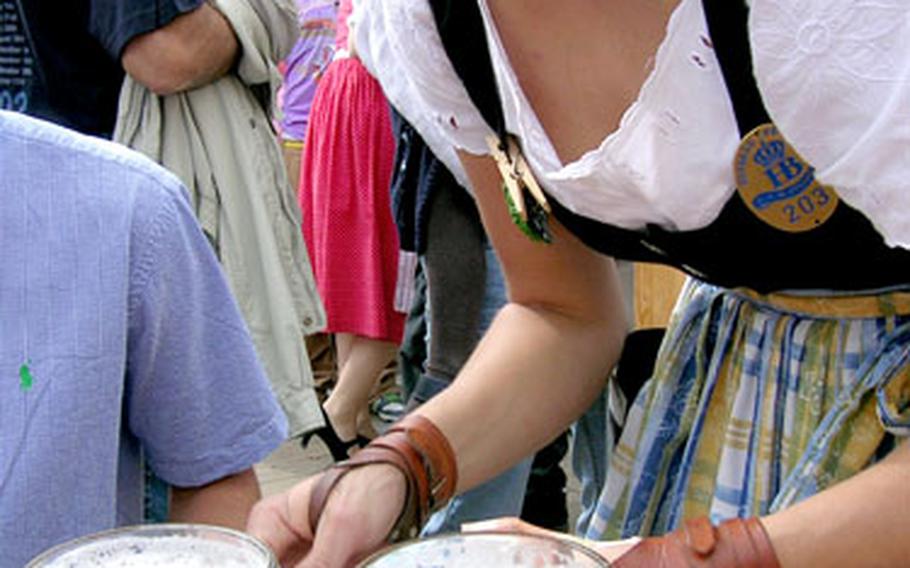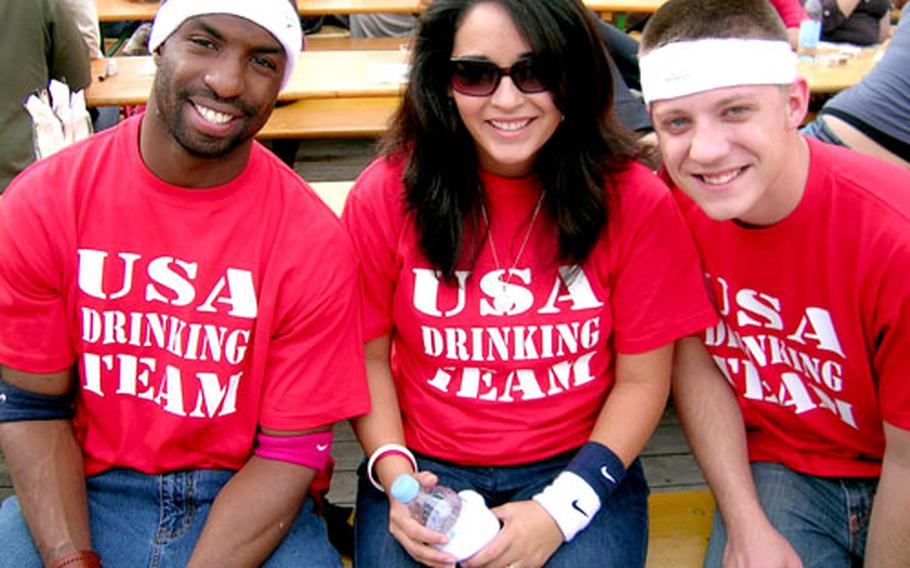 Oktoberfest 2006 ends Tuesday, but it's not too late to plan a pilsner pilgrimage, a hefeweizen homecoming or a lager land crossing.
Plenty of options await those still salivating for a one-liter mug of beer under one of Munich's cavernous tents on the Theresienwiese, or a spin on one of the amusement rides on the adjoining grounds.
But with the days dwindling, you had better move faster than an Oktoberfest waitress with her fists full of beers.
Getting thereDriving to Munich is an option, but finding parking near Oktoberfest will likely be a bigger headache than the one you'll be nursing after your festivities. If you must drive, park near a subway station and take the subway in to town.
Taking the train is also an option. Tickets are available directly from the Deutsche Bahn — Germany's rail line — or through various on-base travel offices. In addition, Kaiserslautern's USO is selling $82 tickets for a special party train to Oktoberfest on Saturday. The train arrives in Munich around 2:30 p.m. and departs at 11:45 p.m.
Outdoor recreation offices at several U.S. installations are offering weekend bus trips to Munich that leave early Saturday and return early Sunday. Prices are around $50 for the one-day express. More expensive packages available through base travel offices and private operators sometimes include an overnight.
Once in Munich, subway prices are affordable — if you get the right one. If you're going with a group for just one day, buy the adult partner day ticket for 8.50 euros. Up to five adults can have unlimited travel on the ticket, which is valid for subways and buses.
If you're going for the weekend with a small group of friends, purchase the three-day adult partner ticket for 20 euros that is also valid for up to five people. The tickets can be purchased at kiosks, which have English-language options, at Munich's main train station (Hauptbahnhof) and subway stations.
The subway stop Theresienwiese on the U4 and U5 lines is the stop for Oktoberfest.
Where to eat, drink and be merryThe most important thing to remember about Oktoberfest is that you cannot be served beer unless you have a spot at a table. So getting a table is huge.
Upon emerging from the subway, you'll have to decide the tent where you want to celebrate Oktoberfest. Whichever one you decide on, be sure to get there early. Staff at the Hofbräu tent, a favorite among young tourists, advises arriving at 8 a.m. because the doors open at 9 a.m. Just remember to pace yourself once the beer gets flowing. You don't want to be the guy everyone's talking about the next day.
With a monstrous capacity and plenty of beer, Hofbräu is home to many lost possessions.
"Be careful with all your items," said Jessica Angelina, a Hofbräu employee. "Try not to bring more than you need. The tent seats 10,000 people inside and outside. It's very full. Everybody's busy dancing, singing and being happy."
If you're looking to avoid rowdy tourists and have a more authentic German experience venture into one of the other nearby tents.
Where to stay:Unbelievably, hotels are still available in and near Munich for the last weekend of Oktoberfest. Angelina at Hofbräu said it wouldn't be impossible to find a hotel room, but you'd probably pay $700 because only the top suites would be available.
However, if you call the Munich tourism office's hotel booking service, they can hook you up.
"At the moment, there are some rooms," Jennifer Berendsen, a student working at the Munich tourism office, said last week. "The hotels are not full."
Berendsen added that the room prices would be normal for Munich and not that expensive.
The operators speak English and are friendly. Last week, an operator found a room in Munich for 200 euros a night and a room at a four-star hotel just outside Munich for 180 euros nightly for the last Oktoberfest weekend. The rooms had showers, and included breakfast.
If you're planning a last-minute trip, call now. And remember: Drink responsibly, and never drink and drive.
Oktoberfest info
Web sites and phone numbers:
Official Oktoberfest siteOfficial Munich siteGerman rail systemMunich public transportationMunich tourism office hotel reservation booking service: (+49) (0) 89-233-96-550.MRW and USO tours:
• Baumholder Outdoor Recreation, Saturday; visit Building 8167, Smith Barracks, or call DSN 485-7182 or 06783-67182.
• Hanau Outdoor Recreation, Saturday-Sunday, Oktoberfest and Neuschwanstein, $149 adults, $89 ages 4-15, $30 ages 3 and younger; visit Building 459, Old Argonner Kaserne, or call DSN 322-8891 or 06181-88-8891.
• Giessen Outdoor Recreation, Saturday-Sunday, Oktoberfest and Neuschwanstein tour, $149 adults, $109 ages 4-11, $49 ages 3 and younger; visit Building 58, Giessen Depot, or call DSN 343-8207 or 0641-402-8207.
• Kaiserslautern Outdoor Recreation, Saturday, Oktoberfest Express, $55; call Pulaski Outdoor Recreation at DSN 489-7751 or 0631-536-7751.
• Ramstein (KMC) RTT Travel, Oktoberfest Family Express, Saturday, $79; visit Building 316, Ramstein Air Base, call 06371-46360 or go to www.rtttravel.com.
• Spangdahlem Information, Tickets and Travel, Saturday, Oktoberfest express, $98; Saturday-Sunday, Oktoberfest, $198; call DSN 452-6567 or 06565-61-6567.
• USO Rhein Neckar, Saturday; for details, call or visit individual USO offices at Cambrai-Fritsch Kaserne, Building 4038, Darmstadt, DSN 348-7918 or 06151-69-7918; Heidelberg Shopping Center, Building 3850, DSN 370-7924 or 370-6017 or 06221-57-7924 or 06221-57-6017; Sullivan Barracks, Building 254, Mannheim, DSN 385-3195 or 385-3668 or 0621-730-3195 or 0621-730-3668; or Nachrichten Kaserne, Building 3619, Heidelberg Hospital, DSN 371-2002 or 06221-17-2002.
• USO Stuttgart, Saturday, Oktoberfest express, $55 adults, $49 children; call DSN 430-8811, 0711-680-5559 or www.uso.org/stuttgart.
— Stars and Stripes