Italian families enjoy wine they make at home
by
Kent Harris
April 15, 2004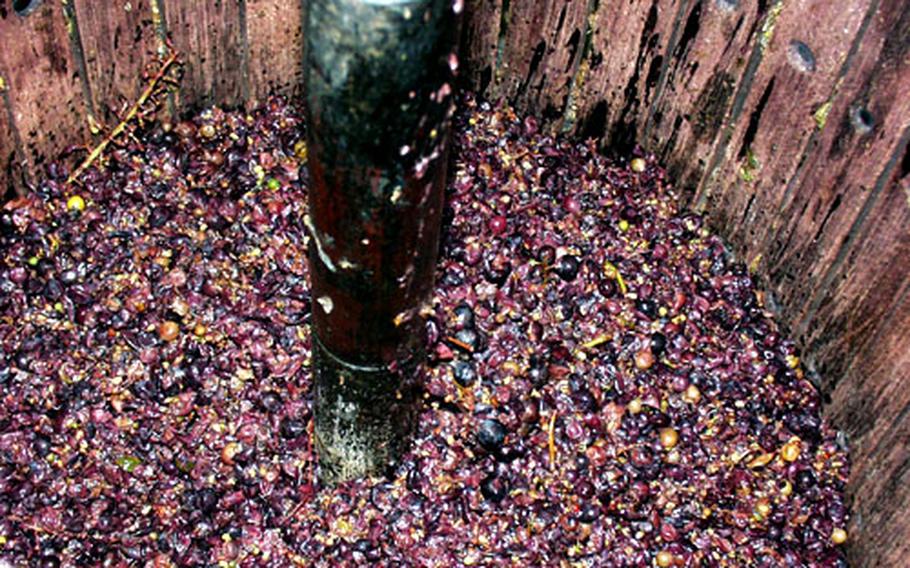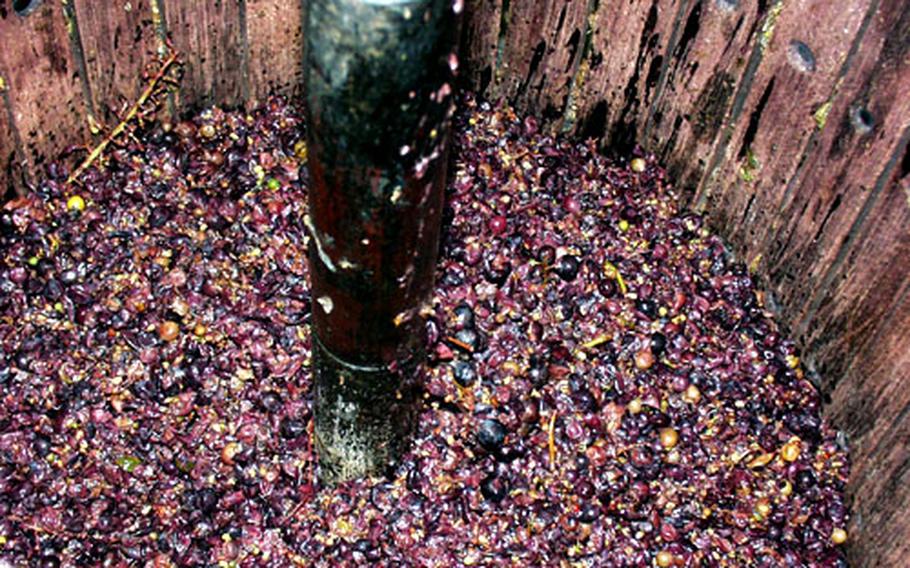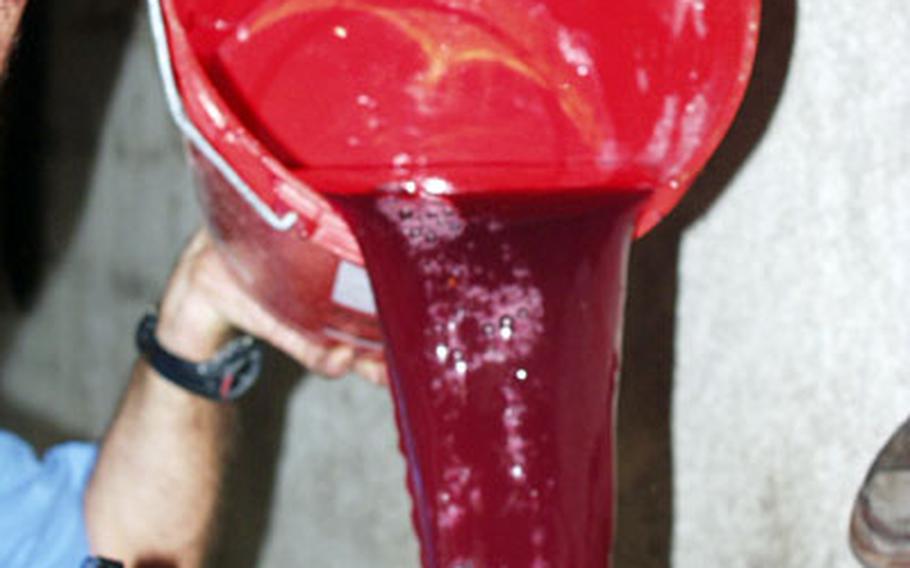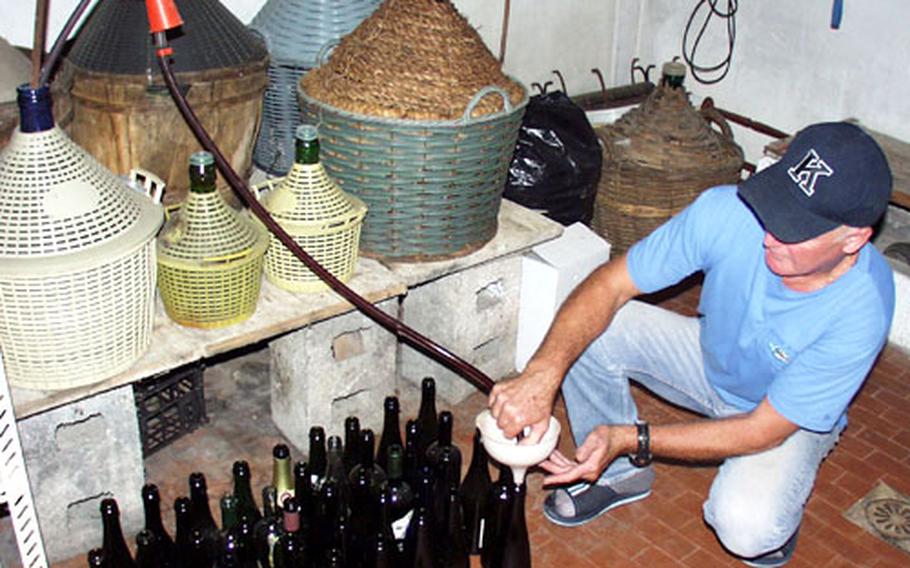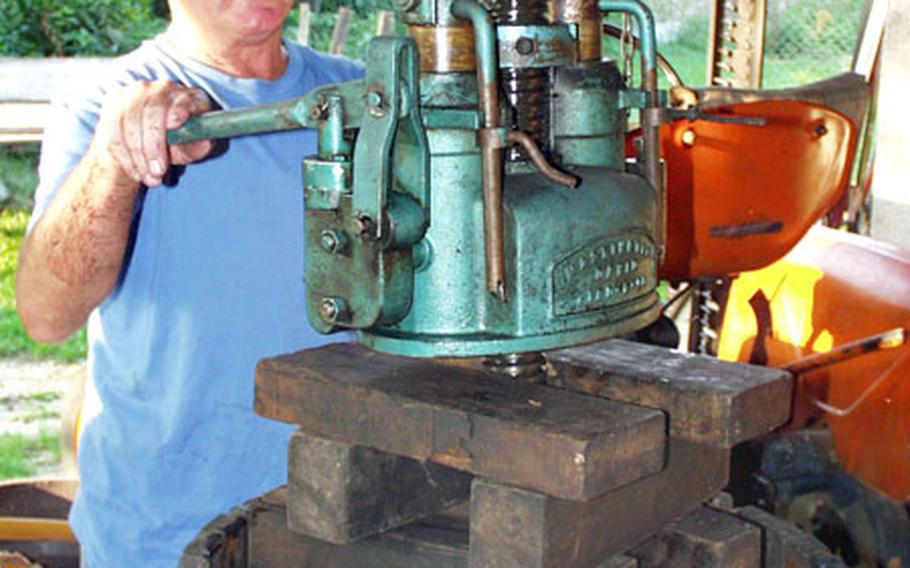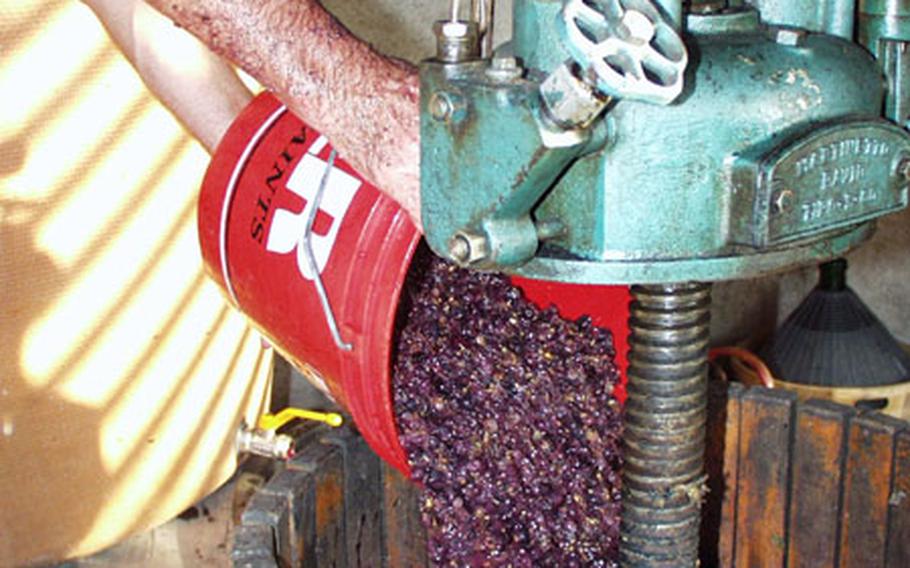 Like many Italians, Bepi Del Bosco practically feels the wine coursing through his veins.
Raised in a farming family, Del Bosco decided he'd rather be a contractor. But that didn't mean getting rid of all the vines on the family's ranch.
Today, he and his wife, Pam, a special education teacher at Aviano Elementary School in Italy, produce enough wine each year for their dinner table, usually with enough left over to give some to friends.
For last year's harvest, some of those friends — Pam's co-workers at the school — decided to help out. About three dozen teachers and administrators converged on the family's ranch in San Quirino, a few miles east of Aviano, to help pick the grapes that make the wine.
They didn't get to sample the fruit of their labors exactly. That's because it takes time to produce wine, even the more perishable version that Italians such as Del Bosco prefer.
"He doesn't like wines that have a lot of additives," Pam says of her husband.
Most wines produced for public consumption have some additives that allow them to stay in the wine racks for years. Without those additives, the wine needs to be consumed within a year or so.
So the Del Boscos don't have bottles in their wine cellar from past harvests that they proudly point to with comments such as: "Now, that was a good year." Every year's vintage is mostly gone at about the time to pick the grapes the following year.
Bepi does have a few awards from local contests. Some of the awards came from 1993 — which he says was a particularly good year for his wine.
But he doesn't put all the effort he does into his hobby to win awards. And he doesn't sell his product to customers. Italy has regulations that specifically target the small operations such as the Del Boscos.
The family says there are probably thousands of other Italians — many of them living in prime growing areas in the north of the country — who are also producing their own wines.
Pam says the vineyards could probably be compared to American families growing some of their own food in vegetable gardens.
The Del Boscos used to have several different types of crops produced on the family farm. But Bepi — speaking while his wife translated — says he wasn't cut out to be a farmer. So, much of the land has been sold. But the family still has more than 200 vines that produce grapes for wine.
Last year, an unseasonal hailstorm in July heavily damaged the grapes. So the Aviano teachers had less to pick. Pam estimated the harvest would produce about 400 liters of wine, compared to an average of about 1,100 liters.
Bepi said the hailstorm wouldn't necessarily change the taste of the wine, though. Some years, he adds ingredients such as sugar to alter the flavor a bit. But the wine is generally pretty much squeezed grape juice that sits in various containers in a process that takes several months.
"This is natural," he says in Italian.
It's also a process that would try the patience of those used to going down to the neighborhood liquor store and buying a bottle of wine. But Bepi has the myriad steps firmly in his memory, pointing out various steps and containers to visitors between cranks on his wine press.
Asked how long he has been producing wine, he smiles and says: "Sempre" — always.
Bepi's hobby is a year-round endeavor that he only really takes a break from for a few weeks in the winter. For most of the year, he's either trimming the vines, spraying them to prevent fungus or puttering around in the fields.
Pam's colleagues who helped in the harvest like to pitch in to get a closer look at the culture that surrounds them in Italy. "Every year, someone asks me, 'Can I join you?' " Pam said. "I just decided to open it up to everyone."
And isn't like those who help don't get any rewards for their work. They get to sample bottles of the previous year's wine, and there is plenty of food to go around.
Bepi says commercial producers have expressed some interest in purchasing his annual harvest, but he hasn't really been tempted to try to make a profit off his wine.
"I just drink it," he says. "This is my hobby."
---
---
---
---