It all starts to go downhill — with a smile — at age 40
by
Jaime Wood
November 3, 2005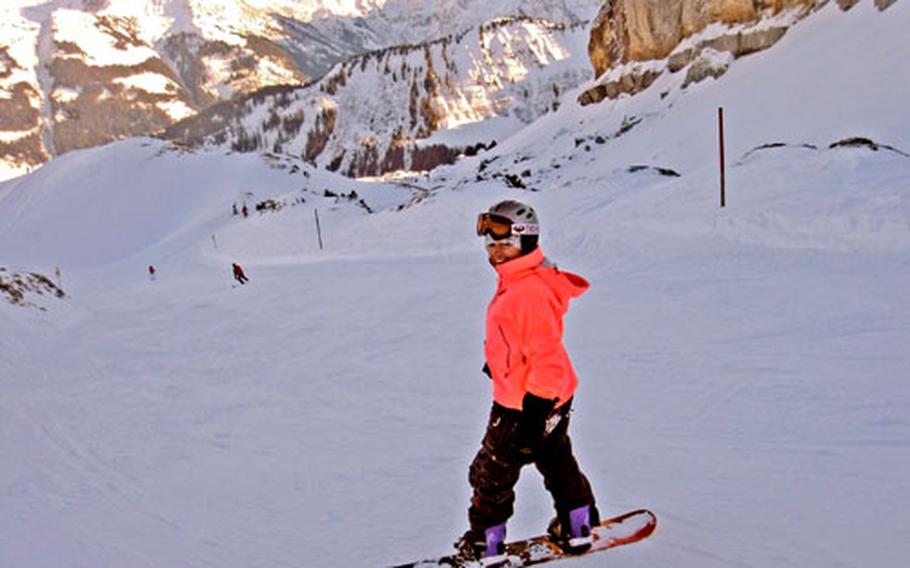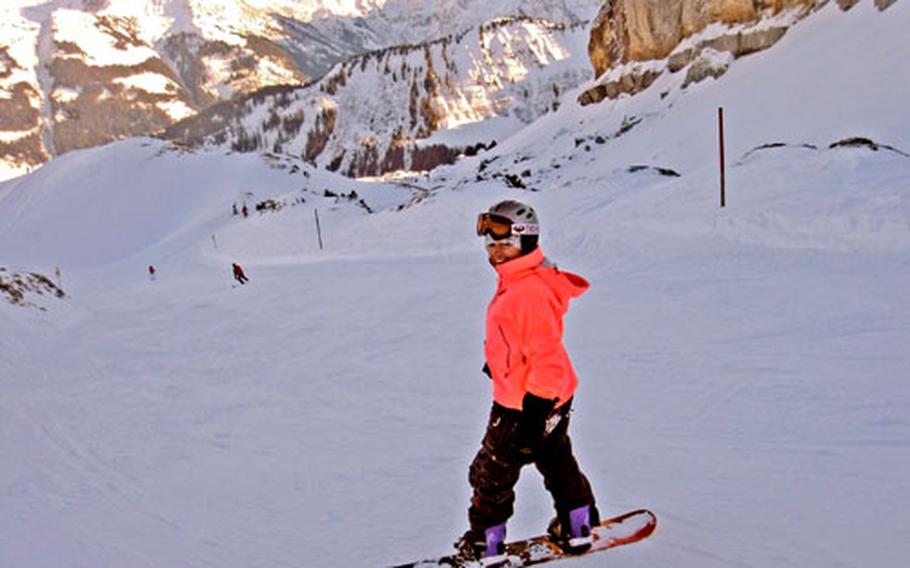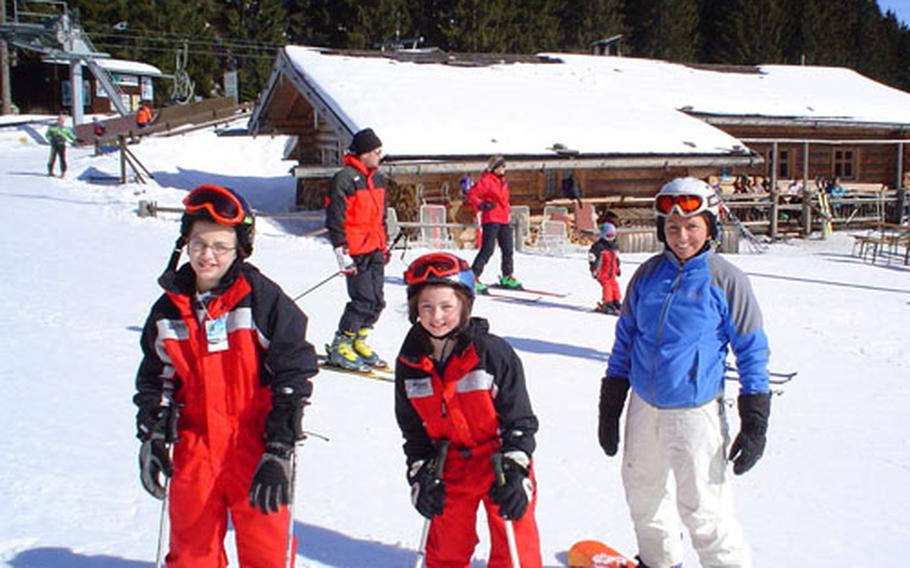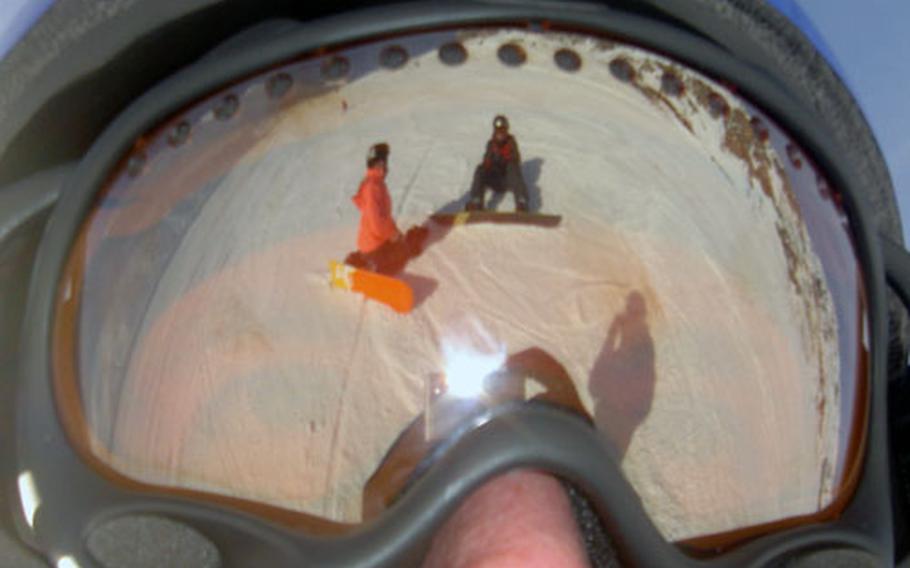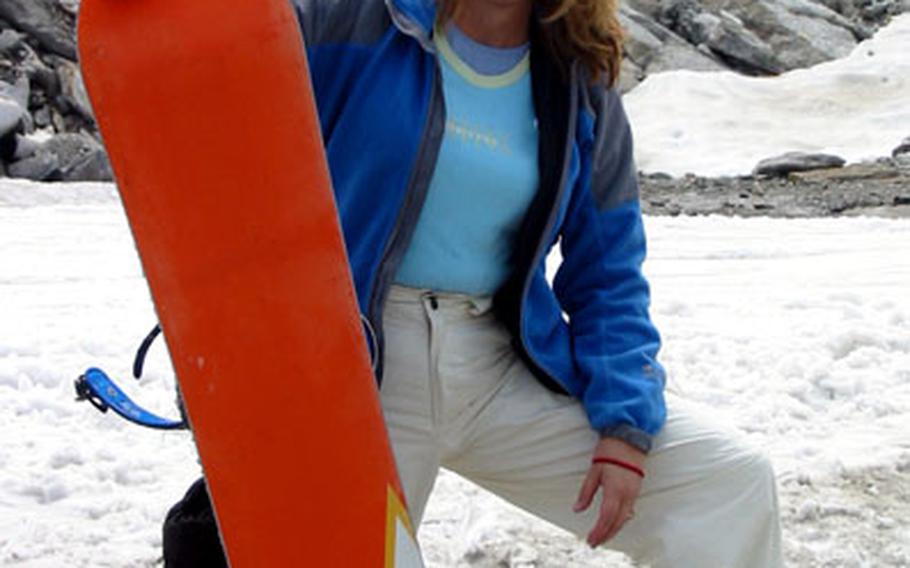 Most people measure their success by decades. For instance, reaching a career objective, educational level or financial independence by age 30, 40 or 50.
Then, there are the not-so-conventional goals … like mine.
It all started two years ago at the ripe "old" age of 38. My family was on a ski holiday, and during a scenic lift ride, I realized there was something I wanted to do before turning the big 4-0. Peering down, I watched the snowboarders sailing along smoothly and gracefully. And that was it: I wanted to learn to snowboard.
Knowing that my chronological clock was ticking and that there was no time to waste, my husband and I headed straight to the winter sports store. I found a sleek, orange K2 snowboard with shiny bindings, bought it and quickly signed up for lessons.
The Patch Ski Club in Stuttgart, Germany, was sponsoring a trip to the former Club Med Pontresina, near St. Moritz, Switzerland. It included five days of either ski or snowboard lessons. While my family opted to ski, I signed my name under "Beginning snowboarders" on a poster board hanging in the hotel lobby.
I felt daring. After all, snowboarding is for teens, right? Their spirits, attitudes and bodies are young enough to endure the fear, the air, the landings. I was feeling like an 18-year-old within, and determined to be younger than the rest of my age group.
I'll never forget the first day. I pulled on layers of long underwear, ski pants and jacket, sock liners, thick snowboarding socks, stiff new snowboard boots, glove liners, chemical hand warmers, heavy duty snowboarding mittens with built-in wrist guards, neck gator, ski hat, crash-dummy helmet (just in case) and tinted goggles. I was ready for anything my new board and the mountain could dish out — although I nearly sweated to death riding the elevator down to the lobby where my snowboard instructor waited.
The instructor's name was Sonja. I was impressed: She was young, smart (spoke five languages), a bit of a rebel (had multi-pierced ears, nose, cheek and chin) and experienced (a veteran snowboarder for 11 years).
This snowboarding goddess, dressed in baggy clothing, was going to be my catalyst to mastering the sport in just five days. I could feel it.
There were six in my group: a man from Greece, a German woman, two Spanish teens, an 11-year-old American skater boy and me. Sonja whisked us out the hotel's back door and led us, by foot, to our "mountain" — an extremely small and boring-looking hill in the hotel's back yard.
Its entire, gradual slope was approximately 20 feet long. My heart sank. "This is it? I can't believe we're not going up on the real mountains today with the other boarders," I thought.
In hindsight, I am thankful that I kept those words to myself. Sonja's little mountain thrashed me and the others by lunch.
Learning to stand up on one piece of wood instead of the two I was accustomed to was the first challenge. With snowboarding, balance is so much more pronounced and important. Even the slightest wiggle of your toes can throw you down on your knees and wrists, sending lightning bolts through your joints. Applying too much pressure, or weight, to your heels will flip you on your backside so fast that your brain feels temporarily dislodged. Very quickly it became apparent that loose knees and ankles were the key to a pain-free experience.
The lingo was also a challenge. At first, Sonja kept calling some of us "goofy" and others "regular." I knew that we looked silly, but didn't understand why our coach would be calling us names. Finally, the skater boy filled me in: "Goofy" means you lead your board with your right foot, while "regular" refers to the left foot leading. The terms are also used in skateboarding and surfing. After being "goofy" for a few runs, it was determined that I'm really a "regular," and my left foot took control.
After a couple of days, we were ready for the mountains. On the gondola ride up, past the tree line and clouds, I anticipated what boarding on a real run would be like. It had to be easier on wider, longer slopes.
Wrong! Not only was maintaining balance an issue, but now I had to do so while being towed up a run sideways by a T-bar and dodging all the other people taking ski or snowboard lessons.
But by the week's end, I understood the concepts and was beginning to feel more confident about pointing my board nose-first down the slope. With perseverance, practice, ibuprofen and the occasional physical therapy session, I continued to improve.
Now in my third season of shredding, I've ridden my snowboard down spectacular regions all over Europe. I also have converted my tight-fitting ski wear to looser snowboarding attire that is easier to move in.
This year our two teenage boys are joining me on their snowboards. While it took some time to get my groove on and adapt to the lingo, it didn't take long at all for the younger generation to earn my respect for embracing a thrilling and challenging sport. There's not much that can compare to the feeling of gliding over fresh powder on a snowboard.
Some folks believe that life begins at 40, while others say that it's all downhill from here. For me, as long as I'm on my snowboard, it's both.
Jaime Wood is publicity director for Patch Ski Club. E-mail her at jaime.wood@us.army.mil.