Islands: From Athens, it's a quick trip to Hydra, Poros and Aegina
by
Susanna Barnwell
May 29, 2003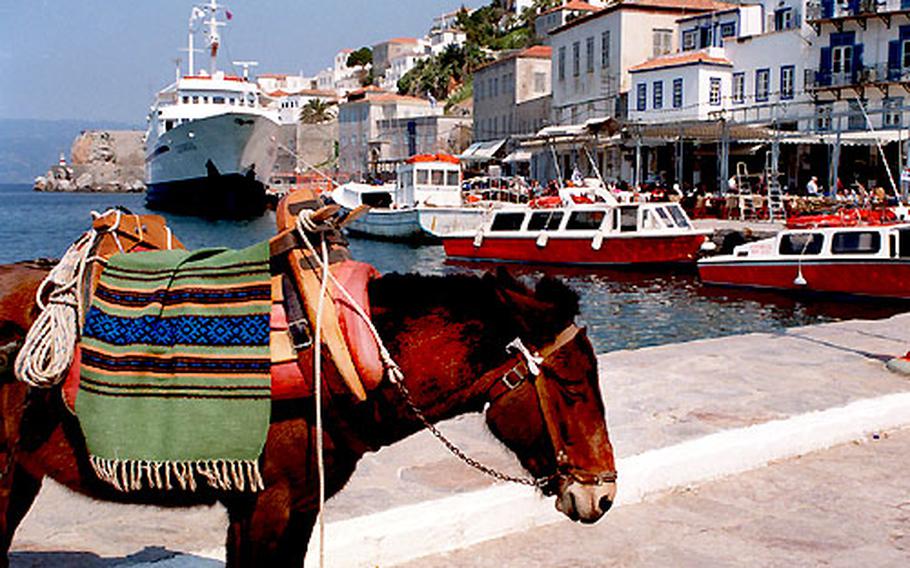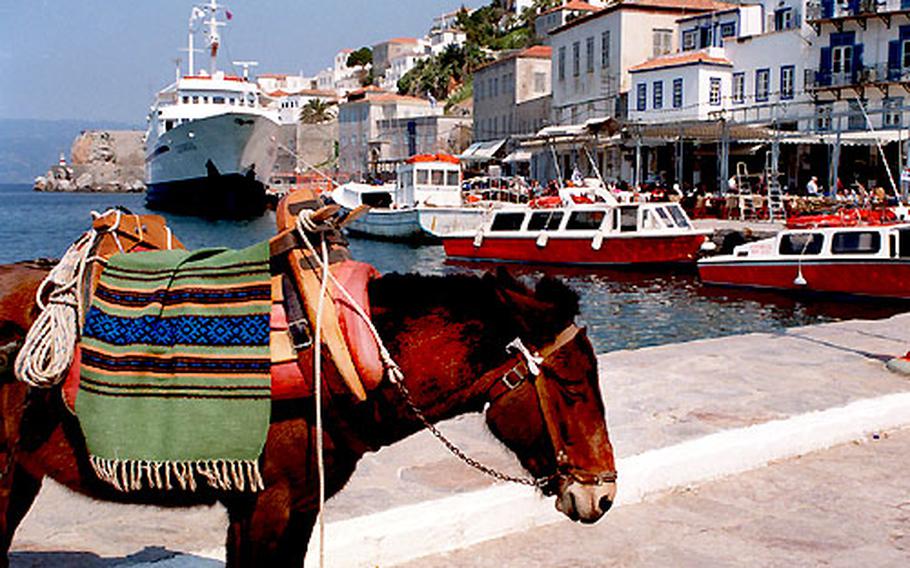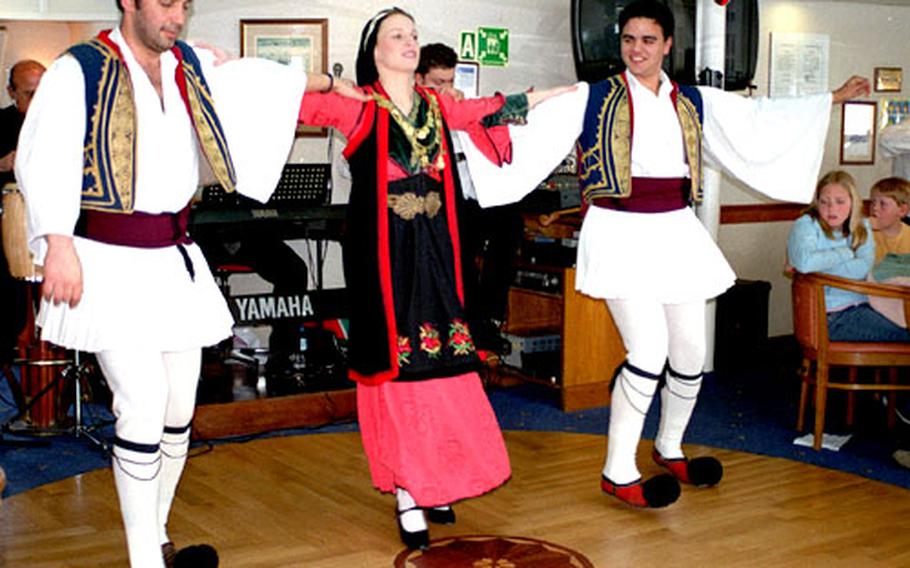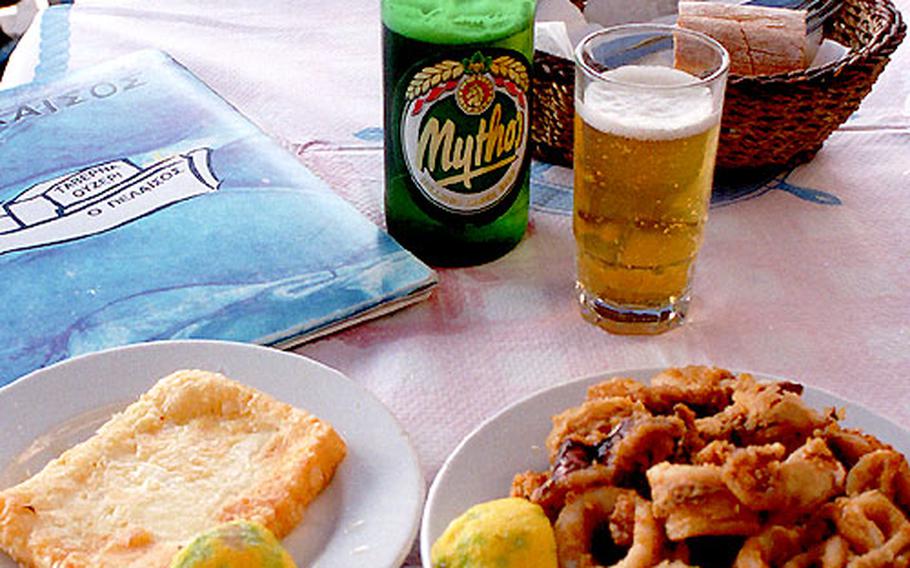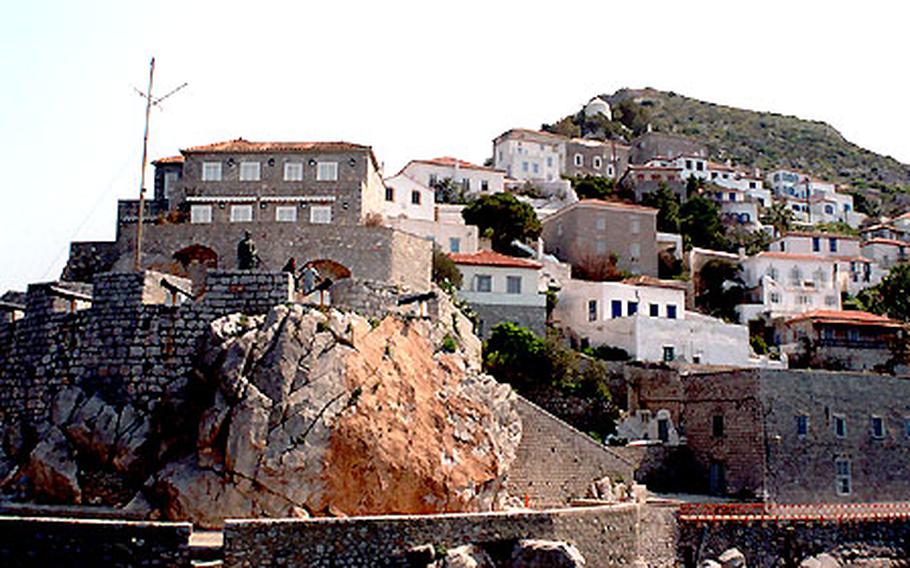 Even if your trip to Athens doesn't continue on to one of the more famous Greek islands, such as Crete or Santorini, you can get a taste of the isles with one of the many cruises to the smaller islands near the Greek capital.
The Saronic Gulf islands of Poros, Hydra and Aegina lie only a few hours from Athens and can all be easily seen in one day.
Many hotels in Athens have information on these cruises at their reception desks. They can even book the tours for the next day, so you don't have to worry about reserving them before you arrive in Greece.
The islands are a good getaway from Athens since there is much construction going on in the city in preparation for the 2004 Summer Olympics. Famous sites such as the Parthenon and the Temple of the Olympian Zeus have massive scaffolding around them. The National Archaeological Museum and the ancient agora were closed late last month for renovations.
An island tour gets you out of the hustle and bustle of the city and offers a chance to slow down a bit.
We booked a 12-hour trip through our hotel's reception desk with G.O. (Greek Organized) Tours for about 75 euros, lunch included. The next day, a bus picked us up at the hotel early in the morning, and after collecting other travelers from various hotels, headed for the Trokadero Marina to waiting ship.
Our first destination was Poros, which faces the Peloponnesian town of Galatas. Reminiscent of Italy, the rolling coastline is filled with whitewashed villas and terra cotta rooftops. Sailboats, palm trees, sunny sidewalks and shops line the shore, inviting us to join in the island's laid-back activities.
A short hike to Poros' prominent clock tower gives a picturesque bird's-eye view of the tiny island. To find the stone stairs leading to the tower, go left after leaving your boat, stay on the main strip and look for a small, hand-painted blue-and-white sign. There are even a couple of souvenir vendors who will provide you with a bit of a breather on the way up to the tower.
However, souvenir prices can be higher here than on the mainland, so be sure to shop around a bit and compare prices before committing to a purchase. A small porcelain version of the clock tower could be a nice remembrance of your stop here. Fragrant olive oil soap and hand-knitted slippers with pompoms styled like the ones that the traditional Greek soldiers wear are also a good idea.
Postcards, worry beads, hand-woven pillow covers, rugs, handmade jewelry, decks of cards with racy themes and collectible spoons and other trinkets can be found all over the islands. If you walk into a store that seems to have items without prices on them, be sure to bargain.
After our short visit to Poros, we sailed to the southernmost stop, Hydra. Arriving at Hydra, you might think you were entering Poros again if it weren't for the protruding cannons that protect an aging fort on the way into to the port town.
There are no cars here — the only motorized transportation consists of sanitation and construction vehicles. Handsomely decorated donkeys are all along the main strip, offering a quick tour or help with luggage for those on an overnight stay.
Small porcelain windmills with "Hydra" painted on them can be found in many of the tourist shops on the island. The real windmills may be hard to find since some have had their blades removed.
Other than a beach town mentality, another theme connecting the islands is the plentiful presence of cats. These cats are not the malnourished and gangly types that can be found roaming other areas. These look as if they are fed a hefty helping of seafood, and seem quite happy with their circumstances.
It's quite common to pass time while dining at an outdoor café by feeding these friendly felines. In Greece, "meow" seems to mean "More calamari, please."
After leaving Hydra, it was time for lunch and some traditional Greek dancing. The meal wasn't much to write home about, but the dancing was a real treat. Dressed in traditional style, the dancers wowed us with their talents and involved even the most apprehensive guests in their performance by getting them to join in the dance.
As we neared the last port of call, it was easy to see that Aegina is larger and more populated than the other two islands. The island, famous for its tasty pistachios, is probably the most visited island of the three.
If you are a pistachio lover, this is the island for you. Stores selling the tiny nuts will bag them and seal them fresh for you to take home. A good assortment of soft and chewy nougat containing pistachios can be found all over as well.
Aegina holds a special place in my heart. After a so-so meal on the boat, my nostrils forced me to halt in front of a café where I smelled one of the most heavenly scents I have ever smelled: fried calamari. If you have never tried squid and are thinking about it, Greece is the best place to do it. It is served with orange-sized lemons meant to be squeezed on top of the fried specialty.
If souvenir shopping or soaking up the sun isn't your cup of tea, sitting in an outdoor café can be all that you do on any of the island stops. People-watching is a major pastime in Greece, as it is in most European countries. Take a break and enjoy listening to the variety of languages that pass you by.
If you are looking for a great way to experience something different during your trip to Athens and not have to worry about the planning, try the island cruise. Put on your flip-flops, grab your suntan oil and escape to Poros, Hydra and Aegina for the day.
If you go to the islands ...
Our cruise included lunch and traditional Greek dancing. If you are on a cruise like this, the dining and dancing will help pass time between islands.
If you are feeling a bit hungry, you might want to try to get back to the ship early enough to make the first seating for lunch. The first seating on our cruise was between the first and second islands — Poros and Hydra — the second wasn't until after the Hydra stop.
If you do not want the included lunch, there is always traditional Greek food on the islands, such as fresh calamari (squid), fried feta cheese, stuffed grape leaves, or souvlaki (a Greek meat specialty) to cure your hunger.
If you like calamari, be sure to sit down in one of the many outdoor tavernas with fresh octopi drying out front. It tasted like no other calamari I have had, and I am still craving it now.
Don't forget to try some Greek beer. Having lived in Germany for a while, I thought that nothing could beat a German beer. After tasting the Mythos brand, I was pleasantly surprised. It is a great accompaniment to any of the previously mentioned food.
Greeks are known for their wines as well. If you like a dry wine, it is best to try some retsina. Many tavernas in Greece offer their own. Another wine is Mavrodaphne, a very sweet red wine that is probably best with dessert.
A Greek experience is nothing without sampling ouzo — the infamous Greek licorice liquor found throughout the country. Some ouzo is smooth, while others can be quite shocking to the system.
It can get cold on the ship during the spring. While it may be warmer in the summer, a light jacket is still a good idea since the trip starts early in the morning.