In Soufflenheim, France, making pottery of the Alsace is an age-old art
by
Michael Abrams
October 23, 2003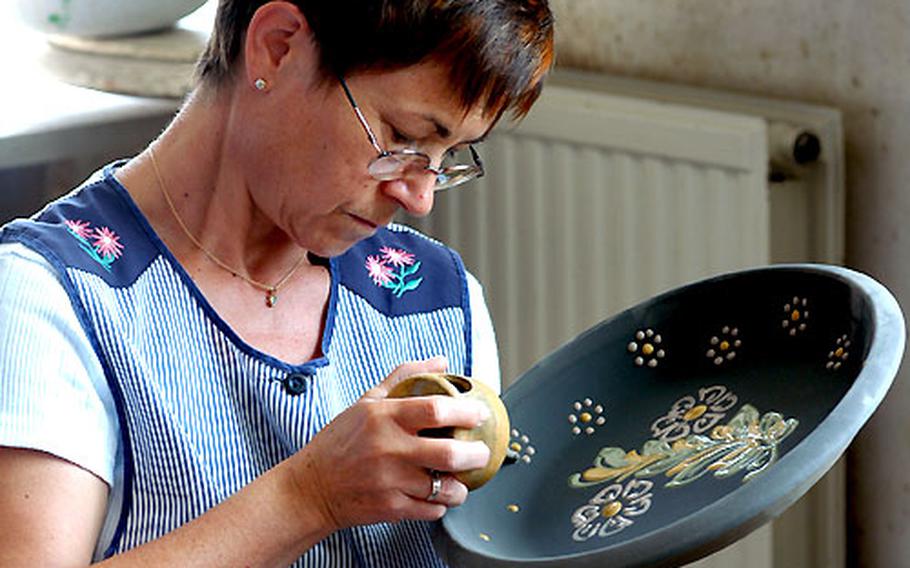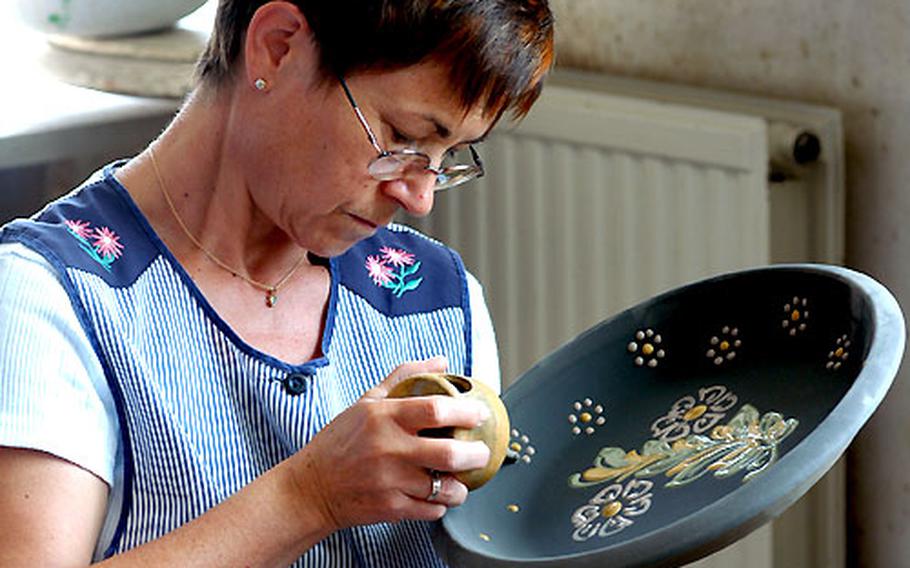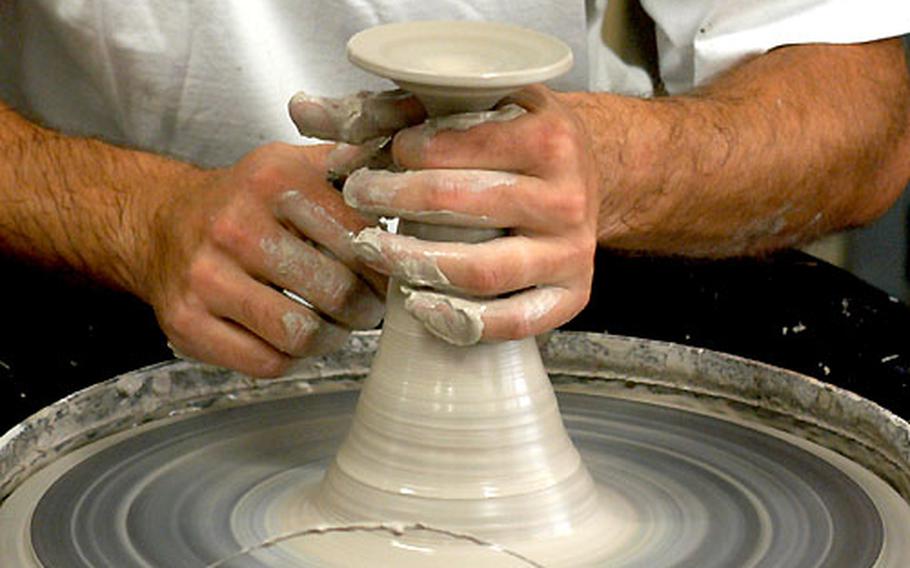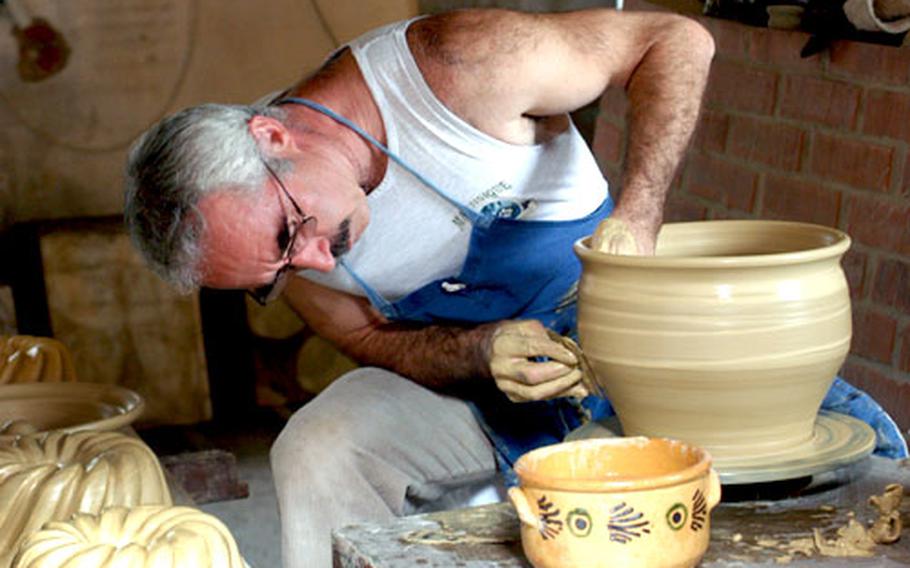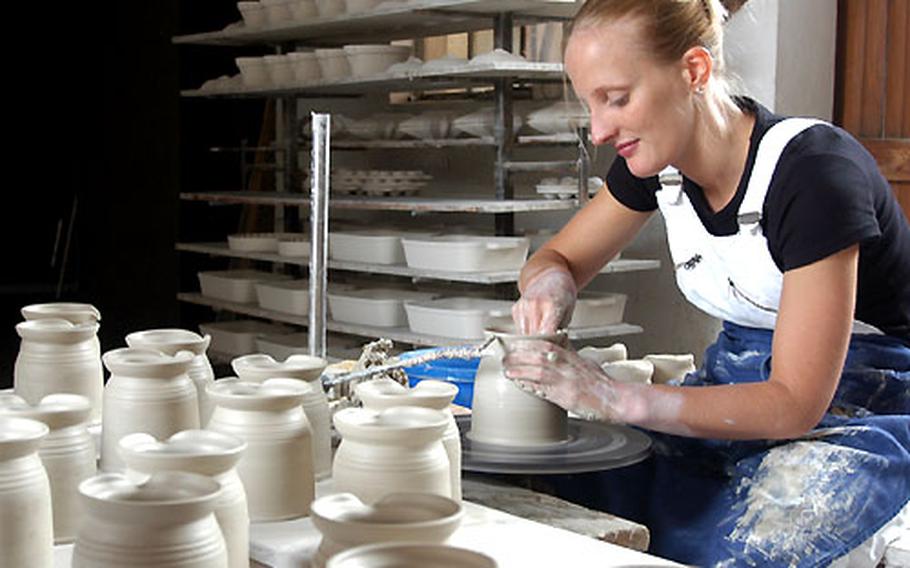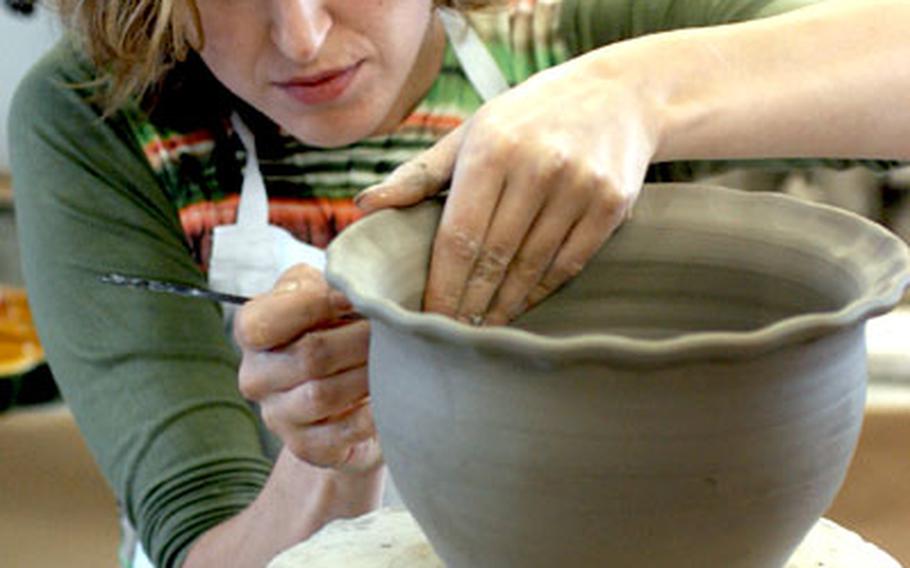 It all starts with a mound of wet clay.
Carefully, with skilled hands and the help of his wheel, the potter forms the clay. It becomes skinnier, taller, smoother. With a slight squeeze of his fingers, it becomes a vase, or perhaps a pitcher or a pot.
When he is satisfied with his work, the potter uses a strand of wire to cut it from the wheel, and then places it on a board.
But the creation is far from finished.
First it must dry. Then a thin film of colored clay is applied to give the item a basic hue. Next it is decorated. Usually traditional designs are applied, or perhaps drawings of animals, or people dressed in local costumes. Then it is glazed, and finally the pottery is placed in a kiln where it is baked at 1,000 degrees Celsius.
After the kiln door is opened and the objects have cooled, the potter in Soufflenheim, France, can sell his traditional Alsatian pottery.
There have been potters here for ages, perhaps as far back as 400 B.C. In the 12th century, Emperor Barbarossa granted the potters of Soufflenheim the perpetual right to extract clay from the nearby Haguenau forest.
In 1837 there were 55 potters' workshops in Soufflenheim, employing more than 600 people.
Today there are still 20 workshops there, producing the traditional pottery of the Alsace. Nine of them make up the "Brotherhood of the potters craft of Soufflenheim."
The potters are proud of their work, and to show off their products they hold the "Grande Fete de la Poterie," or grand pottery festival, every two years. They open their workshops and demonstrate pottery making. There is music along the Grand Rue, Soufflenheim's main street, and local clubs sell food and drink. Alsatian folk groups dance in their traditional costumes.
Unfortunately the next festival isn't until September 2005, but you can shop for Alsatian pottery in Soufflenheim almost any time. Most of the shops are even open on Sunday afternoons, and if you are there during the week, most of the potters will let you have a peek into their workshops.
Alsatian pottery comes in many different colors, but the main ones are dark blue, ocher, dark green and brown. They come in all shapes and sizes. While you can find vases and ashtrays and other knickknacks, the pottery is traditionally made for use in the kitchen.
Large oval terrines are for baking Baeckeoffe, an Alsatian casserole with meat and vegetables; smaller ones can be used for coq au riesling, chicken in riesling wine. Both can be used for another Alsatian specialty, Choucroute garni, sauerkraut with sausage. The bell-shaped molds are for Kougelhopf, a dry cake that is also a specialty of the region.
But you can also buy plates, butter dishes, cheese bells, snail dishes, cups and saucers produced here. Not to mention wine pitchers to serve the excellent vintages of the region.
Of course, you could cook the dishes without using the traditional pottery, but according to the locals, the food will be more authentic and taste better when prepared in cooking ware made by the potters of Soufflenheim.
If you go ...
Where:
Strasbourg and Soufflenheim are in the Alsace region of eastern France, on the German border.
Getting there:
Soufflenheim — From the Heidelberg/Stuttgart direction, take Autobahn 5 south to the Baden-Baden exit and follow the signs on Highway 500 toward Iffezheim. Stay on the highway — it will turn into D4 after crossing the Rhine River into France — until it meets with A 35. Go south to the next exit and take N63 to Soufflenheim.
From the Kaiserslautern direction, you can go the scenic route by taking Highway 37 to Hochspeyer and then Highway 48 south to Bad Bergzabern and from there to the French border at Wissembourg. Then take highway D263 to Haguenau and then N63 east to Soufflenheim.
Strasbourg — From the Heidelberg/Stuttgart direction, take Autobahn 5 south to the Appenweier/Kehl exit and follow the signs on Highway 28 to Kehl and Strasbourg.
If you are coming from the Kaiserslautern area, you can go the same way as to Soufflenheim, but at Haguenau follow the signs to Strasbourg.
When:
Of course, you can visit Strasbourg and Soufflenheim any time.
In Soufflenheim, most of the pottery stores are open Monday through Saturday, and many are open Sundays. Most will be closed from noon to about 2 p.m. for lunch.
Strasbourg is nicer in the warmer season so you can sit outside at cafés and restaurants, but many cafés have gas heaters that let you sit outdoors if the weather is not too bad. The city does have a wonderful Christmas market on cathedral square that is worth a visit.
Soufflenheim hosts a Christmas market Dec. 6-7 in the municipal hall and a Christmas fair on the town streets Dec. 8 with open shops. The next pottery festival is in September 2005.
Where to stay:
There are some small hotels and pensions around Soufflenheim, check the Web site for listings.
Strasbourg has numerous hotels in all price classes. Usually, the closer you are to the cathedral, the more expensive it gets. Go to www.strasbourg.com and get its hotel listings. We stayed at the Ibis Petite France, just across the Ill from that lovely section of the city.
Where to eat:
In Soufflenheim, try La Couronne or Au Bœuf, both on the Grand Rue. They are good places for lunch before heading to the pottery shops.
There are plenty of good restaurants in Strasbourg, and they come in all price classes. As in Germany, the menu is usually posted outside the door, so you have a chance to compare. Le Crocodile is a well-known gourmet temple and rather expensive. In the Petite France district, Le Maison des Tanneurs and Au Pont St. Martin are popular, but it is hard to find a place that is not good here. We ate at Cat'sy, just down from the St. Martin, and it was delicious.
Strasbourg is a great place to try Alsatian specialties. The great Alsatian wine is also worth a try.
Information:
There are two Web sites with information on Soufflenheim: www.tourisme.fr/office-de-tourisme/soufflenheim.htm#LOISIRS and www.ot-soufflenheim.fr. The former is in French and does not work well on Macs, and the latter has some English Web pages that work if you have the right plug-ins. Both have addresses and links to the pottery shops.
The tourist information office is on the Grand Rue. It is closed on Sundays; telephone (+33) (0) 3-88-86-74-90.
For Strasbourg, check out the city's Web site at www.strasbourg.com. There is a tourist information office on cathedral square.
— Michael Abrams
---
---
---