In Okinawan culture, following a few rules is believed to keep evil spirits at bay
by
Chiyomi Sumida
October 31, 2002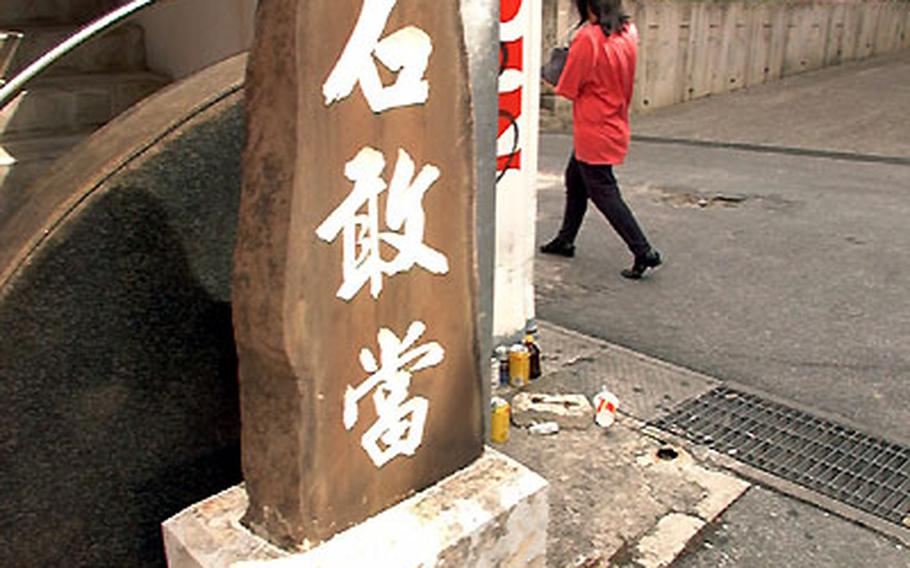 Mysterious stories abound on Okinawa where people traditionally worship their ancestors and nature.
Keeping religious custom and visiting a sacred site to pay respect to their ancestors are important parts of life. Failure to do so will cause bad things to happen, they believe.
On this subtropical island where thick moist air dominates for most of the year, there are many factors that make people superstitious. Okinawans believe evil spirits fly aimlessly in the air. That's why many dead ends and forked corners on the island are marked with three Chinese characters reading "Ishi-Gan-To"— the magic word to ward off the evil spirits.
But many feel that is not enough. Haru Miyagi, 80, who lives in Ginowan near Marine Corps Air Station Futenma heaved a big sigh and smiled on one autumn day. She just finished Shibashi, an Okinawan custom of putting looped pampas grass in every corner of the house. The looped grass is a talisman to avert any evil spirits from coming into a house. Now her house is evil-spirit-proof.
"August is a bad month," said solemn-faced Miyagi.
Shibasashi is an event Okinawans have practiced for centuries on Aug. 15 of the lunar calendar to exorcise their homes.
In old days, people believed that the divine power of the Great Nature was weakened when the harvest season was over, said Shigeo Tobaru, a curator at the Okinawa Prefectural Museum in Naha.
"People thought that it was the time when all evil spirits become active," he said.
Evil things also could happen when people trespass on the holy ground. Sacred groves are everywhere on this ancestor-worshipping island. Okinawans believe that the holy sites are where spirits of their ancestors descend to communicate with their living descendants.
Castle sites with shady groves are typical sacred sites. Zakimi Castle is one such place where people are expected to pay respect, keeping one taboo in mind; Remove no trees, plants or stones that belong to the divine spirits.
Violating the rule is believed to invite evil, said Gisho Nakama, curator of the Yomitan Folklore Museum near the castle. He has seen some instances of what happened when the inviolable rule was broken.
He recalled one such incident that happened 26 years ago.
"It was when a man from Naha came to Zakimi and took a baby pine tree home with him," he said.
"On that night, he developed a raging fever of an unknown cause," he said. The fever went away soon after he returned the tree to the spot where it was pulled out, he said.
"Local people in Yomitan, especially the elderly, know well of the taboo of the castle site," he said.
The same rule applies to other sacred places on the island. On Camp Foster, across the ballfield near Gate 4 is a thicket area where old Chatan communities' sacred sites are consolidated. Located in the center of the holy grove is a tomb of a great Zen priest, Chatan Choro, who lived in the 17th century.
"He was a saint of great mercy and supernatural power, with which he healed the sick and saved crops from insect plague," said Kentoku Maeshiro, a 71-year-old retired local educator.
In the chaos after the end of World War II, the tomb site was enclosed within Camp Foster and attempts were made to level the land, Maeshiro said.
But, for some inexplicable reason, the construction attempts were never successful, he said.
"No matter how many times the attempt was made, bulldozers overturned each time, injuring workers," he said.
"In other times, workers contracted unknown illness and suffered from high fevers," he said.
After repeated attempts, the project to level the area was eternally shelved, he said.
On Sept. 15 of the lunar calendar every year, people gather at the sacred site to worship their great ancestor, he said.
"The tomb site is a very significant place for people in Chatan," he said.
"It is the land of our spiritual home," he said.
He said that everyone would be welcome to the site as long as visitors remember the taboo: Remove no trees, plants or stones from where they belong.