In Italy, festival choices range from silly to serene
by
Kent Harris
January 29, 2004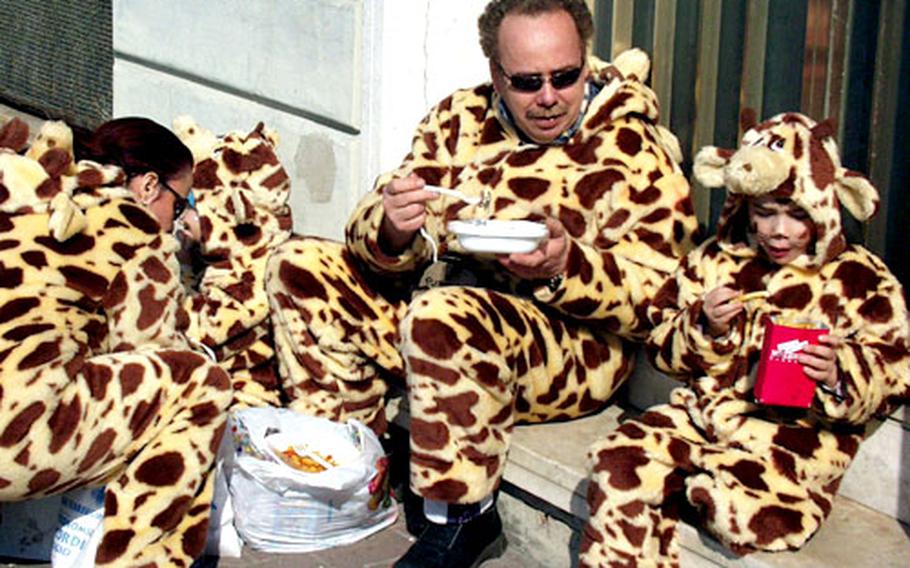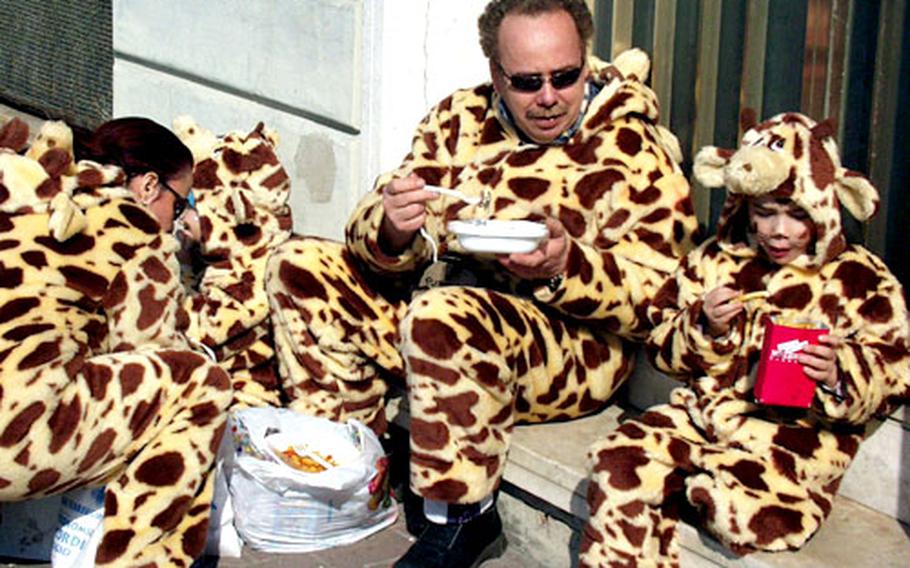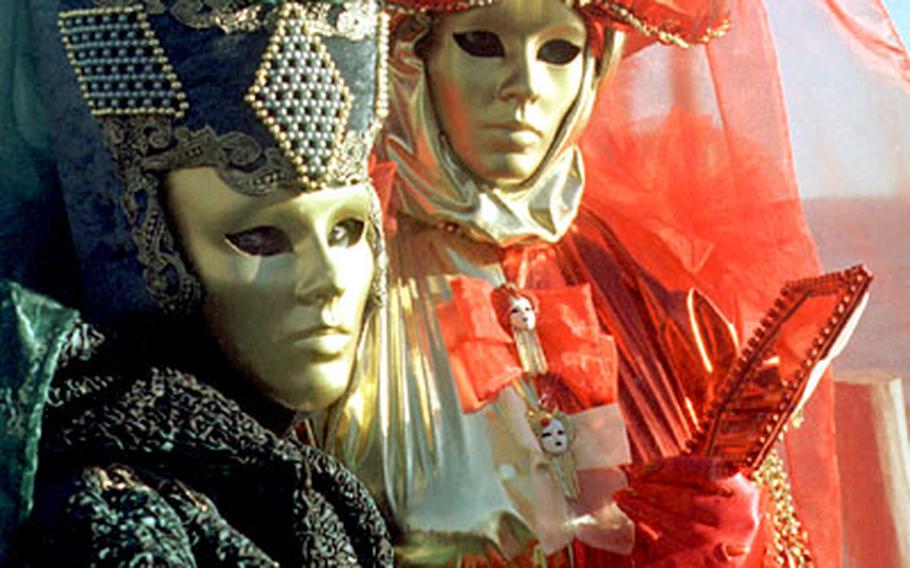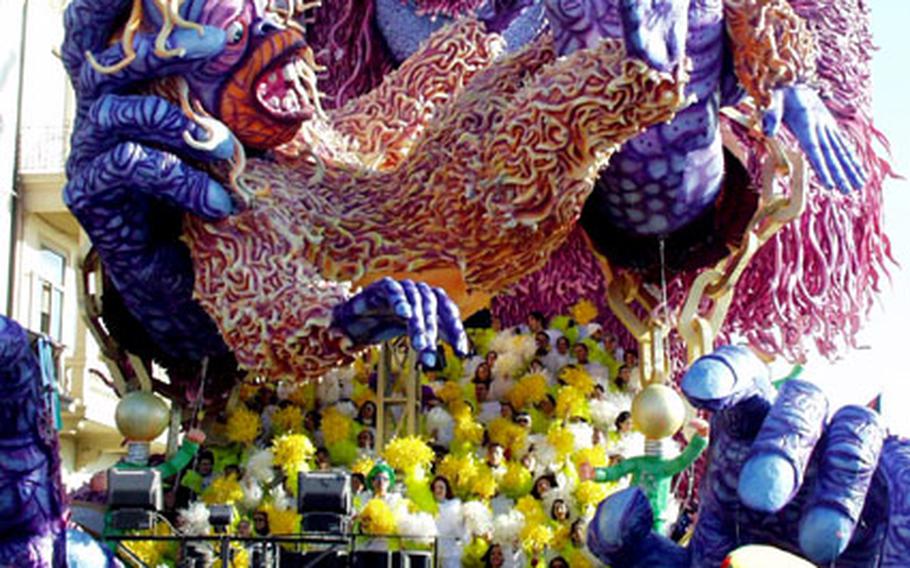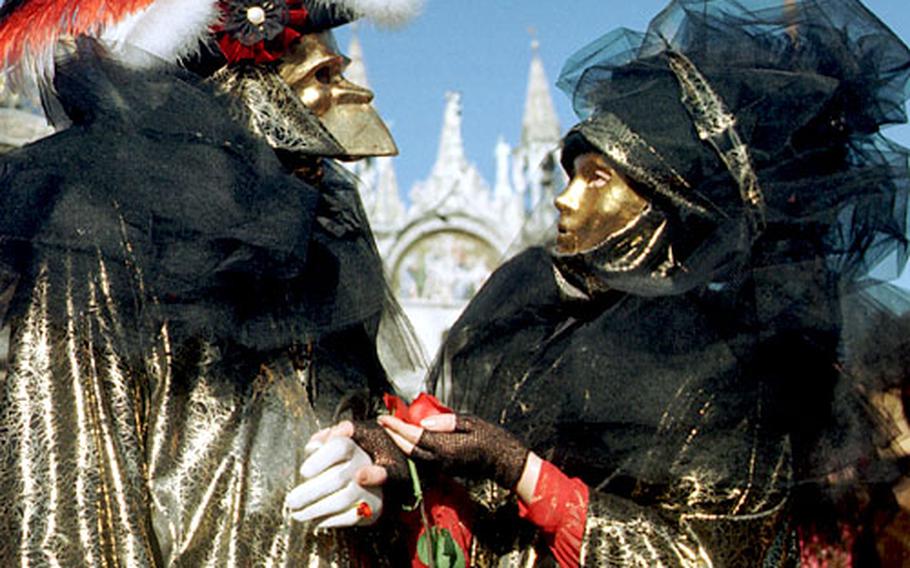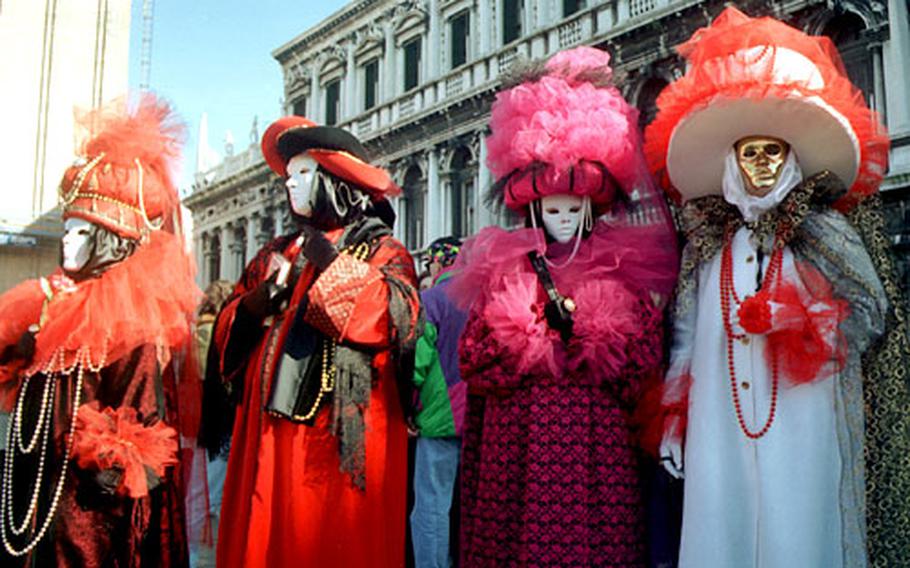 Carnevale festivals in Italy contain several similar themes: People dress up in elaborate, colorful costumes; history and tradition are in evidence everywhere; and food and souvenirs are sold by the ton.
But there are almost as many differences as similarities. Take the two most popular sites in northern Italy: Venice and Viareggio. They're about five hours apart on opposite coasts. But they're even farther apart when it comes to the actual celebrations.
Venice's fest, famous around the world, is all about elegance. Tourists flock to the event, which runs daily from Feb. 7 to 24 this year, to gawk at locals dressed to the hilt in period outfits and elaborate masks. Those who can afford their own costumes — and still have euros left over — can attend one of several balls held in various palaces around the city.
Viareggio's celebration, by comparison, more closely resembles an American county fair. The music is loud. Booths featuring games and (relatively) cheap food are everywhere. Giant floats, which take months to create, parade up and down the main street.
Italian tourists travel for miles to attend. Most of the activity is limited to Sundays, when the floats go into action.
This year's celebration in Viareggio, a coastal resort town about 20 miles north of Pisa, starts Feb. 7 with opening ceremonies. But most people will attend Feb. 8, 15, 22 or 29. That's because the celebration is centered on the floats, each of which seem to contain its own separate biosphere.
Many of the floats blare music and sport dozens of people singing or dancing atop sometimes- odd creations that defy easy explanation. Several have political themes — again hard to grasp sometimes, even if you speak the language. At least one this year will target the Amercan-led effort in Iraq.
To get the best views, visitors have to pay to enter a closed-off area along the esplanade. Last year, admission was 11 euros for adults and a bit less for children.
The teams who build the floats are in theory competing in three categories, with the winners named at the end of the competition. But don't expect to see anyone standing around with a clipboard marking down scores.
There wouldn't be room for that anyway, because Sundays are packed with people. Italian families come by the carload, with the children universally decked out in costumes, many resembling the same characters popular with American children at Halloween.
In Venice, the kids wear costumes as well. But it's the adults who generally steal the show. People spend hundreds of euros on their costumes, generally trying for a look that would make them feel at home during the city's glory days hundreds of years ago. Get in such a costume and spend your day posing and making loads of money for Kodak and Fuji.
This year's festival — which is organized around the theme of Oriental Express — has a few quirks, though. An ice skating rink will debut, reportedly for the first time in city history. The celebration also will repeatedly be featured on live broadcasts by the country's version of MTV.
Group gondola tours and dinners — costume required — run nightly in conjunction with various restaurants around the city, generally costing more than 100 euros a person.
For those with bigger budgets, a handful of balls is the chic way to go. The Doge's Ball, which calls itself the oldest, runs from 8:30 p.m. to dawn and features dancing, dinner and entertainment. Costumes are required. So are tickets — at 450 euros each.
The Secrets of Venice Ball is the final night of the celebration. Held at Palazzo Ca'Zenobio, it also requires costumes and hefty admission fees (370 euros each). But organizers promise that those attending will be introduced to "a world of surprises and amusements where almost everything is allowed."
That will apparently give those attending plenty to think about during the season of Lent that follows the end of Carnevale.