Hochheim: You never sausage a place!
by
Peter Jaeger
November 4, 2008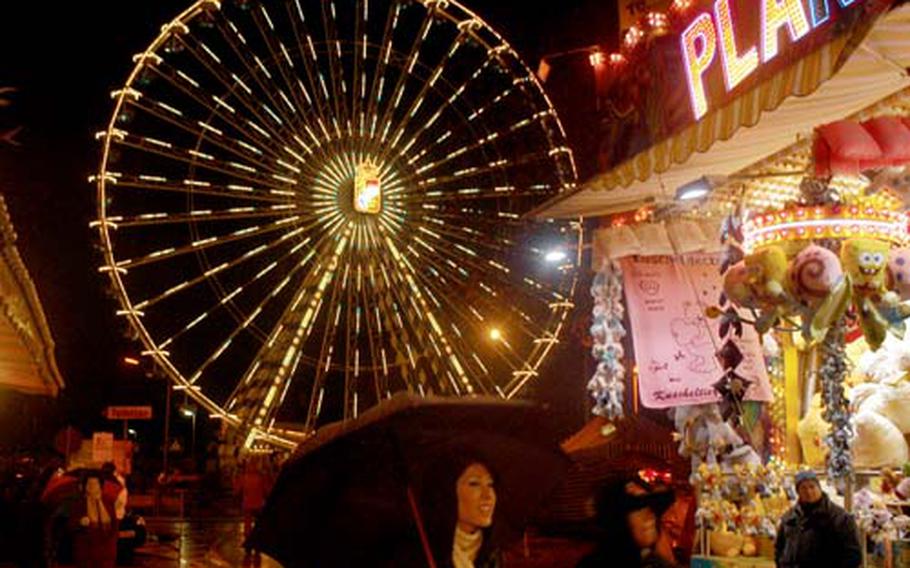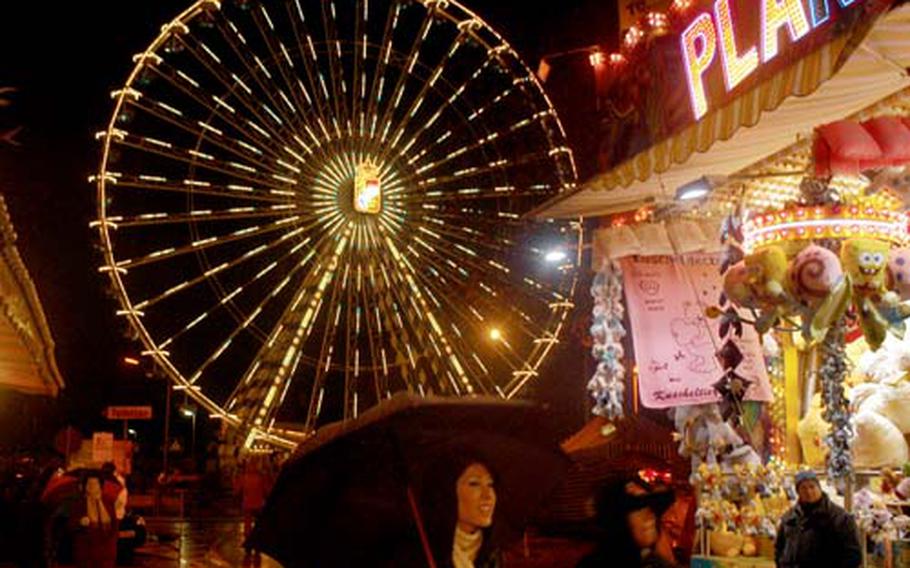 Looking for an unusual gift for Christmas?
How about a weird waterbed for your wife? A Shetland pony for your kids? A black Bavarian pig and 12 leghorn chickens for the family?
Perhaps a powerful harvester for Uncle Ben's vineyard? Two cases of famous Rheingau Riesling wines for cousin Carl? Or a tombstone with a chiseled inscription for your mother-in-law?
This is the time to look for those items and many more strange or practical gifts for the holidays, and the town of Hochheim, about 10 miles east of Wiesbaden, Germany, is the place to find them.
The Hochheimer Markt, a combination farmers market, county fair and carnival, has been held for more than 500 years on the first full weekend of November — Friday through next Tuesday this year. It draws about 400,000 visitors each year and is considered one of the five largest in Germany.
The fair is held near the center of town and one side street that leads into the town. Some local residents open their yards to merchants, and vintners open their shops to sell local wines, sparkling wines and other drinks.
While some of the daily highlights include horse and cattle shows, an agricultural machinery and consumer showcase, and the sale of ponies, goats, pigs and chickens, there's also a touch of Oktoberfest in the air. A huge beer tent seats 2,500 people and hosts dance shows and a variety of bands. There will be dozens of kiosks offering a range of food such as German sausages, baked almonds, popcorn and other treats.
More than 700 stands will offer almost everything you can use — or not use, for that matter. From kitchenware to knitted sweaters, from flowers to furs, from jewelry to stones with messages chiseled on them, from handcrafts to household goods, take your pick.
And by chance, if you don't need anything, just enjoy the sights and sounds, the colors and smells all around you. A large Ferris wheel is the highlight of the amusement rides mixed among stalls offering games of chance. There will be demonstrations of agricultural machinery, health and fitness equipment and tools for crafts workers. A large fireworks display on Tuesday at 7 p.m. closes the event.
If the weather bothers you (traditionally it is rainy and cold), just ignore it as your German neighbor does. Or follow him to the nearest stand and order a hot Glühwein, a spiced wine that's a holiday favorite. A few sips, and the weather will no longer matter.
On the QTDirections: The Hochheimer Markt is in Hochheim, about 10 miles from Wiesbaden, off exit 5 on autobahn 671. You'll see the big Ferris wheel ahead of you. Special note: Parking at the Hochheimer Markt is very difficult to find. Officials recommend parking at marked parking grounds in Nordenstadt and Massenheim, where shuttle buses run to and from the market. Both villages can be reached from A66 Wiesbaden-Frankfurt at exit 7. In Wiesbaden, bus 48 goes to Hochheim and has two stops near Hainerberg housing area: Berlinerstrasse and Siegfriedring. The S Bahn Wiesbaden-Frankfurt stops at Hochheim and a shuttle bus is available at the train station.
Times: The Hochheimer Markt is open 9 a.m. to 2 a.m. Friday until Tuesday. The amusement park is open from noon until midnight. The animal fair (horse show on Saturday, cattle show on Sunday) is open both days from 9 a.m. until noon. Kiosks selling everything from kitchenware to bric-a-brac are open from 9 a.m. until 9 p.m., with some open until midnight.
Costs: There is no admission for the Hochheimer Markt, but charges might apply for some shows in the beer tent.
Food: There are many eateries at the Hochheimer Markt offering everything from traditional grilled German sausage to Chinese food. Some neighbors of the market open their yards to offer German food and wine. Several restaurants are nearby.
Information: The market has its own Web site, in German: www.nervenkitzel.de/hochheimermarkt.