Historic Okinawa awamori distillery gets a facelift
by
Matthew M. Burke and Chiyomi Sumida
April 27, 2017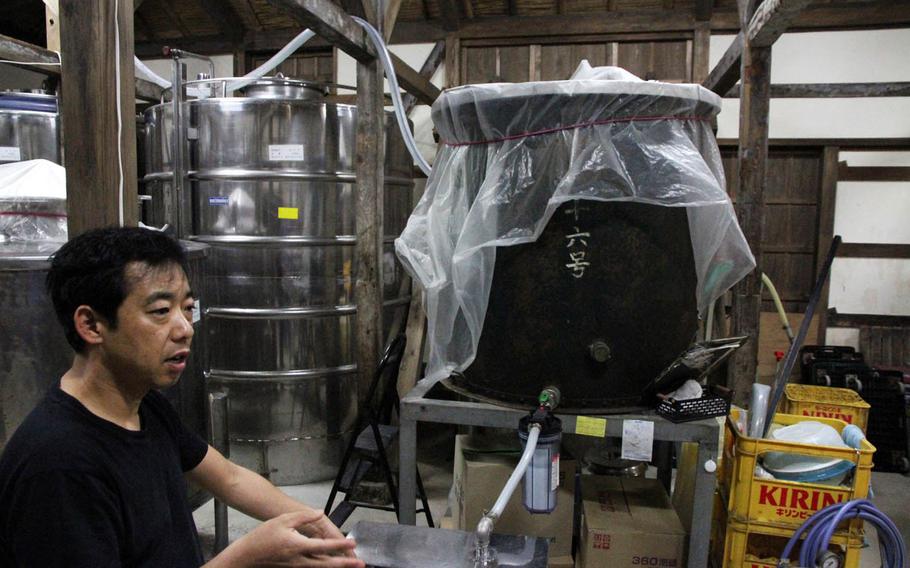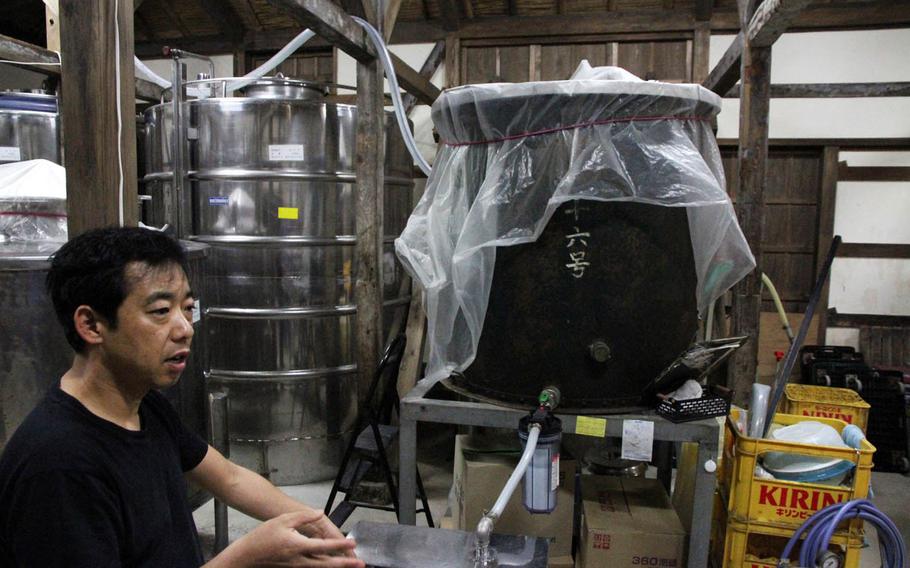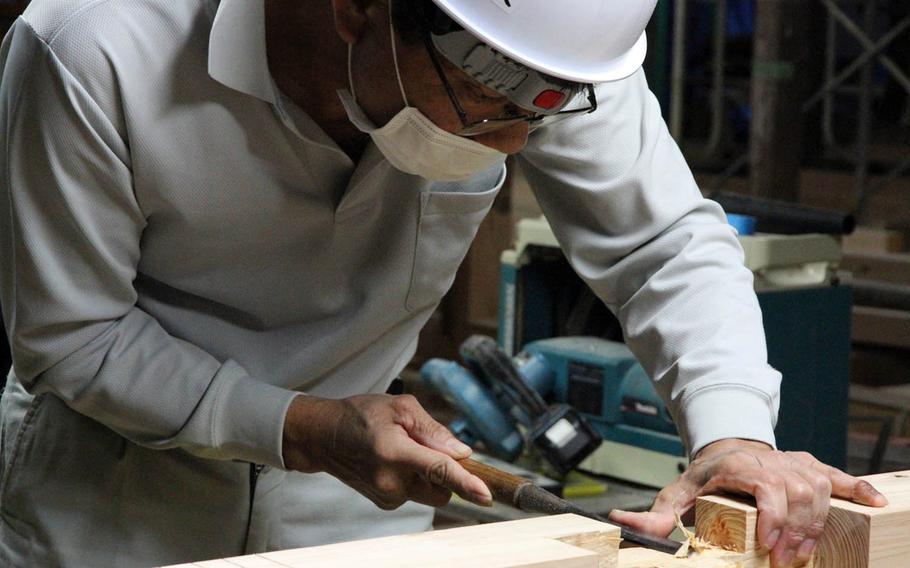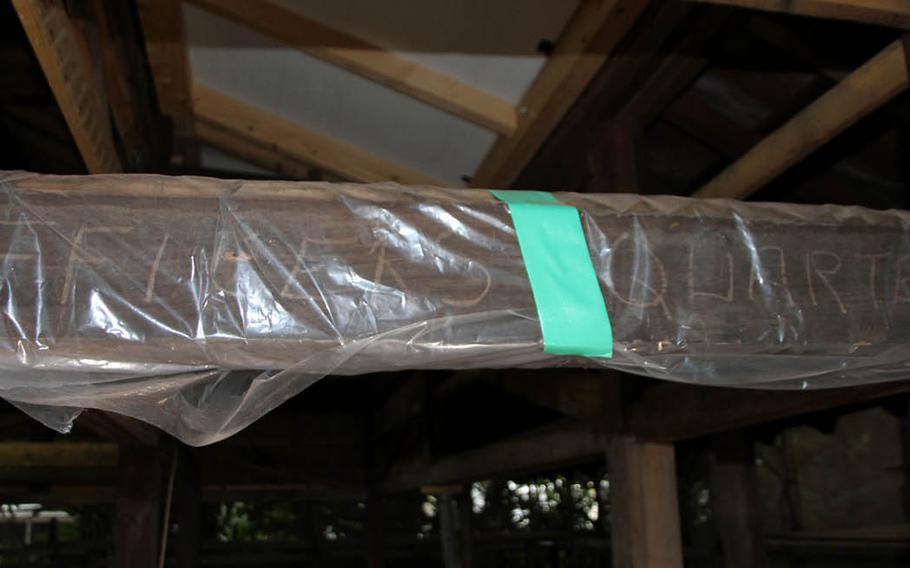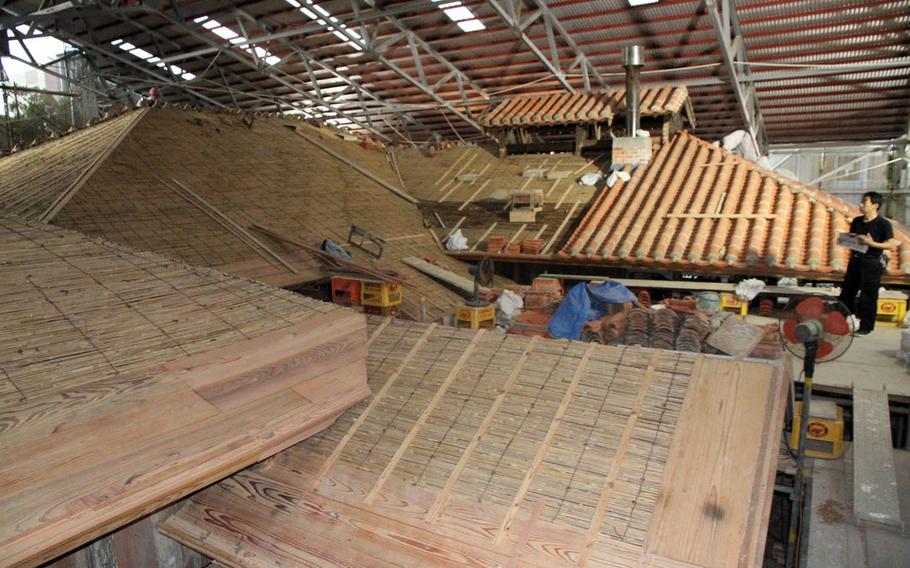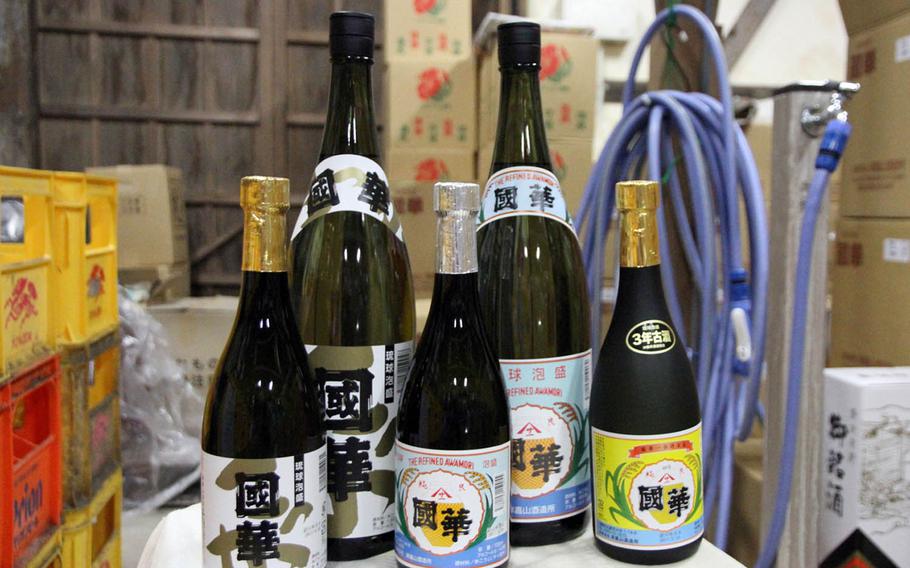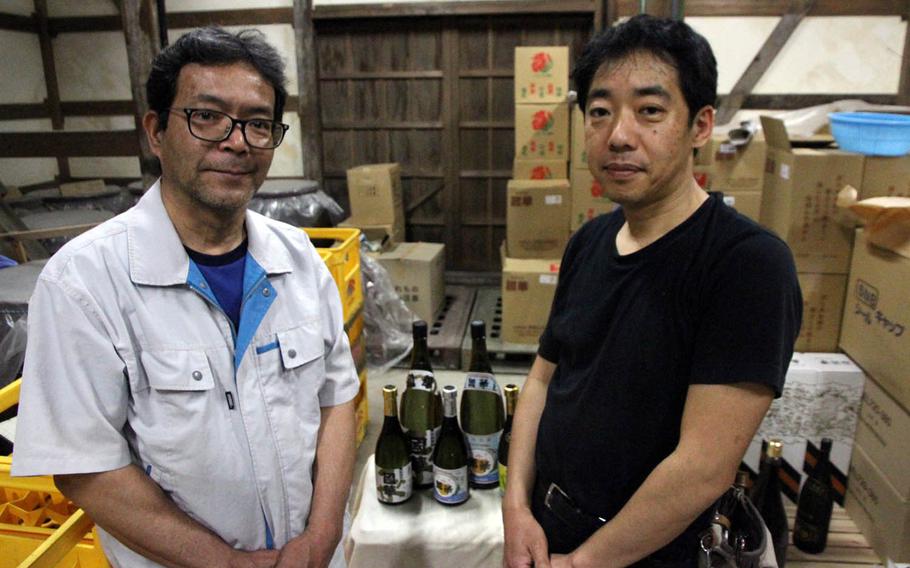 After five years and nearly $3.5 million, renovations at Tsukayama Distillery — the only Okinawan awamori distillery to survive the Battle of Okinawa — are nearly complete.
The national cultural heritage site that produces Okinawa's signature alcoholic beverage has a unique connection to the U.S. military. During the battle, the distillery was not bombed so it could be seized and utilized by U.S. troops, even though the surrounding area was largely destroyed. It was then used as an office, barracks and a bread factory until 1947 when it was returned to the Tsukayama family.
The traditional post and beam distillery has been popular with American troops for decades due to the quality of its awamori — called Kokka, which means "flowers of Kunigami" for the northern region of Okinawa. Construction crews are being careful to preserve the building's World War II history, incorporating etchings left on beams by American troops into the construction, so that they last another 100 years.
"Every piece of lumber and wooden panel is a witness to history, and is therefore precious," said Shin Yonaha, an architect with Okinawa Prefectural Government's cultural heritage management office.
Yonaha added that some of the materials used to build the original structure came from homes that had been demolished at the time of construction and date back hundreds of years.
Construction should be finished by September, though the brewery is still functioning with plenty of awamori for sale.
Tsukayama Distillery was founded by Choho Tsukayama in 1924 in Nago, said Hidekazu Akimura, one of two brewers at Tsukayama. Four years later, Tsukayama moved his distillery to its current location in Onaka district in Nago City.
World War II was a sorrowful time for Tsukayama and his family, as it was for most Okinawans. He died from malnutrition during the Battle of Okinawa. His son and successor, who had been conscripted by the Japanese Imperial Army, perished in the Solomon Islands.
After U.S. troops vacated, a daughter and her husband, Chishin Zukeyama, took over operations. It remains in the family of Choho Tsukayama's descendants to this day.
In 2009, the distillery, which is one of only a half-dozen wooden structures to survive the Battle of Okinawa, was listed as a national cultural heritage site, placing it among 22 national treasures on Okinawa today. It stands as one of the largest red-tile roofed houses to survive the Battle of Okinawa. Beams and walls inside the distillery speak, with "Officers Quarters," "Rosie" and "6th Division" scrawled inside. There are also the last names of troops who stayed there.
"The beams are an integral part of the structure," Akimura said. "We want to keep them as they are. Preserving them is important because it is part of the unique history that the distillery has gone through."
The construction is an all-encompassing project. The roof is being redone, and the wooden posts and beams that have rotted or split are being replaced.
Pieces of lumber were numbered before they were taken apart, because no blueprints for the building exist, Akimura said. Aerial reconnaissance photos of the distillery and the on-site house taken by the U.S. military during the war were used to help restore the original form. It took a year and a half to take apart the distillery and another year and a half to restore it.
Tsukayama awamori starts with rice from Thailand, Akimura said. It is washed and then steamed. Black koji mold is mixed and kept warm overnight. Water and yeast are added for fermentation. The fermentation process takes 14 days in summer and 16 days in winter. It is then sent to a single vessel for distilling. It takes six months to a year to make awamori. Awamori aged 5-7 years is called kusu.
Akimura said that their two brewers are involved in every step of the awamori-making process, which makes them unique. Other distilleries divide their labor. One hundred years of black koji mold in the air also makes Tsukayama's awamori special.
Distilled and unblended awamori finishes at 44 percent alcohol, Akimura said. Water is added to adjust the alcohol content. Tsukayama offers Kokka that is 30 percent alcohol and 43 percent alcohol, same as whiskey.
The longer awamori is stored, the more mild the taste. Tsukayama produces 3,700 gallons of the clear alcoholic beverage per year.
"Our distillery is very small and our annual production is 1/1,000 of Kumesen, one of the largest awamori distilleries on Okinawa," Akimura said. "Just two of us make our awamori. Yet, we continue to win awards every year."
Last year, Tsukayama was recognized among the top 16 out of 44 awamori distilleries on Okinawa during the annual awamori fair competition.
"Our traditional and unique method makes Kokka a very mild awamori with a fresh taste," said Akimura, beaming with pride. "The delicate fragrance and smooth sensation is the major feature that we take pride in."
Tsukayama Distillery DIRECTIONS
Drive north on Highway 58 to Nago and turn right at the Gusuku 1-chome intersection in Nago city. Proceed on Highway 71. Turn left at the Nago intersection and take Highway 84 until you reach the Onishi intersection. Turn right at that intersection and turn right again immediately after a NTT DOCOMO, Inc. shop. In less than a minute's drive, the distillery will be on the left.
TIMES
Open 10 a.m. to 4 p.m. daily for visitors. (Closed between noon and 1 p.m.)
COSTS
Admission is free, as are brewer-guided tours and tastings. Distillery work is not performed on weekends and Japanese holidays.
Prices of Tsukayama awamori depend on the alcohol content and the volume, starting from 650 yen to 2,600 yen ($6 to $24). A commemorative bottle of approximately 1.8 gallons costs 11,800 yen ($109). With a laser-etched design label, it is 17,000 yen ($157). These are popular gifts amongst servicemembers who have a newborn baby. They are supposed to hold onto the bottles until the child turns 20, and then drink it with the child.
FOOD
None available.
INFORMATION
www.awamori-kokka.co.jp/ (Japanese only)
---
---
---