Herrstein: Join Germans in an unchanged jewel
by
Terry Boyd
April 4, 2006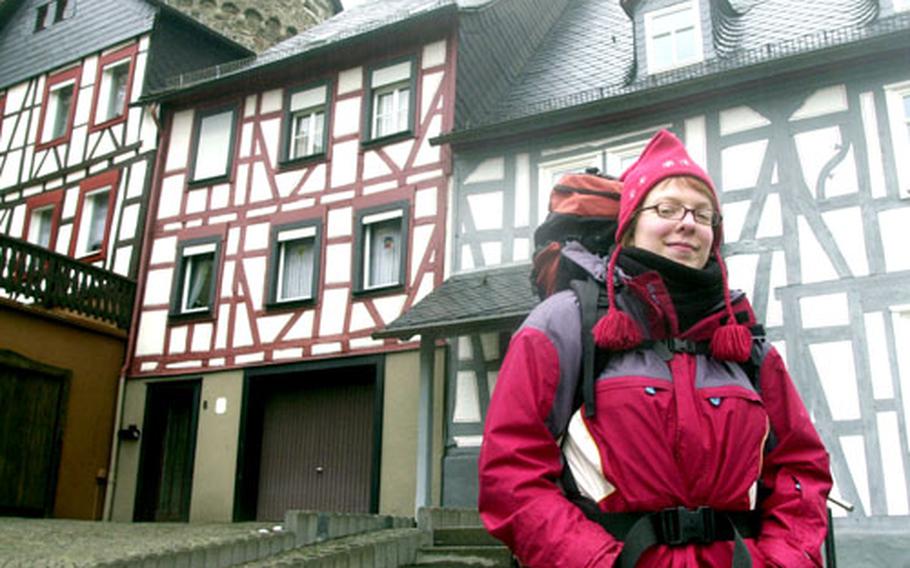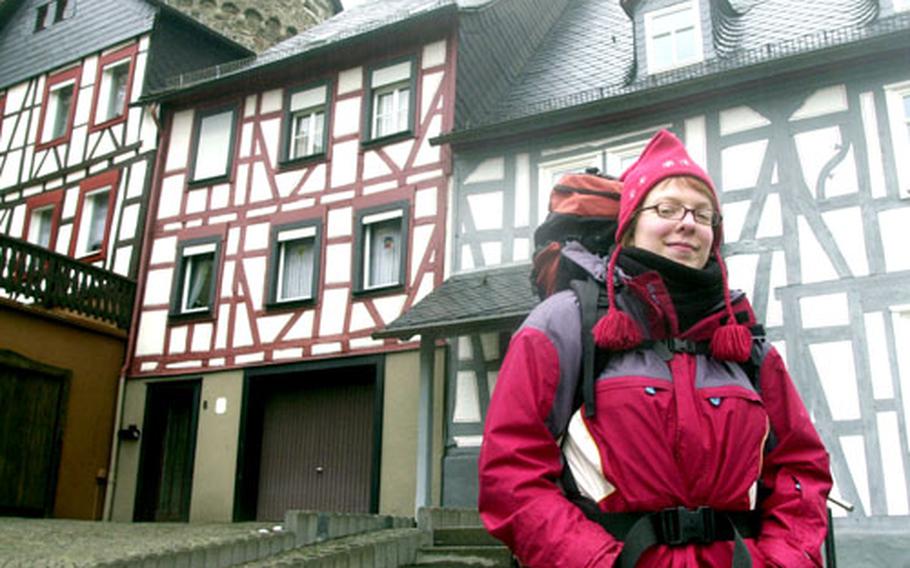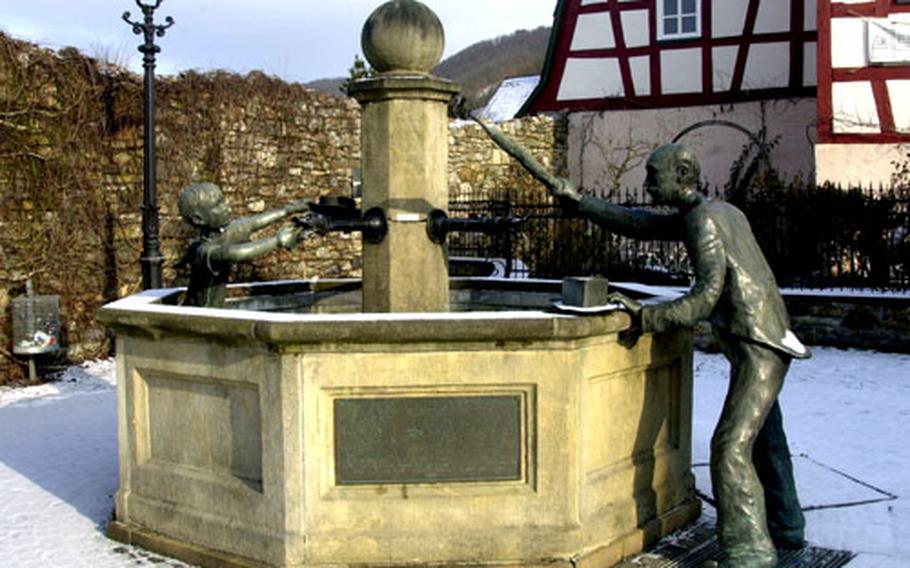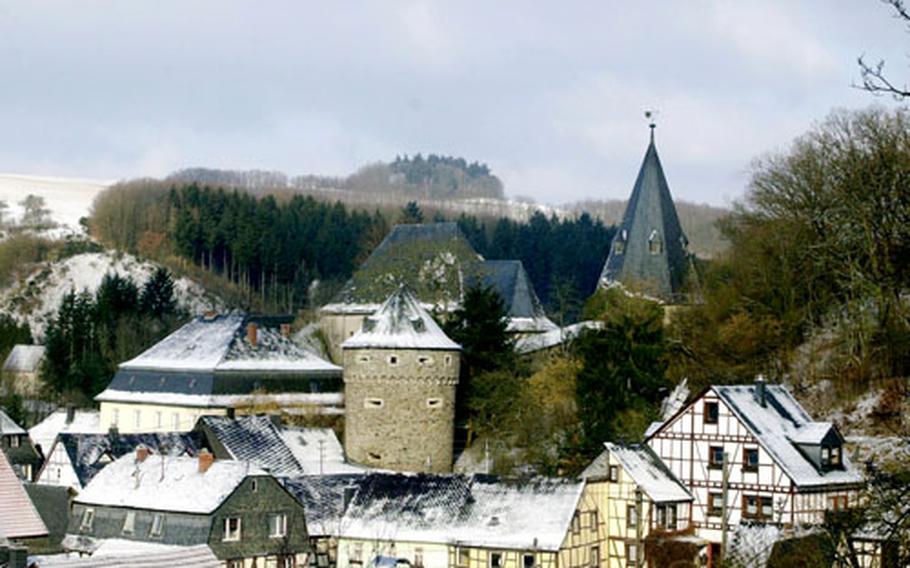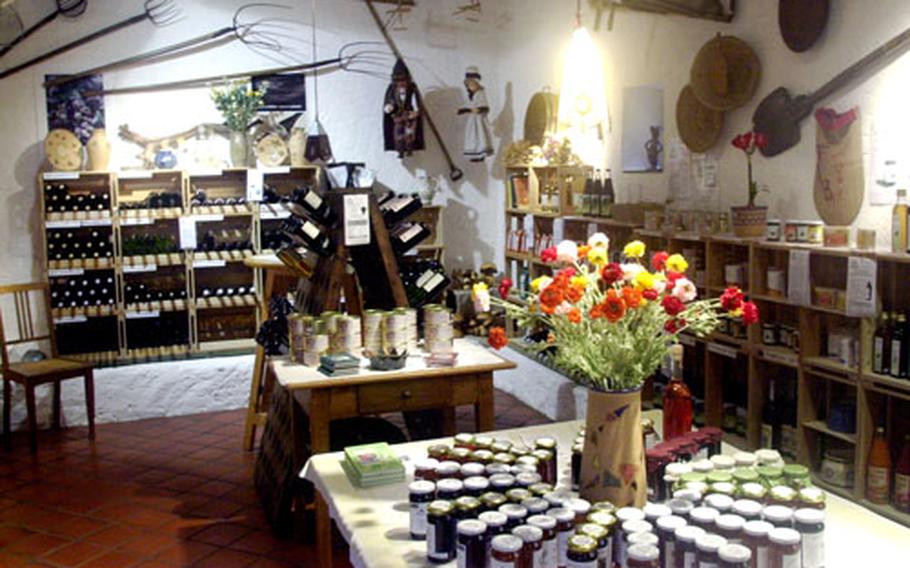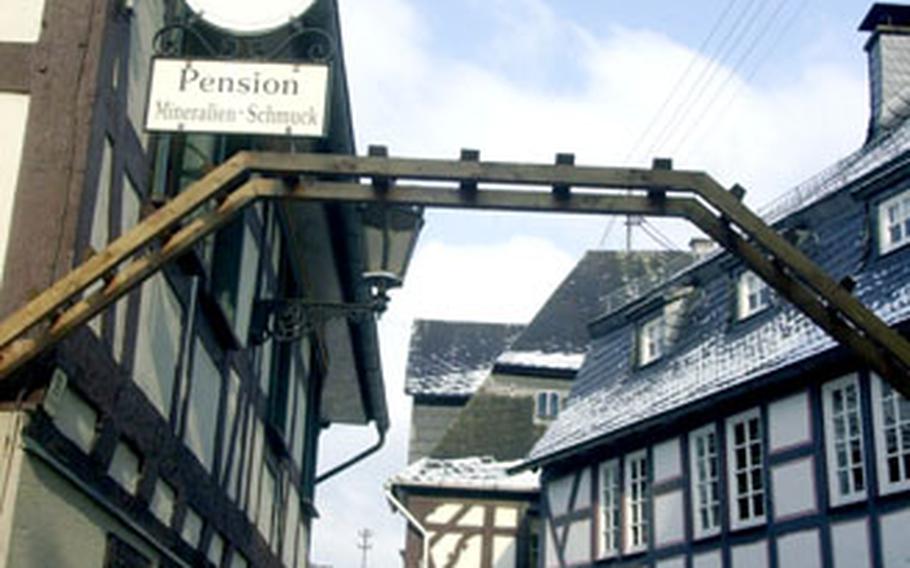 In mid-March, there's a late-winter dusting of snow on the ground, and Herrstein, Germany, is fast asleep. The only person on the cobblestone main square is Kirstin Lang, who is studying antique restoration at the local crafts school, waiting for a ride home to Bavaria.
A couple of weeks from now, when the weather finally breaks, this little medieval village will awaken and become a destination for Germans.
But not for most tourists. It's not that kind of place.
"Herrstein is a relaxing day with the family," says Mark Wojcik, an Air Force retiree and Baumholder's local travel guru.
Wojcik takes groups of American and German friends to nice, long, inexpensive Sunday meals at Café Zehntscheune. The restaurant started out a couple of centuries ago as the local tithe barn, where farmers brought the portion of their crops paid to the local prince in taxes, Wojcik said.
The specialty, Oma's gefüllte Kartoffelklösse — Grandma's stuffed potato dumplings — is super rich, creamy and contains about a gazillion calories. The wild boar is fatty, but flavorful. And, ach du Liebe zeit, the cheesecake and torts! Why not have more?
The German beer is fabulous, and the cafe's wines — especially the whites — are great, mostly from the nearby Nahe River Valley running between Bad Kreuznach, just up the road, and Bingen.
It's not just a great restaurant, "it's the only restaurant," Lang said with a smile. Actually, it's not. There's at least one other in the town's main hotel.
To walk off the rich food, locals wander through Herrstein's little cluster of shops — a gemstone dealer, two antique shops and the spiffy Sheune im Hunsrück — "Barn in Hunsrück," Hunsrück being the hilly region around Herrstein. The shop has everything from jewelry to local wines.
For certain, the lazy German-style Sunday here means just relaxing in one of the little squares or open areas amid houses that date to the 15th century, or near the 13th-century clock tower, which is part of the only existent city gate in the Hunsrück area.
In an area where countless castles and architectural treasures were burned down during a series of wars since Roman times, or were bombed flat during World War II, Herrstein somehow survived intact. The remains of a castle, old church and lots of wonky half-timbered buildings are hidden in the center of what at first appears to be just another gray town on the German Jewel Road.
But once you pass the old city walls into the heart of the village, you realize why the locals' faithful restorations and emphasis on craftsmanship earned Herrstein a 1988 European Union Diploma of Merit for preservation, as well as historic-preservation awards from the German federal government.
Other than those awards and weekend visitors, the village "has not seen any action. Ever," Wojcik says.
It is as if "it fell off the planet" and remains the way it was hundreds of years ago.
On the QTDIRECTIONS: Herrstein is about 20 miles from Baumholder and a 25-minute drive from the Kaiserslautern/Ramstein area. From Baumholder, take L-176 to Idar-Oberstein and continue through town to the intersection with B-41. Turn left onto B-41 and follow the road, which becomes the Deutsche Edelsteinstrasse (German Jewel Road) to Herrstein. From Kaiserslautern/Ramstein, take A-67 north toward Trier and exit at Friesen. Turn right toward Baumholder, and follow L-176 until you see the turn to Idar-Oberstein, then follow the above instructions.
TIMES: At this time of year, most shops in the old town are open on weekends only. For example, Café Zehntscheune is open 4 p.m. to 1 a.m. Fridays and 11 a.m. to 6:30 p.m. Saturday and Sunday.
COSTS: Other than food and gift purchases, hanging around Herrstein is free, including parking.
FOOD: Most meals at the Café Zehntscheune cost 6.50 euros, including Oma's gefüllte Kartoffelklösse. Beer and wine prices are 1.50 euros per glass.
INFORMATION: Herrstein has a Web site, www.herrstein.de, with links to the crafts school and Café Zehntscheune. There's lots to do near Herrstein, from walking nature paths above the village to visiting the wilderness refuge in nearby Kempfeld, which has the remnants of a castle.
— Terry Boyd