Heidelberg: Market adds advent calendar, skating near castle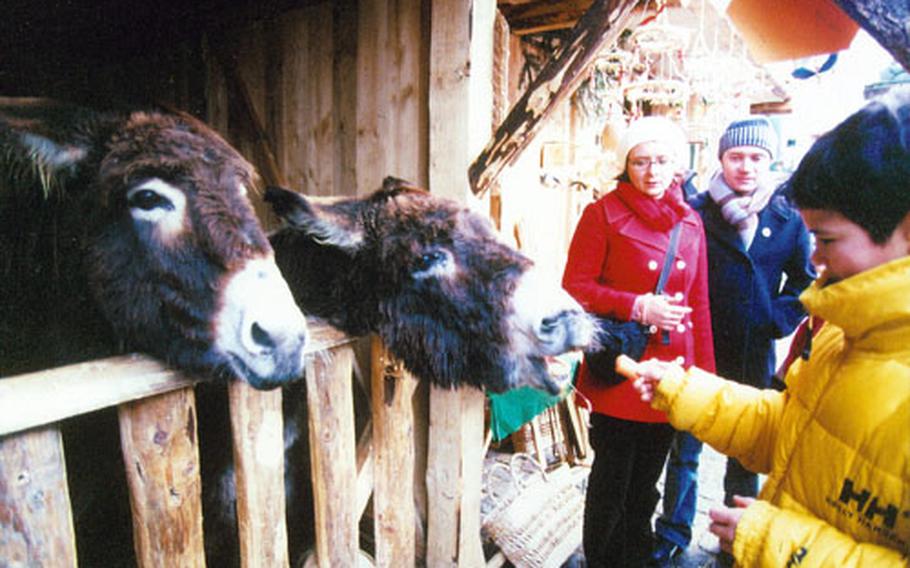 Organizers of the popular Heidelberg Christmas markets are adding several features this year that will involve much of the Old Town, including its well-known castle.
The many markets, which continue through Dec. 22, have more than 140 stalls on large and small squares throughout the town. Also available this year are ice skating at the foot of the castle, daily children's programs and a huge Advent calendar that will be incorporated into the castle.
"We pay particular attention to the combination of the traditional and original … in the arrangement of the squares and attractions," Steffen Schmid, Heidelberg Convention and Visitors Bureau event manager, said in a prepared release.
He said organizers always keep in mind the children who will attend. The result is the open-air ice skating rink at Karlsplatz. Skaters are surrounded by trees glistening with hundreds of stars and continuous Christmas music, and they have a spectacular view of the castle above.
The rink is open daily from 10 a.m. to 10 p.m. through Jan. 8, and children, with proper identification, can skate for free during the first session each day. Call (+49) (0) 173-6292097 to register groups and for more information.
The children's programs are conducted daily on the Theaterplatz, and will include appearances by the Heidelberg Theatre, the Philharmonic Orchestra and local artists. The Culture Christmas Market also offers gift ideas, a selection of Christmas cards and other activities aimed at kids.
The Art-Advent Calendar will grace the castle from Dec. 1 to 24. Each day, another window of the English building on the west side of the castle will serve as a multidimensional display area for works by prominent artists.
As in the past, the market is spread over several areas, each with a slightly different theme.
¶ Bismarckplatz is filled with stalls offering mulled wine and food to warm visitors and get them ready for the other markets.
¶ Anatomiegarten features unusual handicrafts and a working woodcarver
¶ Universitätplatz, in the heart of the Old Town, will have more crafts: silk screening, pottery, hand-blown glass. In the center is an old-time carousel
¶ On the Marktplatz, wooden stalls surround the Heidelberg Christmas Pyramid, the symbol of the market. The rotating pyramid, nearly 30 feet high, is decorated with figures from Heidelberg's past.
¶ The Kornmarkt is recommended for families. It has a Nativity scene and live animals that children can pet. There are also demonstrations by craftsmen and a collection of handmade toys.
Several churches will present organ recitals and performances of Christmas music throughout the Advent season. The complete schedule can be found at www.cvb-Heidelberg.de. There is an English option and a special section on the Christmas market.