Have a blast at Fourth of July events in Europe
by
Jason Duhr
July 1, 2013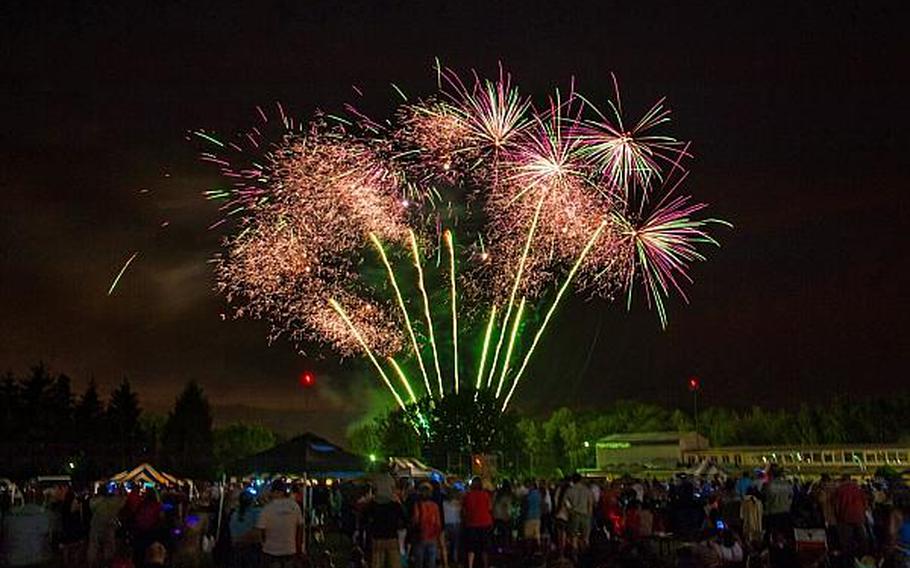 U.S. military communities across Europe have endured budget cuts and setbacks due to sequestration, but many installations plan to celebrate Independence Day with live music, children's games, amusement rides and fireworks.
Below is a sampling of this year's events.
BelgiumBrussels: Celebrate Independence Day on July 6 at Sterrebeek Annex, from 3-11 p.m. with games, DJ music and a barbeque. SHAPE's band will perform from 7-9 p.m. End the day's fun and festivities with a fireworks show.
SHAPE: Join in and celebrate Independence Day July 4, at the GB shopping area. Rides for children and adults, live entertainment, food and beverages. Sing karaoke and enjoy fireworks at 11 p.m.
GermanyAnsbach: Start celebrating Independence Day at 7 p.m. July 2 at Katterbach Airfield by attending a free concert with performances from heavy metal band Korn and special guest Love and Dead. Call in advance for free concert tickets through U.S. Army Garrison Ansbach MWR at 09802-83-2930 or (DSN) 467-2930. Continue your celebrations from 4-10:30 p.m. July 4 at Katterbach's hangar 2 with carnival-type games, food, refreshments, rides and live entertainment from American Music Abroad at 5 p.m. and Britta T & Band at 8 p.m. Finish the evening with fireworks at 10:15.
Bamberg: Exercise your freedom July 4 at JFK Multiplex with a fun run, or head to Whispering Pines for a golf tournament, both starting at 9 a.m. Enjoy a car and motorcycle show at 11 a.m. at the Freedom Fitness Facility. At 2 p.m. at Pendleton Field there will be a high rope course, fitness demonstrations, games, bounce castles, bungee trampolines, water balls and plenty of food and drinks. Enjoy live music from the United Beat Band and Bamberg's Audida. A fireworks display is scheduled for 8:15 p.m. at the multipurpose field.
Baumholder: Celebrations start at 9 a.m. July 4 in two locations, a 5-km Freedom Run at the Hall of Champions Fitness Center and a golf tournament at the Rolling Hills Golf Course. If a par 4 isn't part of your course, or a run isn't quite as fun, festivities for your Independence Day celebration start at 4 p.m. at the Hall of Champions parking lot. Enjoy your favorite contestant at the fest tent during the Baumholder Idol Finale at 6 p.m. and attend a fireworks show at Minick Field starting at 10:30 p.m.
Garmisch: On July 3 mosey on down to the Pete Burke Community Center for a red, white and blue family-friendly celebration starting at 4 p.m. Have some fun with a run at 5:30 p.m. or enjoy a variety of games at 6 p.m. Wear a patriotic costume or register to submit a pie and win a prize. Activities end with closing remarks at 8:30 p.m.
Grafenwöhr: Pack the blankets and prepare to barbeque at this year's hometown Independence Day celebration on July 4. Enjoy a variety of activities from various groups and organizations set up around Tower Barracks Parade Field. Watch the fireworks show starting at 10:30 p.m. All installation pass holders and ID card holders are invited to join the festivities.
Hohenfels: Jump into this year's celebration July 4 at Fest Platz with activities starting at 5 p.m. There will be children's bounce castles and CYSS activities. At 6 p.m. enjoy DJ music with a light-and-screen show, as well as a bean bag toss tournament. Food and beverages will be available until 10:30 p.m. Those with a sweet tooth can enjoy a pie-eating contest at 8 p.m. A fireworks display will start at 10:30 p.m.
Kaiserslautern: Rock in to Ramstein Air Base on July 4 at the Freedom Fest, with events starting at 2 p.m. and lasting until midnight at the enlisted club parking lot. Live music from Night Hawk, Kai Sonnhalter, Acoustik Soul and Made in America. There will be plenty of food, games and other activities along with fireworks. Bus shuttles are available to ID holders with stops at Armstrong's Club, Vogelweh and on-base stops at the Ramstein Post Office, PAX terminal, Northside Chapel and Hercules Theatre.
Schweinfurt: Enjoy the blast from start to finish July 4 with the Firecracker Fun Run starting at 9 a.m. at Kessler Fitness Center. Activities continue at 2 p.m. with kids attractions such as face painting, a bounce castle and much more. Adults can enjoy the "World of Wheels" car show and live music by the Donny Vox Band. Grill some food and enjoy your own beverages or purchase food and drinks from vendors. Finish the day with fireworks ending at 11 p.m. Please do not bring breakable containers to the event.
Stuttgart: Celebrate Independence Day early this year at Husky Field on July 3 starting at 4 p.m. Festivities include children's activities, free amusement park rides, live entertainment, food, refreshments and a fireworks display.
Wiesbaden: Pop in and enjoy the holiday festivities starting at noon July 3 at the Wiesbaden Entertainment Center, Mississippi Strasse 22. Enjoy an assortment of rides, bumper cars, live entertainment, free food and drinks from the USO, fireworks and a tourism fair among other events. If you're an ID card holder, head to Clay Kaserne at 7 p.m. July 4, when the doors open to the Wiesbaden Fitness Center for a free concert featuring Korn and special guests Love and Dead. The concert will begin at 8 p.m. with free parking in the parking garage. Please do not bring bags or backpacks to the concert.
GreeceSouda Bay: July 3 join the Independence Day celebration at the 115th in Agios Onoufrios from 3-9:30 p.m. with a wacky-oympics competition, inflatable games, picnic games and other activities. A ticket is required at the gate to enjoy the festivities, free drinks, barbeque and a fireworks starting at 9 p.m. Purchase tickets at Kriti Info. Active-duty servicemembers and children ages 5 and below receive a free ticket. Tickets cost $5 for ages 6-12, and all others pay $15.
ItalyAviano: On July 4 enjoy a Red Ball Golf Tournament and volleyball tournament at 8 a.m. and a Chiefs vs. Eagles softball game at 10 a.m. Starting at 6 p.m. there will be a kids zone with a climbing wall and a car show until 8 p.m. Two high-wire acts are scheduled to be performed by Geschwister Weisheit, the first starting at 7 p.m. and the second at 9:15 p.m. Music will be provided by the American Forces Network throughout the event. Wind down the night with closing remarks from the 31st Fighter Wing commander before the fireworks display.
Camp Darby: July 4 celebrations start at 9 a.m. at the American Beach and will include food from the snack bar and a barbecue meal starting at 5 p.m. for under $10 per person. You'll find games for children all day and DJ music and dancing from 7 p.m.-midnight under the pavilion. Enjoy a water show that will include lights and fire spurting from the water starting at 10 p.m., lasting about 40 minutes.
Naples: Enjoy Festa Americana or your annual Independence Day celebrations early this year starting at 11 a.m. June 29 at Carney Park. If you're a community member with park access, you are invited to enjoy food booths, craft tables, a high-wire act and fireworks scheduled for 10:45 p.m., among other activities. Bring up to six guests to enjoy the festivities.
Sigonella: On July 5 come out and celebrate the 237th anniversary of the signing of the Declaration of Independence. Enjoy a cardboard boat regatta at Splashers Pool starting at 4 p.m. and the "Red, White and Boom" festivities at 5 p.m. at the Midtown Complex at NAS I. Indulge in various food booths, a children's area with games and bounce houses. Enjoy live country music from Scarletta and a fireworks finale.
Vicenza: U.S. Army Garrison Vicenza celebrates Independence Day July 3 at the track and field area from 4 p.m. to midnight. Enjoy rides for children and adults, live music and food booths sponsored by MWR and other vendors, all incorporated into one evening with a fireworks display to finish.
NetherlandsSchinnen: Ring in this year's Independence Day celebration on July 6, on the Brunssum Sports Fields beginning at noon. Enjoy a petting zoo, classic cars, live music, rides, crafts and a birds of prey show. There will also be a 5-km run, softball games and music performed live by Nicole Frechette starting at 9 p.m. followed by fireworks.
PortugalLajes: On July 4 join the 65th Air Base Wing in celebrating "Freedom Fest" at Lajes Field starting at 4 p.m. and continuing through the evening with a fireworks show. Enjoy children's activities, booster club food booths, live music and other activities during this traditional Independence Day celebration.
SpainROTA: July 3 wake up and salute the flag before participating in a motivational fun run. The Independence Day festivities will begin at 4 p.m. in La Plaza parking lot and will include live music, rides, games, water slides, food and contests. Finish the night with a fireworks display.
TurkeyIncirlik: On July 4 participate in an old-fashioned celebration of Independence Day at Arkadas Park beginning at 6 p.m. Feel like you're back home while enjoying food, drinks and live music. Relax and enjoy the fireworks at 9 p.m.
United KingdomRAF Mildenhall: Kick off your Independence Day celebrations at noon July 3 at Washington Square, with the kids enjoying face painting, games and fun tables as well as a bounce castle. Or enjoy more old-fashioned fun with a car and motorcycle show, watermelon-eating contest, apple pie judging contest and a reading of the Declaration of Independence. Enjoy many more events and contests throughout the day accompanied by a picnic lunch purchased from the booster club.
Duhr.jason@stripes.com