Grotta Gigante: Italian grotto shows what water and time can create
by
Kent Harris
April 3, 2007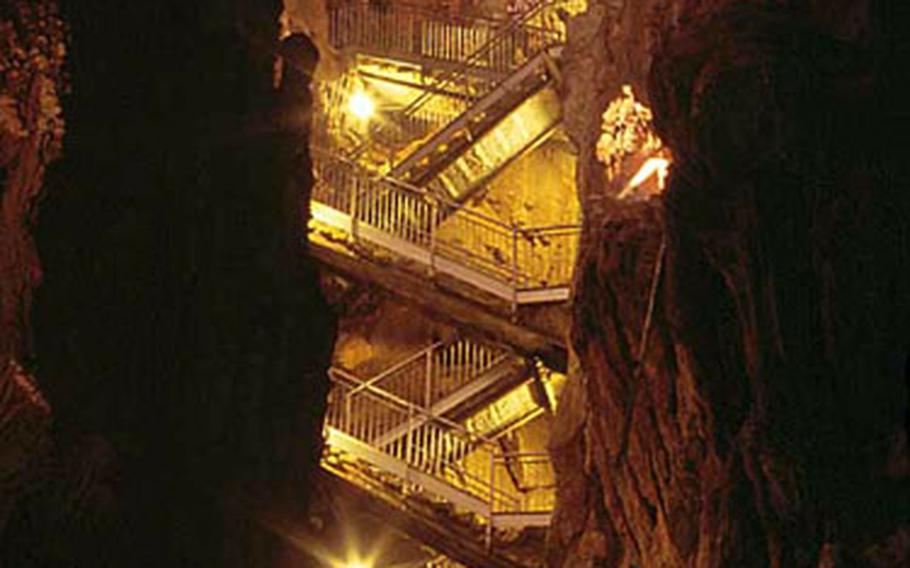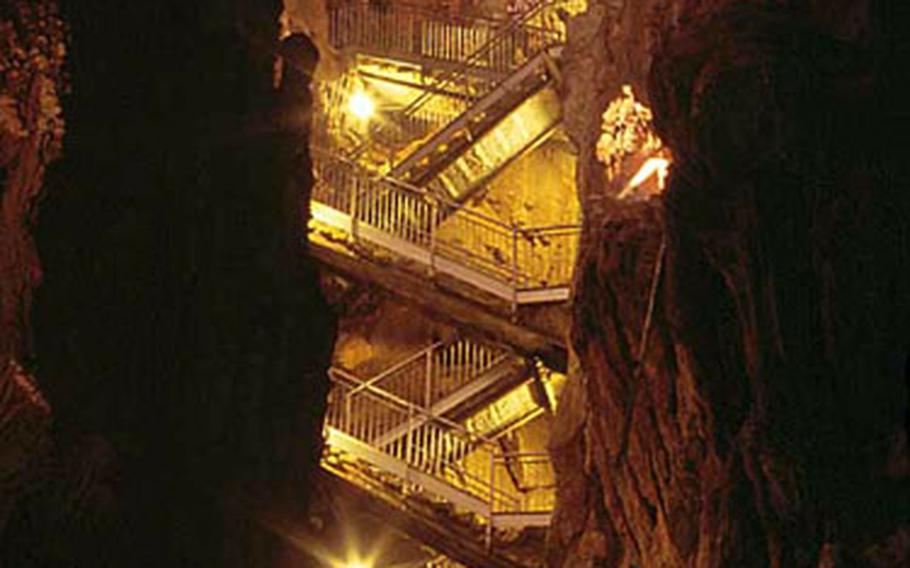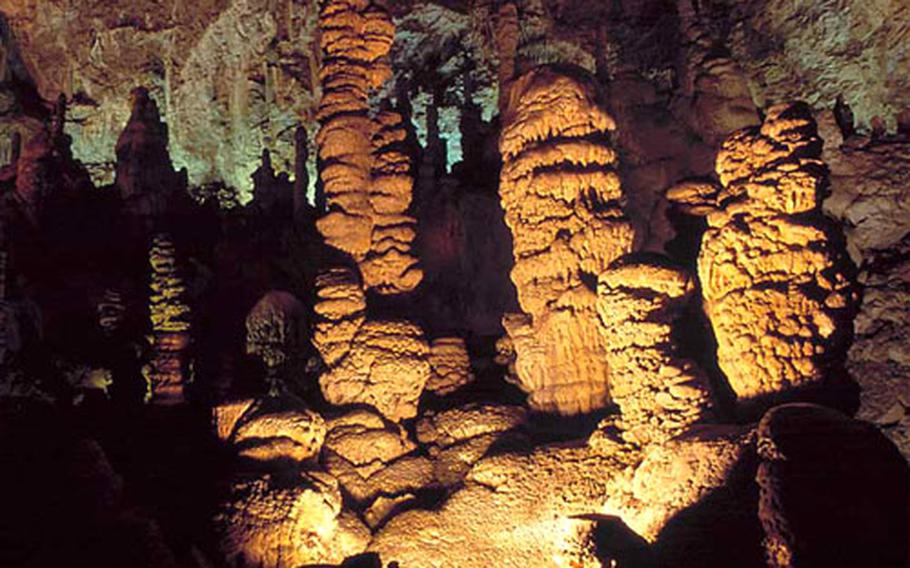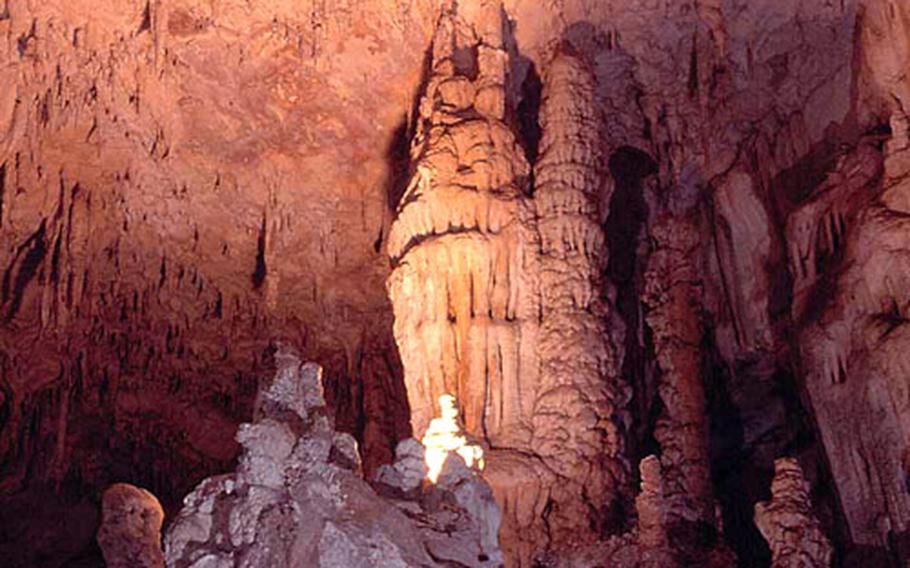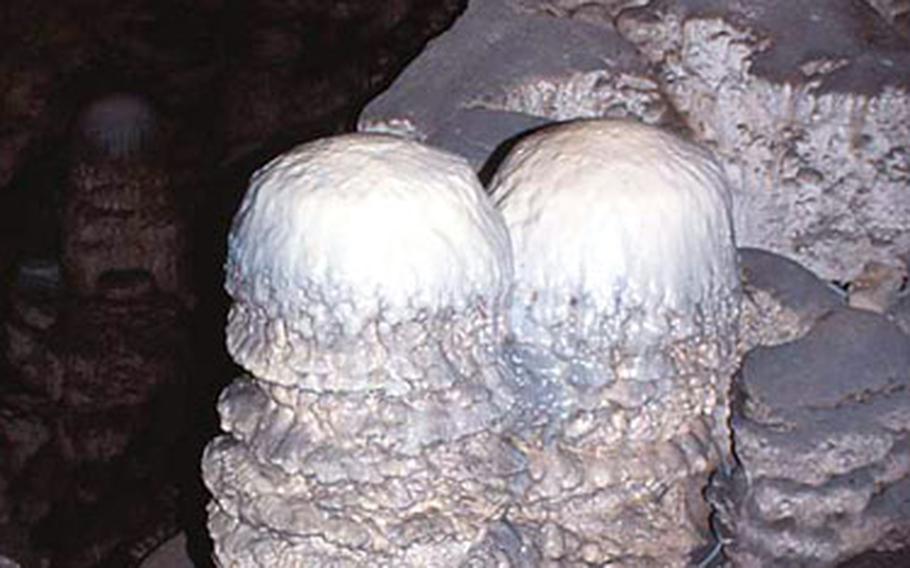 It might seem as if no matter where you go in Italy, you're likely to see something old.
But to see some of the stuff that's really been around awhile, you need to go underground. There it's possible to see natural formations of rock that have been growing for several hundred thousand years or so.
One of the best places to do so is within an easy drive of Aviano Air Base or Vicenza. Grotta Gigante ("giant cave") is just north of Trieste, near the Italian border with Slovenia. According to its publicity, it has been called the world's largest tourist cave and is listed in the Guinness Book of Records.
Italians knew about the cave long before there was an Italy. But there wasn't much written about it until a series of explorations conducted in the 1800s. That's probably because the cave wasn't easy to explore until modern spelunking techniques and equipment were introduced.
Before that, it's possible that some people got in but didn't live to relate the tale. The original entrance had a steep drop: The first step, as they say, was a doozy.
It wasn't until 1908 that the first groups of tourists had ready access at another entrance. Since then, it has become a popular tourist attraction of the Trieste area.
These days, it's not necessary to take your own flashlight, ropes and climbing gear for a trip inside — in fact, that would be frowned upon. Just wear a good pair of shoes and maybe a jacket, as temperatures below tend to be cooler than those above.
There's a series of prohibited items, including cameras and cell phones. No smoking. No dogs — or other pets, presumably. It probably wouldn't make sense to take small children who can't walk a lot on their own, either. Strollers won't work, and visitors have to navigate about 500 steps down and back up during the trip.
Visitors follow a guide along a cement pathway lined with metal railings and featuring step after step after step (it might seem as if there are even more on the way back up).
The most impressive aspect of Grotta Gigante is the sheer size of the place. According to various Web sites, it is about 925 feet long, 215 feet wide and 350 feet high. Pick just about any size building you know — St. Peter's Basilica in Rome, for instance — and it would fit inside.
The cave is well lit in most places, allowing visitors to see the variations in colors that range from white to red, with a lot of general shades of "rock" thrown in. There are stalactites (formations going down) and stalagmites (formations going up) in abundance.
The most noted features are various named stalagmites. It takes years of dripping water to form the oddly shaped creations.
The largest, named Ruggero after an early explorer, is thought to be about 200,000 years in the making. So plan a second visit in a few decades. Maybe you'll notice half an inch of new material.
Know and go ...Directions: It's about 75 miles from Aviano Air Base to the cave. That's a drive of about 1½ hours, or about 2½ from Vicenza. From Aviano, take A28 to A4 toward Trieste. Look for the Sgonico exit a few miles after passing through the toll booth (3.90 euros from Portogruaro). Take a right after crossing the overpass and follow brown signs to the cave, about three miles from the freeway.
Times: To visit, you must take a tour, and unless prior arrangements were made, it will be in Italian. From April through September, the 45-minute tours start on the half-hour from 10 a.m., with the last one beginning at 6 p.m.; during the rest of the year, tours begin on the hour, with the last one at 4 p.m. The cave is closed Mondays except in July and August, when it's open daily.
Costs: Admission is 7.50 euros; for groups of 25 or more, it is 6 euros each. Parking is free. You can also try asking for a taped presentation in English. If the tour's not big, you might be allowed to carry it along without charge.
Food: Fast Food Cricket is near the exit and not far from the entrance. It offers hamburgers, hot dogs, pizza and various drinks for a few euros each. There are a few restaurants in the small city nearby. Carrying picnic supplies from the base might be a good idea.
Information: An overview of the cave, in Italian, is available at www.grottagigante.it. Call ahead to reserve a tour in English or if in a large group: phone, 040-327-312; fax: 040-368-550.
— Kent Harris