Gretna Green: Europe's capital of no-fuss nuptials
---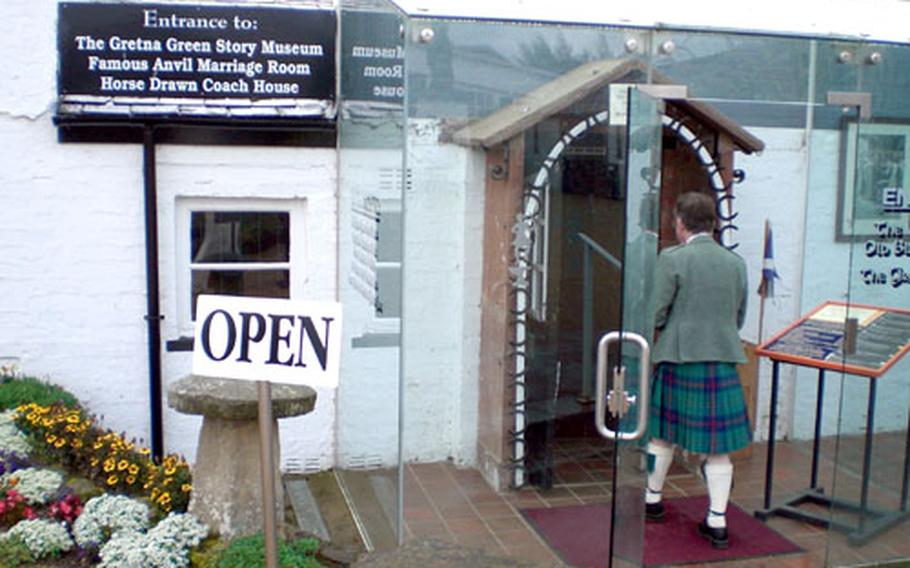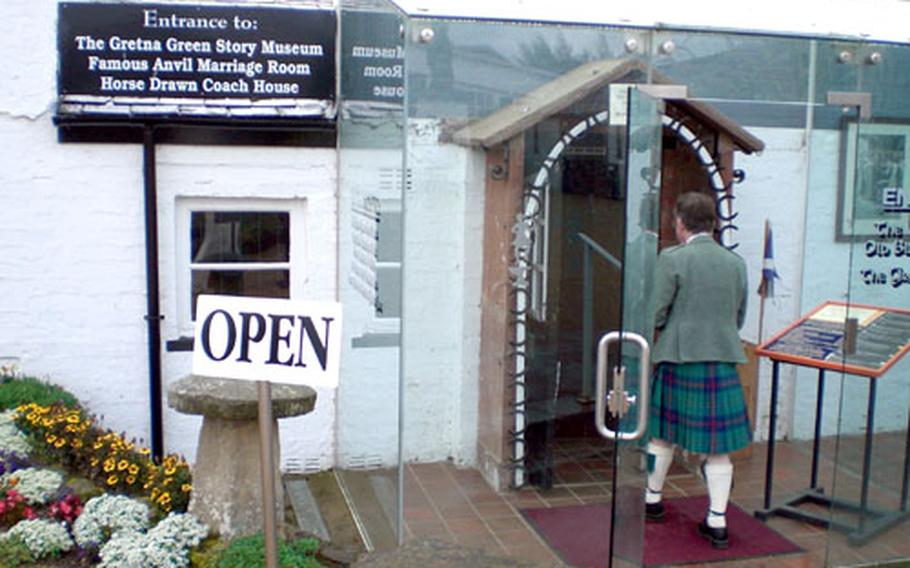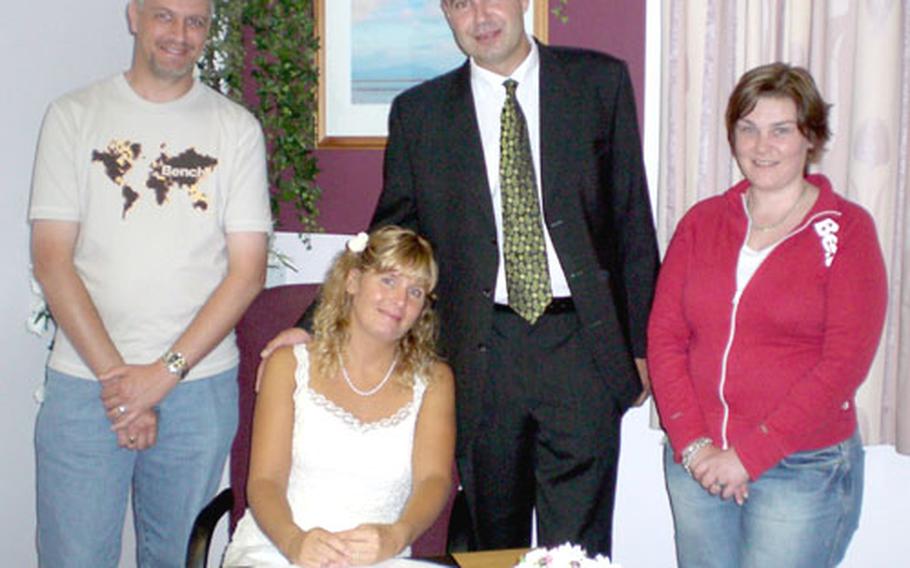 Of course, finding "the one" is the hardest part. But for U.S. citizens living in Europe, when it comes time to tie the knot, finding the place to do it is no simple matter, either.
"Denmark," the ads read. "Denmark," we concurred. After all, that's where my fiancé and I had met, we spoke a smattering of the language and we had no shortage of friends there.
Given such a background, surely we would not require the services of an agency. We could easily handle things ourselves.
So with a three-week vacation stretching in front of him, off went fiancé to the Copenhagen town hall, armed with records including birth certificates, passport copies, proofs of residence in Germany and other documents.
But he ran into a brick wall. "This cannot be accepted," an unhelpful bureaucrat declared after examining a decade-old divorce certificate, duly translated and bearing the seal that, in accordance with The Hague convention, makes a foreign- issued document legal in another country.
When pressed, the bureaucrat showed him a sample of how the divorce certificate should look. But how exactly were we supposed to explain that to the body that had issued it in the first place?/p>
Granted, going through an agency may have provided an easy solution. But fiancé, a British citizen, happened to recall stories of a place where marriages were quick and easy: Scotland's Gretna Green.
Gretna's history as a wedding destination stems from its location. Right on the border with England, Gretna was the first stop the stagecoach made when crossing into Scotland, where laws governing marriage were much less rigorous.
Legend has it that a local blacksmith realized the value of trading in his tools for the role of a minister, and many elopers made it official over his anvil. To this day, weddings can be arranged at this historical site.
A quick look at Gretna's Registration Office Web site was encouraging, so we sent an e-mail asking about our eligibility for marriage there. Within an hour, we received the reply that "many, many foreign nationals come to Gretna to be married, and almost all of them are able to obtain the necessary documentation without too much trouble."
We then mentioned the divorce certificate that stymied the Danes.
"From your description, the divorce document sounds like it should be the correct document," read the written reply.
I was informed, however, that as a U.S. citizen, I would need a marriage visa for my passport. It was easy enough to obtain.
First, we booked an appointment to wed with the civil office, which promptly mailed us confirmation of the booking. Next, I made an appointment with the U.K. consulate online, and procured the visa in person in Düsseldorf. A photocopy of this visa was the last essential part of the required documents, and we mailed them to Gretna's Registration Office.
Once it received the package, it sent us confirmation that all was in order.
On the eve of the appointed date, we flew on Ryanair to Glasgow's Prestwick Airport, picked up our rental car and headed south. Some two hours later, we reached Gretna Green, and booked ourselves into the last remaining room at a half-timbered inn.
The next morning, a few glitches kept us on our toes. A broken shower. The electrical outlet that couldn't accommodate our iron from Germany. No hairdryer on the premises. But what's a wedding without prenuptial panic?
On a quiet rainy morning in early September, we wed at the Gretna Registration Office in a room not much larger than a broom closet. Two witnesses, a necessity, were corralled by the registrar as they happened by on the street.
The registrar doubled as the photographer, deftly alternating the reading of her script with the snapping of shots on our digital camera. Within 40 minutes, we exited the premises, certificate of marriage in hand.
Gretna's current livelihood is closely tied to its past. It markets itself heavily as a wedding destination, and its setting provides a great background for wedding photos.
Just a five-minute drive from the registrar's office is the Old Blacksmith's Shop Centre, where, in addition to the blacksmith's anvil, is a collection of shops selling Tartan and other typically Scottish products. You'll also find hordes of tourists, eager to capture the sight of a real-live bride and groom on their cameras and camcorders.
Being a tourist attraction was a new experience for us, and it's fun to contemplate just where our wedding photos ended up.
Our wedding was low-key and low budget, but the ease in carrying out the arrangements (the Registrar's Office even takes credit cards), the competence of each official we dealt with, and the friendliness of the people we met along the way made for memories worth keeping.
Going to Gretna Green?
Do your one-stop wedding planning by visiting www.gretnaonline.net. Make e-mail inquiries at Gretnaonline@dumgal.gov.uk, or call (+44) (0) 1461 337648.
If you choose to use the services of Gretna's Registration Office, you have a choice of three wedding rooms, one accommodating 8 people, one up to 20, and one up to 50. The fees for using the latter two are 56 pounds each.
Most if not all of the forms necessary to arrange a wedding are available online. The queries we made by e-mail generally were answered within an hour.
Both prospective bride and groom must submit "marriage notice forms" between 15 days and three months of the proposed wedding. To plan farther in advance, you can secure a date up to a year ahead by paying an advance-booking fee of 56 pounds (about $110).
Plan to spend at least 103 pounds for the most basic civil wedding package. If you want to wed on a Saturday, you'll pay an additional 72 pounds. The Web site warns that fees are subject to change and are non-refundable if you cancel. You also will need to pay for a marriage visa before traveling to the U.K.
Don't care for the idea of getting hitched in a registration office? There are many other approved venues, including the famous Anvil Hall. Religious ceremonies also can be arranged. Or simply leave the planning to the professionals.
Gretna One Stop weddings, www.gretnagreen.net/gretna-wedding-packages.html, is one of several companies offering a variety of packages for couples tying the knot. Here are some samples:
Wedding ceremony only, 280 pounds.
Ceremony with piper and standard photography, 440 pounds.
•Ceremony with piper, traditional photography package, flowers, wedding video, choice of transportation from vintage cars and horse-drawn carriage, chauffer, plus two nights in bridal suite, 1,590 pounds.
— Karen Bradbury
---
---
---
---