Garmisch: Bavarian hike promotes mental, physical health
by
Charlie Coon
April 1, 2008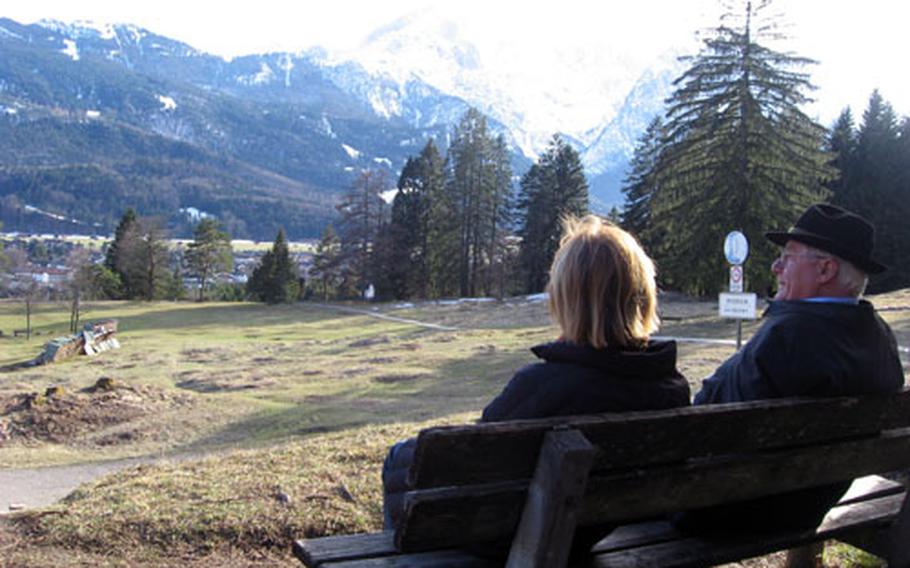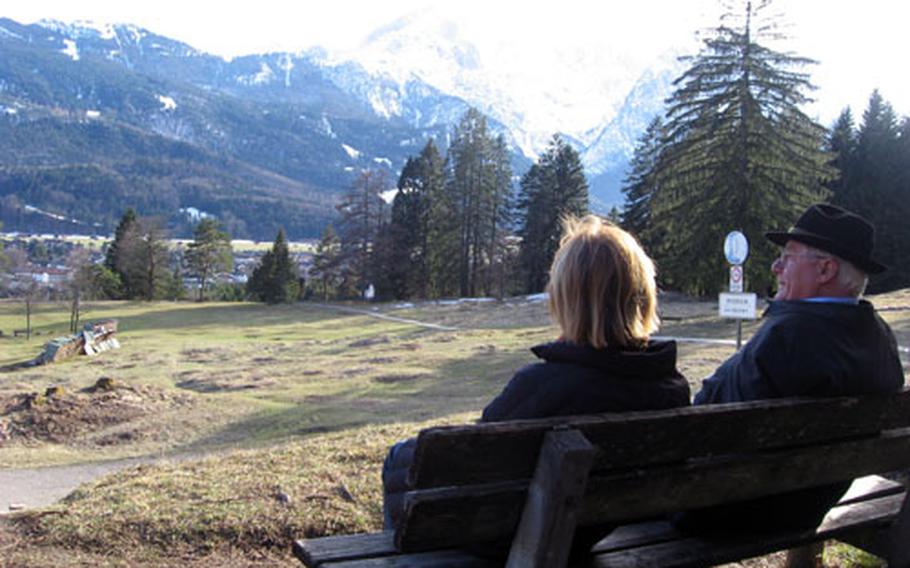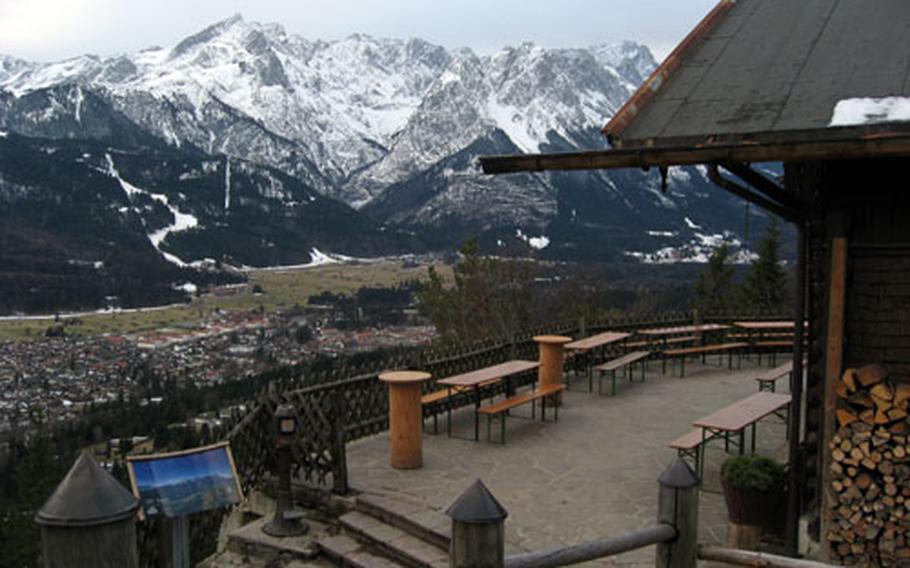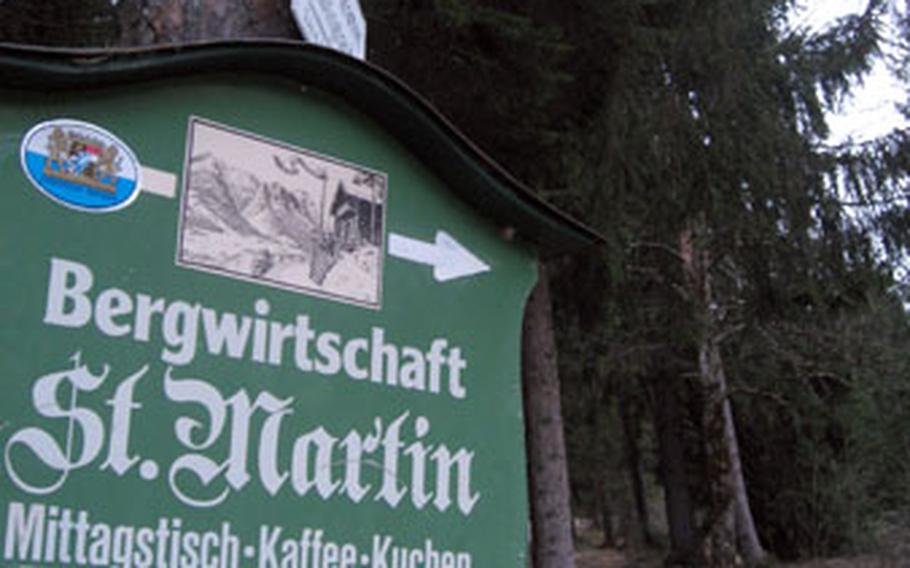 Ohhh. You're going to Garmisch? Isn't that special?
Actually, for many, it's not. They're locked inside the Edelweiss Lodge and Resort or Marshall Center for days, sticking to a conference schedule that runs from morning to evening, day after day.
Nice mountains. But if you're not a skier or snowboarder, it's just a postcard.
Wonder what it would be like to experience that Alpine paradise on foot? I had a couple of hours — and calories — to burn during a recent assignment and asked advice on walking trails from the guys at Garmisch Outdoor Recreation.
Saint Martin's Hütte, they suggested. About an hour hike up the path, maybe a quick lunch at the restaurant and then an hour walk back down. Perfect.
A 6-foot-wide path zigzags up the hill through the tall trees amid the sound of chirping birds, rustling wind and your own huffing and puffing as clean mountain air rushes in and out of your lungs.
Climb for a few minutes and stop, admire the view, breathe deeply and continue climbing. Stop again and listen … to the sound of nothing. Look at the clouds. At that moment, it's hard to imagine wars happening. It's easy to see how people become Alp-oholics, as mountain fanatics are sometimes called.
At the end of this path is a restaurant perched on a ledge. A sign next to the large patio stated it was 1,040 meters above sea level, or about 3,430 feet.
Spread out way down below are the homes and streets and businesses of Garmisch-Partenkirchen. Beyond the village on the other side of the valley, rising into the blue sky are the great snow-covered peaks of the Bavarian Alps — the Zugspitze, Dreiterspitze and Hochwanner.
The restaurant is as one would expect — rustic with big wooden floorboards and thick beams holding up the ceiling. After a meal of mushroom-stuffed ravioli, it's time to leave. Reluctantly.
Two-thirds of the way down the hill, reluctance turns to wonder. Appearing in a meadow overlooking the valley is a poignant memorial to German soldiers from Garmisch who died during World War II.
It is small and churchlike, perched on an overlook. About 200 wooden plaques with photos of deceased soldiers are fastened to its wall.
There were the Nagler brothers, 24-year- old Michael and 26-year-old Franz, who died in Italy and Crete, respectively. And my favorite, Martin Schwinghammer. He died on June 24, 1942, in Russia. Their faces looked a lot like the faces of the fallen in Iraq and Afghanistan. Young and happy and full of life that wouldn't be lived.
For many in Garmisch, a hike like this isn't news. There are miles of trails throughout the mountains. For many, that's why they're here.
But for those on business or for a few days of pleasure, a two-hour hike on one of the mountain paths makes for a great quick trip. Just don't make it too quick.
On the QT
Directions: Follow Autobahn 95 south from Munich until it ends, and then take B2 and B23 to Garmisch. Other options are to take B17 then B23 from Augsburg, or take A7 until it ends near Füssen and then B179 as it dips into Austria and then goes back north on B187 and B23. One trail to Saint Martin's Hütte is called the Kramerhaenge. Its starting point is located off Brauhausstrasse, near the former Abrams hotel complex on the north side of town.
Cost: Time, energy and desire. Everything else is free.
Times: Year-round, 24-7, at your own risk.
Food: Many of the huts, or Hütte, have food and drinks for sale, so carry 10 or 20 euros if you plan on snacking.
Info: The guys at the Garmisch Outdoor Recreation office (Paul Acri or Drew Benson, DSN 440-2638; 08821-750-2638) on Artillery Casern have good information on hiking options. So do many employees at the Edelweiss Lodge and Resort. Maps are available at the downtown tourist office.