Gardaland: Italy's largest amusement park offers fun for everyone
by
Kent Harris
September 8, 2005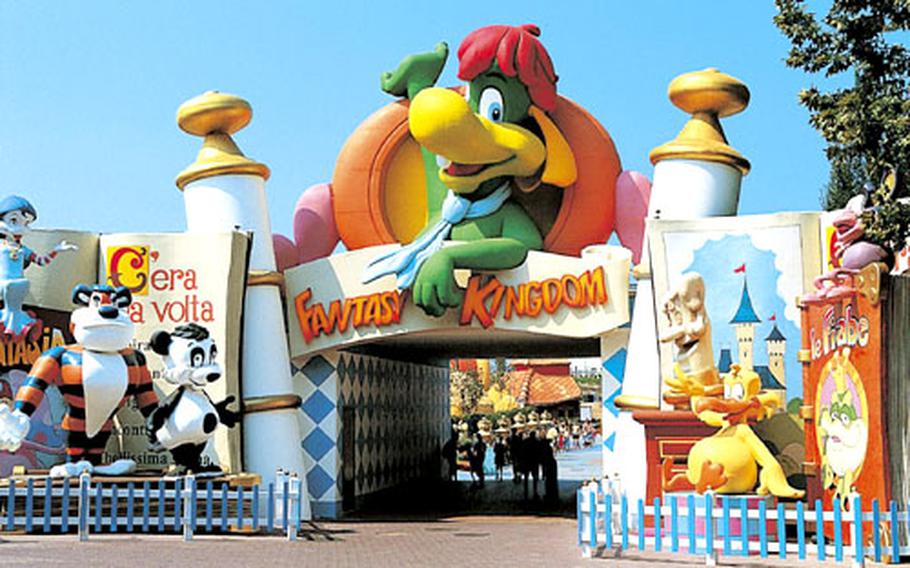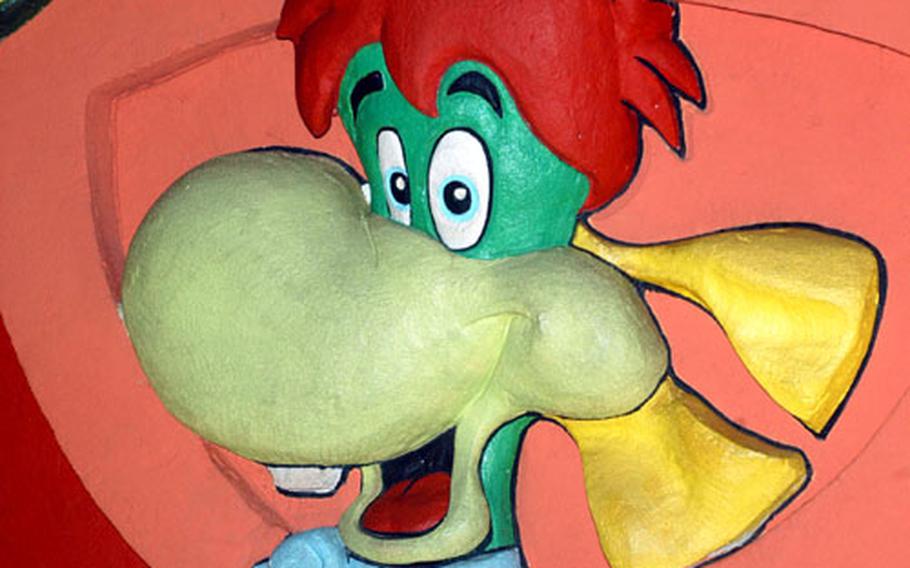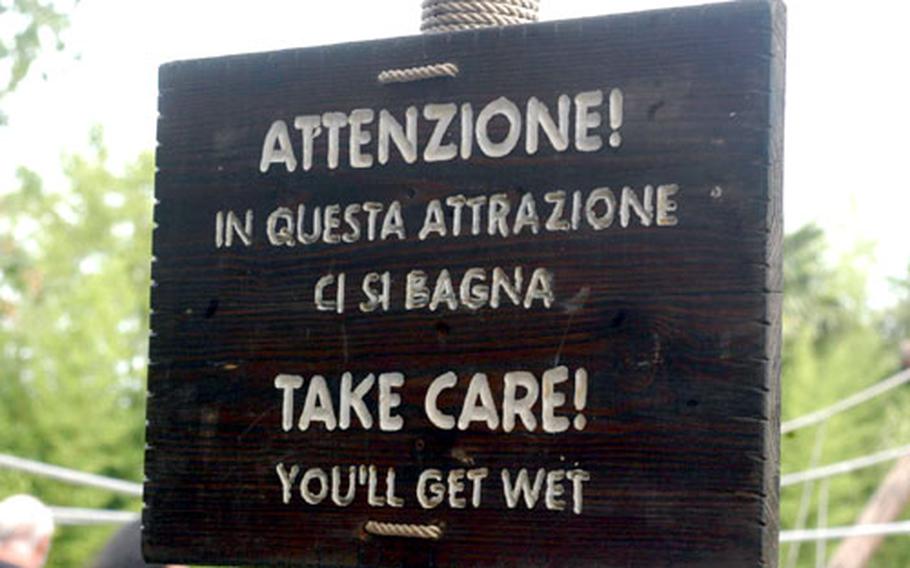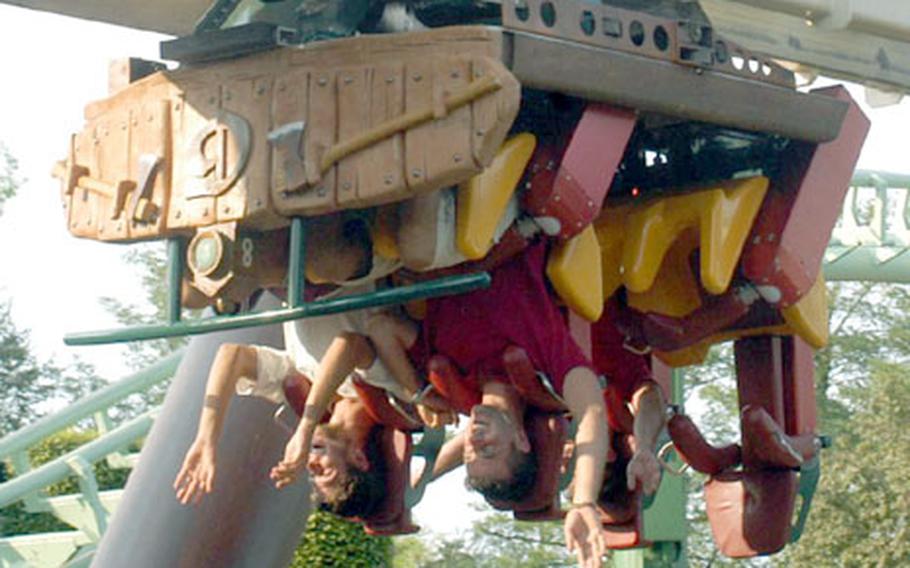 Built on the eastern shore of Lake Garda at Castelnuovo del Garda, Gardaland, Italy's largest amusement park, opened in 1975. It has expanded steadily in both size and attendance, topping 1 million visitors annually for the first time in 1984.
According to park statistics, the majority of those visitors are Italians — about 87 percent. But since the park is less than an hour from Vicenza and only a few hours from Aviano, it's likely an American visitor might spot a compatriot or two in the crowd.
And there are crowds. The parking lots are capable of holding up to 9,000 cars and 250 buses at a time. The park employs almost 1,500 people during its peak season.
The park's literature — in both Italian and English — says its goal is to send visitors through an array of emotions. It tries to accomplish that with dozens of rides, a variety of shows and dressed-up scenery around and between the venues. Gardaland has something for just about everyone.
On a Friday in August, Italian families appeared to be the park's main customer base. And many of the rides and amusements are designed specifically for kids.
But according to park statistics, adults make up 60 percent of its customers, followed by teenagers (24 percent) and then children (16 percent).
A handful of the rides aren't suitable for kids at all and many require riders to meet specific height requirements. There are a few rides that stack up pretty well with their counterparts in the States and elsewhere. See the accompanying review to find out what they are like.
But Gardaland is far from just rides. Someone who's not wild about going fast or upside down could spend an entire day going from show to show, eating, shopping or just walking around.
The first show, featuring the park's dragonlike mascot named Prezzemolo ("parsley" in English), kicks off at 9:30 a.m. The last one, a fire show geared more for adults, starts at 11:10 p.m. Fireworks follow that on Saturday nights.
In between, there are multiple performances by dolphins, dogs, Chinese acrobats, marionettes, ice-skaters and medieval combatants. Someone who tried to catch every show and take every ride in a single day would face an impossible task.
American visitors to Gardaland will naturally compare it to Disney's parks or other similar attractions in the States. U.S. firms have had a hand in designing some of the rides. And some of the attractions could be swapped out with a counterpart in the States and no one would notice.
There's also a similar push to sell merchandise — several of the rides require people to travel through gift shops on their way out. It also would be a challenge to walk very far without encountering some place selling food or drinks.
But those looking for a pseudo-trip back to the States will have to be able to tune out most of their immediate surroundings. Like Americans, Italians enjoy having fun — and they're similarly hard to ignore while doing it.
Of course, there's a reason why they call it an amusement park. Those hoping for quiet and time for reflection can always take a boat onto the nearby lake.
For more about the rides at Gardaland, click here.
Know & Go …• Getting there: Gardaland is in Castlenuovo del Guarda on the shores of Lake Garda, just off the A4 autostrada, which runs across Italy from the French border to the Slovenian border. It's about a 45-minute drive from Vicenza.
Take the Sommacampagna exit and then follow the brown signs. It's about 11 kilometers to the park entrance.
• Costs: Admission costs 24 euros for adults and 20 euros for children under 10. It covers unlimited rides and entrance to various shows. A map of the park and a schedule of the shows is included in the admission price. There are discounts for multi-day passes and large groups (at least 30 people).
Parking is 4 euros.
• Hours: Currently 9 a.m. to midnight daily. Starting Monday, when most Italian schoolchildren return to classes, hours will be reduced to 9 a.m. to 6:30 p.m. or 10 to 6 the rest of the month. The park is then open with special holiday themes on weekends in October (and Halloween) and December. It's also open Dec. 26-31 and Jan. 2-7. Check out the Web site www. gardaland.it for hours on specific days.
• Good to know: Though the park estimates that the vast majority of its visitors are Italian, just about everyone on the staff speaks at least some English. And almost all the signs carry an English translation as well.
• Where to stay: The three- star Gardaland Hotel Resort is right next to the park for those who want to stay overnight. There's a link to it from the park's Web site. There are also hotels in most of the communities surrounding the lake.
The nearest U.S. military base is Caserma Ederle in Vicenza, which has the Ederle Inn, DSN 634-8034 or civilian (+39) (0) 444-718034. Ghedi Air Base is closer, but only those based there can gain access without special permission.
The area is very popular with Italians and hotels fill up quickly on weekends and holidays. There are a host of other attractions nearby, including the lake itself — one of the country's most visited. Other attractions nearby include a wild animal park and CanevaWorld, a Gardaland rival featuring movie studio attractions, a water park, medieval park and a rock star cafe.
• What to eat: There's plenty of food for sale at the park and — surprise — the prices and quality aren't much different from outside the park. There are two more formal restaurants: the Pizzeria Saloon, specializing in pizza, and the Locanda del Corsaro Nero, with traditional Italian dishes. There is also a host of bars (Italian-style) and other spots that offer quicker meals. Most have seating nearby.
• For more information: Click a button on the aforementioned Web site and just about every question on the park is on the computer screen.
— Kent Harris