French markets offer a certain 'je ne sais quoi'
---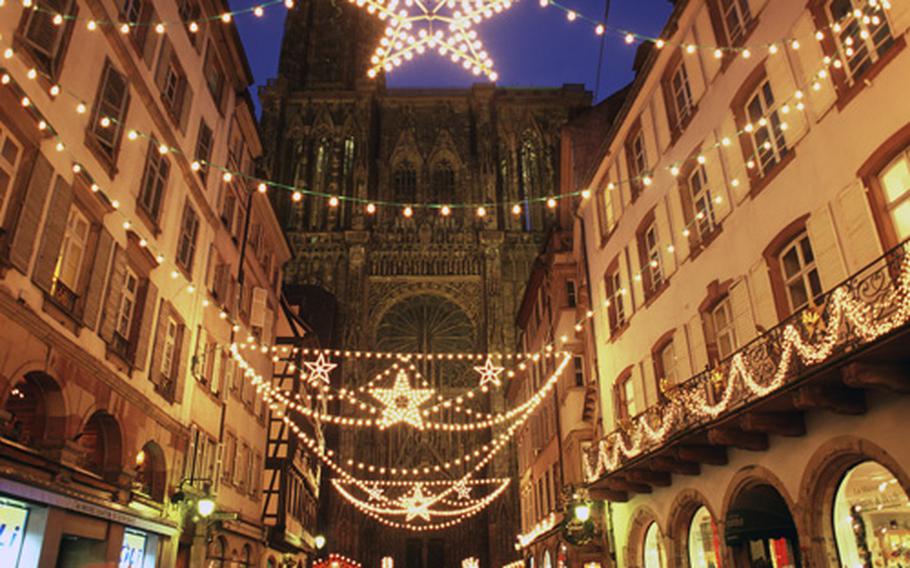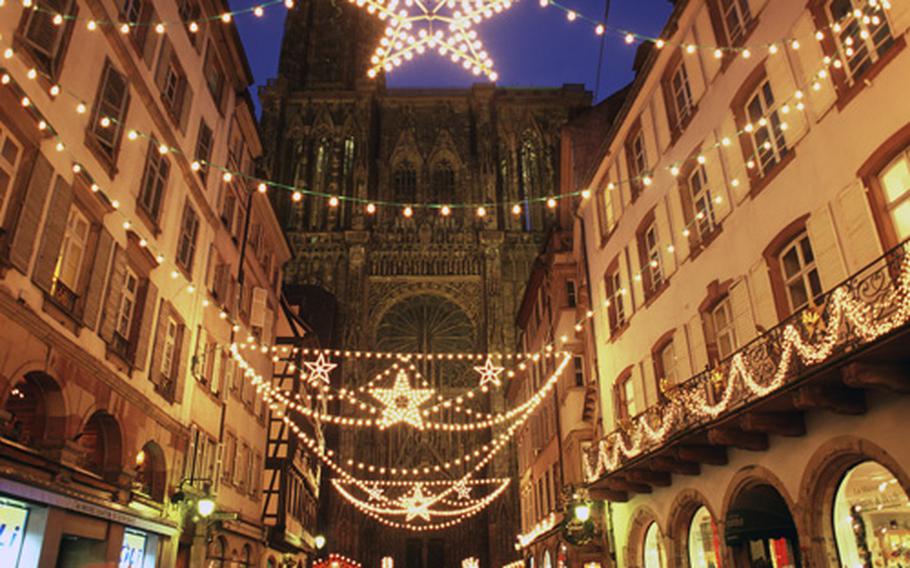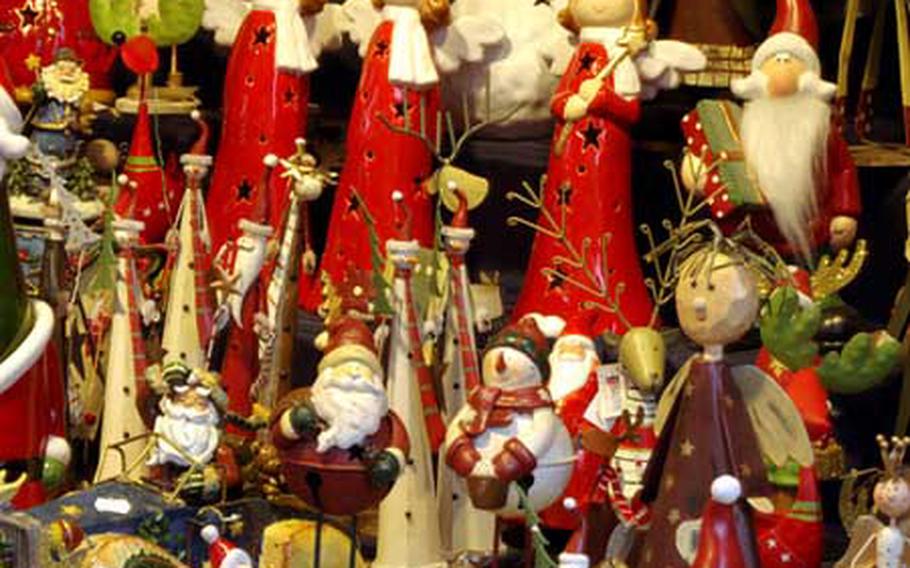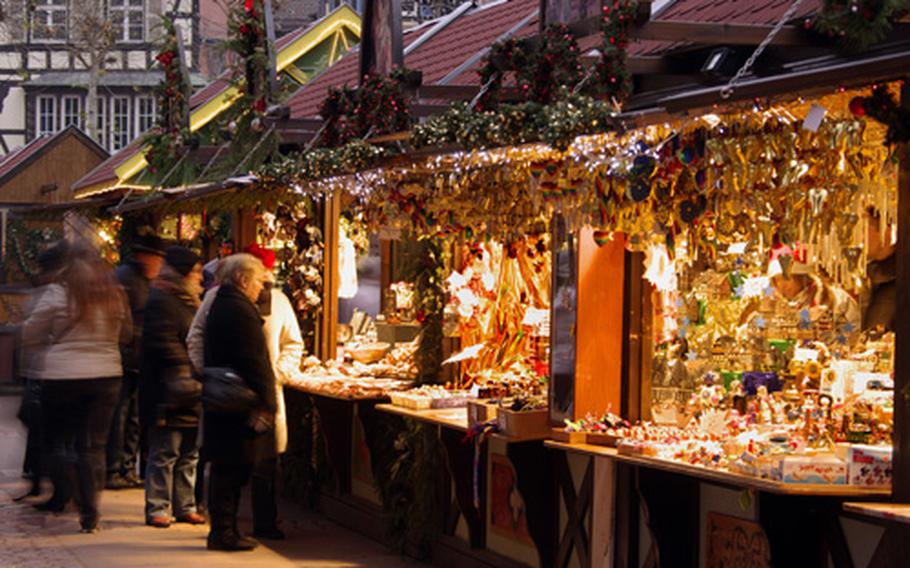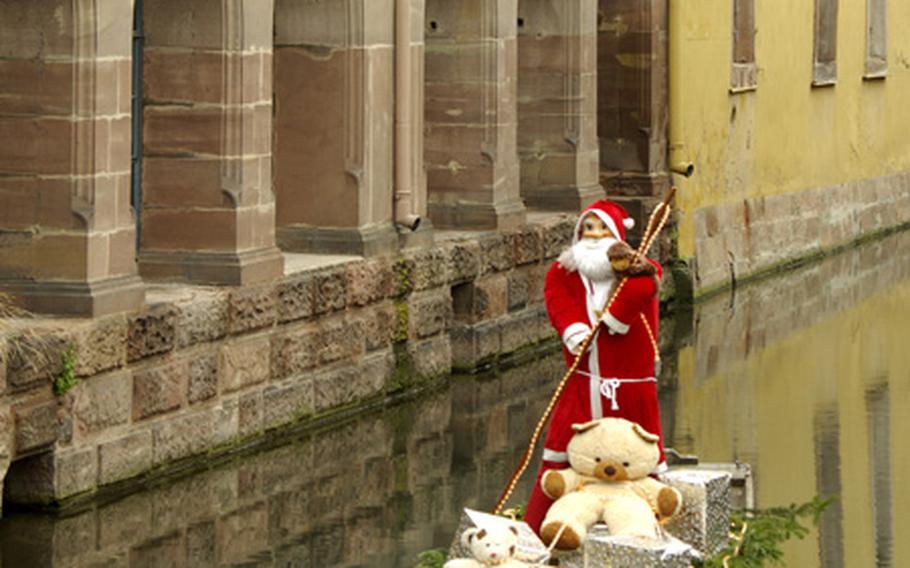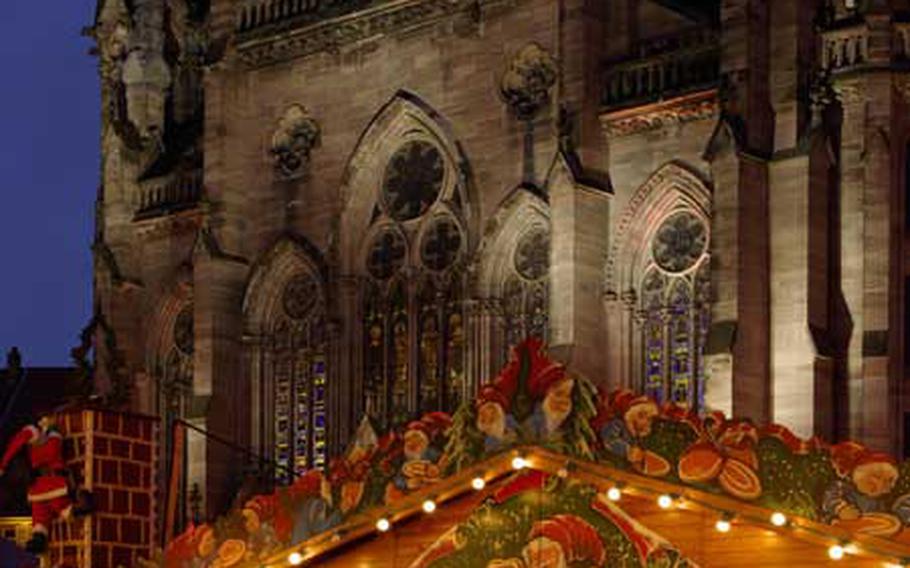 Forget that Christmas has become big business and that yuletide trinkets have been gracing store shelves since September. Forget the effort and horrifying logistics of the food shopping, gift buying and dessert baking needed to create this year's "magical" Christmas. Forget about the bruising your bank balance is about to receive.
Instead, take a stroll into a different time: Dressed warmly in your winter woollies, you brave the chilly twilight to enjoy the charms of trees draped with blinking lights, savor the fragrance of sizzling sausages and the sounds of brass bands playing carols, browse through handmade gifts in decorated stalls and then cap it off with a cup of mulled wine.
Sound like a typical German Christmas market? Not quite. Just a hop over the Rhine River, the markets of the Alsace region of France offer all the charms of their German counterparts, a few culinary refinements and that French je-ne-sais-quoi touch that gives them a distinctive character. While almost every self-respecting village in Alsace has a market of some sort, we'll focus on two classics — Strasbourg and Colmar — and the less-known market in Mulhouse.
• If practice makes perfect, it's not surprising that Strasbourg can claim to have one of the best Christmas markets in Europe. In 1570 someone had the idea of setting up a huge fir tree by Strasbourg Cathedral and decorating it with apples. To contemporaries, the meaning was clear: The evergreen Tree of Life bearing the fruit of sin was a reminder of Adam's fall that would be redeemed by Christ's birth. But, for the shrewd businessmen of the city, it was also a chance to lighten the pockets of the faithful coming to the cathedral for the imminent Feast of the Nativity. So, some tempting stands were positioned close to church portals and, lo, the Christkindelmärik was up and running.
More than four centuries later, the market has spilled into numerous streets and squares, but it has retained its charm and intimacy. I recommend approaching it from the west part of the city near the fortified Covered Bridges (Ponts Couverts). Start with a stroll through Petite France, a labyrinth of streets flanked by exquisite half-timbered houses leading to the Place Gutenberg. Here, the old-fashioned merry-go-round is just right for the smaller offspring. Then check out stalls with books, prints and cards (commemorating one-time Strasbourg resident Johannes Gutenberg, the inventor of modern printing).
Crossing the road, enter the old Rue Mercière and suddenly, looking up, there's the cathedral. Its massive facade is a fantasy of intricate stonework topped by a spire more than 460 feet high. Try to be here about 30 minutes after sunset to witness those magical moments as the cathedral is lit up. It's a spectacle best enjoyed with a cup of hot, spicy mulled wine in one hand and a crêpe pancake (the straight butter-and-sugar version is best) in the other.
Then, leave Cathedral Square on the north side and head to Place Kléber, where a massive Christmas tree dominates the so-called Village of Sharing with stalls devoted to various charities.
Other possible ports of call are the Place Broglie by city hall and the Place du Marché-Neuf with countless stalls, while the Place du Château with its ice rink is always a favorite. Also, the Place de la Gare is home of the Bredle Market, named after the local gingerbread specialty. It is just one of the array of pastries available, including gugelhopf, a cake short on sugar and suitable for dunking in wine.
• In the past few years, Colmar has established itself as one of Europe's most attractive Christmas destinations. This is no surprise. The town's historic center provides a charming backdrop any time of year. Festoon the half-timbered houses with lights and the usual corny decorations, and the scene becomes unforgettably gorgeous.
Colmar has so many attractive squares and streets that it pays to arrive early if you want to see everything in a single day. Begin with the market in the "Little Venice" (Petite Venise) end of town. This is mostly for smaller children, with plenty of toys, candy and amusement rides.
The walk into the downtown area goes past some of the prettiest colored houses imaginable before leading into the main market on the Place de l'Ancienne Douane. There, about 50 stalls are set up around a fountain by Frédéric Bartholdi, the designer of the Statue of Liberty. The range of arts and crafts on sale here will surely suit some on your yule gift list. If not, take a look inside the neighboring Koifhus — a medieval exchange house — where sculptors, glaziers, jewelers, and book and antique dealers offer a range of unusual wares. Then it's time to set off for the Place des Dominicains, with its soaring Gothic church and a varied range of gifts and goodies.
Not far from here, the Place Jeanne d'Arc is the right venue to stock up on some of the local specialties — wonderful pâtés, salami-like saucisson sec, pungent Munster cheese and an Alsatian Riesling or Pinot Noir to accompany them.
• For a less-cosmopolitan, less-crowded and cheaper Alsatian Advent experience, Mulhouse is still something of an insider tip. OK, the downtown area has parts that confirm all the old prejudices about modern architecture; however, the central Place de la Réunion is really rather pretty thanks to a collection of historic buildings that include the gaudily frescoed city hall and the imposing Church of St. Stephen.
Mulhouse has a long tradition of cloth-making, and this is reflected by the way buildings are decked with special hangings designed specially as Christmas decorations. Exhibits in the city's Historic Cloth Museum serve as models for these designs. Also, several stalls offer exquisite fabrics and handmade products like cushions and tablecloths decorated with intricate embroidery that might make an original gift.
Some distance from the main market, on the Place de la Concorde, a Hungarian market offers other unusual ideas for presents, including wood carvings and colorful glass ornaments.
But the real reason for making the trip to Mulhouse becomes evident when the Place de la Réunion is lit up soon after sunset. As each building is illuminated with a different color, the effect is quietly spectacular and totally enchanting.
Now, at the very least, you'll have the feeling that the elusive spirit of Christmas is still very much alive and well. You'll probably want to warm your hands on a cup of hot chocolate while nibbling on some spicy bredele cookies. Before long, the idea that Christmas is a time of stress and hurry will melt away. After all, it's the best time of the year.
Andrew Cowin is a freelance writer and photographer who lives in Heidelberg. Contact him through www.andrew-cowin.com.
Know and GoWhile German Christmas markets go on only until Christmas Eve at the latest, the Alsatian ones stay open for a few days longer, often to the end of the year.
• Strasbourg's market is Nov. 28 through Dec. 31. This year, a "Russian Village" at Place Gutenberg will add something different to the holiday atmosphere.
L'Office du Tourisme de Strasbourg et sa Région, 17 place de la Cathédrale; telephone (+33) (0)3-88-52-28-28; Fax (+33) (0)3-88-52-28-29; www.otstrasbourg.fr
• Colmar's market has begun and continues through Dec. 31. Take the kids early: On the Place des Six Montagnes Noires in Little Venice, there will be a giant mailbox where kids can post a letter to Santa.
L'Office du Tourisme de Colmar, 4 rue Unterlinden; telephone (+33) (0)3-89-20-68-92; Fax (+33) (0)3-89-41-34-13; www.ot-colmar.fr.
• Mulhouse's market has begun and continues through Dec. 27. This year a special market is dedicated to Peru, its handicrafts and textiles and to local textile designers.
Office de Tourisme et des Congrès, Place de la Réunion; telephone (+33) (0)3-89-66-93-13; Fax.(+33) (0)3-89-45-66-16;www.tourisme-mulhouse.com.
---
---
---
---