Frankfurt: DialogMuseum exposes visitors to world of the blind
---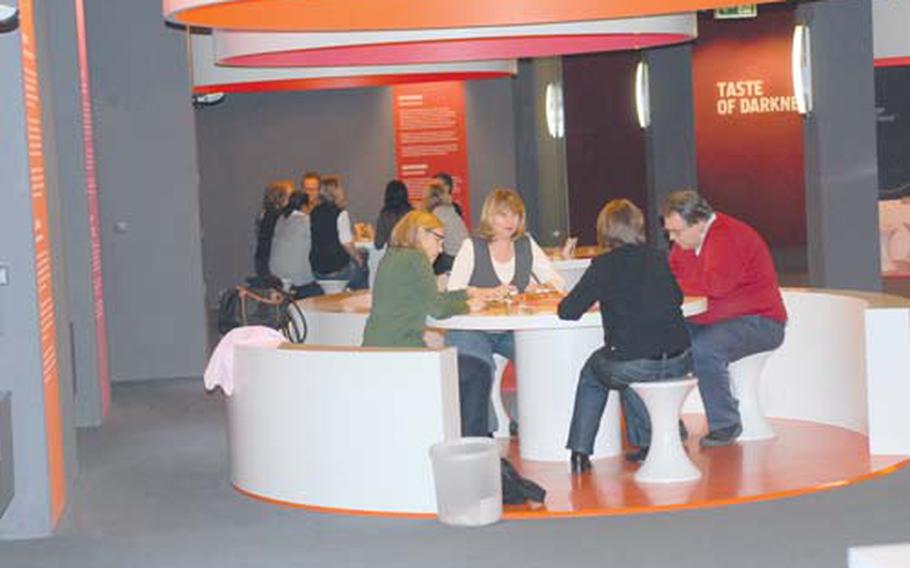 The phrase "the blind leading the blind" takes on a whole new meaning at one site in Frankfurt, Germany.
The place is the DialogMuseum, an interactive museum whose main attraction is Dialogue in the Dark, offering a labyrinth of rooms in total darkness in which visitors are guided by a blind person whom they never even see.
The experience is an eye-opener into what it is like to live in a pitch-black world where you must rely on your senses of touch and hearing to get by. People going through the maze get the same canes that blind people use to navigate everyday life and they are given a quick lesson in how to use them. Visitors are told not to use the lights on their watches.
"It's our most powerful exhibit," museum Chief Executive Officer Klara Kletza said of the maze. "You will see (what it's like to be blind), but you won't see."
Each room in the maze mimics a different environment. One room is a park complete with a gravel-like path and the sounds of birds. Stepping into that room is a little bit of a surprise as you feel the ground beneath you and hear your footsteps as you find your way to the next room.
Another room simulates a traffic environment in which you have to wait for the traffic light sound indicating it is safe to cross and then step off of a curb. There is even a parked Mini Cooper for people to feel, the guide points out.
One area has a boat simulator in which you take a leisurely cruise down a European river, feeling a gentle breeze blowing as the guide explains what is happening. You hear cars zipping by on a bridge overhead, feel the boat rocking and hear the hum of its engine.
The next stop on the trek is an art museum in which you use your hands to get a feel for a sculpture's shape. The guide explains each sculpture signifies traits such as curiosity and other qualities. There is also an area in which visitors take a seat and listen to music and a bar area where you can order a nonalcoholic drink and snack to eat in the dark.
The only problem on the life-as-a-blind-person experience is that people frequently bump into one another. But overall it is an enlightening experience.
Another section of the DialogMuseum that is intended to tap into people's communication skills is appropriately named the Casino for Communication. It is filled with several team-building games in which people have to work together to come out on top.
In one game, teams of two talk their way through decisions as they grab objects from a covered cylinder. The goal is to get more matching items than your opponent before the timer rings.
A third area, called A Taste of Darkness, is open only on Wednesday, Friday and Saturday evenings. Diners use their senses of taste and smell to sample foods they are served in the dark.
Anyone wishing to visit the Dialog Museum should make a reservation by telephone or through the museum's German-language Web site.
On the QTDirections
From Autobahn 60, take Exit 30, Rüsselsheimer Dreieck, and merge onto A67 toward Hannover/Frankfurt/Würzburg/Köln. Then take exit 1 Mönchhof-Dreieck to merge onto A3 going toward Würzbürg. Get off at Exit 52 heading toward Offenbacher Kreuz and merge onto A661 toward Bad Homburg. Then take Exit 14 for Frankfurt via B8/B40 toward Maintal and Frankfurt-Ost, and veer slightly left at the B40/B8 Ratswegbrücke and slightly left at B8. Turn left onto B8 Hanauer Landstrasse; the museum is at 145.
Times
Dialogue in the Dark and Casino for Communication are open 9 a.m. to 5 p.m. Tuesday through Friday, and 11 a.m. to 7 p.m. on weekends. Dialogue in the Dark is also open until 9 p.m. on the first Thursday of each month.
Costs
For ages 14 and older, admission to Dialogue in the Dark is 12.50 euros and the Casino is 7 euros; a combination ticket for both areas is 16.50 euros. Students and retirees pay 9 euros for Dialogue in the Dark, 5 euros for the Casino and 12 euros for the combination ticket. Children younger than 14 pay 6 euros for Dialogue in the Dark, 4 euros for the Casino and 8 euros for the combination ticket. Family tickets also available.
Food
There is a small cafe in the museum called the Dialog Café and various restaurants in the area.
Information
The museum's Web site, in German, is www.dialogmuseum.de. The museum has English-speaking staff members who can help with questions and reservations by telephone at 069-904321-44.
---
---
---
---