For a small town, Tatebayashi has a lot going on
by
Hiroshi Chida
May 6, 2004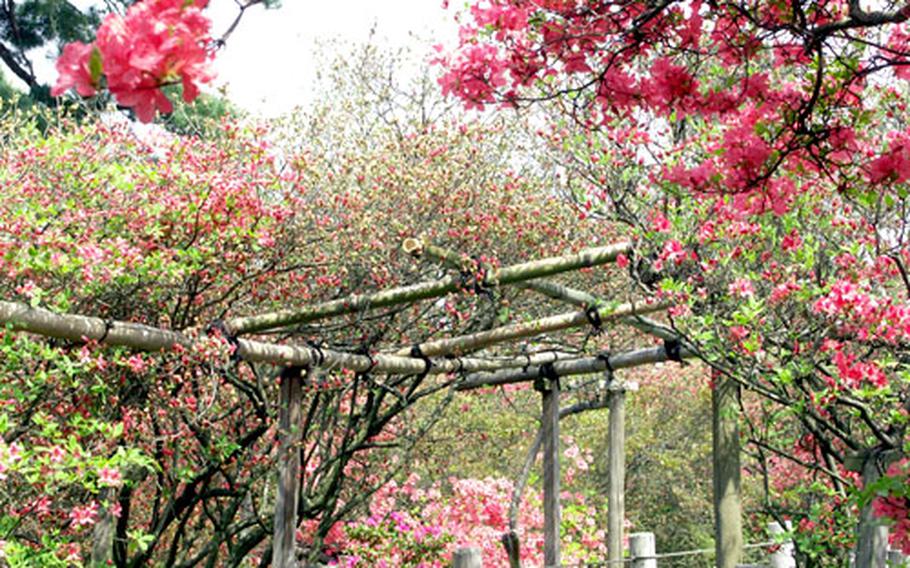 Tatebayashi is a small and quiet town in Gunma Prefecture, around 100 kilometers north of Tokyo and an hour and half train trip from Asakusa. The beautiful historic town has five great things they are proud of.
The celebration of Children's Day has passed, but the great floating paper carp (Koi-nobori), symbolic of courage, can still be seen. According to a Chinese legend, a carp swam swam upstream to become a dragon. About 10 years ago, a group of citizens in Tatebayashi began flowing 100 carp streamers along the Tsuruuda River. Tatebayashi City which celebrates its 50th anniversary of municipality this year had planned the Koi-nobori Festival and has begun the celebration by flowing 5,000 carp streamers along the river to promote sightseeing in the city. The display will continue until May 9.
They have the largest azalea park in Japan at Tsutsujigaoka Koen Park where 50 varieties of the tree in 10,000 bushes are in full bloom. One of the azalea trees is 800 years old. The azalea festival will last until May 15.
All the Japanese know about a famous folk story of "Bunbuku Chagama (badger kettle)." In the story, a tanuki (raccoon dog or badger) turns himself into a chagama (tea-kettle) and brings wealth to a Buddhist priest. Morinji Temple in Tatebayashi is the site where the story took place and it has 25 tanuki (raccoon dog) statues along the path.
Tatebayashi also is known as the town where Japan's first astronaut, Dr. Chiaki Mukai, was born and raised. She was on board the Space Shuttle Columbia in 1994 and Discovery in 1998. Dr. Mukai has logged more than 566 hours in space. The city has the Children's Science Museum commemorating her achievements. On display at the museum are articles she carried into space along with personal items and gifts that were sent to her. The museum also has a planetarium. It is open to the general public on Saturday and Sunday at: 10 and 11:30 a.m., and 1:30 and 3 p.m.
Empress Michiko's Shoda family hailed from Tatebayashi. Her name had been Michiko Shoda until she was married to the then Crown Prince Akihito in 1959. It surprised the nation since it was an unprecedented marriage of a Crown Prince to a beautiful commoner who would one day share the ancient chrysanthemum throne. The main branch of the Shoda family is still at Tatebayashi and runs Japan's No. 5 soy sauce maker Shoda Shoyu. Empress Michiko's family branched out from the main branch of the family and lived in Tokyo. During WWII, they evacuated to Tatebayashi and Michko attended an elementary school there. Empress Michiko's family in Tokyo owns a Japan's No. 1 flour milling company Nisshin Seifun (Nisshin Flour Milling Inc.).
If You Go ...
Tatebayashi: Take Tobu Isezaki Line Junkyu (local express) train to Tatebayashi. It's an hour and 30 minute trip from Asakusa. It is 860 yen. Local express runs every 20 minutes.
Tsutsujigaoka Azalea Park: Take a special bus for Tsutsujigaoka Koen Park from Tatebayashi Train station. Special buses for the azalea festival run from 9:30 a.m. during the period. Admission: 500 yen, 0276-72-9122
Koinobori Festival: Take a bus from Tatebayashi Train station for Itakura Toyo and get off at Tatebayashi City Hall; free; 0276-72-4111
Mukai Chiaki Children's Science Museum: Take a bus from Tatebayashi Train station for Itakura Toyo and get off at Tatebayashi City Hall; 9 a.m.–5 p.m. (closed Mon.), 310 yen; 0276-75-1515
Morinji: Take Tobu Isezaki Line Junkyu (local express) train to Morinji-mae. It's an hour and 30 minute trip from Asakusa. Morinji-mae is one station before Tatebayashi; 860 yen; local express runs every 20 minutes; 300 yen; 0276-72-1514