Follow the flame: Turin prepares for the 2006 Winter Olympics
by
Jim Sajo
October 27, 2005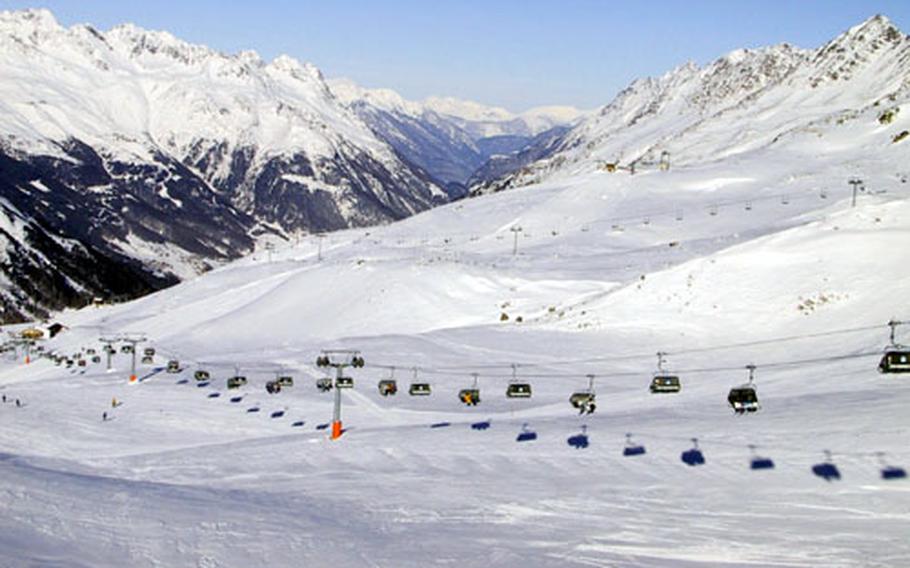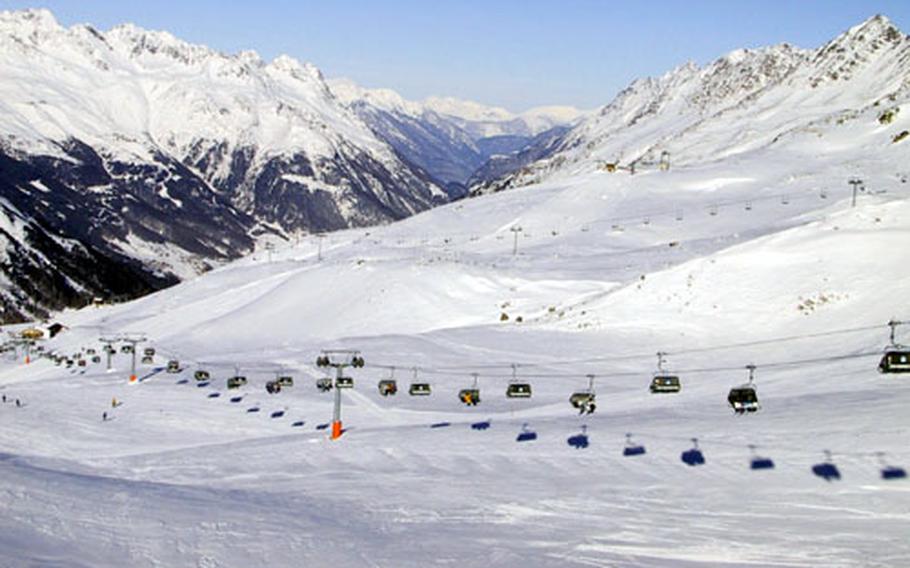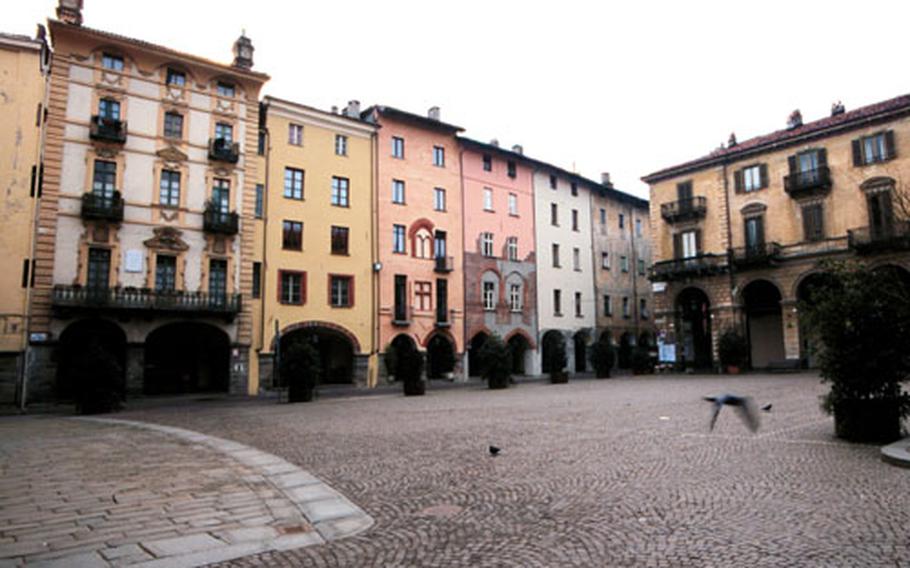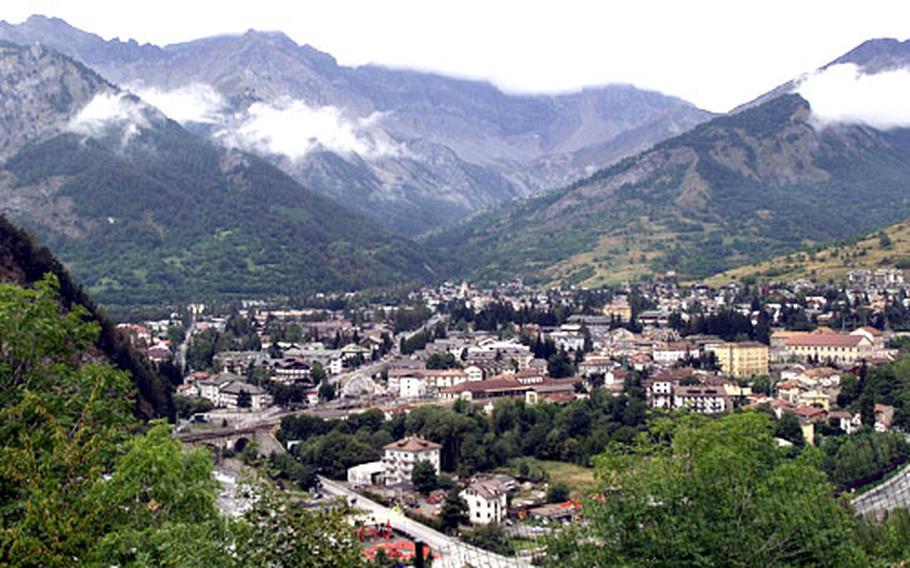 When the 2006 Winter Olympics are held in Turin, Italy, in February, most indoor events will be in the city center. But the "real" Games — the ski, sled and snowboard competitions — will be contested in five mountain communities to the west.
While readers won't be able to participate in the Olympics, they can test their skills on the venues where the world's best will vie for gold and experience the villages where contestants will relax when not on the slopes.
Each site has a unique history and character in addition to great snow and astonishing skiing. Following is a look at each.
¶ Bardonecchia hosted the first Italian Ski Championships in 1909. The resort sits peacefully at the opening of the great Frejus Tunnel, bored through the Alps to connect Italy to France. During the Olympics, tranquility will give way to snowboard events, where two runs will be the stars.
Piste 23 will be used for the giant slalom and snowboard cross. Dramatic variations in the terrain, a 575-foot vertical drop, and start- to-finish visibility for spectators ensure excitement.
Piste 24 is a 450-foot half pipe with an elevation change of 120 feet. Competition is scheduled for Feb. 12, 13, 16, 17, 22 and 23.
Bardonecchia offers 65 miles of downhill trails, plenty of cross country skiing, and is supported by a network of 23 high-speed lifts.
After a day on your board, check out one of the many bars (I counted 22) or the more than 40 restaurants the village has to offer.
Bardonecchia's pristine beauty is paradise for Alpine photographers. Beyond the magnificent forest, rivers and mountain scenery, there's the twin-towered church of Saint Hippolytus or the wood-carving school.
The Municipal Museum recounts how residents have lived cooperatively with the captivating but at times harsh environment for more than 1,000 years.
¶ Pragelato, at the foot of Mount Albergian, is the site for cross-country, Nordic-combined and ski jump competitions. On the cross-country course, athletes navigate a series of loops covering distances up to 30 miles. More than 8,000 spectators will watch events in a brand-new stadium that encompasses two jumps and a five-loop track for the Nordic competition.
Pragelato also has 30 miles of downhill trails, comprised of one black (expert), 12 red (intermediate) and five blue (beginner) runs. Skiers move around on six lifts.
There was fierce religious fighting here in the 14th and 15th centuries, and during World War II, partisan sentiment was strong and residents battled bravely against Nazi occupation. Today, conflict is limited to space in lift lines and seats in restaurants.
Two weeks of events begin Feb. 11. Nearly 400 athletes with coaches and support staff and up to 9,000 spectators will converge on the village. The six bars/pubs and 14 restaurants will be busy.
While waiting for a drink, take a walk. You'll see fountains adorned with fleur-de-lis, a symbol of the French authority until the 1700s. The Alpine Costume and Folk Traditions Museum has a colorful exhibit of the people who have populated this area through the years.
The remaining villages are part of the monstrous Via Lattea (Milky Way) ski area. One of Italy's largest winter playgrounds, this massive, completely interconnected maze includes more than 240 miles of downhill skiing including 42 black, 117 red and 52 blue runs. Its 91 lifts, from two-seaters to gondolas, keep skiers moving. Nearly 30 miles of cross-country trails complete the mix.
¶ Cesana and San Sicario make up the most enchanting enclave in the area. Normally these picturesque settlements are merely a tranquil stop on a ski excursion from Sestriere. During the Olympics, the quiet will be shattered by 15 consecutive days of events.
Starting Feb. 11, the grueling biathlon is followed by skeleton, luge and bobsled races. Finally, the women's Alpine events — downhill, combined downhill and super-G — will run for 10 days.
The newly constructed biathlon stadium includes a shooting range and five cross country loops of varying length and difficulty. The longest is 2½ miles and has a 215-foot change in elevation.
The bobsled, skeleton and luge races will run on a new track, 4,700 feet long with 19 knuckle-whitening curves. There is space for 7,450 spectators at these events.
Nearly 8,000 will be able to watch the trio of women's Alpine ski races. The downhill course starts at an elevation of 7,562 feet, is 10,120 feet long, and includes a vertical drop of more than 2,500 feet. The combined downhill and Super-G are shorter but are contested on the same steep course.
If you can leave the excitement, wander through the tiny communities. The most important feature is the imposing Chabertan fortress high on the peak above town. Look for the church of San Giuliano, built in 1490. Just up the road in Sauze de Cesana, you'll see the wooden 11th-century San Restituto church. If all that walking makes you hungry, stop in one of the eight bar/pubs or 37 restaurants.
¶ Sauze d'Oulx, a village of only 1,000 inhabitants, hosts freestyle skiing. There will be room for more than 9,000 spectators at four spectacular events. An existing ski area was modified for the men's and women's moguls and men's and women's jumps (aerials). The four competitions are on six days, Feb. 11, 15, 19, 20, 22 and 23.
Primary distractions in Sauze d'Oulx are ice skating or snowmobile rides. However, for such a tiny community, there are plenty of après-ski possibilities. Two discos, 31 bar/pubs and 24 restaurants are sure to keep you busy. Be sure to try the Ristorante Ciao Pais at Via Case Sparse 17.
¶ Sestriere is well-known as an all-year sports tourism center. Built as a ski resort in 1930, today it is the crown jewel of the Via Lattea. It also boasts picturesque summer hikes, and at an altitude of 6,676 feet, has Europe's highest 18-hole golf course.
This is home to the glamour ski events. Ten competition days will see men's and women's downhill, combined downhill, super-G, giant slalom and slalom.
The "Sises" giant slalom course is one of the most technical in the world. Athletes compete here on a regular basis, so expect a thrilling competition.
At nearby Sestriere Borgata, men will compete in downhill, the downhill portion of combined, and the super-G. The course is known as a fast and difficult piste that yields spectacular races.
Between events, you'll find good restaurants, interesting shopping, health spas, ice skating, and active nightlife with plenty of bars and pubs.
Stop at the tourist information center on Via Louset for a town map. Walk up the hill from Piazza Agnelli (the center of town, at the main ski lift) and the tourist office is on the left. Expect restaurants to be busy, but there are several worth a try — so keep trying.
The Winter Olympics are a rare show. The northwest corner of Italy, already known to sports enthusiasts as a fabulous ski area, will provide breathtaking scenery, state-of-the-art competition venues and typical Italian style. Ci vediamo! See you there!
Jim Sajo is a freelance writer living in northern Italy. His book "Torino 2006: A Local's Guide to the Winter Olympics" is for sale at www.overlookedbooks.com.
Know and go ...Transportation: Planners have arranged frequent train connections from the Porta Nuova or Porta Susa stations in Turin to mountain transit centers. From there, free 24-hour shuttle service is available to each venue. Plan for a two- or three- hour commute each way.
Driving is not an option. Roads will be blocked to most vehicles. If you do not have an access-and-parking permit (and you won't, unless you are an athlete, a member of a national Olympic committee, or lucky enough to live in the area), use the free Olympic transportation.
On the bright side, if you are not driving you'll have no worries about parking, won't have to negotiate icy mountain roads, and can stop for a drink at the "Whiskeyteca" adjacent to the Bardonecchia train station.
Accommodations: Another challenge is finding convenient, economical lodging. The best hotels are set aside for Olympic committee members, sponsors and media. Some possibilities exist in Bardonecchia and Sestriere, but unless you already have a reservation, you are not likely to find a room. For more help, log on to www.montagnedoc.it or send an e-mail with your lodging needs to gamesaccommodation@montagnedoc.it.
Safety: Exposure to frigid February weather could turn a once-in-a-lifetime event into a miserable (even dangerous) experience. You'll need the right kind of clothing and these items to beat the elements:
Water: Proper hydration is essential, especially at high altitudes.
Snacks: Yes, there will be food for sale, but you don't want to stand in line to buy something to eat. Carry a thermos of hot soup and some sandwiches, energy bars or dried fruit.
Neoprene pads: A square pad, big enough to stand on, will give your feet an excellent buffer from the cold ground. If you sit, you'll need that pad for your backside.
Sunscreen: Bright sun, plenty of snow, high altitude — bring SPF 25.
Information: Here are Web sites for tickets and the various towns:
• For Olympic tickets: www.cosport.com; www.torino2006.org.
• Bardonecchia: www.comune.bardonecchia.to.it;
• Pragelato: www.comune.pragelato.to.it;
• Cesana and San Sicario: www.comune.cesana.to.it;
• Sauze d'Oulx: www.comune.sauzedoulx.to.it;
• Sestriere: www.comune.sestriere.to.it.
For further information, visit www.montagnedoc.it, and click on links for each village, up-to-date weather information, transportation, hotels, restaurants and more.
— Jim Sajo