Föckelberg: Soar with eagles and falcons at Wildpark Potzberg show, but beware of chicken parts
---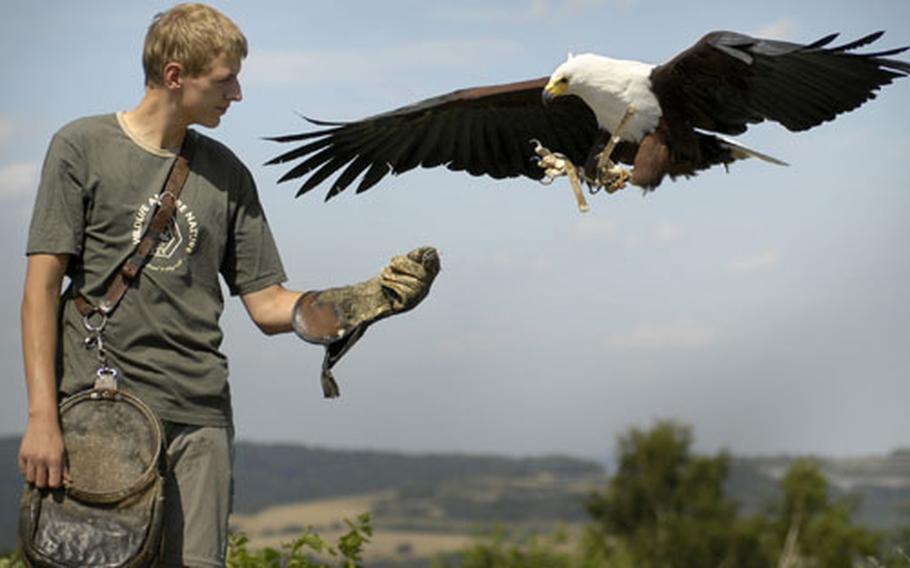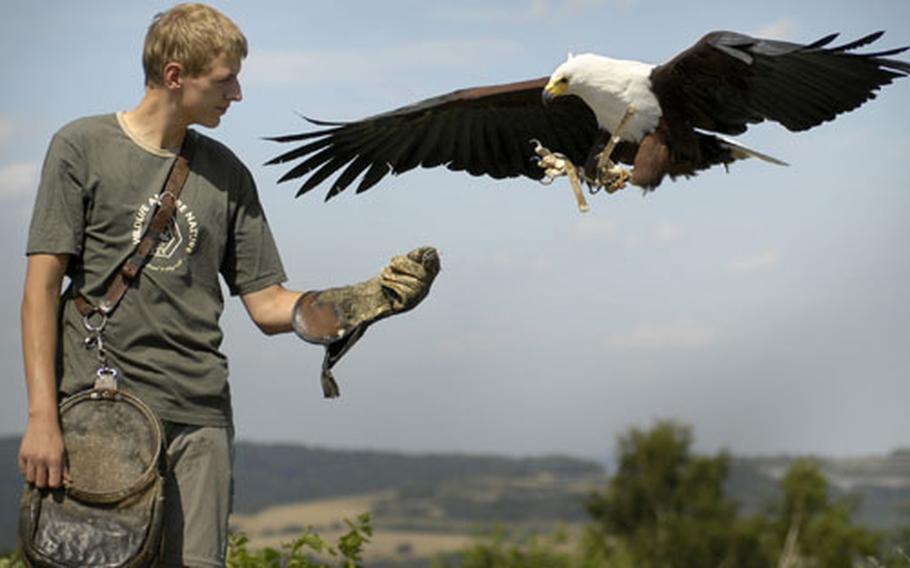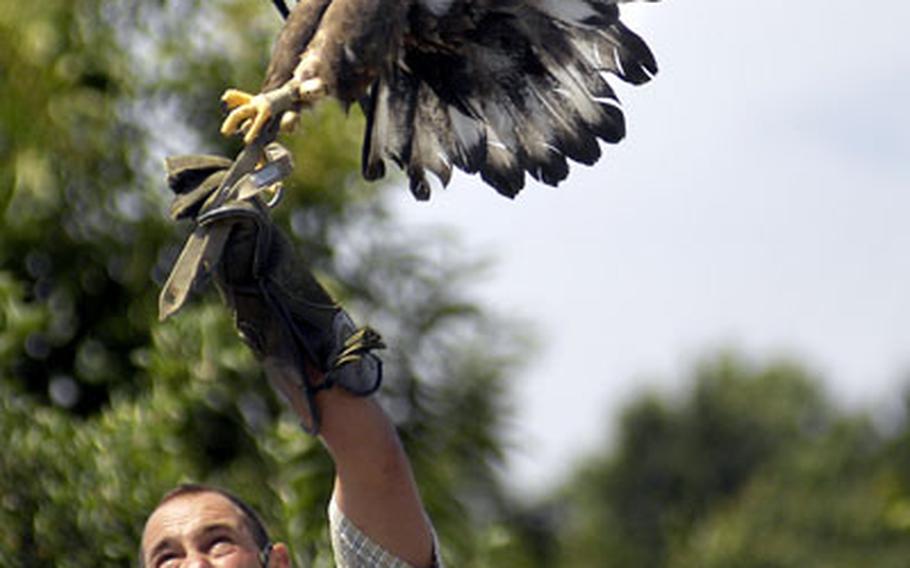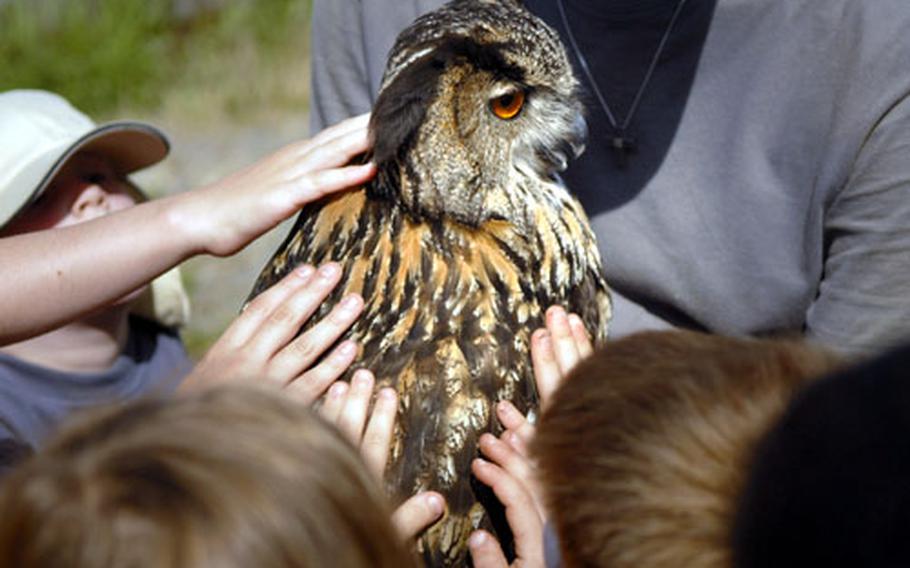 One sign that an attraction in Germany is going to be good is when you hear someone say, "They'd never get away with that in the States." That would be the case with the Falknerei bird show at Wildpark Potzberg near Föckelberg.
During the show, birds of prey take turns buzzing the crowd so low that their wingtips practically swat the tops of people's heads. The feather strafing lasts up to 45 minutes.
A bald eagle named Hera starts the show by soaring gracefully a couple of feet above spectators' craniums. After perching on the tattered leather glove of Harald Schauss, a falconer and the park's owner, she looks for a gap in the stands to plant her large talons next to an onlooker. She then looks around at the crowd with a sense of sovereignty, making it clear who rules the roost and who's a guest.
Hera is eventually joined by about a dozen other birds — mostly eagles and falcons. As the birds fly, Schauss moves his hands, occasionally flipping a bit of dead chicken parts in the air, giving a sense that there is some level of coordination going on.
When this happens, a smaller falcon emerges from nowhere and catches a morsel in midair.
The birds swoop in and out of the crowd, sometimes flying between Schauss and an assistant, or in a large circle, returning to his outstretched hand. Sometimes the birds will stop and take a break at a spot in the spectators' stand.
On one occasion, Schauss put a bit of real chicken on the hat of a young volunteer and a rubber chicken in his hand. A bird swooped down, grabbed the chicken and the hat and took off, leaving the boy with a startled look and the untouched rubber chicken.
About 70 raptors are kept at the park, including vultures, buzzards and kites, although not all are part of the show. While the show's commentary is in German, the words are not as important as the sight of the swooping birds.
The animal park covers about 62 acres on a hill overlooking a scenic valley in the Rheinland-Pfalz. While the bird show is certainly the cornerstone, it is not the only attraction. Other wildlife is spread over 2½ miles of walking paths. Visitors can pet goats, horses, guinea pigs and other creatures behind fences or feed them food pellets bought from vending machines.
There is a playground near a refreshment stand that kids can indulge in while the adults take in the view. If your tastes are more refined than soda and ice cream, the Turm Hotel is just a few meters outside the park's fence. It has a bar and sit-down restaurant with a variety of places to stay, including themed rooms such as the "Sleeping Beauty" and the "Rapunzel."
One word of caution: The raptors of Potzberg are fair-weather birds, so be sure to visit only when no rain is expected. The park's Web site includes a weather link with a three-day forecast and an hour-by-hour update. The show is held once a day and is canceled if it rains.
Know and go ...Directions: The park is slightly more than 20 minutes from Ramstein Air Base. From Autobahn 6, take exit 13 toward Ramstein-Miesenbach and follow signs through Miesenbach and Kottweiler-Schwanden to Reichenbach-Steegen. Turn left onto the priority road toward Oberstaufenbach and continue to Neunkirchen, then start looking for signs to Turm Hotel and Wildpark Potzberg. Go through the town of Föckelberg. At the end of the town there will be a left turn toward Potzberg. GPS coordinates are: 49º 31'18.78" North 7º 28'51.80" East.
Times: Wildpark Potzberg is open daily, 10 a.m to 8 p.m. March through October, and 10 a.m to 7 p.m. the rest of the year. The Falknerei bird show is 3 p.m. every day, March through October, unless it rains. Special times for the bird show can be arranged in advance with larger groups.
Costs: Admission is 6 euros for adults, 4 euros for ages 4-16, free for those younger than 4. Group rates and annual rates for individuals and families are available. Food for the animals is 1 euro per box.
Food: Refreshments, such as ice cream and sodas, are sold at the park. The Turm Hotel has a bar and sit-down restaurant with average German prices.
Information: Wildpark Potzberg's Web site is www.wildpark.potzberg.de. An English version is available by going through a search engine for WildPark Potzberg and clicking on "Translate this page." The park can also be reached by phone at 06385-6249 or by e-mail at wildpark@potzberg.de.
— Ben Bloker
---
---
---
---