Feldberg: Snowplace like home in the Black Forest
---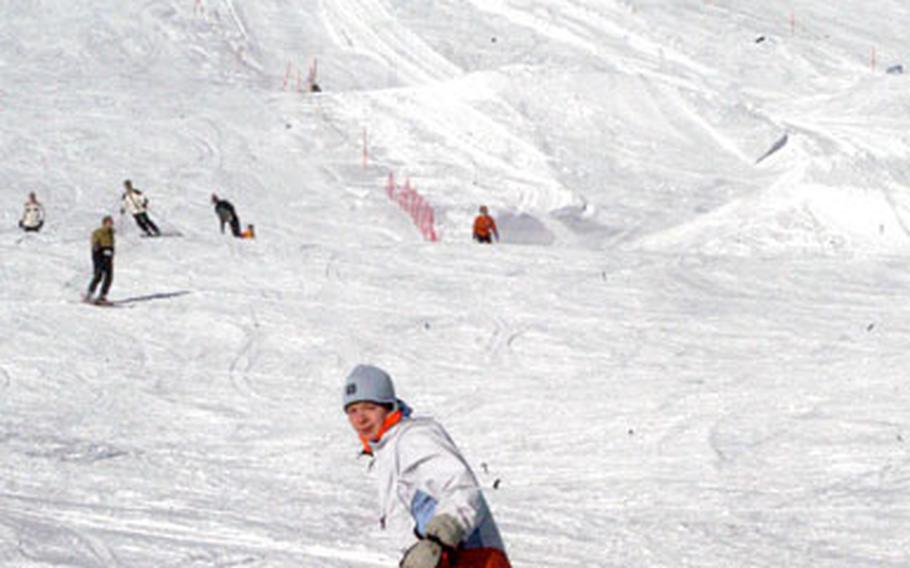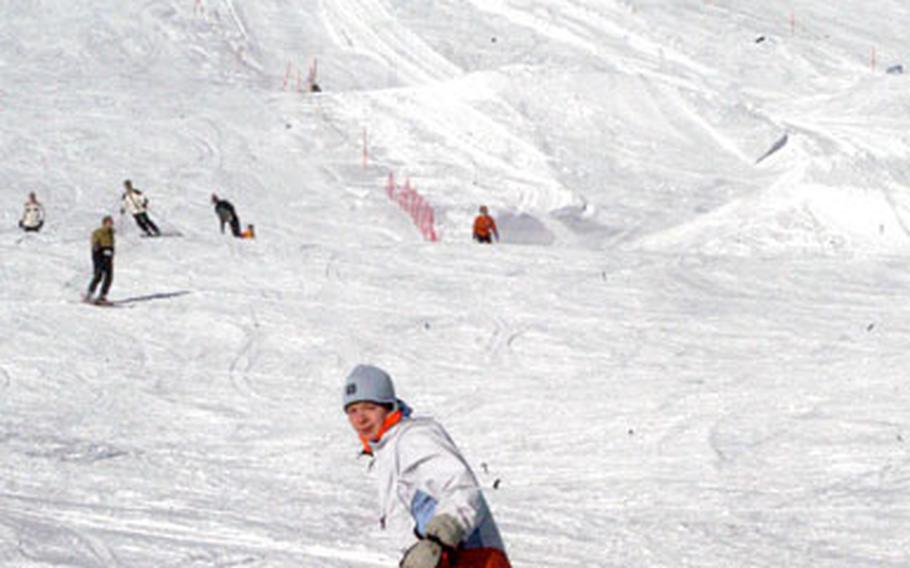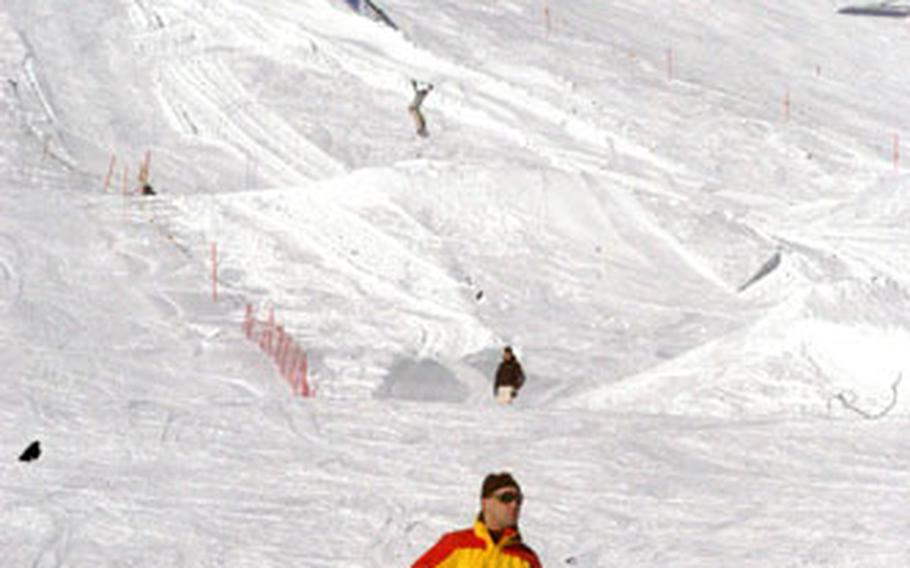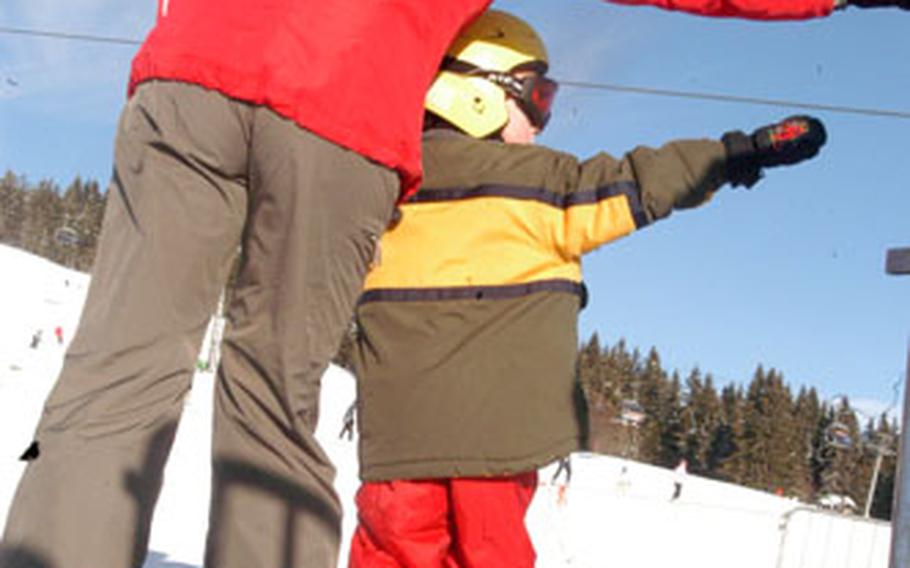 For most Americans living in Europe, there are plenty of places to go skiing and snowboarding. But except for those who live in Garmisch or some other Alpine town, it's tough to do it as a day trip. Usually, a trip to the slopes involves hopping on a bus at a base between midnight and 4 a.m. and sleeping on the way, then skiing all day. Or one can take a longer trip — and spend a chunk of cash on a two- or three-day excursion.
But a day trip to the slopes of Feldberg, Germany, is quite doable for those looking for a quick ski buzz. And it is a lot less expensive.
Feldberg, located just east of Freiburg in the Black Forest, is between a 1½- and 2½-hour drive from Stuttgart or Heidelberg, traffic permitting.
It's close enough to leave at a reasonable hour in the morning, get in three or four hours of decent skiing or snowboarding, and make it home for dinner.
While expert skiers might get a little bored, Feldberg is a good place for beginning and intermediate skiers with a selection of wide-open slopes that aren't too steep. There are also a few expert slopes for high-speed runs, as well as places to practice jumps. The resort itself is small enough to cover most of the 50 kilometers of trails in a single day.
The hills are small compared with the Alps, but so are the prices. A one-day lift ticket is only 23 euros for adults — less for youth and for an afternoon-only pass. Most of the trails are accessed by tow ropes, but there is one six-person lift and a two-person lift.
Many of the wide trails are excellent for practicing techniques. For those who have taken lessons through the Edelweiss Lodge and Resort in Garmisch or elsewhere, Feldberg provides a good venue for putting into practice some of those lessons learned.
With a little hunting, one can find a few interesting trails that cut through the forest.
As with most resorts in Europe, skiers and snowboarders would be well-advised to make time during the work week to hit the slopes, as Feldberg gets pretty crowded on weekends. On a recent Friday, it was possible to take as many runs as desired before the lines started to grow later in the afternoon.
There are several restaurants both on the slopes and at the base. They serve the usual German ski food — bowls of hot soup, plates of pasta, schnitzel and various sausages — and aren't very expensive.
Rental equipment is available, but costs about twice what someone would pay at a decent outdoor recreation center on a U.S. military base.
Skiers and snowboarders can pack their own water and sandwiches and keep them in the car. Parking lots are close enough to take a 30-minute tailgate break between runs down the slopes.
A trip to Feldberg is also a good excuse to visit the Black Forest. The hills are covered by tall pines, making for a scenic drive as well as a wonderful view from the top of the ski lifts.
Veteran skiers warn that the slopes at Feldberg can get a little icy because it typically is not as cold or snowy as in the Alps. But as of late January, all the trails were open and covered by packed powder.
And if you get lost trying to find a certain trail or lift, just ask. Most of the skiers are very friendly, can speak some English and are happy to point you in the right direction.
On the QTDIRECTIONS: From Stuttgart, take Autobahn 81 south to Exit 38. Take Route 31 west to the intersection with Route 317 between the twin villages of Neustadt and Titisee, then follow Route 317 to Feldberg. From Heidelberg, take A-5 south to Exit 62 at Freiburg, then follow Route 31 east to the intersection with Route 317, and then 317 to Feldberg. The resort is well-marked by road signs.
TIMES: Lifts are open 9 a.m. until 4:30 p.m. daily.
COSTS: It costs 23 euros for a full day of skiing for adults, less for children; discounts after 1 p.m. Multiple-day and season tickets are also available.
FOOD: There are several restaurants on the slopes and at the base of the hill. They feature basic German ski food, such as hot soup, pasta, schnitzel and sausages, plus hot and cold drinks.
INFORMATION: For more information, including a Web cam showing the slopes and updated snow conditions, see www.feldberg24.de or www.liftverbund-feldberg.de.
— Charlie Coon
---
---
---
---