Feeding frenzy
by
Jim Sajo
December 31, 2008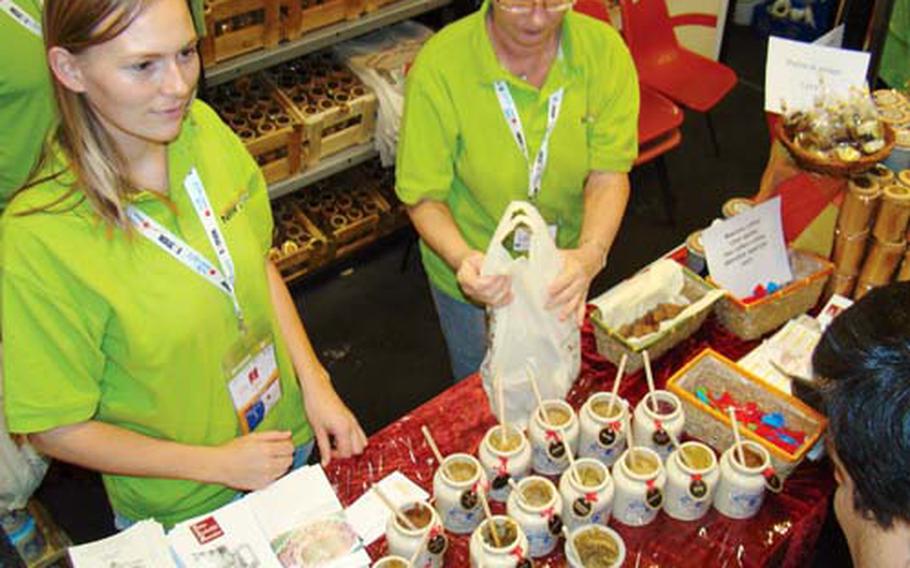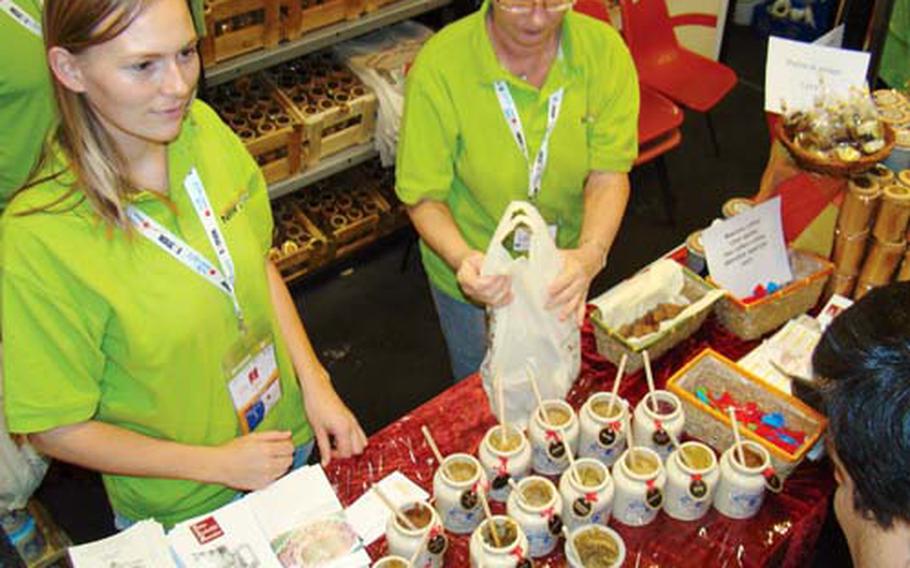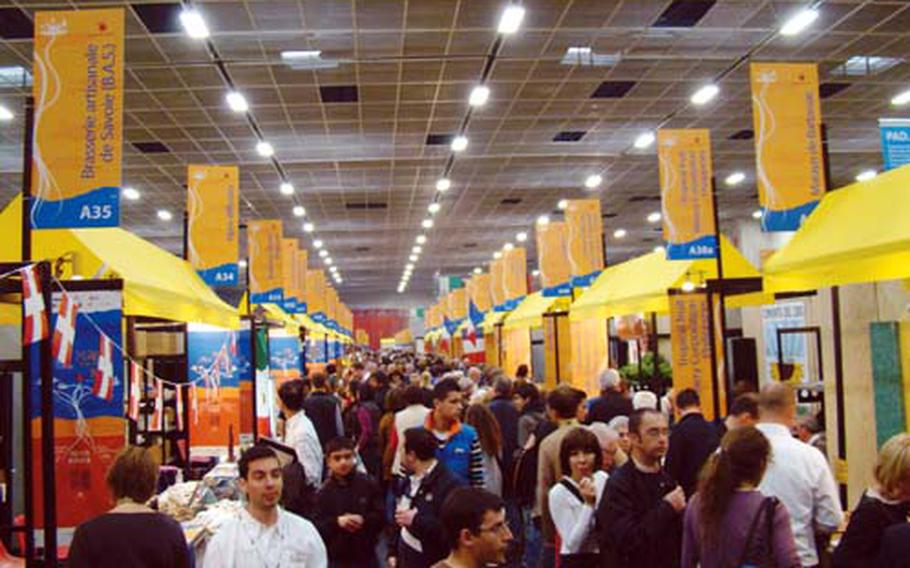 Question: How do you get an Italian to put down his cell phone?
Answer: Give him some food.
While that old joke is an overstatement (Italians can talk on the phone and eat at the same time), the philosophy behind it rings true. There is almost nothing more important to an Italian than good food.
We are not talking about supermarket variety, packaged fast food. Italians understand and appreciate the fact that quality in food comes from freshness and simplicity. Many here believe good taste in food is a right, not a luxury. As you travel around Italy's cities, you're more likely to overhear conversations about dinner last night than the soccer game last weekend.
I witnessed that recently at the International Salone del Gusto food fair in Turin. Created and organized by the Slow Food movement, Salone del Gusto introduces international food producers to customers. Every other year in late October, Turin (Italy's third-largest and second-most-visited city) hosts this enormous enterprise.
It is an event that:
• brings together more than 5,000 farmers, breeders and fishermen;
• is a market offering food from more than 150 countries — including 43 U.S. states — and showing products ranging from bread to vinegar, craft beers to organic wine;
• puts together 1,000 world-class chefs, 400 academics and hundreds of nutrition experts;
• and is a food-sampling opportunity for more than 200,000 hungry visitors.
Simply put, Salone del Gusto is the largest food festival in Europe.
The global gastronomic gala presents visitors with a time challenge, however. If they were like me, they wanted to sample something exotic — either a food they had never heard of or something from a place they had never been. And there were lots of choices.
Plus, if they had studied the Web site (www.salonedelgusto.com) beforehand, they knew of and hoped to participate in a Taste Workshop. These are very popular sessions in which producers and experts talk about a food while the audience listens, tastes and learns.
Finally, they had to find time for a mandatory visit to the wine corner — with a wine list 79 pages long.
How did it go, you ask? My savory sojourn was a veritable world tour. Anyone following my itinerary would have learned about a small region in western Bulgaria (along the Kosovo border) called Blagoevgrad. The nomadic tribes (called Karakachan) living in that rugged countryside are shepherds, walking the terrain with their hardy goats and fierce, protective dogs. The goats' milk makes a pungent, powerful cheese that tastes great.
The next stop on the culinary cruise was Germany. A vast assortment of artisan mustards from the village of Monschau (www.senfmuehle.de) was very tempting. Those that sounded — and tasted — the most interesting included an apple-horseradish mustard, a ginger mustard and a Riesling mustard. Yum.
People nearby flashed dirty looks when my cell phone alarm reminded me it was time for the "Honey, Hops and Horns" taste workshop. I learned the hopped-up bitterness of an American-style micro brewed beer balances perfectly with a sweet smooth honey. Add some soft sheep cheese and it threatens to turn into a calorie-consuming carnival. Fortunately the session lasted only an hour.
I enjoyed 25-year-old balsamic vinegar from Italy, so powerful in its taste that it is served by the drop. Next, I sampled red rice from Brazil and juicy Herat raisins from Afghanistan. I moved on to try a delicate honey from the Wenchi volcano in Ethiopia, followed by soft chewy almonds from Uzbekistan. Finally, I found fragrant Rimbas black pepper from Malaysia and yak cheese from the mountains of Tibet.
The truth is that Salone del Gusto is more than a mega-market for food grazers. The "journey to the roots of food," as organizers call it, is all about education, protection and promotion.
One of the primary goals is food and taste education. This is accomplished through seminars, lectures, demonstrations and the taste workshops open to visitors. Class subjects ranged from how to read labels to ensure the nutritional value of food purchases to the future of bio-fuel production.
Another goal is to protect traditional forms of food production and agricultural biodiversity. That means reversing the trend of global industrial standardization of food products in favor of fresh, locally grown seasonal foods. In keeping with this philosophy are the small farmers markets that are becoming so popular in Europe and the United States.
Finally, Slow Food and Salone del Gusto hope to expand the marketplace to help hard-working, small-scale farmers realize more profit from their efforts. As Carlo Petrini, the charismatic founder of the Slow Food movement, said at the opening ceremony, "We all pay too much money at the supermarket, yet farmers earn very little. The system is broken!"
As a complement to the international food, international music was on the menu as well. Close to 300 musicians from countries including Cameroon, Ethiopia, Argentina, Canada, Mexico, Bangladesh, Japan, Ireland, the United States and others performed throughout the five-day event.
Education and entertainment aside, it seemed from pushing through the crowded aisles of the markets that most visitors were there to taste something new and fresh and fabulous. And the cell phones were mostly silent.
Jim Sajo is a freelance writer who lives in northern Italy.
Slow FoodSlow Food is an international member-supported nonprofit organization. Its aim is to spread food culture, promote quality in food, protect the environment and improve the quality of life of small food producers around the world. The Slow Food motto: "Good, Clean and Fair," reflects officials' wish to have quality food accessible to and appreciated by all. Its Web site, which has an English version, iswww.slowfood.com.
See the following Web sites to learn more:
• www.salonedelgusto.com
• www.senfmuehle.de (for the mustards of Monschau)
• www.beertown.org (for details on craft brews and home brews)