Europe's Christmas markets blend tradition and fun
---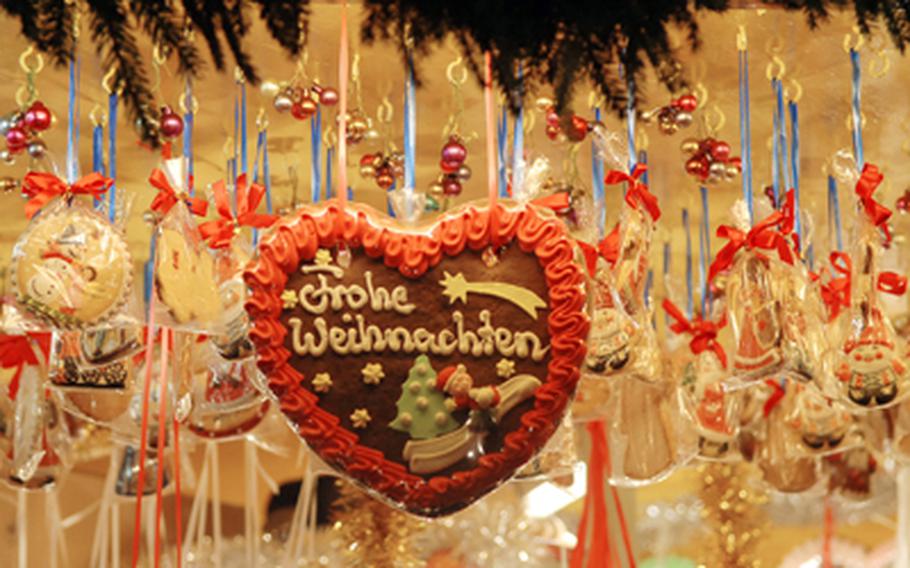 Click here to see list of European Christmas markets and slideshow
When the smell of chestnuts roasting over open fires fills the air, and Jack Frost starts nipping at your nose, you know Christmas is just around the corner.
And nothing gets you into the holiday spirit better than a good, old European Christmas market.
The markets probably hark back to medieval times when merchants and farmers sold their goods at winter fairs. Here people would stock up on food, woolen cloth and other wares for the cold months ahead.
Today, visitors buy Christmas decorations and arts and crafts, although merchants at many markets still sell pots, pans, cutlery, hats, socks and shoes.
As shops (and then the Internet) took away the need for buyers to go to markets for seasonal goods, vendors began replacing those items with more food and drink. Today, bratwurst, in different shapes and tastes, is omnipresent at Christmas markets, as is mulled wine, called Glühwein.
Christmas markets pop up all over central Europe right about now — in Germany, where they began, but also in the United Kingdom, Austria, Belgium, the Netherlands, Luxembourg, France, Italy, Switzerland and and Scandinavia. Even the Czech Republic, Poland and Slovakia have gotten into the act. Many markets are held in historical settings, old town squares or medieval castles. Some last only a day, others are only on the weekends leading to Christmas and some last from now until Christmas Eve or beyond.
Salzburg hosts a popular market, as does Bolzano in northern Italy. Prague's Old Town Square and Wenceslas Square are in the holiday spirit, and Barfüsserplatz in Basel, Switzerland, is home to the city's big, but cozy market.
Liège in Belgium features a Christmas market heavy on culinary delights, while the caves of Valkenburg, Netherlands, are a unique site for an unusual market.
The Marché de Noël in Strasbourg, France, is the biggest in the country's Alsace region, but smaller ones in Riquewihr and Ribeauvillé are also worth a visit.
In Germany, just about every town and village has a Christmas market of some sort. They are called Weihnachtsmarkt, Christkindlesmarkt or Adventsmarkt. They vary in size, the length they run and the crowds they attract, but they all have much in common: hot mulled wine, food, rides for children, Christmas decorations and plenty of holiday cheer. There are too many to mention, but big, popular markets to catch the holiday spirit are in Frankfurt, Mainz, Nuremberg, Erfurt, Heidelberg and Dresden.
For those in England, Birmingham offers a traditional German market with many German vendors called the Birmingham Frankfurt Market.
In Denmark, Copenhagen celebrates the yuletide with its famed Christmas market at Tivoli Gardens. Stalls selling handmade crafts, including traditional figurines of clog-clad elves in pointy hats, compete for space with vendors selling iced doughnuts slathered with black currant jam and cups of gl∅gg, a steaming hot, mulled red wine laden with raisins, almonds, cinnamon sticks, and cloves — all of which are steeped in aquavit or schnapps.
Every year the Stars and Stripes Travel section visits various Christmas markets to feature on these pages. This year we visit Strasbourg, Colmar and Mulhouse in France, then travel to Bavaria for markets in Würzburg, Nuremberg and Munich. For more, take a look at the listing of markets around Europe in the center of the magazine.
Then come along and catch the spirit of the holidays.
---
---
---
---