Europe boasts plenty of festivals, music, sports in 2007
by
Karen Bradbury
December 28, 2006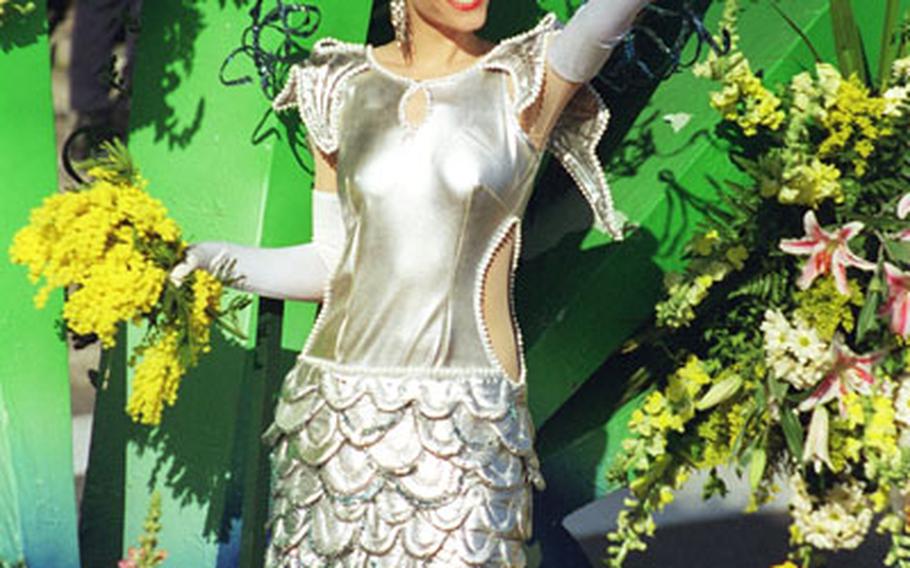 Whether or not you make a big fuss over New Year's Eve, there will be plenty of events in 2007 to keep you busy, from marathons to rock concerts to festivals.
Here is a sampling of events in the coming year. It's wise to check details on the Internet or by phone with the local tourist board or organizer before setting off. Dates and descriptions were provided by official country tourism Web sites and www.whatsonwhen.com.
AustriaVienna, Dec. 31-Feb. 20: ball season, with hundreds of balls to chose from.Vienna, New Year's Day: Concerts. It's hard to score tickets for the Vienna Philharmonic, but other orchestras offer the same kind of music.Mayrhofen, April 9-15: Snowbombing, weeklong snowboarding party.Ischgl, April 29: Top of the Mountain Concert, unconfirmed info indicates featured artist may be Beyoncé.Vienna, June 22-24: Donau Island Festival, weekend of concerts.Lingenau, Aug. 17-18: Outdoor Trophy, extreme sports team events including mountain biking, mountain running, paragliding, and white-water kayaking. www. outdoortrophy.comSalzburg, July 27-Aug. 31: Salzburg Festival, a festival of classical music concerts, drama and opera. This year's theme is "The Nocturnal Side of Reason."
BelgiumBinche, Feb. 18-20: Belgium's most famous carnival.Stavelot, March 17-19: Carnival of the Blancs-Moussis.Brugge, April 6-10: Chocolate Festival.Laeken, April 18-May 6: Royal Greenhouses Open to the PublicYpres, May 13: Cat Festival. This is just the festival itself; Cat Parade will next take place in 2009.Brugge, May 17: The Holy Blood Procession, religious pageant.Namur, May 17-20: Annual street fair.Brussels, July 3 and 5: The Ommegang Pageant, medieval festival.Dinant, Aug. 15: International Bathtub Regatta.Brugge, Aug. 25-26: Pageant of the Golden Tree, commemorates wedding of Charles the Bold and Princess Margareth of York. Takes place once every five years.St. Hubert, Sept. 1-2: International Hunt and Nature Day, with historical parade.Brussels, Sept. 7-9: Belgian Beer Weekend.Tournai, Sept. 9: Grand historical parade honoring the Virgin Mary.
BulgariaVeliko Turnovo, May 3-21: Stara Planina Fest, traditional folk arts festival.Kazanluk, Rose Festival: June 1-3.Countrywide, Midsummer's Day: Ladouvane, or Singing to Rings, ritual for single women searching for husbands.
CroatiaRijeka, Feb. 18: Culmination of carnival festivities with parade.Rab, July 25-27: Middle Ages festival.
Czech RepublicPrague, through Feb. 20: ball season.Prague, May 12-June 3: Prague Spring International Music Festival, classical music with orchestras and soloists.Brno, May 18-June 3: Festival with a fireworks competition.Ceský Krumlov, April 30-May 1: Festival of the Five Petalled Rose, Renaissance celebration.Karlovy Vary, June 29-July 7: International Film Festival.
DenmarkKlampenborg, March 29: Bakken, world's oldest amusement park opens, and motorcycles come out in force to mingle by its gates.Ribe, May 5-6: Viking Market.K∅ge, June 30: Round Zealand, bicycle fun race covering 288 kilometers.Roskilde, July 5-8: Open-air music festival always attracts top names.Århus, July 7-8: Tall Ship RacesArhus, July 28-29: Moesgård Strand, Viking Moot.
EnglandLondon, Jan. 5-14: International Boat Show, ExCel Exhibition Center. London, Feb. 18: Chinese New Year celebrations.London, April 7: Oxford and Cambridge Boat Race.London, April 22: London Marathon.Chelsea, May 22-25: Flower Show, Royal Hospital.Salisbury, May 26-June 10: Multi- arts festival.Glastonbury, June 22-24: Festival. (Confirmation of dates pending.)Wimbledon, June 25-July 8: tennis tournament.London, July 7: Tour de France bicycle race begins.London, Aug. 26-27: Notting Hill carnival.Chelmsford and Staffordshire, Aug. 18-19: V Festival (rock music).
FinlandHelsinki, May 12: Eurovision, annual music competition of countries from throughout Europe.Järvenpää, June 27-July 1: Lakeside Blues Festival.
FranceNice, Feb. 16-March 4: carnival. Battle of Flowers, Feb. 16.Menton, Feb. 17-March 7: Lemon Festival.Paris, April 15: Paris Marathon.Cannes, May 16-27: Film Festival.Loire Valley, May 25-28: La Caravane, exhibits, picnics, dancing and singing.Paris, May 27-June 10: French Open, tennis.Normandy, June 6: 63rd anniversary of D-Day.Le Mans, June 16-17: 75th annual automobile race.Reims, June 23-24: Festival in memory of Joan of Arc, with medieval market.Countrywide, June 21: Fête de la Musique, street concerts celebrating the summer solstice.Bayeux, July 7-8: Medieval festival.Paris, July 14: Bastille Day celebrations.Countrywide, Sept. 7-Oct. 20: Rugby World Cup 2007.Médoc, Sept. 8: Marathon des Châteaux du Médoc et des Graves, marathon race involving food, wine and partying.Countrywide, Nov. 15: Fête du Beaujolais Nouveau, celebration of the new wine on day of its release.
GermanyCologne, Feb. 15-20: Carnival.Mainz, Feb. 15-20: Fastnacht (carnival).Munich, Feb. 18-20: Fasching (carnival). The "Dance of the Market Women" on Viktualienmarkt square on Feb. 20 is a highlight.Munich, April 28-May 6: May Dult, traditional spring fair and market.Nürburgring/Eifel, June 1-3: Rock am Ring. Giant rock festival.Rhine riverbanks: Rhine in Flames dates for 2007 include May 5 (Bonn to Linz); Aug. 11 (Koblenz); July 7 (Bingen to Rüdesheim); Sept. 8 (Overwesel); Sept. 15 (St. Goar).Berlin, July 7: Love Parade.Frankfurt, Sept. 13-23: International Motor Show.Munich, Sept. 22-Oct. 7: Oktoberfest.Stuttgart, Sept. 29-Oct. 14: Cannstatter Volksfest. Beer festival.
GreeceEpidaurus, June-August: Weekends only, classical Greek drama festival.
HungaryMohacs, Feb. 15-20: Carnival.Gyor, Feb. 17: Baroque BallBudapest, March 16-April 1: Spring Festival. Many other Hungarian cities also have spring festivals.
IrelandTralee, Jan. 19-21: Traditional Music and Set Dance Festival weekend.Countrywide, March 17: St. Patrick's Day.Killorglin, Aug. 10-12: Puck Fair, street fair and parade.
ItalyCountrywide, Epiphany, Jan. 6: Processions to the Vatican in Rome.Viareggio, Feb. 4: Carnival.Sorrento, Feb. 14: Day devoted to San Antoninus, town's patron saint.Oristano, Feb. 18-20: La Sartiglia, Carnival.Putignano, Feb. 20 and for three Sundays prior: Crnival.Venice, Feb. 9-20: Carnival.Ivrea, Feb. 17-20: Carnival.Florence, April 8 (Easter): Scoppio del Carro, or, Explosion of the Cart.Cocullo, May 3: Procession of the Snake Catchers.Tuscany, May 26-27: Cantine Aperte: wineries throughout region open doors for wine tasting.Verona, June 22-Sept. 1: Opera season 2007.Siena, July 2: Palio. Also runs a second date, in August.Lucca, July: Summer music festival with top-name artists.Venice, Aug. 29-Sept. 8: International Film Festival.Naples, Sept. 19: Feast of San Gennaro, town's patron saint. May 6 is also celebrated in saint's honor.Trieste, Oct. 14: Barcolana. Regatta.
LuxembourgLuxembourg City, March 28: Eimaischen, Easter Monday festival and flea market.Echternach, May 29: Dancing procession.
NetherlandsLisse, March 22-May 20: Keukenhof flower exhibition.Alkmaar, April 1: Cheese market; Continues through summer.Countrywide, April 14-15: Museum Weekend, free or reduced admission costs.Flower parade, April 20-22: Noordwijk and neighboring towns en route to Haarlem.Countrywide, April 29: Queen's Day.Rotterdam, July 13-15: North Sea Jazz Festival.Nijmegen, July 17-20: International Four-Day Marches.
NorwayTroms∅, Jan. 22-28: Northern Lights Festival.Various towns, first two weeks of March-Winter: Festivals in Narvik, Alta and elsewhere.Bergen, May 23-June 5: International Festival.Voss, June 24-July 1: Extreme Sports Week with skydiving, rafting, kayaking, paragliding, hang-gliding and climbing.Sunnfjord, Aug. 1-4: Trout Fishing Festival.
PolandWarsaw, Jan. 23-28: European Figure Skating Championships.
ScotlandGlasgow, Jan. 17-Feb. 4: Celtic Connections, winter music festival.Lerwick, Jan. 30: Up Helly Aa, Europe's largest fire festival.Edinburgh, April 30: Beltane Fire Festival.Speyside, May 3-7: Whisky FestivalAyrshire, May 24-28: Burns an' a' That!Edinburgh, Aug. 3-25: Military Tattoo.Edinburgh, Aug. 10-Sept. 2: Edinburgh Festival
SpainCountrywide, Jan. 5: Eve of Epiphany.Villanueva de La Vera, Feb. 18 and 20: Pero Palo. Carnival.Sitges, Feb. 15-21: Gay-themed carnival.Pamplona, July 7-14: Fiesta de San Fermin and Running of the Bulls.Buñol, Aug. 29: La Tomatina, giant tomato fight.
SwitzerlandAdelboden, Jan. 6-7: FIS World Cup for men, giant slalom and slalom.Arosa, Jan. 13-20: FIS Snowboard World Championships.Grindelwald, Jan. 15-20: World Snow Festival.Blatten, Jan. 21-27: Witches on skis. Various towns, Feb. 15-20: Carnival celebrations. Basel Fasnacht is Feb. 26-28.Interlaken, June 29-July 1: International trucker and country festival.Montreux, July 6-21: Jazz festival.Countrywide, Aug. 1: National Day.Zurich. Aug. 11: Street parade with techno music.Countrywide, Sept. 29 and Oct. 6: Alpine descent of the cattle.