Europa Park: Make a date with the 'hypercoaster'
---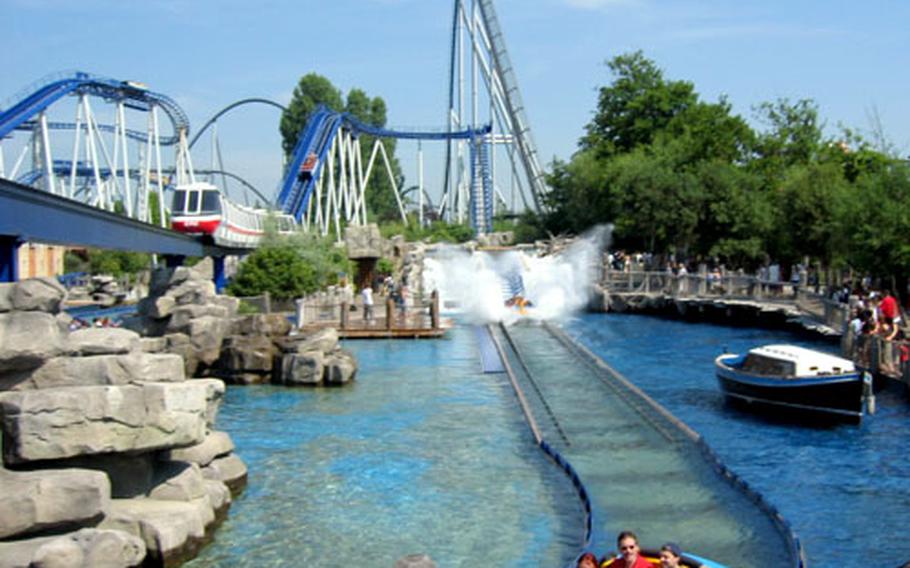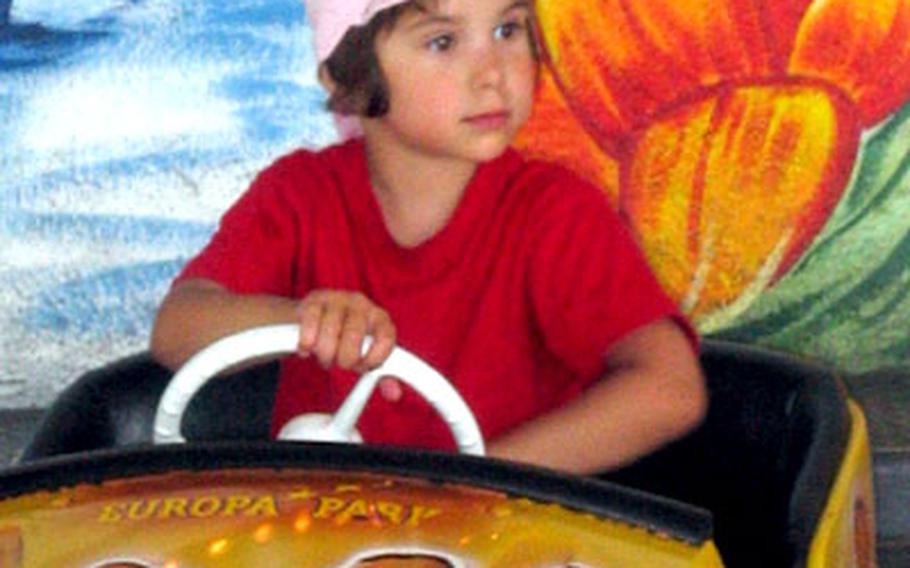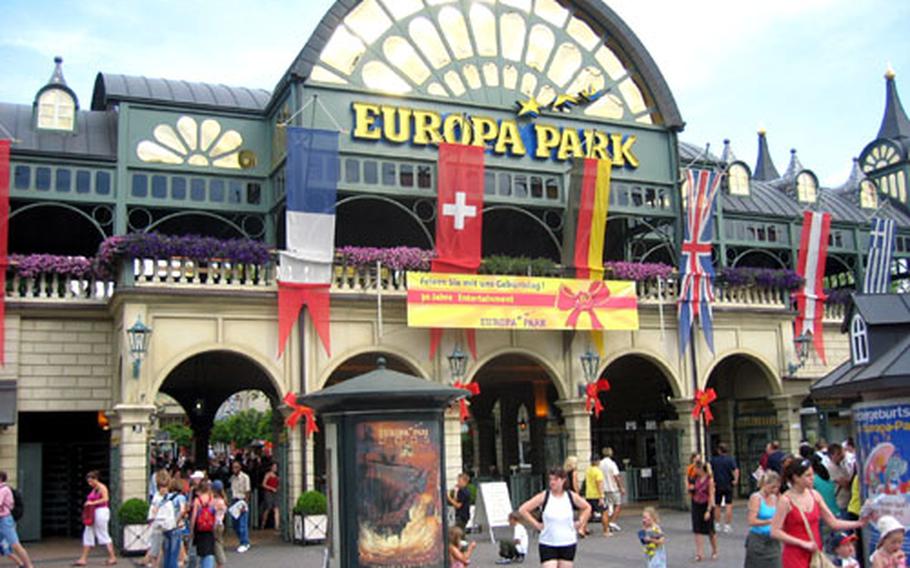 While heading south from Frankfurt on Autobahn 5 near Freiburg, Germany, watch the fields to the right. In the distance, shortly after the exit for Lahr, you will see the outline of a massive coaster, the star attraction of Europa Park.
We had passed this way before and promised that, come summer, we'd make a day of it there.
So on a cloudless day in mid-June, we packed our tent and cooler and made the trip to the village of Rust, about a two-hour drive from Frankfurt when traffic is flowing. Our destination was a campground where, for about 20 euros, we set up our home for the night in the shadow of the park and the Silver Star.
From the campground, the steel outline of the coaster loomed all the larger. Each time I gazed up at the thing, it seemed to have grown several feet in height, not unlike a mythical beanstalk. And each extra foot made it look a little bit more intimidating, though I tried to keep those fears to myself.
At 9 a.m. the next day, we were at the park's main gate, purchasing our entry cards. At 27 euros, they didn't come cheap, but they did grant us nine hours of ride heaven.
Although we'd come up with a plan for covering the park to make sure we did not miss any of the highlights, we dropped the strategy upon seeing the first promising ride with a short line. That was the Euro-Sat, a coaster nestled inside a cylinder that wends its way ever-upward in a spiraling motion and then plunges down in darkness to the accompaniment of great special effects.
Next stop was the Matterhorn-Blitz. Suitable for kids older than 6 and over 4 feet tall, it proved a worthy enough ride, though true thrill- seekers might want to give this one a miss if the handy entry point waiting-time guide indicates anything over 10 minutes. We found the times indicated by these guides pretty close to the mark throughout the day.
Since we were building up a sweat already, it was time to hit a water ride, and Europa Park delivered. The Poseidon is a water coaster that packs two mighty drops and is authentically and artistically rendered in a Greek style.
And on it went throughout the day: the Atlantis, another water ride that opened this year; the Alpine coaster Enzian; the Swiss Bob Run; the Vindjammer, the classic swinging ship; Fjord-Rafting through rapids; and the Euro-Mir, a buggy coaster with twisting cabs.
By 2:30 p.m. we had exhausted all of the rides with teen-to-adult appeal. Now it was time to end the foot dragging — and face the Silver Star.
Anyone having second thoughts has plenty of time to bail, as getting on the thing entails a 45- minute wait. Yes, the thought did cross my mind, but the lack of any full-force adrenaline rush from any of the other attractions spurred me onward.
At last the wait was over. We took our seats and locked the safety hydraulic rail into place. Then up, up, up we went.
I knew if I looked directly down I'd succumb to panic. So I looked elsewhere. The peach fuzz on the chin of the kid sitting next to me. My cuticles. The bald head of the guy in front of me. Anywhere but down.
Then the plunge. Straight downward from nearly 240 feet at 80 mph. Wheeeee! Oh my. This coaster does indeed pack a wallop. Now that's why you go to an amusement park!
With the Silver Star under our belts, it was time for round two and another ride on our favorites.
Some general comments on the park. Its layout works well. Its many zones are based on countries, and rides there are themed accordingly. The Russia pavilion is home to Euro-Mir. Greece houses the Poseidon. Switzerland hosts the Matterhorn-Blitz. Want to make your relatives back home think you spent a three-day weekend touring 10 countries of Europe? Take several changes of clothing, and you could take some convincing photos in each zone.
The park is immaculately kept, and there's no shortage of green spaces. Take a picnic. You are allowed to carry a backpack. If you're traveling straight from home, freeze a couple of bottles of ice tea or water and sip them throughout the day. Otherwise you will be buying soda from the park at 2.80 euros a pop.
On our day out, those attending the park were overwhelmingly German, with a fair number of French youth. If there were any other native-English speakers in the park on the day of our visit, they kept themselves well hidden.
We asked Elisabeth, a local from the town of Rust who works at a biergarten and rents out private rooms in her house, when the park was busiest. She told us that peak times were the month of August, and, surprisingly, the first two weeks of September. So you might be better off skipping that time.
But should you go any other time of the year? Ja, oui, si, da, and yes, yes, yes.
Europa Park's birthday party
Europa Park turns 30 this year. To celebrate, the park plans special events from July 9 to 17. Daily events include prize giveaways, children's programs and a birthday parade with special guests. On July 16, all attractions and shows will be open until midnight, and there will be fireworks. The park hosts a "Mamma Mia!" party July 17 with performances from the popular ABBA musical and music and lookalike contests. Find more events and ticket prices at the park's Web site.
— Stars and Stripes
---
---
---
---