Erbeskopf: Slopes aren't long, but neither is the car ride
by
Terry Boyd
February 7, 2006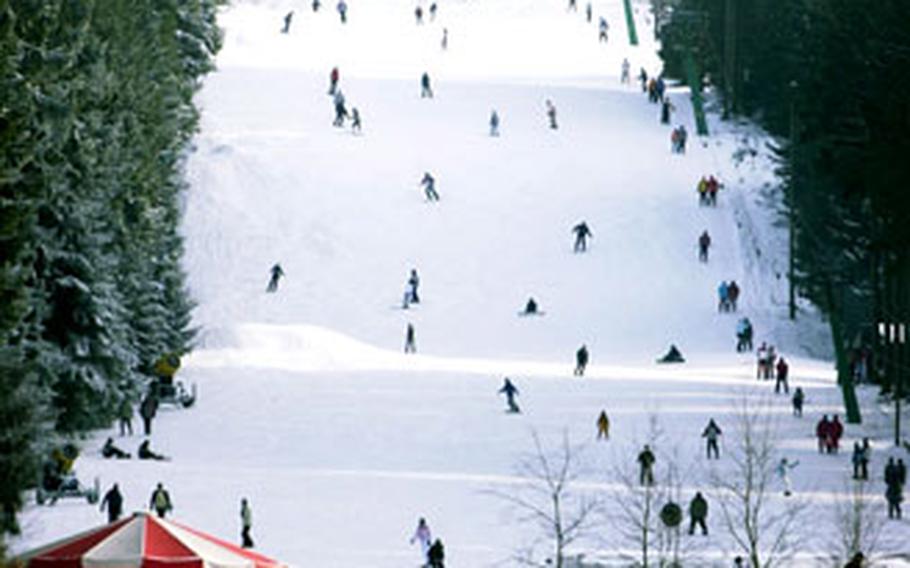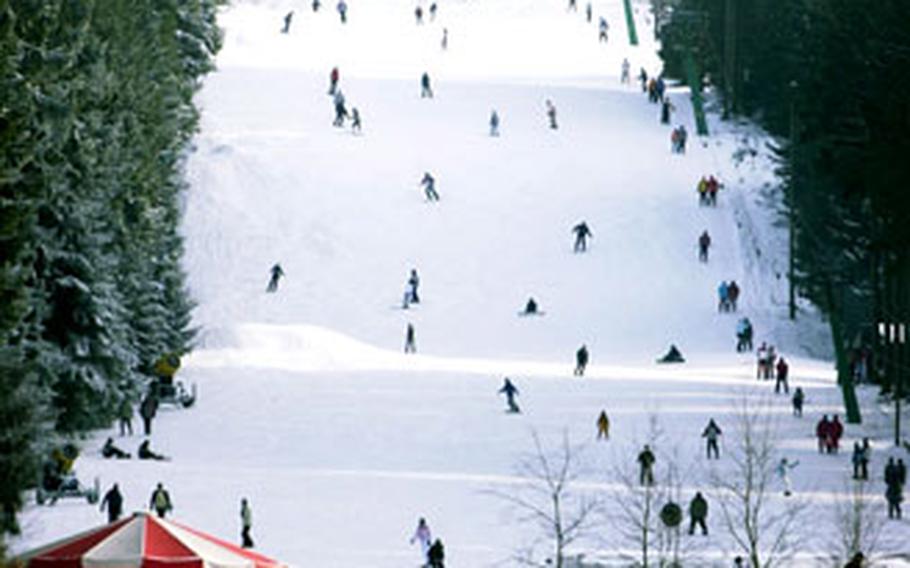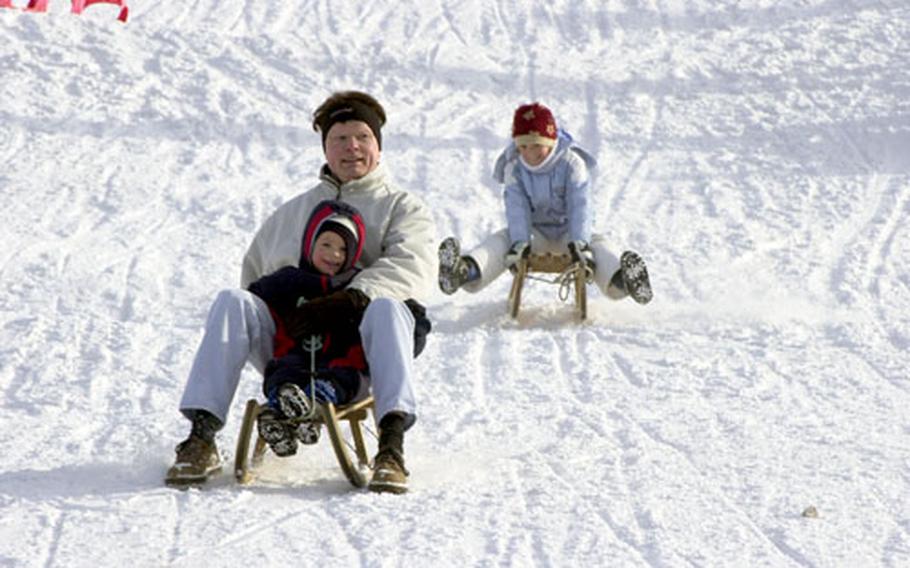 There is some value in convenience, which is why Americans are willing to go with their second-choice brand of beer at the gas station/quickie-mart rather than make another stop after tanking up.
The Erbeskopf Wintersportzplatz is sort of the convenience store of German skiing — not your first choice. Even with a buzz on, Bode Miller would be bored in 10 minutes. But Erbeskopf is a destination with considerable value, beyond the fact that it's close to about 40 percent of Americans based in Germany.
High in the Hunsrück hills northwest of Baumholder, the Erbeskopf winter sports center is an easy day trip from the Frankfurt/Wiesbaden area south to Ramstein and Kaiserslautern. But its convenient location is also its most limiting factor.
At 2,684 feet, Erbeskopf is the highest point in southwest Germany — though considerably lower than Alpine slopes. Natural snowfall is a hit-or-miss proposition here. And unlike Alpine runs, Erbeskopf is a bit length-challenged, with the longest of three runs only about 2,650 feet, with about a 500-foot drop in elevation.
Is there a black diamond run at Erbeskopf?
"Nooooo," said Thomas Kies, smiling. Still, all things considered, it's "a nice little day trip," said Kies, an experienced skier and California native living in the Ramstein area.
On a recent Saturday, it was just the place to get out in the sun, hang with German friends and do a little snowboarding, he said.
For beginners and intermediate skiers, Kies added, there's no better place, and certainly no place closer or cheaper. He'd just returned from a long weekend skiing in Sölden, Austria, where he paid 98 euros for lift tickets, not to mention hundreds of euros for room, food and travel expenses.
At Erbeskopf, lift tickets max out at 15 euros, and a brats-and-beer break is less than 10 euros.
In the bargain are a few quirks. Lift tickets are good for either 10 or 20 runs, rather than for the day. Each time you get on the T-bar-type tows, attendants punch your card. Twenty runs should be more than enough for the average skier, according to several young Americans interviewed on the slopes.
But beware — attendants double-click for the longest run, which has two separate segments. If you use the beginner's lift, which takes you nearly all the way up the steepest slope, you can ski twice as many runs, said Graf Werner, outdoor recreation director in Baumholder.
Another quirk is that, on crowded days, Erbeskopf is like a city park, with all sorts of obstacles on the slopes to include hikers, sledders and grandparents walking poodles. It's weird at first, but really only a problem at the base of the hill by the lifts.
Other quirks: Lessons must be scheduled in advance. Several skiers said that rentals are overpriced and picked-over, even on slow days. Military folks are better off getting set up at local Outdoor Recreation centers.
Above all, avoid Erbeskopf on Sundays, said Werner, who saw people standing in line for two hours for lift tickets in late January. Saturdays or training holidays that fall on Monday are the best times to go, he said.
Though Erbeskopf has been open since the 1960s, few Americans seem to know about it. The ones who do say they have it to themselves on weekdays.
Several Baumholder-based Americans who saw a Stars and Stripes reporter lugging around a camera said essentially the same thing: "You're not going to tell everybody about this place!"
Sorry, guys.
On the QTDIRECTIONS: Erbeskopf is about 20 miles from Baumholder. Take Autobahn 62 to the Birkenfeld exit, then follow B-269 through Birkenfeld toward Mörbach. Continue on 269 past the village of Ellenberg to the intersection with L-164. Turn left and follow signs to Erbeskopf Wintersportzplatz. From the Frankfurt/Wiesbaden area, take Autobahn 61 toward Koblenz, exiting at Route 50. Go west until it intersects with 327, and take 327 until it intersects with 269. Go south to the juncture with L-164 and follow signs.
TIMES: Open 10 a.m. to 9 p.m. Monday through Thursday and Sunday; 10 a.m. to midnight Friday, Saturday.
COSTS: For adults, a lift ticket for 10 runs costs 9 euros, 20 runs cost 15 euros. Tickets for those younger than 18 cost 7 euros for 10 runs, 12 euros for 20. Unused runs can be used during later visits. On weekends, there is a 2-euro fee for parking in two large lots, but you can park below the ski area for free and walk about 300 yards. Weekday parking is free.
FOOD: There is an inexpensive restaurant/snack bar at the entrance to Erbeskopf. There is also a small stand on the slopes and a full bar at the entrance to the slopes.
INFORMATION: A German-language Web site for the Hunsrück area is www.ute24.com/wEnglisch. Graf Werner, director of Outdoor Recreation at Baumholder, is at DSN 485-7182.
— Terry Boyd