Driving in Europe? Heed the rules of the road
by
Kent Harris
May 22, 2003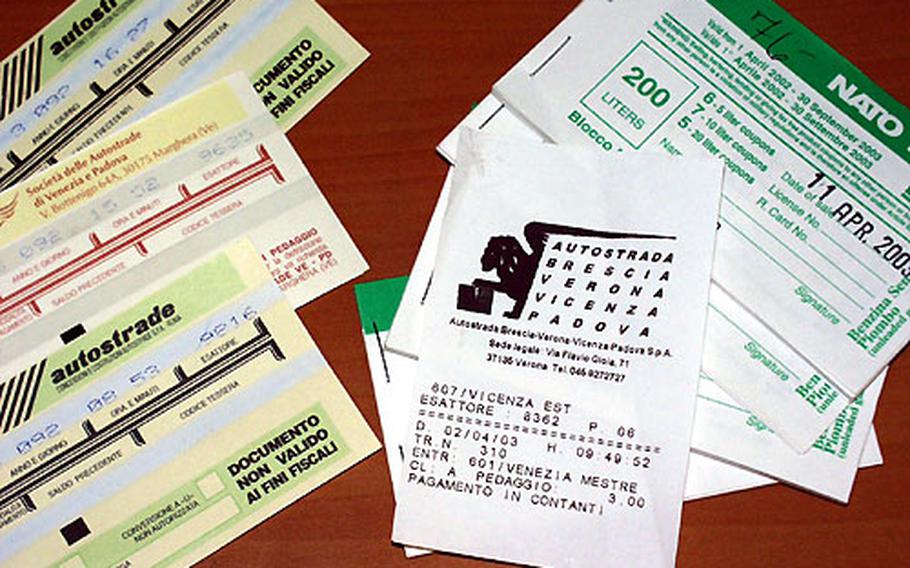 Thinking about seeing Europe by car? Having your own set of wheels lets you travel at your own pace (barring traffic jams) and get to places that aren't easily reached by trains or buses.
But, depending on what countries you plan to travel in, there can be a lot of additional costs, and some paperwork to take care of.
The formation of the European Union and the adoption of the euro have made traveling between many countries far easier. But that doesn't mean that there aren't differences between the various countries around the continent.
Road signs and driving rules can vary. The maximum speed limit, while generally around 130 kilometers per hour on the highways of many countries, changes.
Driving on major roads in Switzerland and the Czech Republic (which didn't adopt the euro) and Austria requires everyone crossing the border to obtain stickers.
Drivers have to pay tolls to use most of the large highways in countries such as Italy, Slovenia and France. And everyone drives on the opposite side of the road in the United Kingdom and Ireland.
As confusing as those factors may be, trying to figure out whether you're eligible to buy NATO forces gasoline coupons while on vacation can be even more complex. Such coupons generally save American motorists lots of money, though prices in some countries — especially in Eastern Europe — aren't as likely to cause permanent heart damage.
There are a few rules about such purchases that are fairly straightforward.
Those stationed outside the United Kingdom, Spain, Belgium and Turkey are not eligible to get coupons in those countries. People traveling to Germany, the Netherlands and Italy can buy a limited amount of coupons, provided they have proper vehicle documentation and the correct leave papers.
For Germany, military personnel and civilians stationed in other European countries can purchase coupons at Army and Air Force Exchange Service outlets for as many as 400 liters, providing they have the proper paperwork. With those coupons, motorists can use many (though not all) Esso stations and BP stations on the autobahns.
Starting June 1, Aral stations on the highways start accepting coupons. More information and lists of stations can be found on the AAFES Web site (www.aafes.com) under "Your BX/PX." Follow the directions to log in and then go to "Customer Information," where there are links to service stations.
In Italy, AAFES will sell coupons for up to 200 liters to those traveling in the country but stationed elsewhere and on authorized leave. The same level of paperwork is required and purchases can only be made at the main exchanges in Aviano, Vicenza and Camp Darby.
Coupons are also available in southern Italy, according to Lt. Susan Henson, public affairs officer for Naval Support Activity Naples. She added that the type of required documentation varies with the type of vehicle — privately owned, rented or borrowed — being used for the leave.
In Italy, motorists can use coupons at Esso and Agip stations. Not all of them accept coupons, though. Ask before filling up.
Those traveling from Italy, the U.K. and other countries can purchase coupons for Germany before they leave home. But that's not the case for those entering Italy from other countries, according to the guidelines AAFES operates under.
In either case, Austria and Switzerland — which separate the two countries — don't take coupons. So fill up as close to the border as possible.
And try to get the stickers to show you've paid to use the highways in those countries at the same time. The stickers range from a few euros for a few days to around 25 euros for extended periods. They're also sold at various coffee shops and convenience stores on both sides of the border.
Those headed for more far-flung locations such as Spain and Turkey might be able to get some coupons or discounted gas, but it's generally not easy to do so since tax-free gasoline is primarily for personnel stationed in those countries.
In European countries that aren't home to many U.S. forces — including France, Austria and Switzerland, as well those in Eastern Europe and Scandinavia — Americans have to grin and bear the prices at the pump. Most gasoline stations accept credit cards such as Visa. But it's always a good idea to ask first, especially if there aren't signs posted to indicate it.
Motorists can also use their credit cards to pay the tolls in Italy and France. But that's not always the case. And even when it is, there are only certain lanes where cards can be used. In Italy, for instance, you can give your credit card to an attendant in the booth or use a lane marked with the blue ViaCard label. Stay away from the Telepass lane unless you've gone to the trouble of getting a special pass for your car. Some lanes, especially in France, accept only correct change.
In any case, it's generally a good idea to carry a lot of change and small euro notes while driving in countries that charge tolls.
On some toll roads, drivers get a ticket and pay when they exit. Keep that ticket handy: You'll be required to give it up when you pay and those who have to search for their tickets don't make many friends in the cars that quickly line up behind them. And if you can't find the ticket, you might be required to pay more money.
Tolls aren't as expensive as gasoline. But they can add up quickly.
Fees for a trip from Aviano to Livorno, for instance, comes in at just under 20 euros. Each way.
Those traveling to big cities also need to consider parking. Large lots may be easiest and safest and also take away the need to understand various zoning and fee requirements of street parking. But some can charge 18 euros a day.
When driving to cities such as Rome, some motorists prefer to find a parking structure on the outside of the city and do the rest of their traveling on public transportation, avoiding the often chaotic and sometimes dangerous world of big-city driving.
In addition, many cities have areas where cars are prohibited. And others, such as Venice, prohibit non-residents from driving entirely. Some hotels provide parking, so ask about it while making reservations.
There are alternatives to parking garages. Those driving to Rome from the north, for instance, can park in a neighboring city and take the train the rest of the way. Orvieto, which boasts a top-tier cathedral, also has a large (and free) car park next to the train station. Roma Termini – and its metro connections throughout the city – is just about 90 minutes away.
When parking in Orvieto, or just about anywhere else in Europe, don't leave anything in your vehicle that would give someone a reason to break in and grab it. Cameras full of pictures and souvenirs can't provide memories of the trip if they're no longer in your possession.
How to get coupons ...
U.S. servicemembers and civilians serving at military installations outside Italy and visiting Italy on authorized leave may purchase a limited amount of tax-free gas coupons — if they have the proper paperwork.
The amount of coupons is limited to 200 liters of gasoline or diesel fuel "G" for "government" coupons per leave period, according to Lt. Susan Henson, public affairs officer for Naval Support Activity Naples, Italy.
Different documentation must be provided by U.S. military or civilian members, depending on the type of vehicle being used for the leave.
¶ For privately owned vehicles, servicemembers must present valid leave papers issued by a military command outside of Italy, their original POV registration form and their ID card.
¶ For borrowed vehicles, they must present valid leave papers issued by a military command outside of Italy, the original vehicle registration, a power of attorney from the registered owner to identify the driver, and a valid ID card.
¶ For rented vehicles, they must present, in addition to valid leave papers issued by a military command outside of Italy, an ID card and a copy of the rental car contract.
In all cases, the vehicles must be registered outside of Italy.
The sale will be based on an Additional Allowance Authorization form approved by local security officials or Motor Vehicle Registration Office.
— Stars and Stripes