Disneyland Paris boasts all the magic of its American cousin
---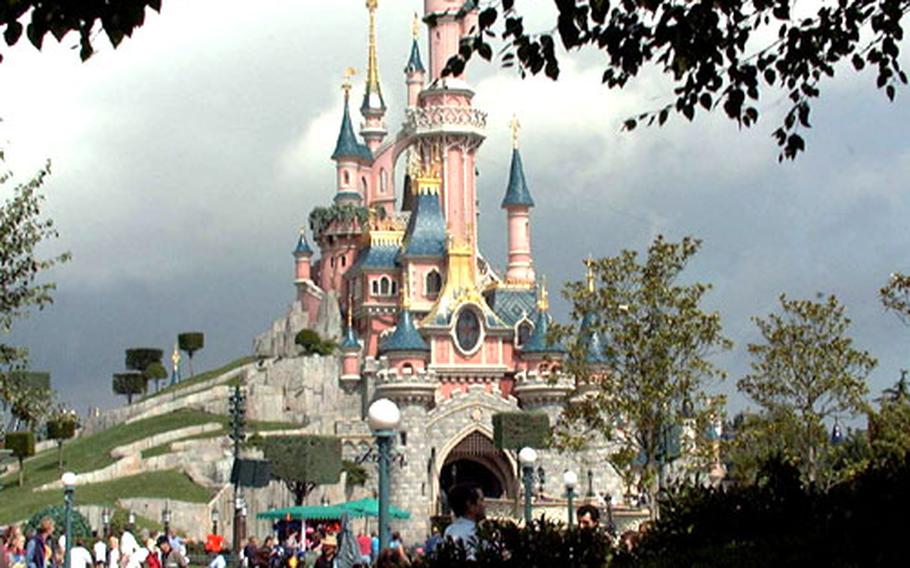 Visiting Disneyland as a kid is truly a magical experience.
Taking your own kids to Disneyland is even better, especially when the park is in the shadows of the Eiffel Tower.
OK, so Disneyland Paris isn't that close to Paris. But it's close enough that you can stay in one hotel and visit both the land of Le Mickey and the City of Light during the same trip.
All your favorite rides can be found at Disneyland Paris.
Whether you're at one of the Disney parks in the States, in Tokyo or in Paris, attractions such as Space Mountain, the Haunted Mansion and the Mad Hatter's Tea Cups prove it really is a Small World After All.
And while the younger kids will enjoy exploring the castle and riding Dumbo's flying elephants, there are plenty of roller coasters to keep older kids on the edges of their seats.
Disneyland Paris opened Space Mountain 2 this spring, sending wannabe astronauts rocketing into outer space. And don't forget Indiana Jones and the Temple of Peril, or Big Thunder Mountain.
You could probably see the park in one day, but you might have to spend a lot of time in line before getting on the rides. A couple of suggestions: Use the FastPass system, which is the closest you'll come to riding the most popular attractions without waiting in line. You pick up a ticket at the entrance to the ride. A time will be stamped on the ticket. You simply come back at that time and you move to the front of the line.
It also pays to stay as late you can before the park closes. Many people leave early, meaning lines are much shorter later in the day.
If you have a couple of days, buy the combo ticket that will allow you to visit Walt Disney Studios next door. It's not much of a park (you can walk through the whole thing in about 20 minutes), but there are plenty of things to do and see on movie-making and special effects.
If you're into coasters, ride the Aerosmith Rock 'n' Roller Coaster. You'll be twisting and turning upside down to the sounds of "Dude looks like a lady," blaring into your head.
Finally, when the day is done and the kids are pooped, leave the park and head straight to Disney Village, a series of shops and restaurants right outside the park. The village, with places such as the Rainforest Cafe and Planet Hollywood, is the perfect way to fill your tummies and end your day.
The village stays open to midnight on most nights, but if you don't want to wait in line to eat, make a reservation at one of the restaurants before heading into Disneyland for the day.
---
---
---
---