Dinkelsbühl: Lesser-known German town a charmer
---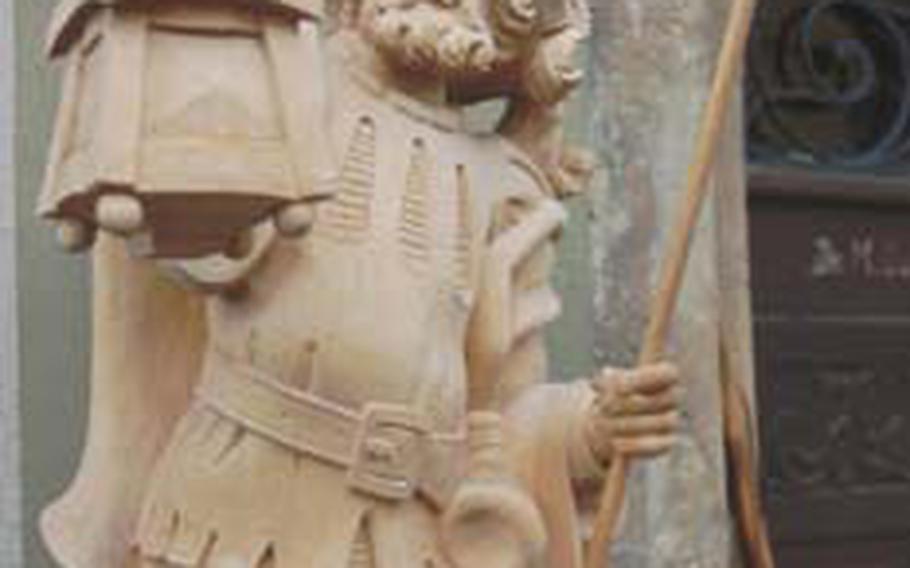 Every evening from Easter to Halloween, a man clad in black walks the cobblestoned streets of Dinkelsbühl, Germany, clutching a lantern in one hand and a medieval weapon known as a halberd in the other.
But instead of striking a menacing pose, the night watchman — there are at least three in the rotation — displays a more benevolent side. Dinkelsbühl is, after all, situated along Germany's Romantic Road.
"When he goes on his rounds, he sings and many, many people follow him," said Ingrid Metzner, director of the town museum. "Night watchmen need to be good singers, or at least tolerably good singers."
Her face crinkles over that last comment, as if to say some are not so tolerable.
That's not true of Dinkelsbühl, a colorful and charming town of half-timbered buildings and artsy shops featuring handmade pottery, ceramics, woodcarvings, Nativity figures and other crafts.
While Rothenburg ob der Tauber up the road is probably the most famous walled town in Germany, Dinkelsbühl in many respects is more authentic. According to Metzner, about 45 percent of Rothenburg was damaged in World War II, while Dinkelsbühl and nearby Nördlingen escaped relatively unscathed.
"Dinkelsbühl is more off the beaten track," Metzner said, "and it is the most unchanged of the three."
On the River Wörnitz in west-central Bavaria, Dinkelsbühl is a dreamy little village that dates to at least the 10th century, when sections of the wall first went up. Today, people are not allowed on top of the fortification but they can walk around its perimeter, which includes 18 towers and four gates.
Inside the wall are several landmark structures, including the 15th-century St. George's Cathedral and its tower incorporated from an earlier church. Climb the tower for excellent views of the town. Another highlight is Deutsche Haus, a hotel and restaurant built in the 16th century and considered one of the most exquisite half-timbered buildings in all of Bavaria. It includes a statue of Bacchus, the Roman god of wine, and is part of a cluster of the city's finest houses grouped around the Wine Market.
Throughout the year, Dinkelsbühl holds several celebrations, among them an enchanting Christmas market. Its most unique event is the annual Kinderzeche, or Children's Feast.
The 10-day festival — July 17-26 this year — commemorates the most enduring event in the town's history.
In 1632, during the Thirty Years' War, the Swedish army was poised to plunder and burn Dinkelsbühl. As the legend goes, a young girl led a gaggle of kids out through one of the gates and toward the soldiers. The children fell to their knees and begged the commander to spare their hometown, which he did, so touched was he by their courage.
The watchmen who make the nightly rounds — weekly rounds in the late fall and winter — talk and sing about the children as part of their routine.
Tours of Dinkelsbühl, with or without a watchman, are available in English, though Metzner encourages people to call a week or so in advance.
Directions:Dinkelsbühl is off Autobahn 7, southwest of Nuremberg in the Wörnitz Valley. From A-7, exit at Dinkelsbühl/Fichtenau and head east, following the signs. The exit is about 10 minutes south of the interchange for A-7 and A-6. The town is situated at roughly the halfway point on Germany's Romantic Road, which extends from Würzburg to Füssen.
Times:Visit Dinkelsbühl year-round. The walking guided tours are 2:30 and 8:30 p.m. daily, the watchman's tour begins at 9 p.m. The 2009 Christmas market, held on the old hospital grounds, is Nov. 26 to Dec. 21.
Costs:An hourlong guided tour of Dinkelsbühl, in German, costs 3 euros per person; phone ahead to schedule one in English. A 40-minute carriage ride through the town costs 7 euros per person, though there are family discounts. Tours with the night watchman, leaving from St. George's Cathedral, are free.
Food:The town is known for its gingerbread, and during the Kinderzeche Festival, a specialty is Schneckennudel buns, which consists of almonds, lemon, orange, cinnamon, currants and raisins. Hesselberg lamb is one of the regional delicacies. The city has a wide variety of restaurants.
Information:The tourism office is on the Marktplatz across from St. George's Cathedral. From May through October, it is open 9 a.m. to 6 p.m. on weekdays and until 5 on weekends and holidays; the rest of the year it closes at 5 p.m. The phone number is 09851-90240. Its Web site is www.dinkelsbuehl.de; it includes an English version.
---
---
---
---