Czech skiing: No frills, but lines are short and bargains are plentiful
by
Leah Larkin
October 27, 2005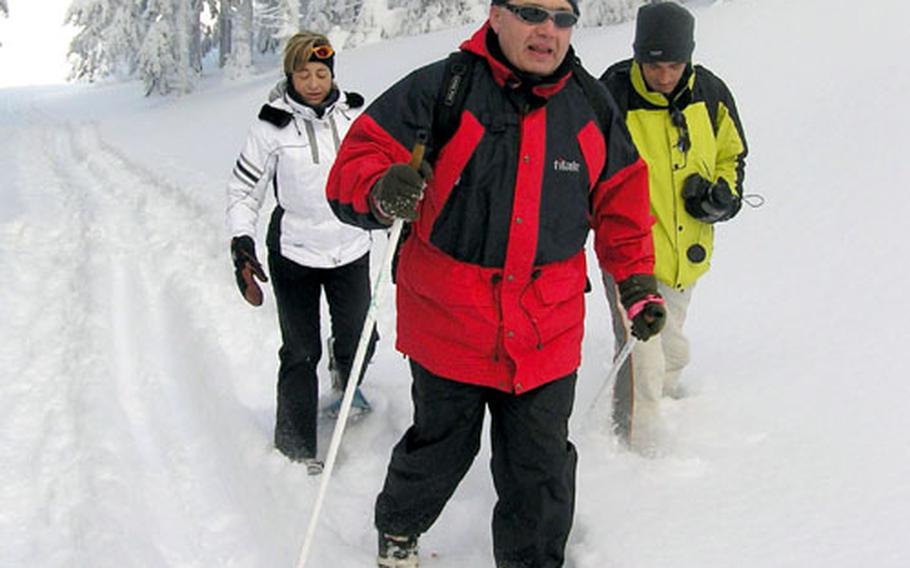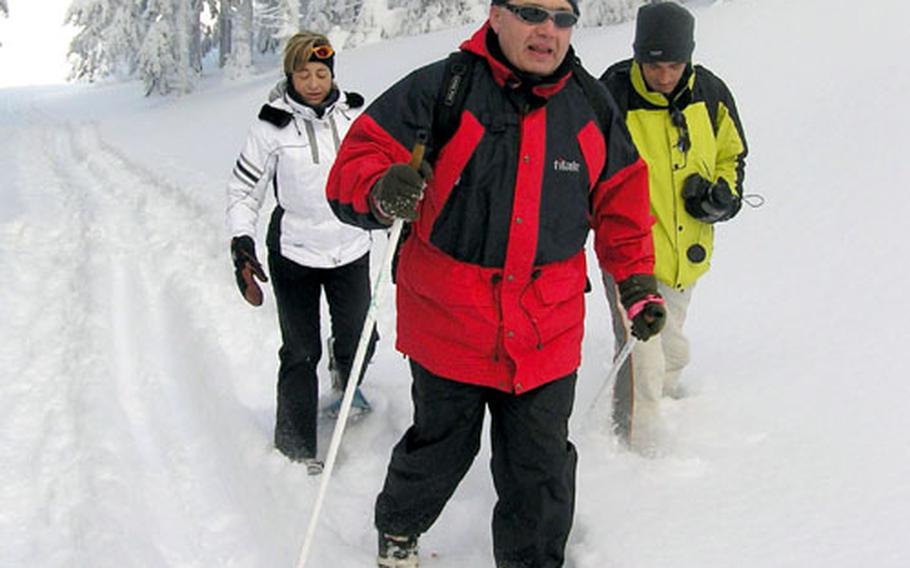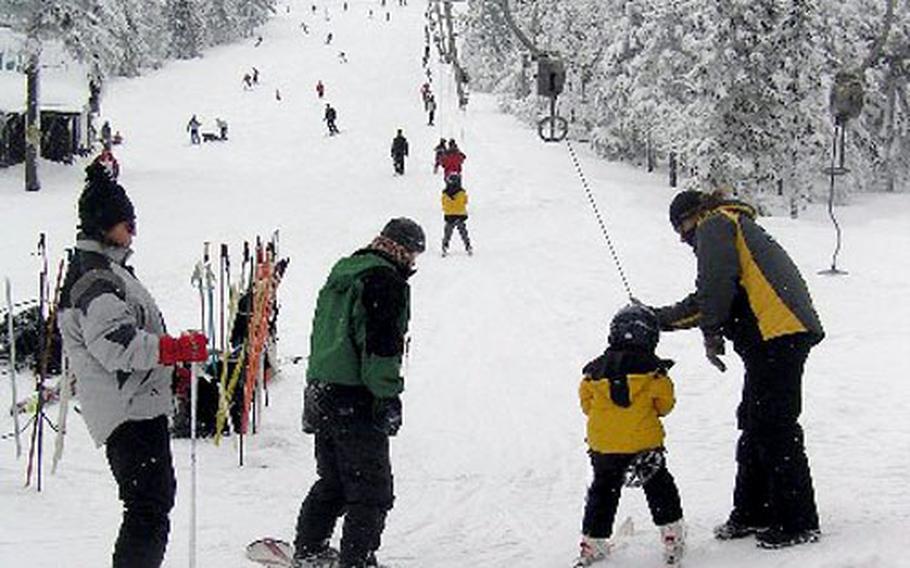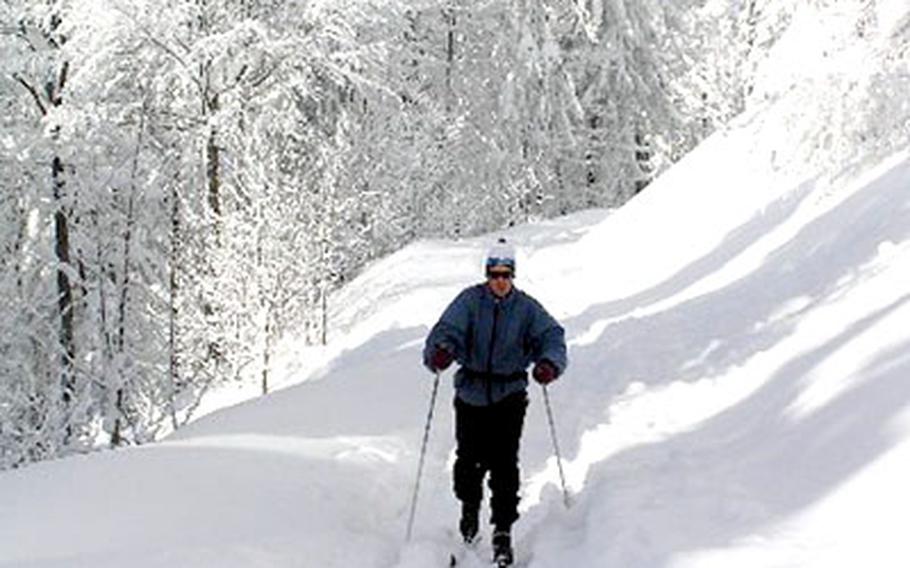 It's an adventure. It's stepping back in time, experiencing skiing at primitive, unsophisticated resorts where there are no high- speed chairlifts, no mega gondolas whisking skiers to towering peaks. Cozy mountain huts and modern cafeterias are nowhere in sight.
But, there are few lift lines, bargains galore, and a nostalgic ambience to savor.
I joined a group on a ski trip to the Jeseniky Mountains in North Moravia of the Czech Republic not far from the Polish border and about 155 miles east of Prague.
"We want to develop tourism in this northern region of the Jeseniky Mountains," said Jan Brezina, one of 24 Czech members of the European Parliament, as we snowshoed through a winter wonderland. "We believe our region and countryside are beautiful."
After record snowfalls, the surroundings were especially picturesque, with huge pines decked in white like Christmas trees, and giant glistening icicles hanging from rooftops. The mountains in these parts are not that high - the highest peak is 4,920 feet - but the powder skiing was at its best, as many slopes were left ungroomed and skiers schussed through knee-high snow.
Our group skied at two different resorts, Cervenohorské sedlo and Snezník. Some went off on their own one day to try a third resort, Ramzová.
I got off to a sorry start at Cervenohorské sedlo, heading off to the black run to enjoy the powder before it was mashed up by skiers. I never made it.
The awkward Poma lift, which has a little disc at the end of a cable suspended from an overhead steel rope, is the only type of lift at this resort, and the track leading to the summit of the black run is steep. On the way up, I bounced over a bump that jerked the disc from between my legs, leaving me panic-stricken.
I desperately clung to the disc, hoping I could hang on until I reached the top of the treacherous slope. But after what felt like several minutes, I was sure my arms were about to be pulled from my torso. I had to let go.
There I was on the narrow precipitous track in the middle of a thick forest. I had to quickly get off the track lest those behind run over me, then maneuver myself and skis in the heavy snow up the slope through the skinny space at the edge of the woods.
This was more adventure than I had bargained for. I had no idea how far the top was, but wearily pressed on. Finally I came to a trail that led through the woods to an adjoining red slope.
I skied down that slope to another Poma lift. My luck had not improved. I fell again. This time the slope was not far off, but it was still a humiliating struggle.
I was developing a fear of Pomas that I had to conquer if I was to ski at this resort. Fortunately, my third and all future rides were successful. Since the slopes are short compared with Alpine resorts, the runs wide and lift lines minimal, there was plenty of opportunity to sample all the runs I wished.
The resort complex at Cervenohorské sedlo is a small cluster of buildings with a hotel, restaurant and ski shop. At the hotel bar a large Pilsner Urquell, the well-known Czech beer, goes for a mere 25 koruna (about $1). A cappuccino and apple strudel can be had for 50 koruna.
While enjoying a break, we met Frank and Janette Priefart and their 8-year-old son, a German family from Potsdam, who were spending a week at the resort. "We wanted to try something new," Priefart said.
They found the slopes "good," but the hotel "nothing special." The prices, however, were right. They had a package price of 220 euros per person for a week at the hotel - breakfasts, dinners and ski lift pass included.
After our refreshment, we skied another part of the resort with tamer slopes and gentler Poma lifts. We returned to Cervenohorské sedlo another day, but I opted for snowshoeing lest disaster strike on the lift again.
The resort is renowned for miles of cross- country tracks that are also excellent for snowshoeing. With all the new snow, it was a fairy- tale experience through a forest of trees weighed down with white. It provided challenging exercise as the track leads up many hills, but the views of the surrounding mountains are superb.
While trekking through the mountains, Brezina talked about his country, specifically the Jeseniky mountain region, which, he acknowledged, has a high unemployment rate and is "a little bit lagging behind in development." Investment is needed to improve the lift systems and the hotels, but, he said, "things are beginning to move. It will take time, but I believe in your next visit in 10 years you will be satisfied."
I found the skiing at Snezník a bit more satisfying. It offers a T-bar as well as a Poma lift for access to the slopes, which, although fewer in number than those at Cervenohorské sedlo, are longer - nice red runs for easy cruising.
The resort has just one tiny restaurant at its base, but it serves what one skier called "the best hot chocolate I've ever had," with whipped cream on the top and a deposit of genuine thick black chocolate at the bottom of the cup. That, plus a shot of slivovice - plum brandy - go for 50 koruna.
Those who skied Ramzová, which has a chair lift and a T-bar, rated it "quite good," with excellent powder skiing through the trees. "It's not challenging, but the runs are long and picturesque and the chair lift is a bonus," said Irish skier Isabel Conway.
All in all, a resort worth trying.
Austrian skier Ute Mayr summed up the experience. "It's like being in a time warp. It's like Austria many years ago."
Leah Larkin, a member of the Society of American Travel Writers, is a journalist living in France.
WHERE TO STAY: While skiing this far corner of the Czech Republic can't compare with big resorts in western Europe, it has its charms. The area is noted for hot mineral springs and health spas. We stayed at the Priessnitz Spa-Health-Resort in Jesenik, where ski and treatment packages are available with half-board for as little as 250 euros per week. Details at www.priessnitz.cz.
Ramzová is about a 20-minute drive from the spa hotel. The two other resorts are between one hour and 1½ hours away by car or bus.
COSTS: Lift ticket prices for this season were not available as of this writing. Following are last year's daily prices, which are not expected to vary much:
Ramzová: adults, 380 Czech koruna (about $15); children, 270 koruna;
Cervenohorské sedlo: adults, 400 koruna; children 210 koruna;
Snezník: adults, 390 koruna; children 200 koruna.
INFORMATION: More information about skiing and winter sports in the Czech Republic can be found at www.czechtourism.com.
- Leah Larkin