Customers eat cheap while students learn at Paris chef school
by
Leah Larkin
April 26, 2007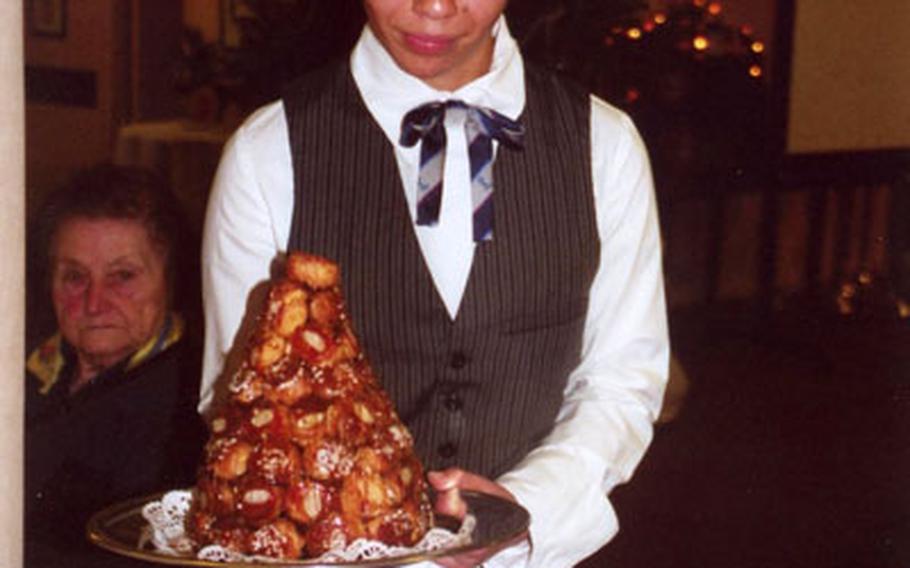 "The pot au feu was ruined. It had no taste. You used too much chicken. The sauce was a disaster …"
Henriette Sauvage, director of École de Paris des Métiers de la Table du Tourisme et de L'Hôtellerie, a school in Paris for apprentice chefs and food service personnel with a bargain- priced restaurant, was chewing out her pupils over a meat stew they had served that afternoon.
"It wasn't correct, not the quality they must produce," she said later to a customer. "But usually I am complimenting them."
The pot au feu was one of two main courses the day we visited the restaurant school. Fortunately we chose the other, Pintadeau rôti Grandmère (roast young guinea fowl). Delicious. We had nothing but praise for the chef and his crew, who, all clad in white, paraded into the dining room after the meal.
We'd been to the school restaurant on a previous trip and were pleased. This time, with the dollar exchange rate so low, we returned because it is also a super deal.
If you're looking for dim lights, a classy atmosphere, an extensive menu and impeccable service, it's not for you. But if you want good, reasonable food, an off-beat ambience and entertainment, it's worth a visit.
Most of the patrons are senior citizens. Yvonne Lehouchu, 95, and her friend, Geneviève Charbonnier, 75, dine out together in Paris, their hometown, two to three times a month.
The two women, who became friends years ago when they worked for the United Nations in New York, say the school restaurant is their favorite.
"The food is excellent. It's tranquil. No noise. The tables are not close to one another," said Lehouchu. Charbonnier praised the food. "It's good. It's not expensive. I love this place," she said.
The school offers four-course meals Monday through Friday at 12:30 p.m. with two choices each for the entrée, main course and dessert. There is also a cheese course.
My husband and I began our meal with two Kirs (a mixture of white wine and crème de cassis), which were served with tiny appetizers. I chose crêpes aux champignons sauce Madère (mushroom crepes with Madeira sauce) for my entrée while my husband opted for salade Lorette, a lovely mixture of celery, beets and lamb's lettuce. For the main course, we both settled on pintadeau served with an attractive arrangement of potatoes, mushrooms and onions.
Then came the cheese, followed by dessert. I went for the flaming bananas. My partner couldn't resist the cream puffs presented in a large, elaborate pyramid, one on top of another, covered with a caramel glaze. A young waitress, smartly attired in black, cut off part of the pyramid for each serving.
We followed dessert with coffee, which came with chocolates.
The flaming dessert was a show. Our 20-year-old waiter, Jonathan Abiton, was a bit nervous as he lit the alcohol, but he succeeded and deftly swirled the bananas in the liquid. He beamed as he served the concoction.
He got points for that, but had lost favor when he filled the wine glasses before allowing for a tasting.
The restaurant, a large well-lit room that can seat 60, is somewhat institutional. But watching the fresh, young faces, who are under the scrutiny of a supervisor as they take orders and serve, is amusing. We saw one lad corrected for improperly holding a bottle of wine. Another needed help in carving the fowl.
Those were minor problems, easily corrected as the staff gets more seasoning.
Final tally: Two Kirs, 5 euros; two four-course meals, 24 euros; a bottle of wine, 8 euros; two coffees, 3 euros.
For a total of 40 euros we had an excellent and memorable meal.
Photojournalist Leah Larkin, a member of the Society of American Travel Writers, lives in the north Luberon area of Provence, France. Contact her through www.leahlarkin.com.
Know and go ...Reservations: A must for École de Paris des Métiers de la Table du Tourisme et de l'Hôtellerie. In Paris, call 01-44-09-12-16 between 10:30 a.m. and 11:30 a.m. or between 12:30 and 3 p.m. When you make a reservation, you can ask what the main course choices are.
Cost: Four-course meals cost between 12 and 18 euros. Monday is a special bargain. Since the school doesn't have many customers on Mondays, it keeps prices down then to attract more diners. That's the day we went.
Details: Address: 7 rue Jacques Ibert. Métro: Louise Michel. Phone: Tel : 01.44.09. 12.00. Web: www.epmtth.org (in French).
— Leah Larkin