Christmas markets light the pre-holiday rush
by
Michael Abrams
November 24, 2005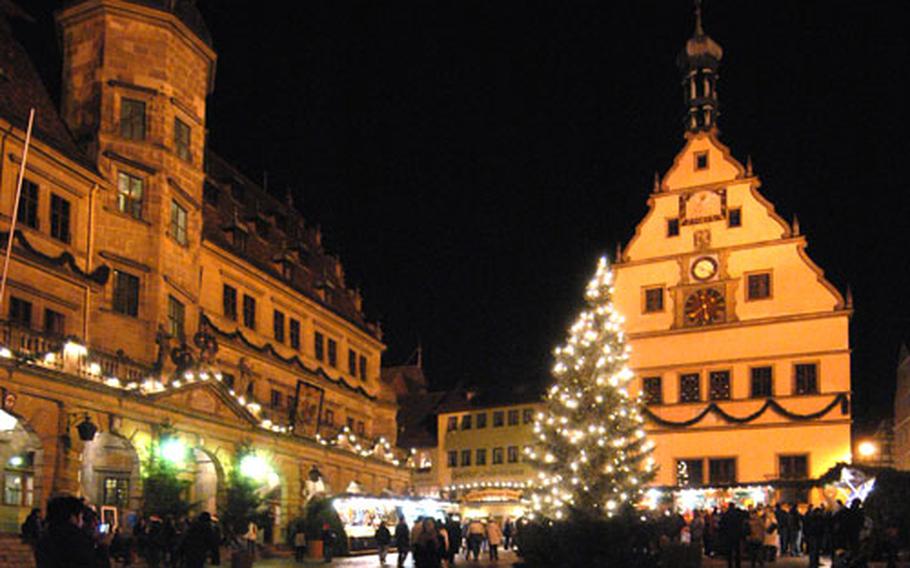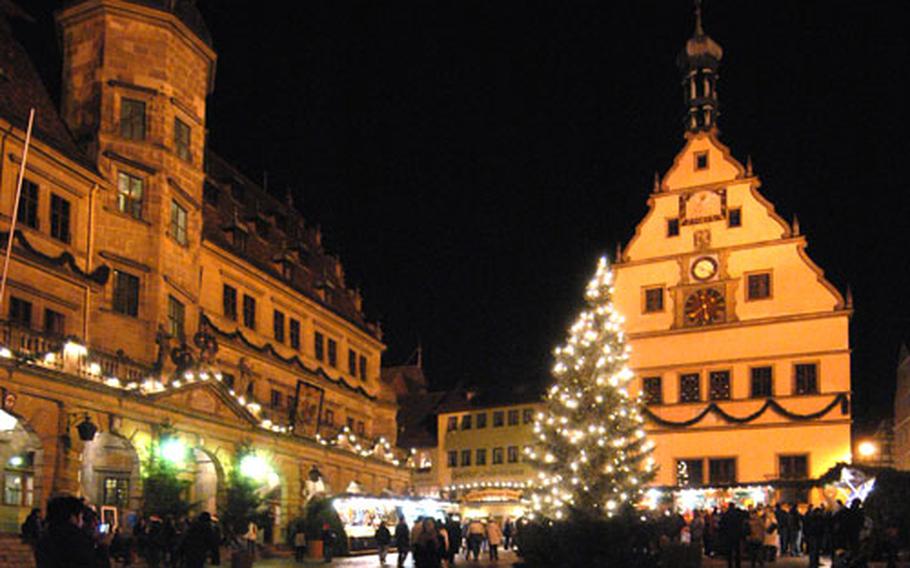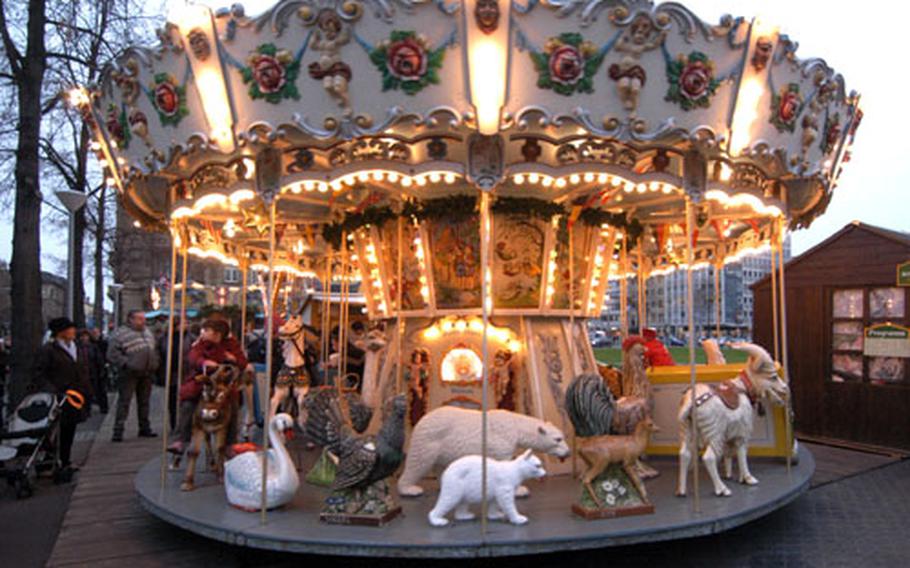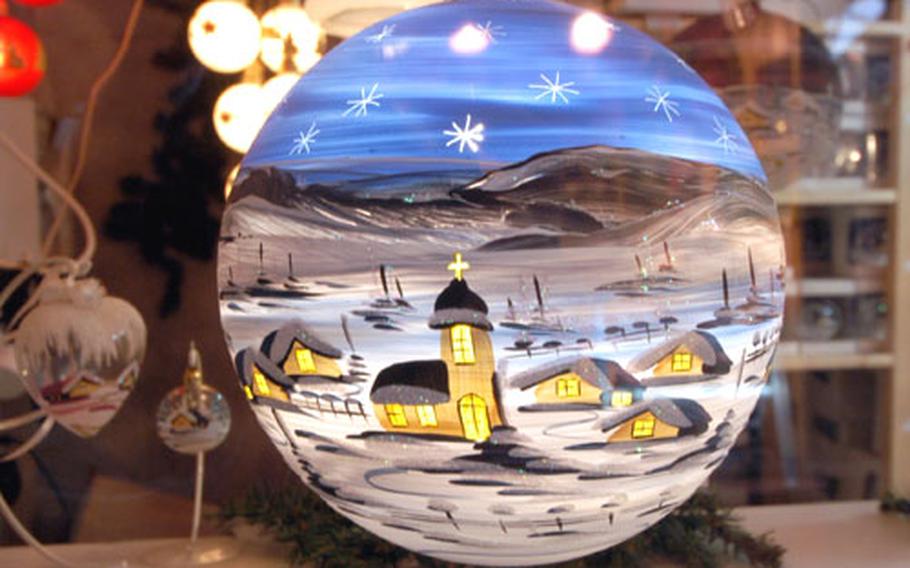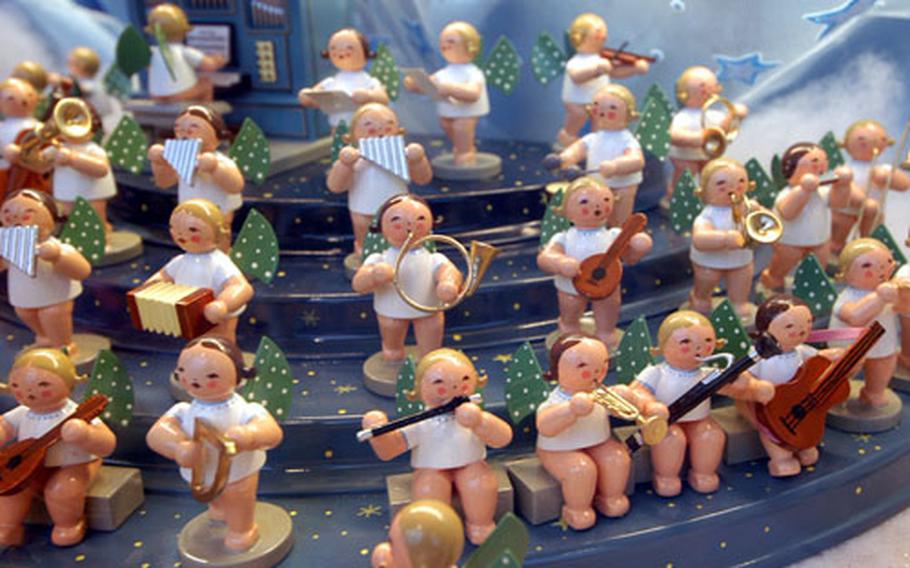 In Germany during the four weeks before Christmas, when the days get shorter and the air gets colder, there's nothing better to brighten your spirits and fill you with holiday cheer than a Christmas market.
Called Weihnachtsmarkt, Christkindelmarkt or Adventsmarkt, the markets are found in villages, towns and cities throughout Germany. In villages, they usually last only a day or a weekend. Some towns will host theirs on three or four weekends. And cities will run them from now until Dec. 23 (after all, the merchants want to be home for Christmas, too).
In some cities, like Nuernberg, Frankfurt or Dresden, the Christmas markets are a centuries-old tradition. This is probably because their roots were in the seasonal markets held throughout the year, where farmers and merchants sold their wares. In winter, the goods were handmade decorations, warm clothes, warm chestnuts and the final harvests from the fields. (Until recently, underwear, gloves and socks were a main staple of the Christmas markets; now it is more arts and crafts).
Then, as now, the markets were a cheerful way to shorten the long winter nights.
While "chestnuts roasting on an open fire" and "Jack Frost nipping at your nose" are words from a popular American Christmas song, they are also apt descriptions of a German Christmas market. To take Jack's nip away, there is Glühwein, a hot mulled wine. And chestnuts are among the different foods you'll find roasting away, filling the air with their aroma.
Friends meet for a drink after work, and children squeal with delight as they spin on the merry-go-rounds that are market staples. Meanwhile, shoppers walk through lanes of booths looking for Christmas presents. This is also the place to buy Christmas decorations: nutcrackers, nativity scenes and tree ornaments, many of them handmade.
Last year, besides sipping Glühwein with friends at the market in Darmstadt (not one of the best, but getting better every year), we visited two of the larger markets, in Mainz and Mannheim, and two smaller ones in Rothenburg and Bad Wimpfen.
In Bad Wimpfen, the market is called the Altdeutscher (old German) Weihnachtsmarkt, perfectly named in this old, walled, half-timbered town. There is still a medieval flair to the market, with its 135 stands spread up and down the narrow lanes of the town and on its squares. Christmas songs are piped through loudspeakers set up through the town, and on Saturdays and Sundays there are live concerts on the main square.
As you can imagine with its setting, it is a popular market for people near and far.
Besides sampling the ubiquitous grilling bratwurst, try a regional specialty: Maultaschen, a ravioli- like treat served in hot broth.
Mannheim's rather large Christmas market is at the foot of the Wasserturm, the water tower that is a historic landmark of the city.
The 200 stalls sell — besides food, drink and Christmas decorations — arts and crafts from Germany and many other parts of the globe. The streets between the booths have names like Engelsgasse (Angel Lane), Nikolausgasse and Chistkindl-Platz (Christ-child Square).
For the kids, there are two antique merry-go-rounds, a miniature train and pony rides to keep them happy.
In the city's modern shopping district nearby — a fun place to shop year-round — there are a couple of tiny Christmas markets to enjoy, too.
The Reiterlesmarkt in Rothenburg is one of Germany's oldest Christmas markets, so old in fact that its name comes from pre- Christian times. The Reiterle comes from Germanic mythology, and was a rider who carried off the souls of the dead. With the spread of Christianity, he instead brought presents on horseback, a forerunner of Santa Claus.
For a town known for its tourist masses, the Christmas market here is, except on Saturdays and Sundays, surprisingly cozy. Most of the market takes place on the lanes and squares between the Marktplatz and St. Jakob's church, with only a tad on the market square itself.
A trombone quartet played Christmas carols in the shadow of the church, as locals and tourists mingled, sipping Glühwein. One stand was selling figurines made of prunes and nuts, once very typical of the German holiday season, but now not often seen.
Popular in Rothenburg are the half-meter-long bratwursts. A specialty to try are Schneebälle, or snow balls, strips of sweet dough formed into a ball, fried, then covered with powdered sugar, cinnamon sugar or chocolate.
Looking like snowflakes, strings of Christmas lights span the Mainz market square from the Heunensäule, a tall column at its center. On one side, the more than 1,000-year- old cathedral rises into the December sky. Nearby is a life-size, hand-carved wooden Nativity scene.
Competing with the cathedral, but not quite making it, is the 33-foot high Christmas pyramid, made in Germany's Erzgebirge region, and decorated with angels, Father Christmas and historic figures from Mainz.
With the smell of Glühwein and the sound of a choir in the air, the yuletide spirit was on us, and the thousands of others visiting Mainz on the last Sunday before Christmas. Despite a little pushing and shoving, nothing was going to ruin the holiday cheer.
We ordered a Glühwein, and while sipping the hot spiced drink we made sure we had all our Christmas presents, and wondered which Christmas markets we would visit the following year.
Know and Go ...¶ Bad Wimpfen's Altdeutscher Weihnachtsmarkt is open Nov. 25-27, Dec. 2-4 and Dec. 9-11. It is open noon to 9 p.m. Fridays, 11 a.m. to 9 p.m. Saturdays, and 11:45 a.m. to 9 p.m. Sundays. On the final Sunday it closes at 8 p.m.
¶ The Mainz Christmas market runs Nov. 24 to Dec. 23. It is open 11 a.m. to 8:30 p.m. Monday to Thursday, 11 a.m. to 9 p.m. on Friday, 10 a.m. to 9 p.m. on Saturday and 11 a.m. to 8:30 p.m. on Sundays.
¶ Mannheim's Christmas market is open 11a.m. to 9 p.m. daily through Dec. 23.
¶ The Reiterlesmarkt in Rothenburg runs from Nov. 25 to Dec. 23. It is open 12:30-7 p.m. Monday through Friday and 10:30 a.m. to 7:30 p.m. on Saturdays and Sundays.
— Michael Abrams