Christmas markets in Europe bring comfort and joy
by
Michael Abrams
November 29, 2007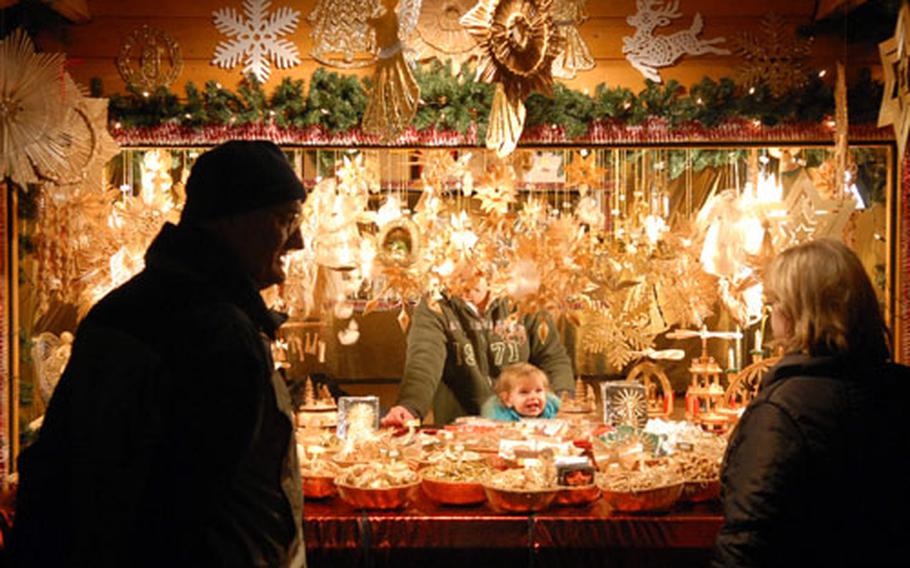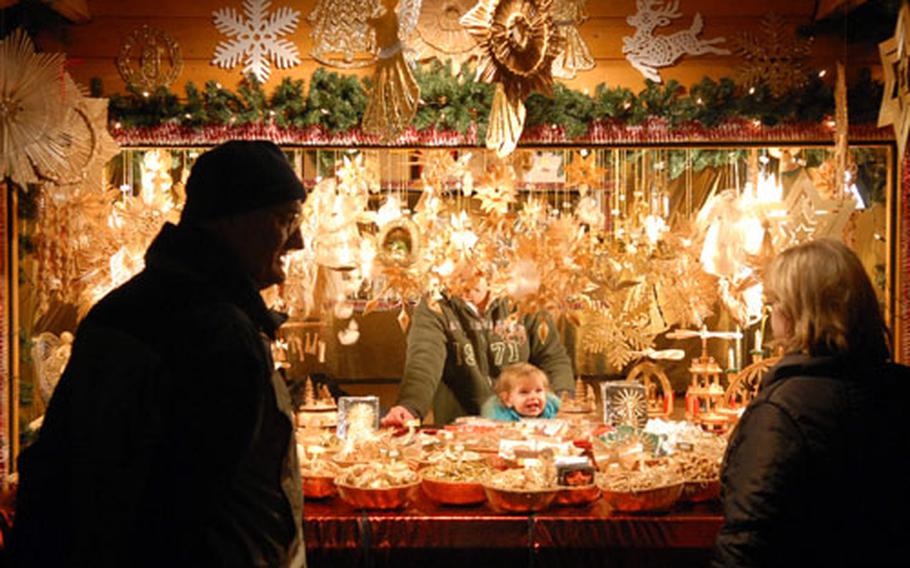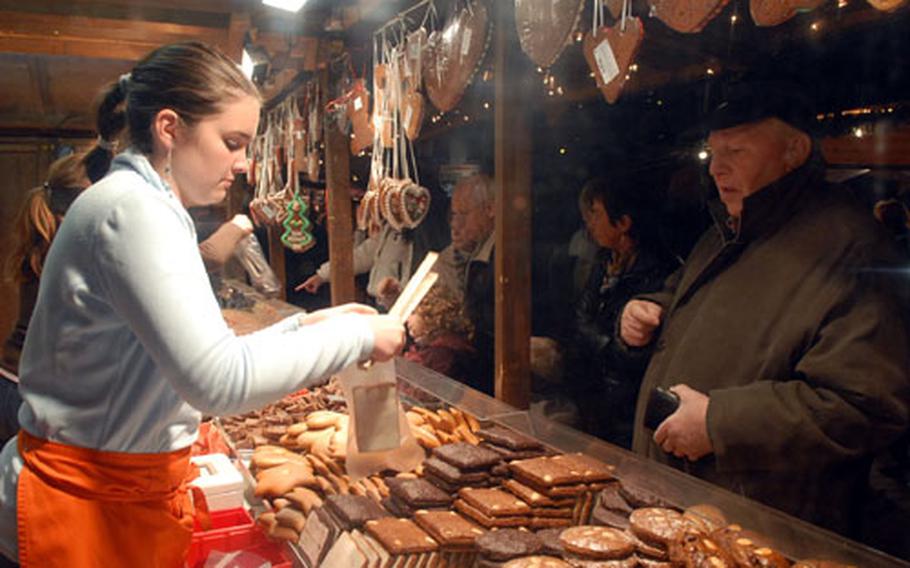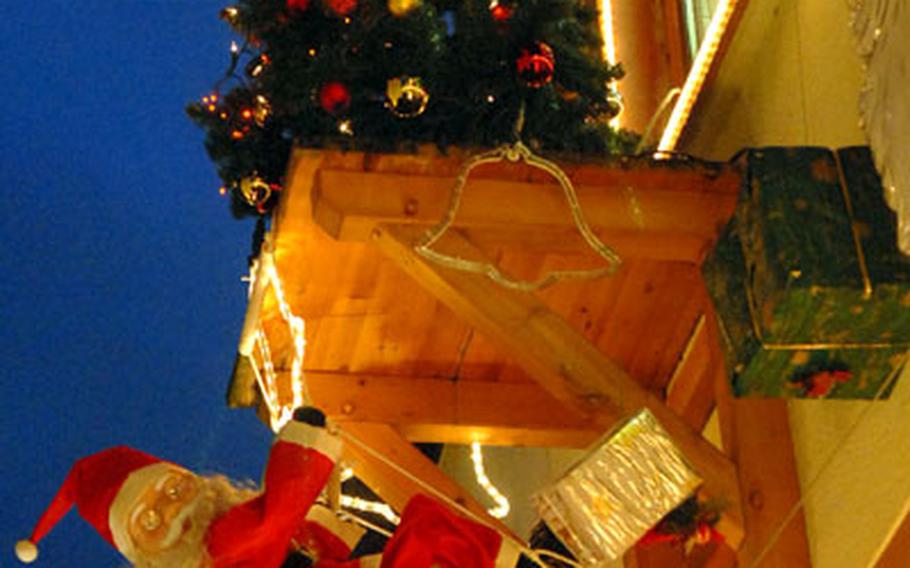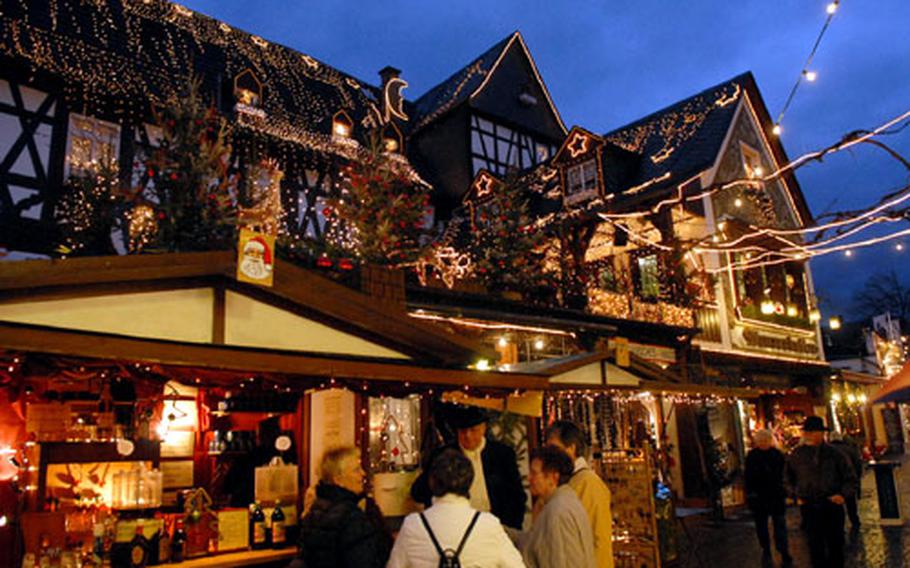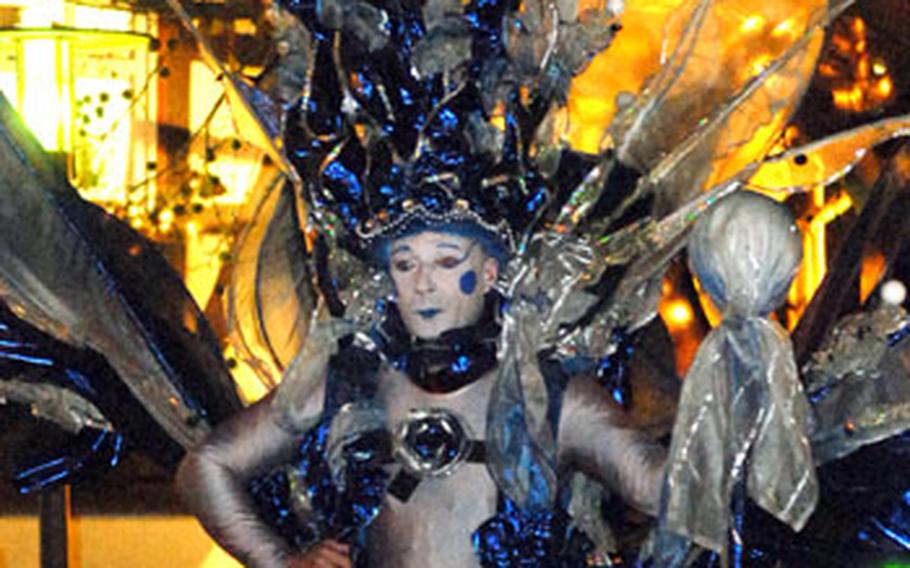 It's Christmastime in Germany, and almost nothing can get you into the holiday spirit like a Christmas market.
In cities, towns and villages and even in some castles, from now until Christmas, the smell of mulled wine, chestnuts and wurst will waft through the air, accompanied by the sound of holiday music and children's laughter.
The markets are called Weihnachtsmarkt, Christkindlmarkt or Adventsmarkt (Advent is the four weeks before Christmas). In the villages they may last only a day or a weekend. In larger towns, they might be spread over a couple of weekends. And in the cities you can get a dose of holiday cheer daily from now until Christmas — or beyond.
The Christmas markets in Dresden, Frankfurt and Nuremberg are among the oldest and most famous, but markets come in many shapes and sizes, and even smaller ones are worth a visit.
The town of Siegburg is famous for its medieval Christmas market, as is Ronneburg castle, north of Hanau.
A medieval setting is quite appropriate, as Christmas markets probably got their start as seasonal markets where merchants and farmers could sell merchandise. The winter market was a place where people would stock up on food, clothes and other goods for the cold months ahead.
Today the markets are a good place to buy Christmas decorations: Nativity scenes, nutcrackers, smokers and tree ornaments. Handmade crafts are still sold, as are pots, pans, cutlery, socks and shoes and clothing.
For many, a Christmas market is a place to meet friends and enjoy a Glühwein, the mulled wine of the season. Bratwurst in all its variations is ever-present, as are roasted chestnuts. Many markets will feature local specialties, making a Christmas market a good place to check out the variety of local food and goods.
The one in Bad Hersfeld, in central Germany, is billed as the Christmas market of 30,000 lights. This number might not be exact, but the trees on Linggplatz, vendors' stands and buildings surrounding the square are decorated with thousands of lights to brighten spirits on cold, dark evenings.
It is a pretty traditional market, with Glühwein and bratwurst as the popular food and drink, rides for children and stands selling Christmas decorations and handmade crafts.
Besides the traditional sausages, try Mutzen, little deep-fried pastries, covered with applesauce and powdered sugar, that also can be served topped with Nutella or amaretto.
On many evenings, choruses or bands entertain with seasonal music.
The Weihnachtsmarkt der Nationen, or "Christmas Market of the Nations," takes place in Rüdesheim, on the banks of the Rhine River. It is aptly named, for here you will find specialties — food and goods — from around the world. The stands are spread along a rectangle of four streets: Rheinstrasse, Marktstrasse with the marketplace, Oberstrasse and Drosselgasse, renowned for its wine taverns.
A walk around takes you past stands from, among other places, Turkey, China, Greece, Finland, Russia, Morocco and the United States.
If some of the places don't sound too Christmasy, don't worry, it is still quite traditional. The Christkind, or Christ child, delivers presents to children every day at 6 p.m. on Oberstrasse, and you can hear Christmas music performed on stage at the marketplace.
Of course there is bratwurst and Glühwein, but visitors to Rüdesheim also enjoy regular wine from the Rhine valley, something for which the town is famous.
Fridays there is an Advent pageant at 6:30 p.m. followed by caroling, and every Sunday a Nativity play takes place at the market square stage at 5 p.m.
There are also Christmas markets across Germany's borders.
Although Liège, Belgium, is not known for its beauty, its Christmas market is very popular. Spread out on a few of the city's squares, it is known for its culinary specialties.
A unique setting for a market is in Valkenburg, Netherlands. A network of caves runs underneath the town, and two of them, the Fluweelengrot and the Gemeentegrot, each hosts a market.
The Christmas market in Strasbourg, France, is the biggest in the country's Alsace region, but the ones in Colmar, Riquewihr and Ribeauvillé are definitely worth a visit. The last is done in medieval style, with people dressed in period garb, entertaining visitors. Here, as in the other places, you drink vin chaud — in red or white — to stay warm.
The Christmas cheer in Basel, Switzerland, is centered on Barfüsserplatz, where more than 130 stands offer goods to Christmas shoppers.
Salzburg, Austria, has two Christmas markets, the Christkindlmarkt downtown on the Rezidenzplatz, and the Weihnachtsmarkt, across the river on Mirabellplatz.
Across the border in Italy in the South Tyrol region (Südtirol in German, Alto Adige in Italian) the towns of Brixen (Bressanone), Meran (Merano), Bozen (Bolzano), Sterzing (Vipiteno), and Bruneck (Brunico) have Christmas markets.
Prague, the Czech capital, is also in the holiday spirit, with markets on Old Town Square and Wenceslas Square.