Christmas markets come to Europe!
by
Karen Bradbury
November 14, 2012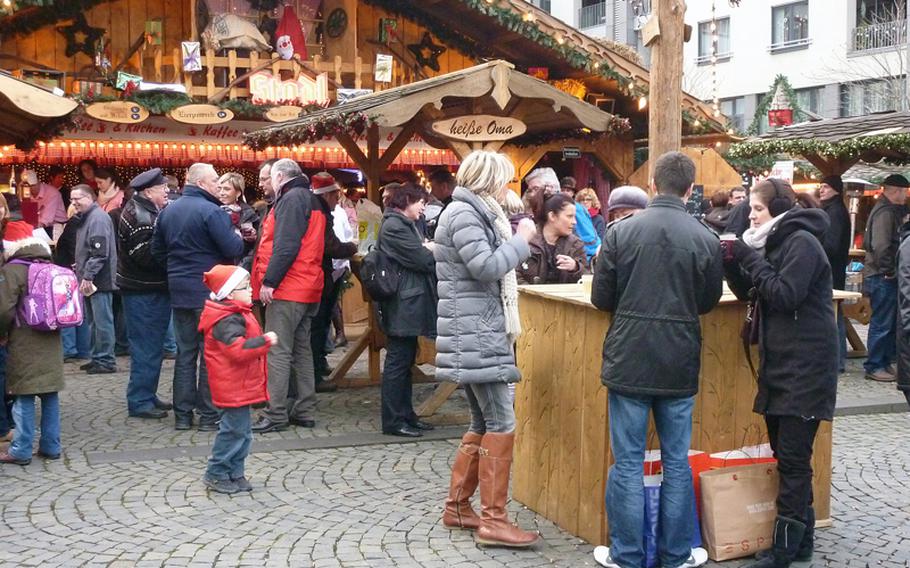 Whether you're newly stationed in Europe or an old hand who's called the Continent home for decades, the weeks leading up to Christmas offer a chance to slip out of everyday existence and into a cheerful, charm-filled world.
For now is the time of Christmas markets, when countless stalls spring up throughout city squares and cobblestone avenues, enticing visitors with tasty treats and goods both whimsical and practical.
A market visit is bound to yield a unique gift, be it handcrafted jewelry, a beeswax candle, a warm fleece vest or sturdy wooden plaything. When shopping's on the agenda, it's a good idea to go during the daytime — the better to see the quality of the wares or enjoy a casual chat with one of the vendors, who are often the craftsmen behind the products.
The evening brings about a change in atmosphere. Under dark winter skies, the marketplace is awash in a warm glow from candles flickering in bright glass holders, brightly hued paper star lanterns, and beams of light catching off wind chimes and glass ornaments.
This is the hour to gather with friends and enjoy Glühwein, hot mulled red wine sold in souvenir mugs. The younger set and non-drinkers might prefer Punsch, Glühwein's nonalcoholic counterpart. Everyone can enjoy fried dough, Gulasch or a bowl of hearty soup. Candied nuts, still hot from the skillet, or a steamed dumpling with vanilla sauce might serve as dessert.
So what are you waiting for? Bundle up warmly and join in the merriment. You just might find your market forays rank among some of your best holiday memories from your time overseas.
Look for our list of Christmas markets for the 2012 season.