Celebrating the Year of the Monkey
by
Hiroshi Chida
January 8, 2004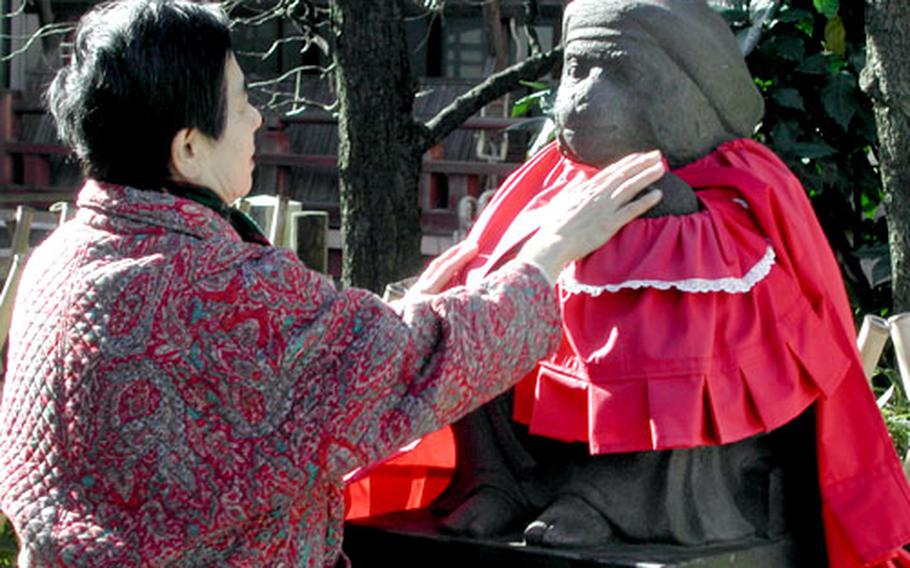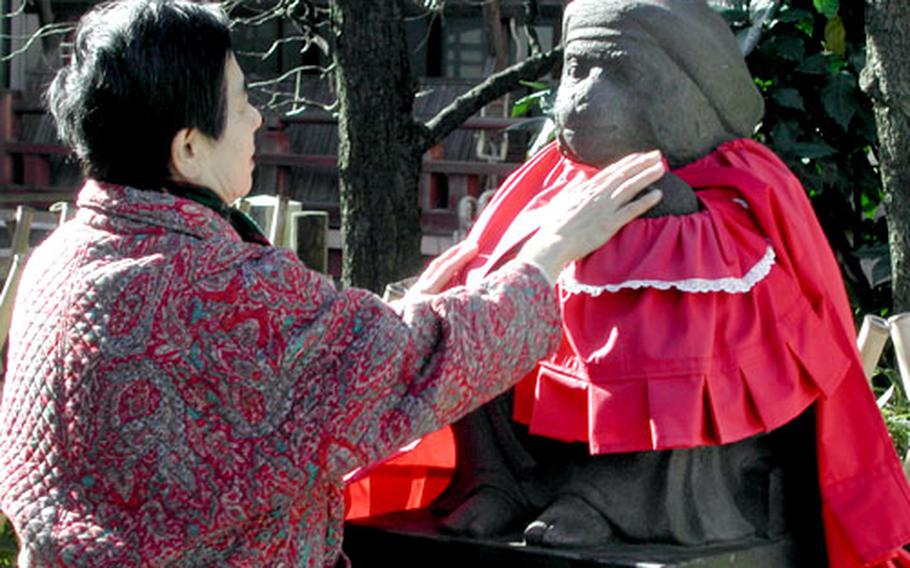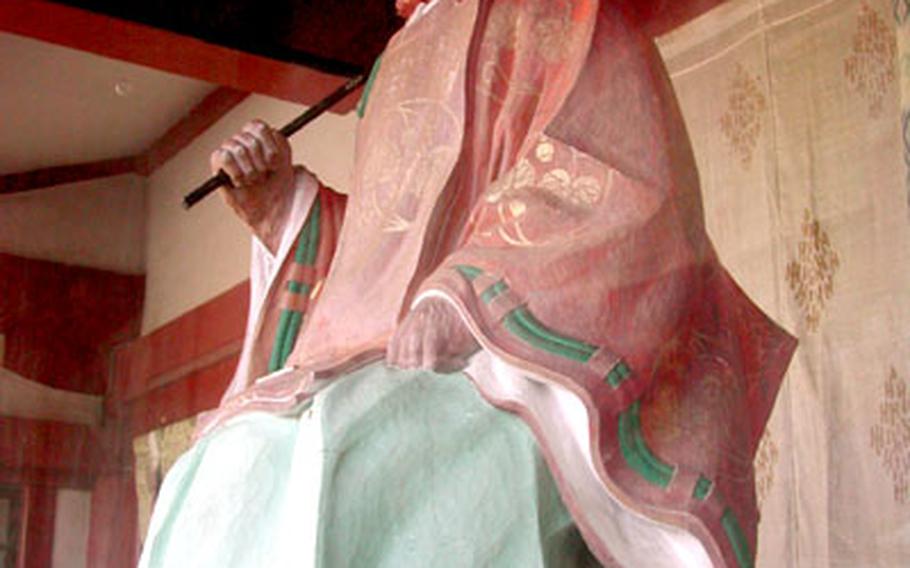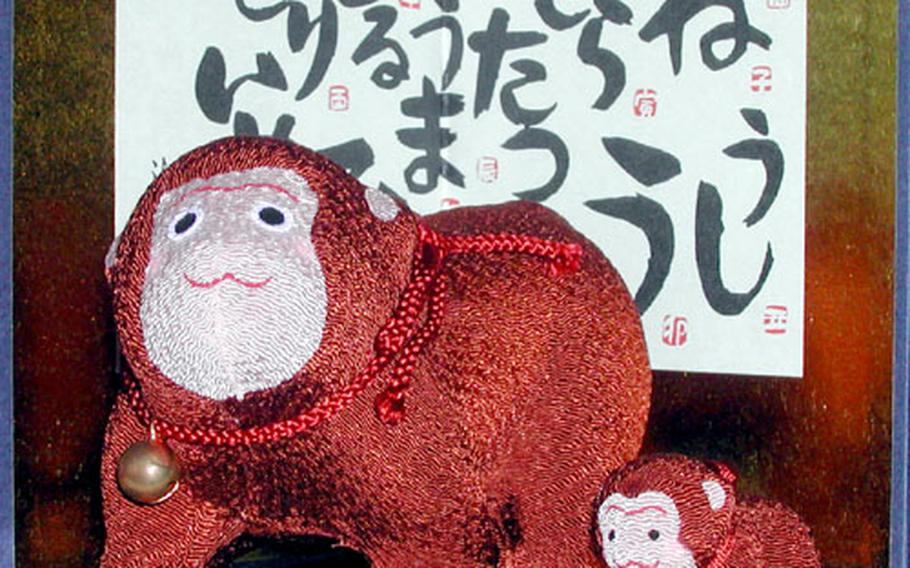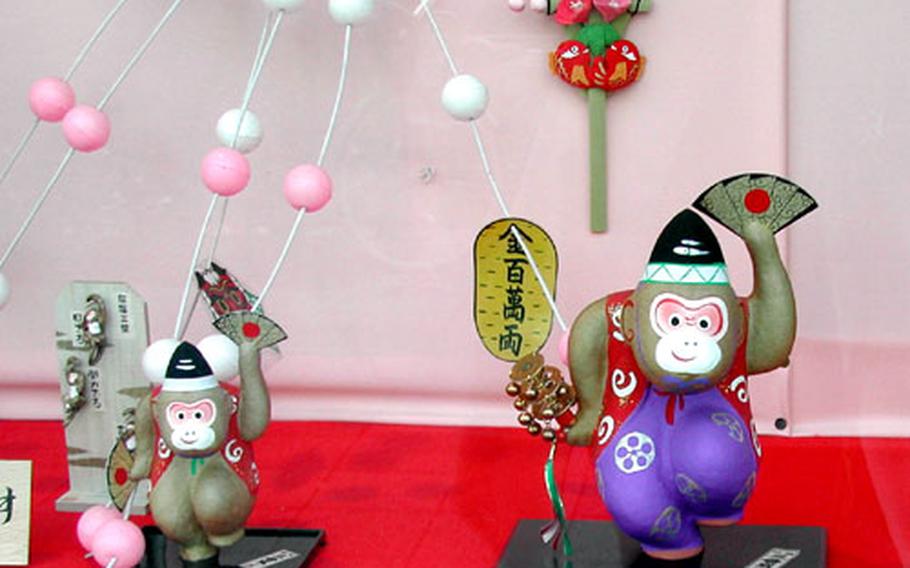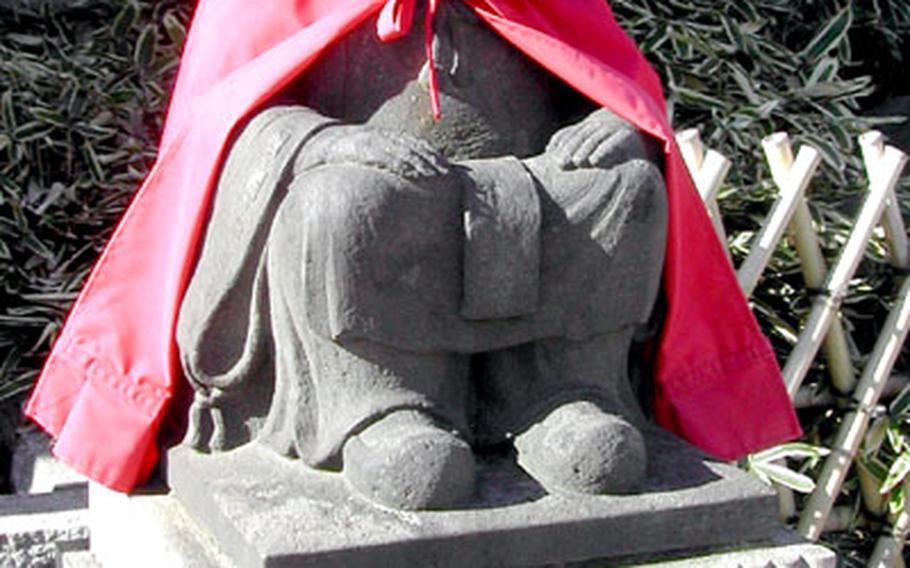 Under the oriental zodiac which divides time into 12-year cycles named for animals, 2004 is the ninth year and the Year of the Monkey ("saru"). The change officially will not be marked until the lunar new year — Jan. 22 this year — but many Japanese begin celebrating the new animal year by the modern calendar on Jan. 1.
Some say the custom of naming years for animals comes from Buddhist legend that says Buddha called all the animals of the world to pay homage to him, promising to reward those who came. Only 12 showed up, and each was given a year to honor its faithfulness. They were, in order, the rat, ox, tiger, rabbit, dragon, snake, horse, sheep, monkey, cock, dog and boar. Some legend weavers claim the ox actually arrived first, but say the rat — which had hitched a ride on its bovine buddy's back — leaped from the ox's head and presented itself to Buddha first.
Oriental fortune tellers say humans carry the traits of the animal in whose year they are born. For monkey-year people, that means both good and bad. They are extremely clever, especially in making deals involving money, and are creative and inventive. Their efforts in just about any field of endeavor nearly always meet with success.
Monkey-year people have numerous talents, are flexible, good decision makers, imbued with a great deal of common sense and are very knowledgeable about a vast variety of subjects. They have phenomenal memories, are passionate and strong-willed and left to their own devices, most monkey-year people will find fame, fortune tellers say. The dark side of their personality makes them contemptuous and generally distrustful of others. Impatience also sometimes leads them to abandon a plan they cannot begin immediately.
The monkey appears in many Japanese proverbs and phrases:
¶ "Saru mo ki-kara ochiru" – Even a monkey sometimes falls from a tree. Even successful people can fail. A good marksman may miss.
¶ "Mizaru, kikazaru, iwazaru" – See no evil, hear no evil and speak no evil.
¶ "Saru ni ki-nobori wo oshieru" – To teach a monkey to climb a tree (foolish).
¶ "Ken-en no naka" – The West uses "a cat and a dog" as typical of unfriendly relations, the Japanese use "a dog and a monkey."
¶ "Sarumane" – Blind imitation
¶ "Sarujie" – Shallow cunning
¶ "Sarumata" – Shorts (trunks)
¶ "Saru Mawashi" – A monkey showman
Human beings, monkeys and apes are all primates. But monkeys generally have tails — a fact which still separates the monkey from the other primates. The exception is the tailless monkey, the Gibraltar barbary apes — while apes, gibbon and siamang, and the great apes (chimpanzee, orangutan and gorilla) do not have tails.
Celebrating the Year of the Monkey ...
Hie Shrine: (Monkeys are on a mission of the God to the shrine); 2-10-5 Nagatacho, Chiyodaku, Tokyo; Marunouchi Line and Ginza Line to Akasaka Mitsuke Station/ Nanboku Line and Ginza Line to Tameike Sanno Station/ Chiyoda Line to Kokkai Gijido Mae Station; 03-3581-2471; http://www.hiejinja.net/
Nikko Toshogu Shrine: (Three wise monkeys); 2301 Sannai, Nikko, Tochigi Prefecture; 70 miles north of Tokyo, three hours drive from Tokyo; Train, Tobu line from Asakusa (one and a half hours); 0288-54-0560
Kyugetsu: (Monkey Dolls); 1-20-4 Yanagibashi, Taitoku, Tokyo; JR Sobu Line to Asakusabashi, (there are many Japanese dolls shops at Asakusabashi); 03-3861-5511
Sensoji Temple: (Nakamise Street); 2-3-1 Asakusa, Taitoku, Tokyo; Subway Ginza Line to Asakusa or Toei Asakusa Line to Asakusa; 03-3842-0181
Sugamo: (Red shorts); Jr Yamanote Line to Sugamo Station; Clothing Shop MARUJI (red colored shorts are popular among senior ladies at Sugamo, particularly for this year. Wearing red shorts brings good luck to them, they believe, because monkeys have red buttocks); 03-3910-1409
Monkey facts ...
The monkey years in the 20th century were 1992, 1980, 1968, 1956, 1944, 1932, 1920 and 1908. Famous "Monkeys" born in the 20th century:Musician Celine Dion (1968- )Actor Tom Hanks (1956- )Former New York Mayor Rudolph Giuliani (1944- )Actor, director, producer Danny DeVito (1944- )Rock musician Sly Stone (1944- )Singer Diana Ross (1944- )Movie director George Lucas (1944- )British actress Jacqueline Bisset (1944- )German chancellor Gerhard Schroeder (1944- )Roy Uwe Ludwig Horn (1944- ), of illusionists Siegfried and RoyMusician Gladys Knight (1944- )Sen. Edward Kennedy (1932- )French president Jacques Chirac (1932- )Actor Anthony Perkins (1932-1992)TV newscaster David Brinkley (1920-2003)Actress Eva Gabor (1920- )Former Secretary of State George P. Shultz (1920––)Author Isaac Asimov (1920-1992)Pope John Paul II (1920- )Actor Montgomery Clift (1920-1966)Actor Walter Matthau (1920-2000)Actor Mifune Toshio (1920-1997)Actress Maureen O'Hara (1920- )Jazz musician Charlie Parker (1920-1955)Author Arthur Hailey (1920- )Jazz musician Dave Brubeck (1920- )Violinist Isaac Stern (1920-2001)Actor Mickey Rooney (1920- )Singer Peggy Lee (1920-2002)Publisher William R. Hearst Jr. (1908- )Nuclear scientist Edward Teller (1908-2003)Actor James Stewart (1908-1997)Economist John K. Galbraith (1908- )Author William Saroyan (1908-1981)Movie director David Lean (1908-1991)New York governor Nelson Rockfeller (1908)Heart surgeon Michael Debakey (1908- )Comedian Lou Costello (1908-1959)Three U.S. presidents – Calvin Coolidge (1872-1933), Harry Truman (1884-1972), and Lyndon B. Johnson (1908-1973).