Carinthia: Winter fun in Austria's southernmost and sunniest province
by
Leah Larkin
November 13, 2003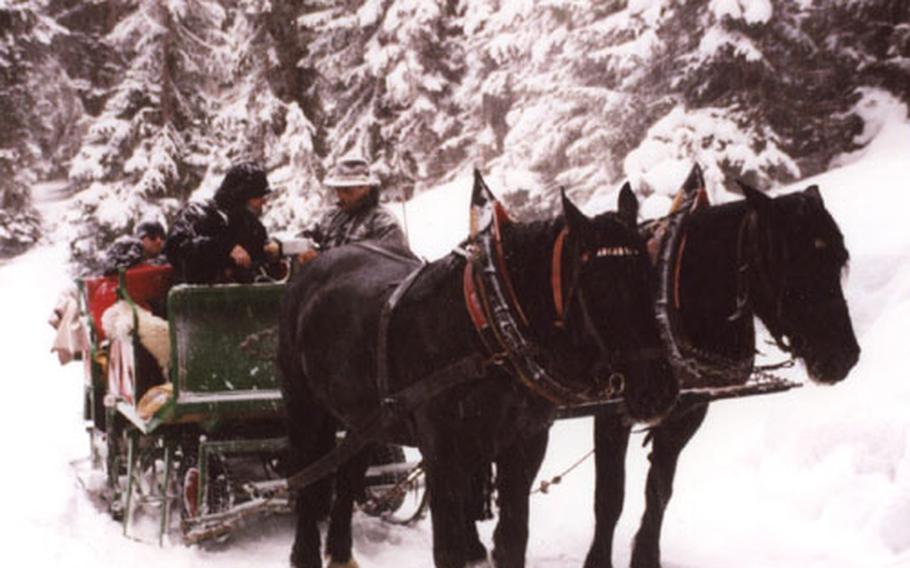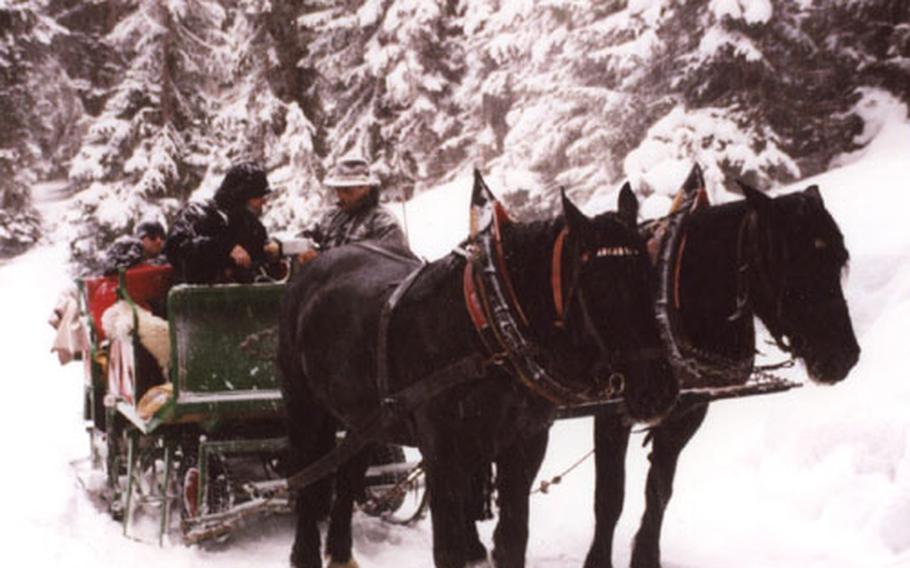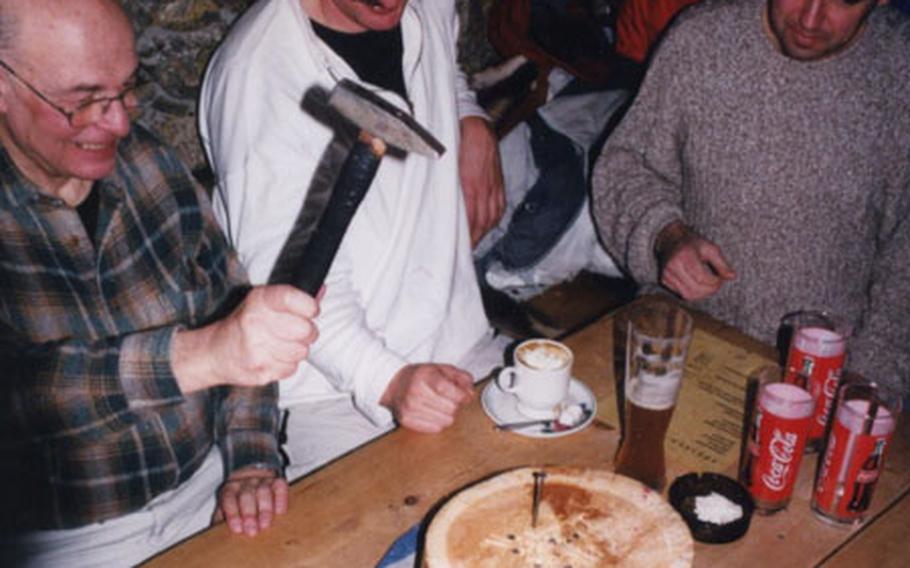 "I feel like a dinosaur in the snow," said Heiko Wirtz. "The tracks look like dinosaur tracks, too."
We were trudging up a ski slope, snowshoes strapped to our feet. White flakes fell as we slowly inched higher and higher. The incline grew steeper. What had been fun became serious work. I even slipped backward and managed to get unattached to the tennis-racketlike foot that was supposed to make it easier to walk in snow.
Our goal was a mountain hut at the top where we would enjoy a well-earned lunch. Finally we could see it perched high on one last stretch of steep terrain. One more surge of strenuous action.
"It's very peaceful," said Wirtz, not bothered by the uphill effort. "You feel like someone who lives in the wilderness, like someone who hunts bear in the Rocky Mountains."
On flatter terrain, snowshoeing is also relaxing. No crowds. No lift lines. You can head into the woods and fields and blaze your own trail. You can see, feel and smell nature all around.
Snowshoeing was one of several non-ski winter activities our group enjoyed in Austria's southernmost and sunniest province, Carinthia, last winter. Tobogganing, a sleigh ride, a torch-light hike and lots of old-fashioned Gemütlichkeit — or good times — in mountain huts were also highlights of this winter break. Of course, we skied, too.
There's no need to head to Europe's biggest, famous and most expensive ski resorts to enjoy a winter holiday. Venture off the beaten track and discover areas that might not have the greatest number of super-fast lifts serving hundreds of miles of slopes. Sometimes smaller can be better.
Carinthia, which is south of Salzburg and borders both Italy and Slovenia, has 28 ski areas, more than 300 miles of downhill slopes and about 50 miles of cross-country tracks.
Its top resorts are Sonnenalpe Nassfeld, Heiligenblut, Bad Kleinkirchheim and the Mölltal Valley Glacier. We bypassed those and spent our time at Katschberg and Goldeck. We stayed in a lakeside hotel along the shores of one of Carinthia's many lakes, the Millstätter See, near the town of Spittal and a short drive to the slopes of Goldeck.
The best part about winter fun and skiing in Austria, Carinthia included, is the hut ambience. Forget those modern mountain cafeterias with mass-produced food and synthetic charm, those après-ski bars with techno rap blasting. Austrians have preserved a special something you can't find elsewhere. Join a group in an Austrian hut for rounds of schnapps, games, songs and rousing fun. It's easy to pass hours inside these cozy shelters.
We ended our snowshoe trek with Wirtz at the Gamskogel- hütte in Katschberg, which has 20 huts scattered around its mountains. The hut owner brought out a fat log with nails protruding from its surface. A hammer was passed around so everyone could try pounding a nail into the log. The game loser had to buy a round of schnapps, then was treated to a squirt of fiery spirits right into his mouth from a special long-necked bottle.
After a tasty and lusty lunch, we returned to the valley via the toboggan run from the Gamskogel hütte. Unfortunately, there was so much new snow, the run was not as fast and exciting as we had hoped.
Late that afternoon we enjoyed a sleigh ride to the Pritzhütte, where the owner played guitar and sang bawdy songs, although only those who knew the Austrian dialect could understand the lyrics. He recited poems, which also brought lots of laughter. And he insisted everyone try a crazy wooden contraption of snuff that made you sneeze.
The ride to and from the Pritzhütte was Christmas-card splendor. Through the woods with snow falling, we snuggled under blankets and huddled in the sleigh as two sturdy horses pulled us along at a brisk pace. They snorted and neighed, and their heavy breath looked like smoke in the cold. Bells jingled.
Driver Andy pulled the reins and stopped his beasts, then passed around a bottle of schnapps for a warmup. It was dark as we returned, but the sky was a mass of stars, and the moonlight outlined the snow-laden pines. The horses charged through the snowy darkness for a scene that seemed too prefect to be real.
Daytime touring skiers can venture off-piste at Katschberg for a run to the Pritzhütte, which is not linked to the slopes by mechanical lifts. But, they can ride back to the hub of the ski area via a "bio lift." Skiers hold on to a rope attached to horses and ski behind the animals that tow them 2½ miles through the forest.
Katschberg has 37 miles of slopes including a half pipe and a big jump for snowboarders. For child skiers, there's a special area with colorful figures decorating the slopes. Those who stay at one of the Katschberg hotels, many of which offer baby-sitting service, can walk to its lifts. When Mother Nature fails, snowmaking equipment keeps the Katschberg slopes white.
What the nearby ski resort Goldeck lacks in modern lifts (it has long T-bars, a single chair and an old-fashioned two-stage tiny gondola), it makes up for in terrain.
New is its downhill run, said to be Europe's longest black run at 5.3 miles. With a vertical drop of 4,950 feet, it also offers steepness and the opportunity to soar at top speed.
We skied it twice. Once I collided with the plastic fencing on the side of the slope for a spectacular fall. But, it is sensational skiing, and snowmaking equipment ensures that it's always skiable.
Unfortunately there is not yet a lift at the bottom of the run to whisk skiers back up the mountain. Instead a free shuttle bus, which runs continuously in the afternoons, hauls them from the downhill finish back to the bottom of the gondola.
Goldeck slopes tower above the Millstätter Lake offering lovely views of the lake and surrounding mountains. The ski area also has a fun park for boarders.
— Leah Larkin, a member of the Society of American Travel Writers, is a journalist living near Stuttgart, Germany.
If you go
Activities and costs
A package week in Katschberg at a four-star hotel within walking distance of the slopes and with pool, sauna, free baby-sitting, half-pension and a six-day ski pass is available from 550 euros per person.
This season, an adult one-day ski pass at Goldeck is 26 euros; a one-day pass at Katschberg is 27 euros. The Top Ski Carinthia ski pass for six days of access to the slopes of numerous area resorts is 161 or 148 euros, depending upon which resorts you select.
Snowshoeing at Katschberg costs 90 euros for two hours for one person with a guide and equipment rental. It's 25 euros for each additional person. Snowshoe rental only is 15 euros per day.
The Katschberg sleigh ride to and from the Pritzhütte is 18 euros per person. Group rates are also available.
Yum!
For a hearty hut lunch in Carinthia, try a local favorite, Käsnudl, fat noodles stuffed with quark (a type of creamy cheese), potatoes and garlic.
Information
For Katschberg, go to www.katsci.at or call (+43) (0) 473-4630 or (0) 473-3300.
For Goldeck, go to www.goldeck-spittal.at.
For other resorts in Carinthia, go to www.kaernten.at or call Carinthia Information at (+43) (0) 463-3000.
— Leah Larkin