Bus trip to Holland: Not luxurious, but it covers a lot of ground
by
Charlie Coon
May 22, 2003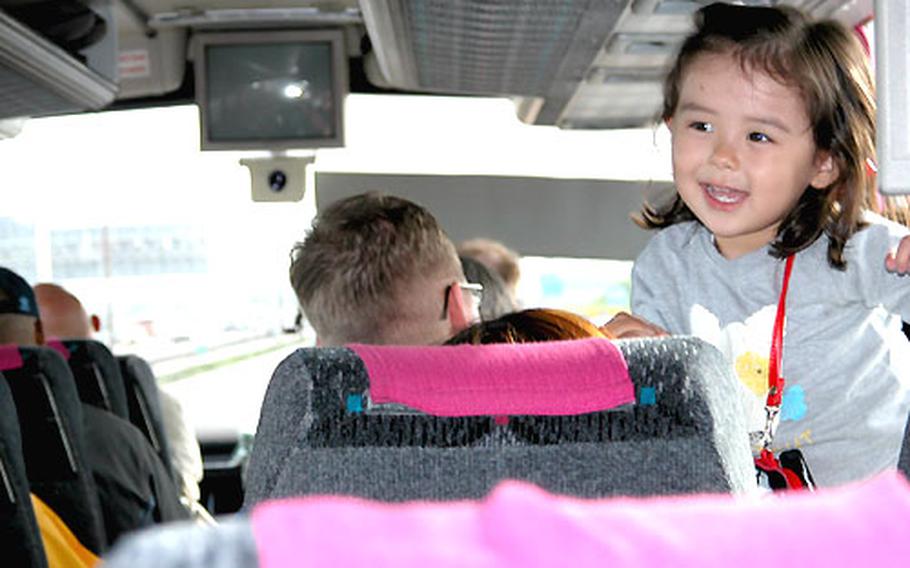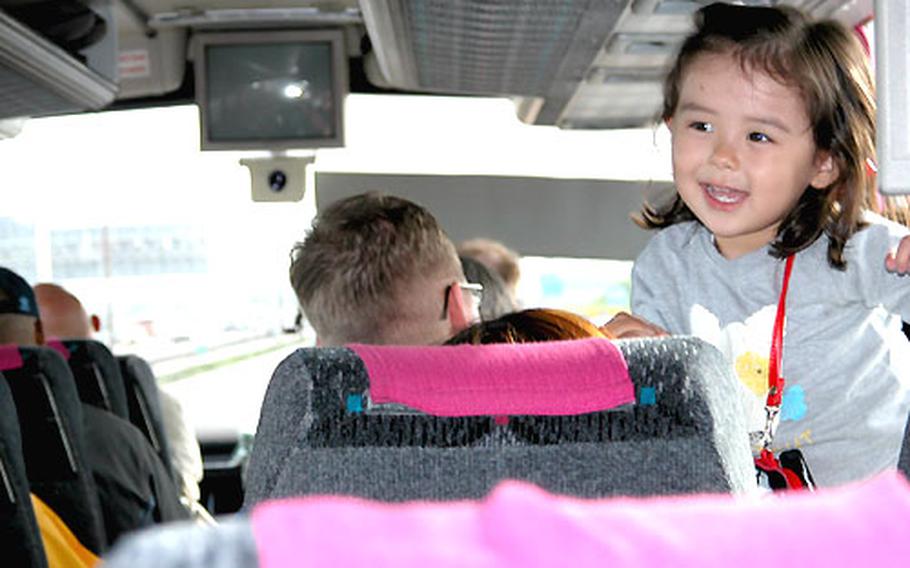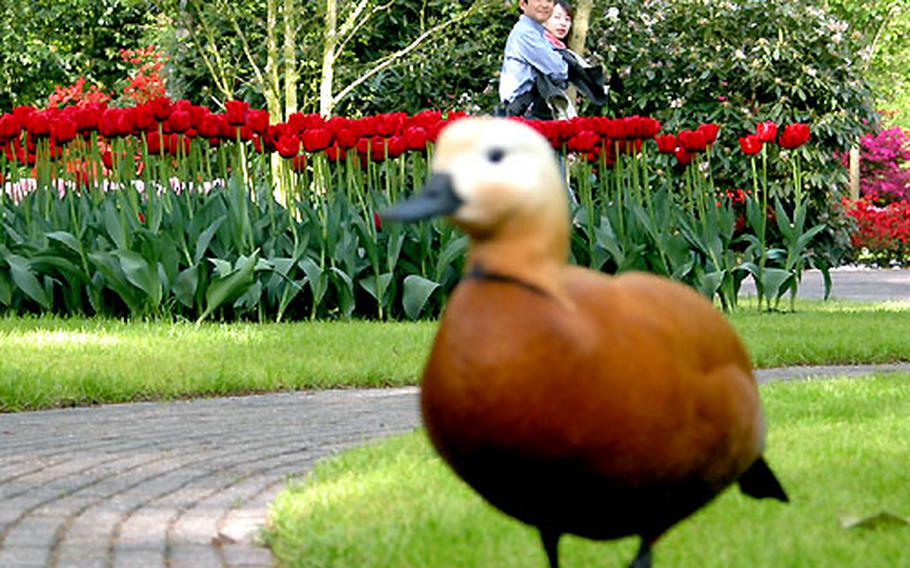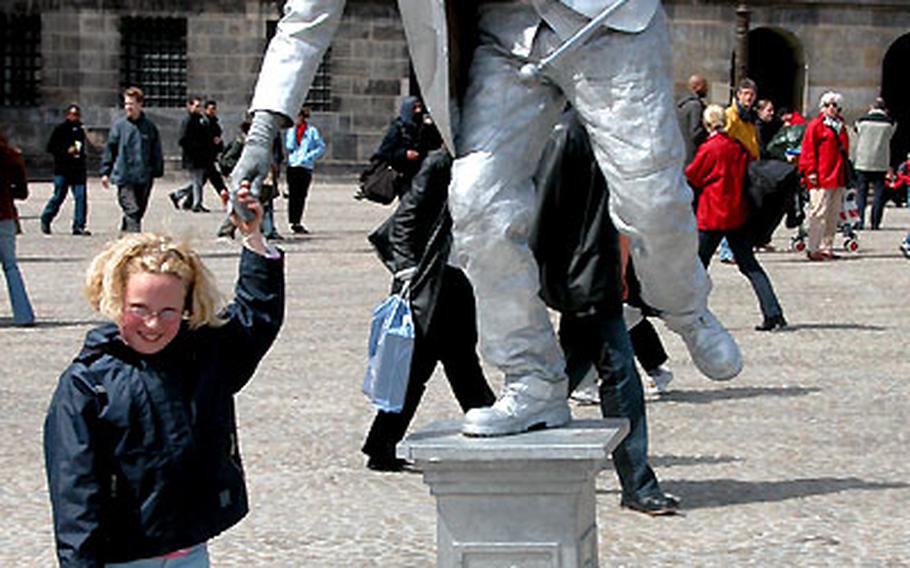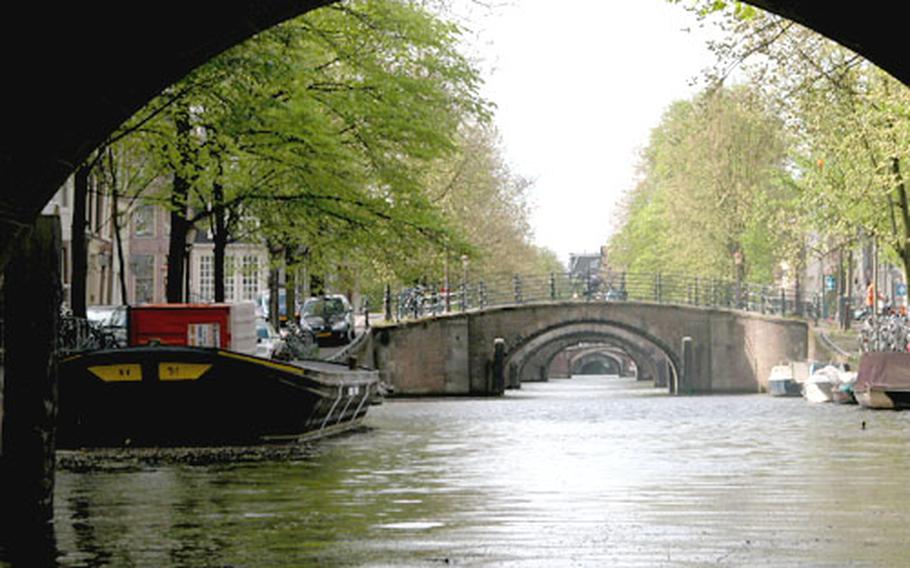 Warning: This story starts badly. But it has a happy ending.
Both parts are worth knowing if you're thinking about embarking on the popular mode of touring known as the bus trip.
Bus trips are popular because — well, I have no idea. But there are hundreds of tour buses rumbling around Europe on any given day, so there must be a reason.
Three weeks ago I took my first bus trip. It was a two-day jaunt to Holland from Darmstadt, Germany. The cost: $179, plus $40 if you wanted your own room at the hotel.
The trip was actually my third choice. My first was to Costa Brava, Spain; the second was a two-overnight trip to Holland. I had to settle for the one-overnight package.
Enjoy Tours, the tour company I used, offered those options and more. But I found out that a bus will only set sail if enough people sign up for a trip — normally 15 to 20, or more, depending on the trip.
It took time to set sail as well.
The bus picked up a few us in Darmstadt at about 11 p.m. Others had already climbed aboard at other bases. We headed south to a Walmart parking lot in Mannheim, where other buses destined for other places awaited — the Italy bus over here, the Holland Express bus over there, and so on.
Some passengers departed for the other buses, but I got to stay on the one I was on — the one-overnighter to the Netherlands.
We finally got rolling north toward Holland around midnight. We'd sleep for the next seven hours before arriving at dawn at some breakfast joint outside Amsterdam.
But sleep did not come easily. The seats were narrow and hard and upright. Anyone larger than a child was physically challenged to be comfortable. But that wasn't the worst of it.
A baby boy cried almost the entire way there. Actually, he screamed.
"I don't understand," his poor mother would later say. "He usually sleeps 12 hours a day."
The good news was that once we arrived at our destination, the touring was splendid, because of the bus and not in spite of it.
Physically and mentally, a seven-hour bus trip in the dark of night is very much like flying in a small passenger jet from, say, Philadelphia to Frankfurt. You have to prepare yourself to be in a cramped space with strangers, and things can get a little gamey.
Our bus was about 70-percent full. There were 35 passengers aboard, mostly servicemembers and/or their spouses.
I was one of the lucky ones who had an open seat next to me and could sprawl diagonally across my little area. The extra room allowed me to unfold my 6-foot-1, 240-pound frame about two-thirds of the way.
My left cheek rested on the hump between the two seats. My head bounced on the window.
For 18 of the next 48 hours, this little area would be my home. I had a CD player with headset and a big bottle of water. I just sipped the water, though. Even though it was equipped with a toilet, a bus is not a good place to test your bladder.
Experienced bus-trippers brought small pillows that helped keep their heads stable. A few brought laptop computers with headsets and watched movies on DVD.
There are all kinds of bus trips in Europe, from one-day express jobs to places like Paris, to five-night excursions to Spain and Italy.
"The most popular ones are to Paris, to the tulips in Holland and the Italy tours," said Gisela Kau, a booking agent for Enjoy Tours in Kaiserslautern, Germany. "We also have day trips like the Rhine River that leave early in the morning."
Kau's advice for bus-trippers: Check the weather forecast for your destination (try www.weather.com) to help you pack accordingly.
We arrived at the breakfast place in Holland and got off the bus. Most of us had had very little, if any, sleep. Our bodies ached. It was cold, windy and raining. We had a full day of touring ahead of us.
It soon became apparent that the $179 fee was just for starters.
Breakfast cost $9 more for sandwich meat, bread, eggs, yogurt, cereal, yogurt, juice and coffee.
"For $9 and not having any other choice, it was pretty good,"commented Spc. Christine Gape, a pharmacist serving at Landstuhl Regional Medical Center in Germany.
Gape said this was one of the better buses she'd been on because it had "no funny smell."
I was invited to sit at breakfast with Gape and her two friends, Spc. Betsy Arnold and Spc. Charlie Lewis. Charlie was also female. The two women worked with Gape as X-ray technicians at Landstuhl. All three were reservists from the Dallas, Texas, area.
The three would be my companions for the rest of the trip.
I promised the story would turn out happy.
All 35 of us aboard the bus had at least two things in common: The bus was our temporary home; and we wanted to see Holland.
We reboarded after breakfast and went to a old farm building where a guy showed us how to make cheese. Then the guy led us into an adjacent room and showed us how to make wooden shoes.
We then proceeded into an adjoining shop where we could buy cheese and wooden shoes.
I felt herded like a sheep.
The gentleman, whose name was Mart Leek, was a shoemaker.
"The cheesemaker does not start until 9," Leek explained. "Of course, he has to milk the cows."
Sales were brisk at the cheese/wooden shoe store. Some delicious cheese samples were put out for us: smoked cheese with garden herbs, cheese flavored with caraway seed, and so on. We washed it down with berry wine, then climbed back on the bus.
Once everyone was back in their seats, a man dressed in a Dutch outfit came on board and explained some of the local customs. He then whipped out postcards and tried to sell them to his captive audience (10 for $3).
The bus rolled into Amsterdam at midmorning. The clouds had blown away and the sun was shining. Things were looking up.
We loaded onto a big boat ($9 additional) and we toured Amsterdam via its canals. After the 75-minute ride, we disembarked and headed for the Stoeltie Diamonds factory and store.
After an hour of dreaming about diamonds, we were invited to an optional Indonesian lunch ($16.50 additional). But most of the group opted to head into downtown Amsterdam, walk the city streets and find chow on their own.
We tromped around individually and in groups for five hours before meeting at our rally point. Then we hopped back on the bus and were taken to a hotel about 45 minutes away.
Some were upset that our hotel was so far from the city. But since we had had a sleepless night and a full day of sightseeing, most of us were too tired to take in the decadence of Amsterdam at night and just hung around the hotel.
The wake-up call came at 6:30 a.m. Day two would get an early start. Though most of us could have used a few more hours of rack time, we had a schedule to keep.
After breakfast, we climbed back onto the bus for a 45-minute trip to Keukenhof, the spectacular tulip and flower estate southwest of Amsterdam ($12.50 additional).
It was a breathtakingly beautiful, sunny day. The bus would prove a relaxing, comfortable vehicle from which to enjoy the Holland countryside.
When we arrived at Keukenhof, there were two tour buses parked outside. When we left two hours later, there were 30.
We were driven for another hour to Madurodam in The Hague. Madurodam ($10 additional) is several acres of miniature cities, buildings and trains. After Madurodam, we were driven to Delft to see its famed pottery.
This tour was organized by Enjoy Tours, but it is far from the only tour operator serving Americans in Europe. Many bases have travel offices offering a variety of options, plus access to USO and Morale, Welfare and Recreation and others that also handle tours.
Craig Edwards, the outdoor recreation manager at Cambrai- Fristch Kaserne in Darmstadt, acknowledged that bus travel can test a person's tolerance. But he said that arriving cheaply and safely makes the temporary discomfort worthwhile.
"Bring a pillow, maybe something to read and relax — go with the flow," he advised. "Fortunately with us, most of our trips involve diving, skiing, adventure. People are pretty exhausted on the way back."
Our whirlwind tour of Holland proved no exception to the exhaustion rule.
We boarded the bus at the pottery place at midafternoon to begin our seven-hour ride back to Germany. Practically everyone nodded off from exhaustion.
Halfway home we stopped for dinner. Then our tour guide played a movie for us that lasted the rest of the way — a Walt Disney romantic comedy called "The Parent Trap."
And the screaming baby boy? He didn't make a peep the entire way home.
Pros and cons of bus travel ...
Pros¶ Someone else drives.¶ No need to consult a map.¶ Guided tours hit the highlights, so you can see a lot in a little time.¶ Tour guides provide good background and explanations.¶ You can make new friends on the bus.Cons¶ If not enough people sign up, a trip is canceled. Confirmation sometimes does not come until the day of the trip.¶ Slow travel. The bus speed limit is 100 kilometers per hour (about 60 mph) and it makes stops along the way. A five-hour trip by car can take eight hours.¶ Seats can feel small, especially to big or long-legged people. Sleeping can be difficult. On long trips, the body can get pretty achy.¶ You have no control over who sits near you, including crying babies.¶ Schedule is tight and often restrictive. You go where the tour organizer wants to go and have a limited amount of time.¶ The toilet: Guys, let's just say that the ladies appreciate a man who has good aim.
— Charlie Coon