Brittany: Small American cemetery in St. James, France, invites reflection
by
Charlie Coon
May 27, 2004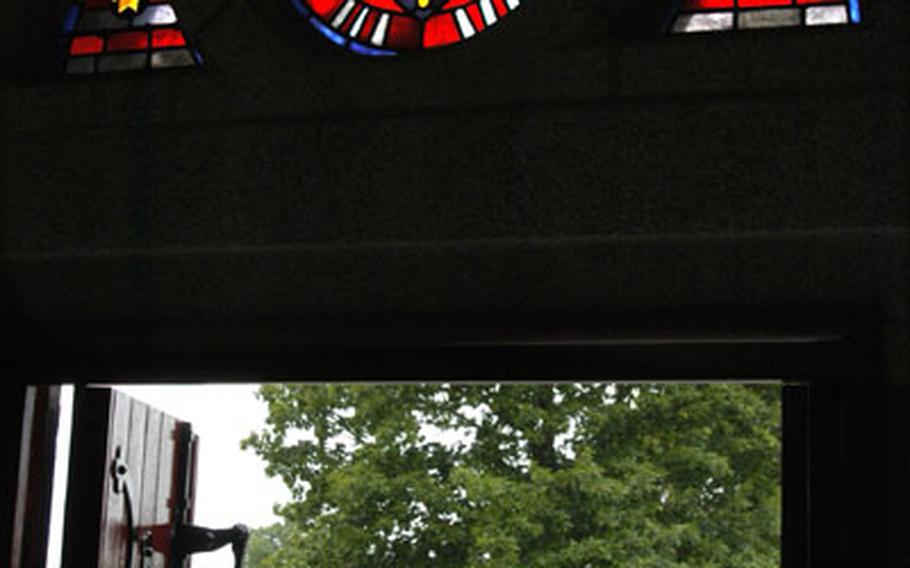 The storming of Normandy's beaches was just the start.
In sweeping the German Nazis out of France, during the summer of 1944, Allied troops pushed the fight south into St. Lô and Avranches. Other offensives were launched on the Brittany peninsula to the west, and thousands more U.S. soldiers died.
There are 4,410 buried under stark white crosses at the Brittany American Cemetery in St. James, France, a place that is strikingly serene compared with its more-famous, more-visited counterpart in Normandy.
The public is able to visit the cemetery at St. James every day, including D-Day observances. But the public is especially welcomed at a Memorial Day service at 3 p.m. Monday (May 31), when St. James hosts four choirs and several thousand visitors.
Attendees will include next-of-kin guests, local French men and women who will be observing their own Memorial Day, and singers from the United States, France, Germany and Australia.
The 27-acre field that inters the 4,410 soldiers is beautiful in its simplicity. There is no overabundance of flowers and landscaping.
Though it is fully half the size of the vast cemetery at Omaha Beach, the St. James cemetery attracts only about 80,000 visitors per year compared with more than 2 million people who go to Normandy.
If you happen to be visiting St. James at 4:40 p.m., you will stand at attention and listen to taps being played as the flags are lowered. Overlooking the field of white gravestones and soft, rolling French countryside, it's a profound moment of quiet reflection.
"It's just a special place to meditate on the sacrifice of the soldiers who gave their lives during the liberation of Europe," said Gerald Arseneault, the St. James cemetery superintendent. "And also to meditate on what is happening in the world today."
Arseneault said English-speaking personnel are on duty year-round. When they are not busy assisting next-of-kin, they will happily guide other visitors and tell them the history of the Brittany American Cemetery.
The cemetery is also just a 20-minute drive from one of France's most-visited tourist attractions, the towering 1,000-year-old church-town Mont Saint-Michel.
People visiting the Normandy coast for D-Day or any other occasion might consider a side trip to the Avranches area for a visit to St. James cemetery, to pay homage to the 4,410 soldiers who died during the second part of the liberation of France.
— For more information, see the Web site www.abmc.gov and go to ABMC Cemeteries and then "Brittany, France."