Black Forest region hosts tomfoolery at Fastnacht
by
Andrew Cowin
February 19, 2004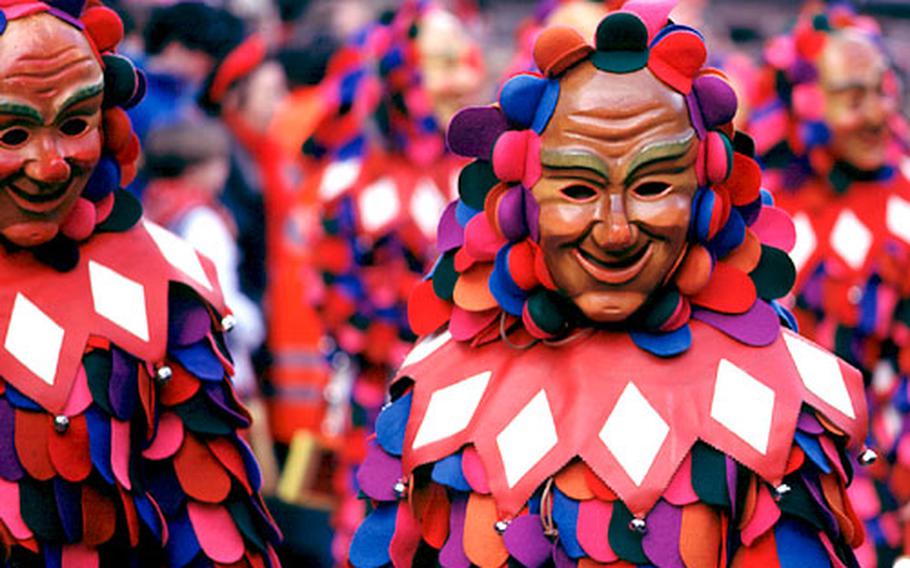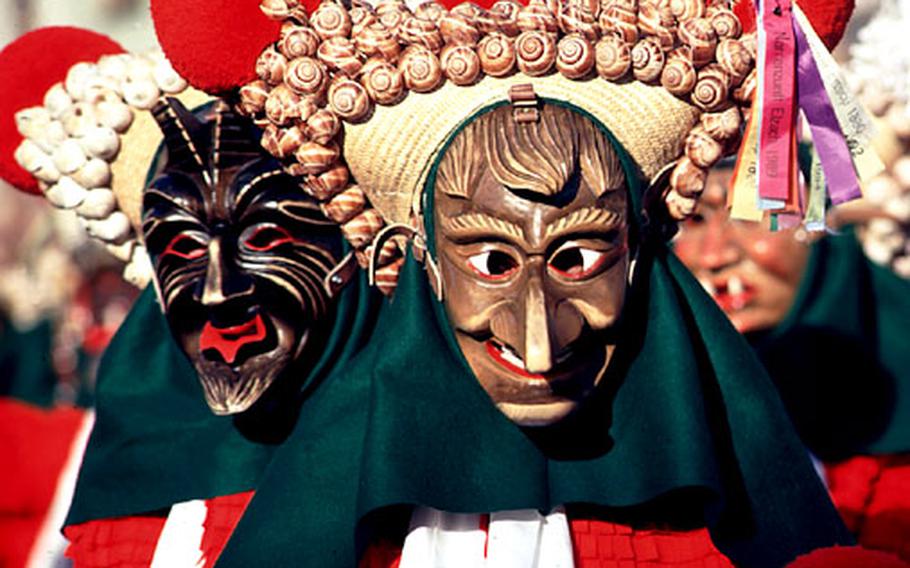 With winter showing its bleakest side and spring still a distant hope, February is not exactly everyone's favorite time of year.
Centuries ago, things must have seemed even more grim. Especially in the Black Forest and Swabian Alps, where the raw climate meant food was going to be scarce for some months to come.
Faced with such gloomy prospects, the early ancestors of these hardy folks took on a defiant attitude. They reckoned that winter needed a kick in the pants to send it on its way, and with nothing to be done in the fields, they let their hair down and figured out the best way to do it.
They started by dressing up in their fineries, even if this meant using snails and foxtails as ornaments or simply painting old linen with exotic pictures. Then, hiding their faces behind simple wooden masks and adopting funny high-pitched voices, they were free to behave just as badly as they liked without any risk of being recognized.
Bingeing on the best they could find in their larders and cellars was among the more harmless pleasures that accompanied the days leading up to the miseries of Lent. More importantly, they could give vent to the past year's frustrations by telling their neighbors, landlords and priests just what they thought of them. Or, if the mood struck them, dish out the occasional whack over the head with an inflated pig's bladder or something similar.
It wasn't just good fun: After all, psychologists say that people need the "mental hygiene" provided by letting off steam now and then.
With the passing of time, such buffoonery became a fixed ritual, with its own strict rules to keep it within acceptable bounds. Although the powers-that-be were probably less than enchanted by proceedings, the local traditions became so well established that even the church had to accept them with good grace.
In the more rural areas of southern Germany, many of the traditions persisted. So when the 19th century rediscovered the charm of folk traditions, German Fastnacht was found to be alive and well. And today, many villages practice these time-honored methods for coping with the miseries of winter and for having a last blow-out before the 40 days of abstinence during Lent.
To better understand the traditions, it helps to know the language. Here are a few terms to get you started.
¶ Fastnacht, Fasching: Older (probably pagan) tradition in south Germany (Black Forest, Swabia) usually involving the wearing of masks. The meaning may stem from the night before the fasting, or Lent, begins, or a corruption of an old German meaning to "act the fool." Given what happens, the latter seems more likely. To be awkward, the people of Basel just over the Swiss border insist on the name "Fasnacht." Woe to you if you forget to drop the "t."
¶ Narren: Fools or mummers. In the Rhine cities, thy wear hats with bells and behave in a generally noisy and bellicose way. In south Germany, they are invariably masked, so that they can be rude and abusive without being recognized. Luckily, the broad local dialects mean the insults are impossible to decipher even for people living just a few miles away.
¶ Schmutzige-Donnerstag: Start of the celebrations on Thursday before Ash Wednesday (Feb. 19 this year) in South Germany. Literally "Dirty Thursday," but actually a corruption of Schmalz, the fat used to bake a special cake on this day. The day on which Narren release children from school and then erect a Narrenbaum (Fool's Tree) in many villages. The most impressive show is in Stockach near Lake Constance. Moderately entertaining but best observed through the raised bottom of a beer glass.
¶ Schuttignarren: Devilish fools dressed in red, who are stars of one of the best shows to be seen on Sunday before Ash Wednesday (Feb. 22 this year). The place is Elzach, deep in the Black Forest, and festivities start at noon with a fanfare from the city walls. Great costumes, lots of good-humored teasing plus some spectacular capering around a big bonfire after dusk.
Keep smiling if you get hit over the head with what looks and smells like an inflated pig's bladder (appearances are not deceiving in this case), as you have a chance of being given sweets, fruit or flowers for being a good sport.
¶ Narrensprung: "Fool's Jump." This is the classic event of south German Fastnacht. Starting on Rosenmontag (Feb. 23) at 8 a.m. at the ancient Black Gate in lovely Rottweil, this involves more than 3,000 extraordinarily garbed, masked figures. Costumes are either hand-painted with oils or decorated with chicken feathers, while the masks are either eerily pretty or pretty frightening, with some incorporating real fox-tails. Apart from a couple of brass bands, almost the only sounds come from the rhythmic pulse of bells (a set weighs 80 pounds) worn by many of the marchers. While being poked with goose feathers, watch out for the Rösslis (little horses) and their whip-wielding "masters" as well as the single Guller, an enormous rooster who tries to carry off attractive females in the crowd.
The Narrensprung also takes place on Tuesday at 8 a.m. and (late risers rejoice) at 2 p.m.
If you do go on Monday, nip about 20 miles west to Schramberg for an excellent show at about 1 p.m. There the villagers dam up the river and float down in ornamental washtubs. Most fail to negotiate a small waterfall close to the finish line, but all are dry in time for a pleasant street procession afterward.
Cats feature big time here and if you want to get goodies, learn this phrase and yell it at every opportunity: "Hoorig, hoorig, hoorig ist die Katz" ("Hungry, hungry, hungry is the cat").
Andrew Cowin is a freelance writer and photographer living in Heidelberg, Germany.
---
---
---
---