Bed and breakfasts in Paree – an inviting option
by
Leah Larkin
April 26, 2007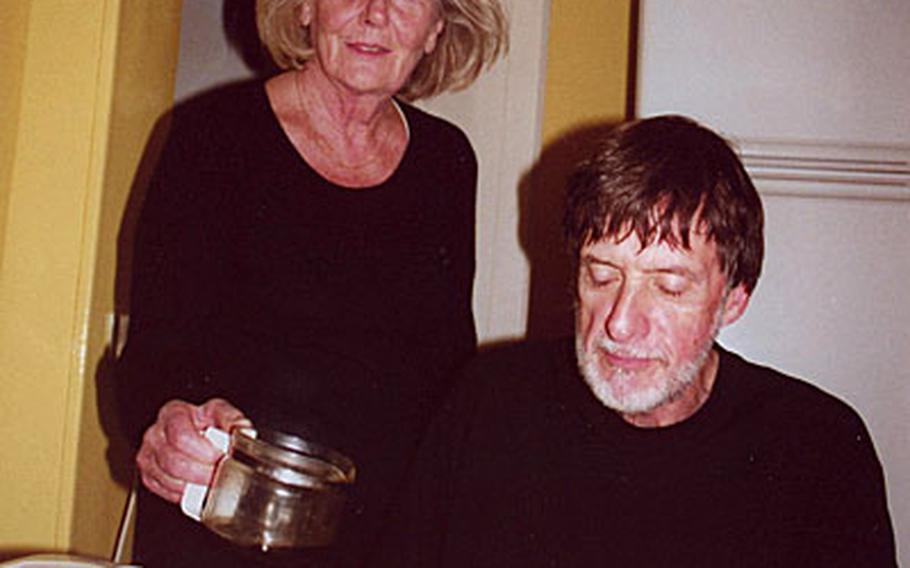 "Would you like a drink?" our hostess asked as we deposited our luggage in the attractive bedroom. "Come to my living room. Do you drink whiskey, or would you prefer juice?"
We opted for whiskey and were ushered into a huge room with high ceilings, period furniture and paintings covering the walls. It fit the image of an upscale apartment in a classy Parisian neighborhood.
And that is exactly what it was — and more.
Geneviève Cuirot, our hostess, had recently turned a room in her apartment into a chambre d'hôte, a French bed-and-breakfast. After just three months in the business, she had received guests from Austria, Belgium, the Netherlands and France. We were the first Americans, and she was pleased with the opportunity to speak English.
Her offer of a drink and friendly conversation was a delightful beginning to our first experience at a chambre d'hôte in Paris.
We've traveled throughout France for years, and long ago sought out these accommodations. And not just for economy reasons: Some chambres d'hôte cost more than a hotel. We like the personal ambience, the chance to talk to locals, the opportunity to get insider tips on the region. We've never been disappointed.
Paris, however, was different. We have a favorite, simple hotel in the Saint-Germain-des-Près area, which is pricey, but lively, convenient and fun. When I called to make reservations in December, I was shocked to learn that a double room had gone up in price to 125 euros. We wanted to stay four nights. It was out of the question.
So, I looked into chambres d'hôte. We booked the room through the agency Good Morning Paris and paid 86 euros per night, breakfast included. The bedroom, while not huge, was larger than many in inexpensive Paris hotels, with a window opening up to a courtyard and homey touches such as a vase of fresh flowers, a bottle of water and fruit. The toilet was across the hall, and the bathroom with bathtub at the end of the hall. The facilities were supposed to be shared, but we were the only ones who used them.
It was quiet. We slept soundly — usually until 8:30 or 9 a.m., when we'd hear the apartment door close. Our hostess was off with her dog, a 14-year-old miniature Dachshund, for a walk. In addition to the usual French breakfast of coffee, juice, and bread and/or croissants, Cuirot supplied yogurt.
She had the table set in her tiny kitchen and everything prepared, so we could eat on our own. But, as we were finishing, she'd appear to tell us about the weather outside and how to dress for it.
She was always eager to hear what we had seen and what we planned to do. A restorer of paintings, she was up on the Parisian art scene, and told us about current exhibits. And she told me that to improve my French I should read aloud. That was the secret to her excellent English, she said.
Christine Bokobca, president of Good Morning Paris, said the firm lists 90 chambres d'hôte in Paris, and there are now about 400 "quality" sites in the city.
"Chambres d'hôte are more authentic. They offer a more personal welcome than a hotel," she said. "For the same price, you find better quality than you would in a hotel."
About 85 percent of the B&B guests come from abroad, she said, with the greatest number from North America.
The majority of hosts are "retired ladies between 55 and 70 years old." Cuirot decided to open up her home after her husband died and her son encouraged her to use a spare bedroom for guests so she wouldn't be lonely.
Retired couples who find themselves with a large apartment after their children have moved out, or young couples with a large apartment who do not yet have children, are also among the hosts.
All seem to have at least one goal in common besides making extra money, one that benefits both them and their visitors.
"Most of them are looking for contact," Bokobca said. "They want to meet people from around the world."
Photojournalist Leah Larkin, a member of the Society of American Travel Writers, lives in the north Luberon area of Provence, France. Contact her through www.leahlarkin.com.
Know and go ...Rooms with Good Morning Paris range from 54 euros for a single with shared bathroom to 106 euros for an apartment sleeping up to four, breakfast included. Details on the Web at at www.goodmorningparis.fr; there is an English version.
Check www.hotesqualiteparis.fr for other chambre d'hôte agencies.
The Paris tourist office Web site, www.parisinfo.com, also has listings. Click on "hotels and accommodation," then "other places to stay."
Some chambres d'hôte offer meals in addition to breakfast. Cost varies depending upon the number of cour- ses, from 15 euros to 30 euros per person.
— Leah Larkin