Bavaria: Fishing for trout in icy waters hooks both young and old
by
Norm Zeigler
September 15, 2005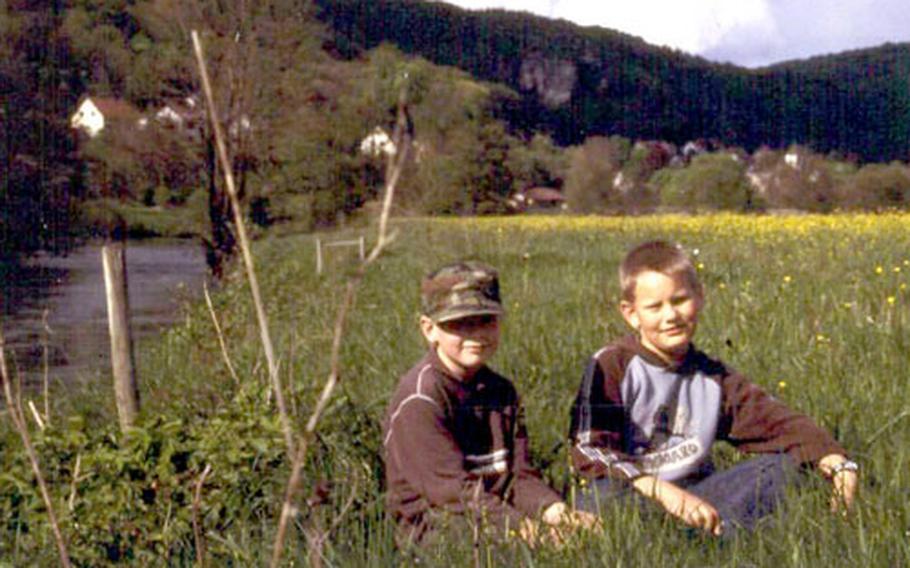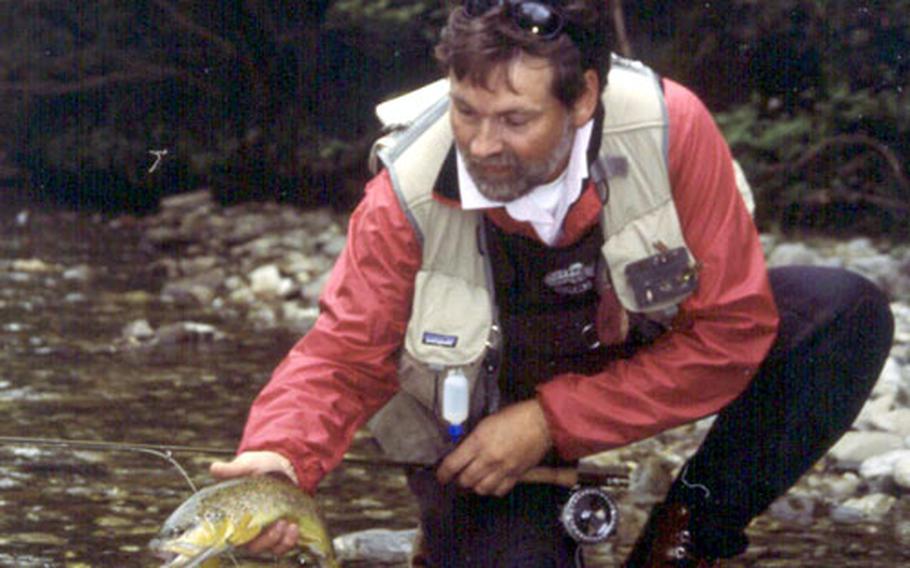 Children the world over are fascinated by fishing. The combination of the primordial pulls of water and the hunting instinct in an activity that is also a form of play is a sure-fire child-pleaser.
This fact was reinforced for me while wading Germany's Wiesent River in central Bavaria during a quest for trout on a recent European trip. I had not even reached the river when two boys ran across a hay meadow to intercept me at the bridge pool below the village of Streitberg.
"May we watch you?" asked the smaller of the two. Both were panting from their run through tall grass, buttercups and dandelions.
The two sat on the bank catching their breath while I rigged up with a black-and-green Wooly Bugger, a streamer fly that can imitate a leach, crayfish, sculpin and other large — 3- to 4-inch — aquatic creatures that trout are partial to. Most trout fishermen, myself included, prefer to fish with dry flies. But this day conditions were not good for dry fly fishing.
Atypically, the Wiesent was running high and slightly discolored. Spring-fed, the renowned chalk streams of the region — the Fränkische Schweiz (Franconian Switzerland) — are slow to react to meteorological events. But several days of heavy rain had saturated the hills and meadows. Now the excess water was seeping out of high banks and trickling down through green swales to swell the stream.
Such conditions are not conducive to the insect hatches that produce the best dry fly-fishing. During a hatch, mayfly, caddis and other insect larvae that have lived under water for a year or more metamorphose and pupate, swimming to the water's surface and shucking off their old exoskeletons. The once-aquatic insects sprout wings and fly up from the stream's surface, often prompting a trout-feeding frenzy.
I had last fished the Wiesent nearly 13 years before, and the valley's thickly forested hills, cliffs and castles evoked past visits of clear waters and good catches.
I cast the Wooly Bugger down and across the river a couple of dozen times before spotting scattered mayflies helicoptering up from the surface. Along the far bank several fish rose while I clipped off the streamer and tied on a dry fly, a No. 16 Parachute Adams, guessing at the sparse hatch.
Three times I drifted the fly over one rising fish with no response. Then I saw the reason. The mayflies were the color of the buttercups in the meadow. I switched to a No. 18 Yellow Sally and soon hooked a little brown trout along a clump of willow branches by the far bank.
"Is it a big one?" the boys asked together. When I held up the 8-incher they giggled. They told me their names: Oliver and Florian.
They watched and ran and wrestled, exploring the fields and bushes and streamside. They spotted a fork in the shallows, soaking their already muddy sneakers to retrieve it while I fished my way downstream.
Ten minutes later they caught up, running and laughing. When I landed a 6-inch rainbow they squabbled briefly over who should get to remove the fly and release it. After that they alternated.
In a languid side channel near a wooded island, I caught several more small rainbows and a brown before the boys — late for dinner — ran home laughing. I fished another half-hour, catching nothing.
Walking back to the car, the tower of the Burg Neideck ruin was silhouetted against the evening sky. I knew there were many places in the United States where I could have caught more and bigger fish; but not in the shadow of a Teutonic fortress.
Six days later, I waded very different waters in the Alps 90 minutes south of Munich.
Tumbling down out of the Kaisergebirge along the Austrian border, the Deutsche and its tributaries are burbling freestone streams. Their big trout draw anglers from around the world.
In Siegsdorf I met up with longtime friend Rudi Heger, whose family has held fishing rights in the area for nearly half a century. Heger, owner of River Products GmbH and one of Europe's most famous fly-fishing personalities, is an Americophile attended college in California and has fished from Montana to the Florida Keys.
Spring and summer weather in the Alps can be fickle. It was a misty morning with gray skies and fog on the mountains when I arrived at Heger's shop on the banks of the Weisse Traun. But the mist soon evaporated as the overcast skies lifted. Periodically, the sun tried to burn through.
To my question of where we would fish, Heger pointed across the river.
""There have been some big fish over there," he said. "I want you to catch one."
We would fish with Larry Walks, a native of Wimbledon, N.D., who nearly 30 years ago retired from the Army in Germany and now lives in Luppersritt.
We crossed the road bridge near the shop and began fishing a side canal of the river 50 yards upstream, just above a wooden pedestrian bridge. Immediately we could see a large rainbow trout finning in the current beneath the narrow span.
I deferred to Walks, who drifted an Adams over the fish a half-dozen times before switching to a Blue-Winged Olive emerger. The fish took the emerger immediately and Walks had a five-minute battle before Heger finally netted it.
I moved upriver with Toni Hutterer, another friend of Heger's. It was a contradictory scene: On both sides of the bridge were warehouses, parking lots and the loading docks of a bottled water plant. High overhead a huge conveyer belt spanned the water between the buildings. But in the pristine water below, dozens of big rainbows cruised a deep pool below a concrete bridge.
"Look at them!" Hutterer said. "It's like a fish farm."
I quickly hooked and landed a 19-incher on a No. 14 Beadhead March Brown. But for 20 minutes the other fish ignored all offerings, occasionally flashing at the flies but not taking.
Finally a big rainbow grabbed a No. 10 Beadhead Stonefly, greyhounding away on the first of three long runs. When I finally eased it into the net it looked even bigger than it had in the water.
The river was so cold, it hurt my hand when I held the fish facing into the current to revive it. Unlike the spring-fed Wiesent, which has a consistent year-round temperature of about 55 degrees, the Traun is watered by glaciers.
Walks moved upstream and began fishing 50 yards below us. In a few minutes he also landed a big rainbow and two other respectable fish. With the numbers of fish, it was a hard spot to leave, but action slowed and finally came to a standstill.
We drove about seven miles to Traunstein and the exponentially bigger, wilder Deutsche Traun. The river was bordered by meadows and forests and we had it to ourselves. We split up and spread out to enjoy the semi- solitude.
When we met up two hours later, Walks had caught two huge rainbows and Heger and I had landed respectable browns and rainbows.
After replenishing our strength with goulash and Apfelschorle, a mixture of apple juice and sparkling water, at the Edelweiss guesthouse in Siegsdorf, we finished the day on the smallest of Heger's leased waters, the Rote Traun.
Heger caught three browns but Walks and I, both exhausted, got skunked. It didn't diminish the day's fine points one bit, and as I drove back to Munich in the rain, I could think of two boys, who, had they been there, would have enjoyed the whole experience.
Norm Zeigler is a former Stars and Stripes reporter now living in Florida.
Know and Go ...Anglers who want to fish the Wiesent River at Streitberg can get permits at Haus Marind'l / Pension Gebhard just off route 470, the highway that follows the Wiesent Valley. Guests who stay at the guesthouse are given preference.
Permits cost 5 euros per day for overnight guests and 10 euros per day for others. Interested parties should contact the owner, Fritz Gebhard, Haus Mariand'l/ Pension Gebhard, Weingarten 3, 91346 Markt Wiesenttal-Streitberg; telephone (+49) (0) 9196/1292.
Accommodations cost 18 euros per person for one night, 16 euros per night for up to three nights and 14 euros per night for four or more.
To fish the Siegsdorf area, contact: Rudi Heger GmbH, Traun River Products, Hauptstrasse 4, 93313 Siegsdorf; telephone (+49) (0) 8662 7079; or e-mail rudi-heger@t-online.de. Permit price for the Deutsche Traun, Weisse Traun and Rote Traun is 35 euros daily. In May and on Saturdays and Sundays there is a surcharge of 10 euros.
— Norm Zeigler