Basel: A few pointers for fun ...
by
Terry Boyd
February 5, 2004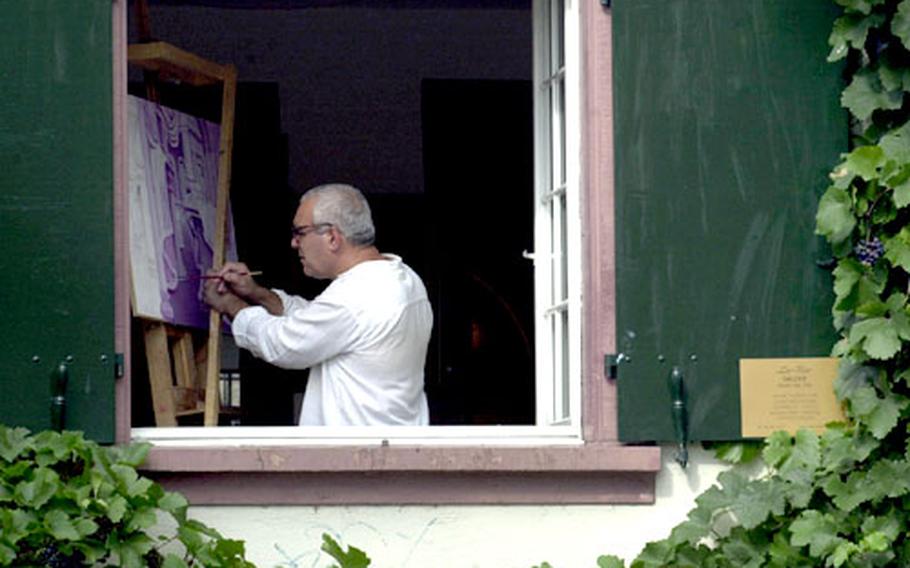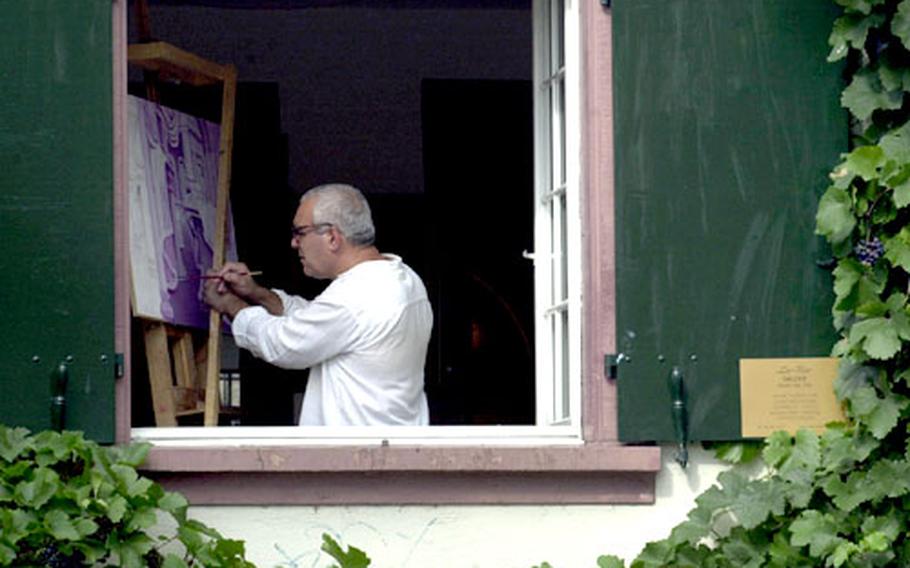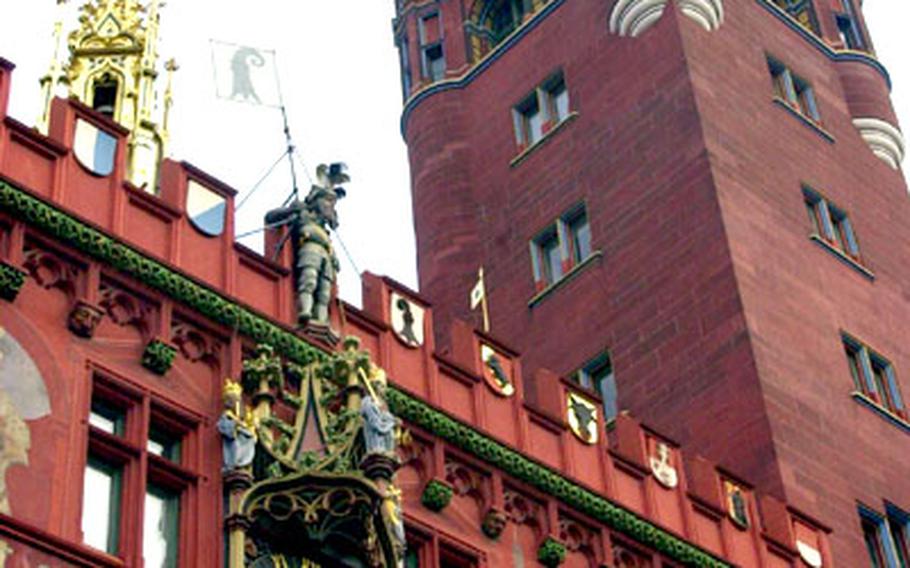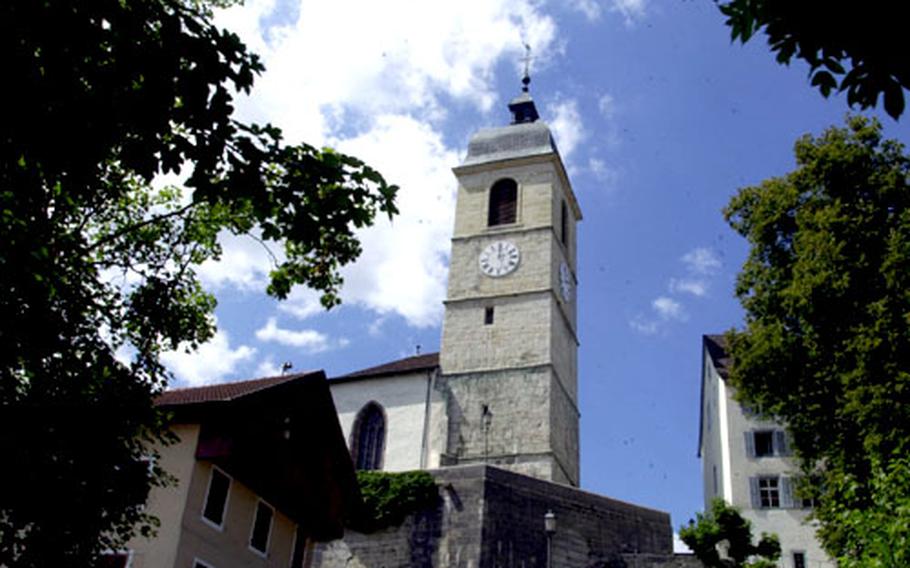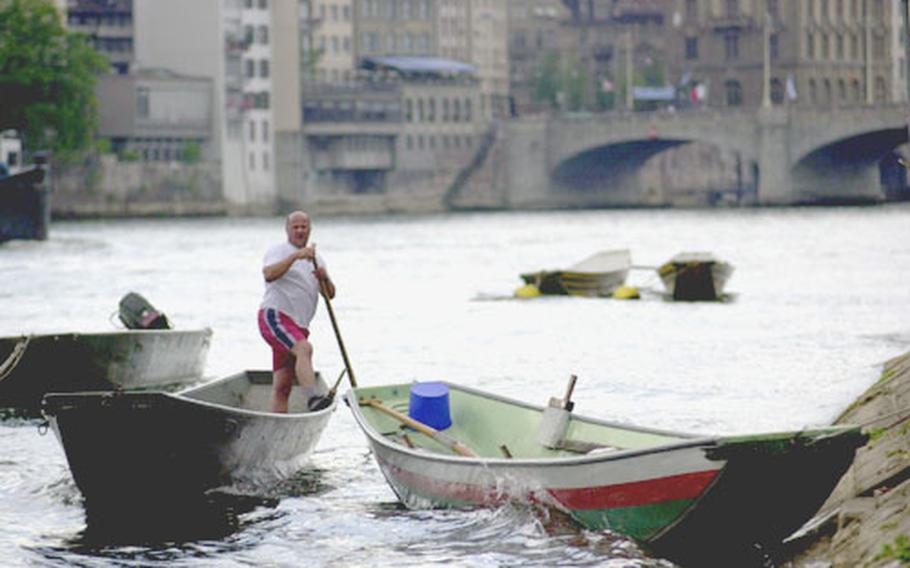 Here are some tips for getting the most out of a trip to Basel, Switzerland.
Getting around
Most signs in the city are in German, though Switzerland has four national languages — Swiss German, French, Italian and Romansch. You can get along quite nicely in Basel knowing any one of a dozen languages including English, Turkish, Italian, Albanian or Chinese. It's that kind of town.
We usually park for free in the neighborhoods around the zoo, then pay a couple of Swiss francs to take the Strassenbahn, the streetcar, about a mile into the Old City. Parking on side streets around the zoo is free but you must make certain you're parking in an area marked with a white border. If you see a blue line on the street, that's a residence-permit-only space. You'll be towed, and it'll take about a million dollars to get your car back. This is, after all, Switzerland.
If you are going to take the autobahn from Basel into the interior of Switzerland, don't forget to buy your autobahn sticker at the border (it costs 40 Swiss francs — about $32.50 — for the year). Without it, you'll be consigned to the back roads, which, in my opinion, is the way to go anyway.
The zoo
Ever been to the Cincinnati Zoo or the Bronx Zoo and pitied the caged beasts? Basel zoo is nothing like that. As far as I can divine, it's because liability attorneys do not rule Switzerland. How close can you get to 30-pound, 4-foot-tall pelicans? As close as you dare. Even if you can't reach out and pet the cheetahs, you can get closer than you probably feel comfortable doing.
There are reputedly 6,000 animals from around the world. Best displays are the Vivarium, where you can see every kind of exotic fish, and the Gamgoas, which opened just last summer with its interactive displays and collection of wildlife from the African savannah.
Ideal times to visit are fall and winter Saturdays. First, you won't pay admission for your children. Second, there are no crowds. Third, the animals — even the equatorial animals — seemed to enjoy the cooler temperatures. The flamingos are especially frisky.
Zoo entry fee is 14 Swiss francs per adult or about $10.
Strassenbahn 8 will take you from the zoo's rear entrance to just above the edge of the Old City. Strassenbahn 17 will take you from the main zoo entrance across the main Rhine bridge to Small Basel. People in Basel are friendly, and will help you with the city train routes. All you have to do is ask.
Special events
Looking to pick up a Picasso for your den? Every June, the weeklong Art Basel show makes this the center of the international art scene, attracting the most well-heeled collectors, museum curators and gallery owners from New York, Tokyo, London, Paris, Sydney, Berlin and every other world capital.
In 2004, Art Basel is June 16 to 21. There's a sister winter show in Miami scheduled for Dec. 2 to 5. For more information, see: www.art.ch.
Basel has the distinction of having one of the few Carnival events held after Lent has begun. Apparently, in this Protestant stronghold, a bishop or prince outlawed Fasnacht celebrations. But people enjoyed Carnival enough to ignore the decree and simply move it to a different date.
This year, 200 carnival associations will try to out-do each other from March 1 to 3 in Basel. The traditional Morgestraich starts things off at 4 a.m. on March 1. For more information, see www.basel.ch.
Stay on the cheap
If you can afford 50 euros per night, you have lots of options including staying at pensions in the Juras, staying just north of Basel in a Gasthaus in Germany's Black Forest or staying in France.
What we do is stay in France and drive 30 minutes. Outside of Mulhouse, we rent our own little cottage in the Vosges Mountains.
Here are some other possibilities:
¶ Les Montanjus: French bed and breakfast, about 45 minutes from downtown Basel. This is the home of Astride and Daniel Elbert, a warm and engaging French couple of Alsatian/German descent. Daniel is an engineer working in nearby Mulhouse while Astride runs the bed and breakfast. You stay on a hillside above the tiny village of Etueffont, with great hiking up into the woods and meadows above the village.
The Elberts are artists, and they've transformed their 200-year-old farmhouse into an inexpensive retreat where I've taken family and friends at least a dozen times.
Les Montanjus offers a small cottage with a bedroom and living room. The cottage has a fireplace and is roomy enough for two adults and as many as three children. Couples can stay either in a private suite on the side of the Elbert's main house, or in a large room inside. Both are cozy.
The Elberts usually charge 25 euros per adult, and rooms include a great French breakfast, typically baguettes with homemade jams, local cheeses, a brioche, fruit, coffee and orange juice. You won't find a more accommodating couple, and just sitting and chatting at breakfast is the highlight of the day.
E-mail: daniel.elbert@wanadoo.fr. Telephone: (+33) (0) 3-84-54-68-63
¶ Hotel Weissenstein: An hour from downtown Basel. We haven't stayed here, but we did check it out last summer. The hotel is fairly large, with 75 rooms and a restaurant with an awe-inspiring view of the surrounding mountains and valleys. Winter rates were about $80 per night for a double, and rooms looked basic and fairly small. But it is in a fantastic location at about 4,000 feet up in the Jura Mountains in the Franche region, about an hour drive south of Basel. Great hiking, great cross-country skiing and sledding for the kids.
Though I couldn't find a telephone number (even on their promotional materials), it's easy to find. It's the only hotel in Weissenstein.
¶ Hotel Brasserie au Violon: If you want to stay in Basel here's a tip from , American David Hughes and Rose Marie Subasic passed on a tip about a new hotel in a former prison high over the Old City.
"We learned something new recently from our Swiss neighbor, about the converted prison," wrote Hughes in an e-mail. "Not only is it now a set of upscale apartments, there is also a hotel there. It's called the Hotel Brasserie au Violon, and it looks quite affordable, remarkably enough. Our neighbor needed a place for a visiting celebrity she had invited to Basel to give a talk, and a friend of hers had recommended it as something unusual. We were told that the food is quite good, and the accommodations very nice."
The structure, called the Lonhof, dates back to a church from the second century, in Roman times. The church was fortified, then a series of monasteries and churches were built on the site.
Rates start at 90 Swiss francs, or about $73 per night for a single room, and go up to 180 Swiss francs for doubles. Expensive for families, but a bargain in Switzerland. Especially with the best view in town, perched on Old Town's highest hill.
The hotel, at Im Lohnhof 4, is run by Erica and Emmanuel Trescher; telephone (+41) (0)61-269 -8711; e-mail auviolon@iprolink.ch. Its Web site, www.au-violon.com/index.html, includes a map.
Food
Feeling patriotic? Head to Uncle Sam's Pizza and you'll munch amid all sorts of cool Americana from the '50s and '60s: gold records from Chuck Berry and Buddy Holly, James Dean movie posters hung next to framed Life magazine covers of the era, and street signs reading "Hollywood Blvd" and "Sunset Strip."
Strangely, the chain's owner is Turkish, and the Turkish/Middle Eastern food is pretty good, though tempered for Swiss palates. Prices are fairly affordable. Pizzas average 14.50 Swiss francs; pasta dishes are about the same, and they're more than large enough for one hungry adult. Wraps and Turkish specialties average about $3.
The main restaurant is at Greifengasse 21, just across the main bridge on the Small Basel side of the city.
Wanna splurge? Try Restaurant Rollerhof at Musterplatz 20, right in the middle of the city's most stately square and adjacent to the Museum of Culture. The main restaurant in an ornate, 350-year-old building is not child friendly and is really expensive. But in summer, the light fare at Rollerhof's outdoor bistro is fun and affordable.
---
---
---
---