Baden-Baden: known for spas, shops in Germany
---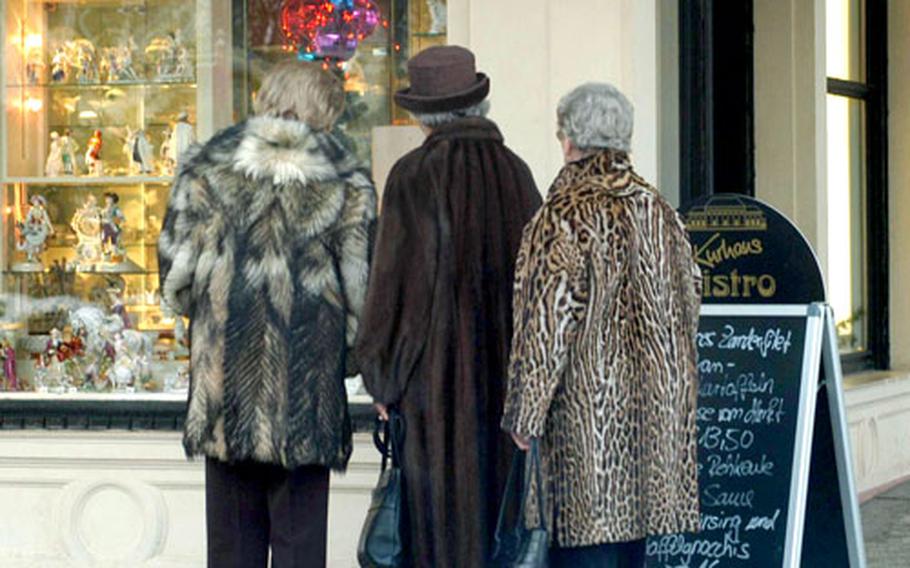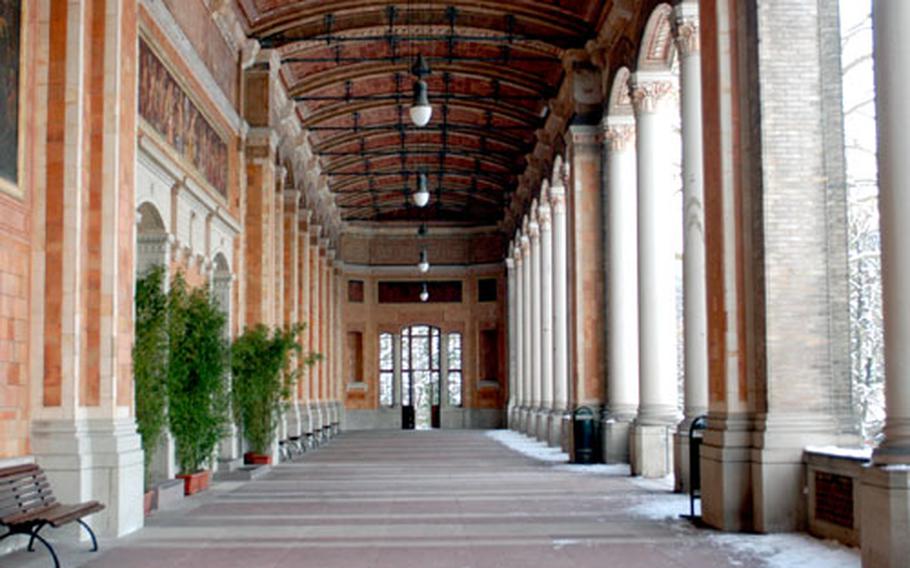 First, let me apologize.
I was supposed to do a "quick trip" to Baden-Baden. But there are so many things to do in this old German spa town — and because it's tough to get me out of the house before noon — one day did not seem feasible. So I stayed overnight.
I arrived on a Friday afternoon just before the new year and checked into the Der Kleine Prinz hotel, where murals featuring the characters of the beloved children's book abound.
I headed out to take photos before it got dark and found my heart lifted by the brightly lit shops on cobblestone streets, the parks, the river, the Black Forested hills ringing the town, and the Trinkhalle, a columned building with romantic frescoes of maidens on the outside. Inside the Trinkhalle, in addition to a ticket booth for opera and theater performances, is a splendid bar.
One of the town's attractions is its hundreds of shops, many of them upscale, including jewelry stores displaying baubles you'd expect to see on Elizabeth Taylor's hand circa 1977. And the jewelry is not the only thing that summons the image of Liz and Dick: The town's populace of mature, wealthy citizens and their little dogs gives it a glamorous, nostalgic ambience.
By the time I got to the 150-year-old casino, modeled on the palace of Versailles and called "the most beautiful" by Marlene Dietrich, I was already feeling lucky. That soon changed: I did win 20 euros on roulette but soon lost it on blackjack.
I had scheduled the next morning for the baths, and I had decided on the Friedrichsbad bathhouse, where, carved into the building's façade, are quotations from Goethe. A kindly octogenarian I was soon to see naked, translated: "Hail the water, hail the fire," he said. "No 'Heil Hitler,' thank God."
All sorts of people have dipped into the mineral waters here, including Mark Twain, who called it the best part of his visit. "It is an inane town, filled with sham and petty fraud and snobbery, but the baths are good," he wrote.
He neglected to describe his bathing attire. Unlike the modern Caracalla Spa next door, where bathing suits are worn, in the Friedrichsbad, the dress code is nude. Some days it's sex-segregated and bathers can go through its 16 stations only with members of the same sex. But on mixed days, "men and women use stages 7 to 11 simultaneously," according to the spa's brochure.
At the start, after I was briskly instructed to leave my clothes in the locker, I longed for a towel. And that was before I'd learned it was a mixed day. After a couple of hours, though, I was almost used to it.
I was also convinced that anyone older than 5 looks best clothed. My fellow bathers were women of varying ages and men, many long past 70. Nearly all were pale, German and sedate.
After perhaps 45 minutes in and out of the pools, the sauna and steam room, I noticed that the effects of the previous night's champagne had happily gone away. Melanie and Nina — two young German women who had gallantly offered to accompany me after I had opened the door to the first pool and screamed aloud that there was a naked man in it — and I stayed about two hours before we called it a day and returned to the women-only area. We dipped into the icy plunge and took a final shower.
And then came the best part. We were taken into a darkened room filled with beds. We hopped up onto our beds, then were swaddled tightly in blankets and left to rest peacefully, like infants, on our backs. It was heaven.
On the QTDIRECTIONS: Baden-Baden is easily accessible from Autobahn 5 from the Heidelberg area by driving south toward Basel and Stuttgart. From Heidelberg, the drive is about 90 minutes. Leave A-5 at the Baden-Baden exit and follow B500 and the signs to the city, about five miles to the east.
TIMES: The Friedrichsbad is open 9 a.m. to 10 p.m. Monday through Saturday and noon to 8 p.m. Sundays and holidays. Men and women bathe separately on Mondays and Thursdays. The Caracalla Spa is open 8 a.m. to 10 p.m. daily. Both baths are closed on Good Friday and Dec. 24 and 25. The casino opens daily at 2 p.m., except for a half-dozen holidays during the year.
COSTS: The Friedrichsbad costs 21 euros for three hours or 29 euros for 3½ hours, including a soap and brush massage that some find harsh, and others, rousing. The Caracalla costs 12 euros for two hours, 14 euros for three hours and 16 euros for four.
FOOD: Cafes, restaurants, even grocery stores abound in town.
INFORMATION: Baden-Baden's city Web site
— Nancy Montgomery
---
---
---
---