Baden-Baden, Germany, draws the rich and the royal seeking a kur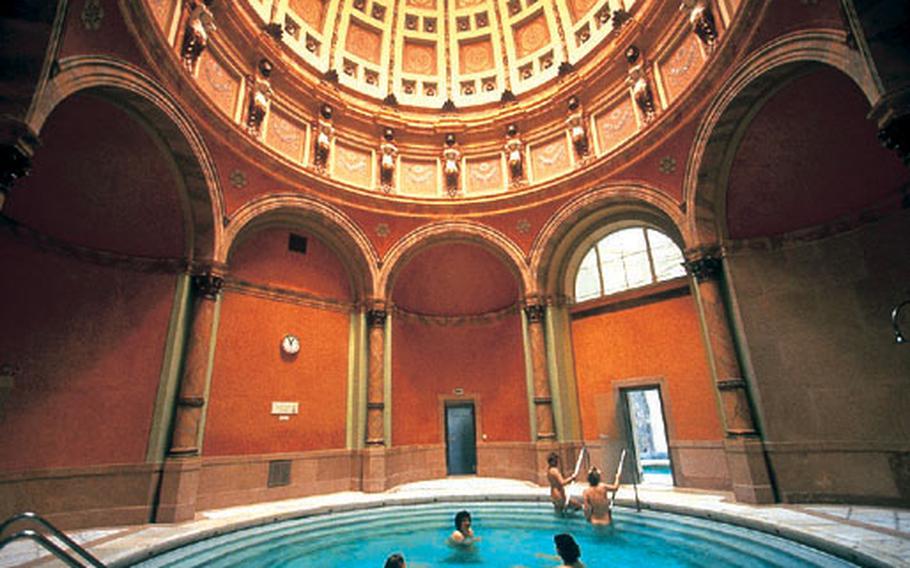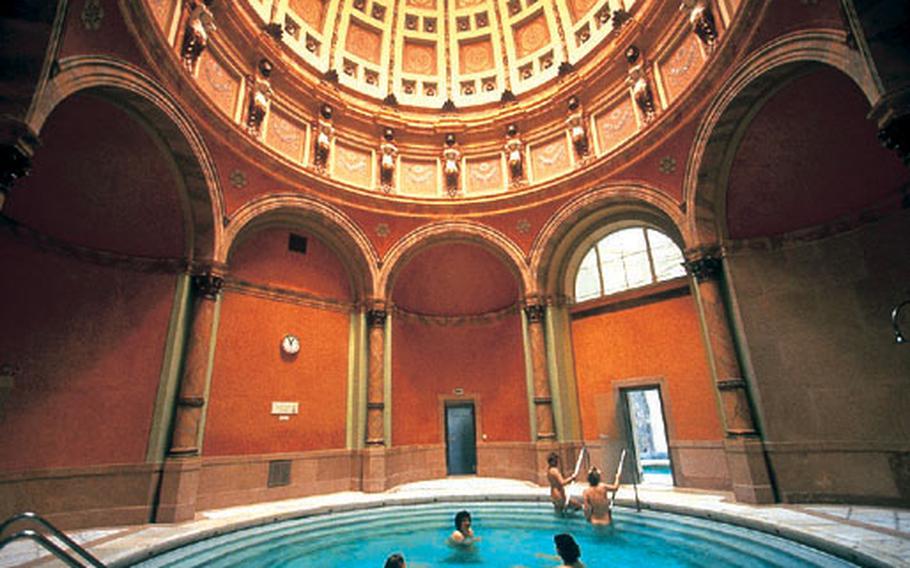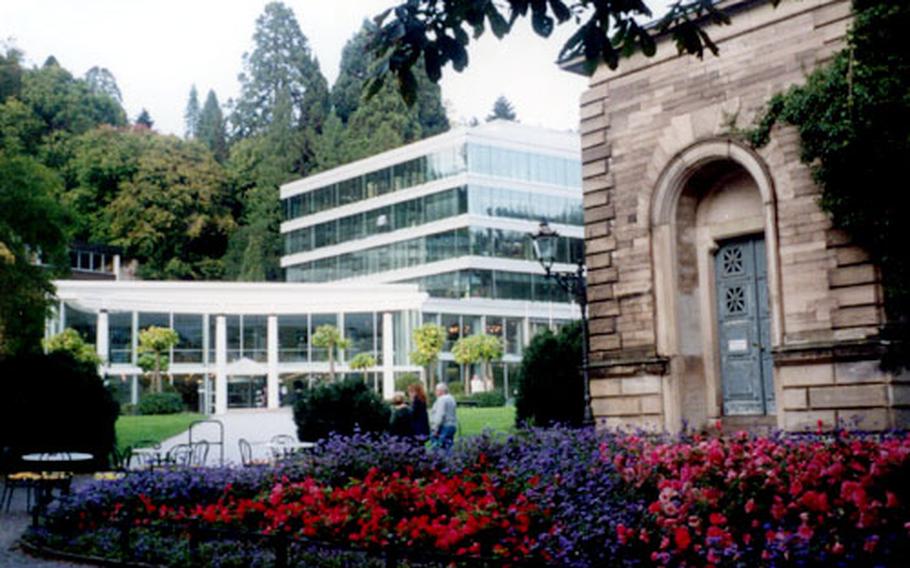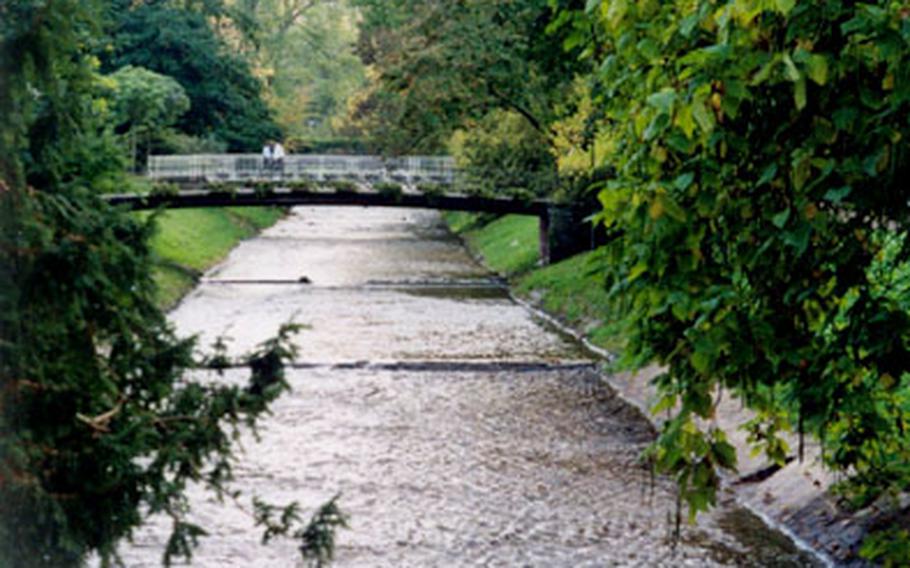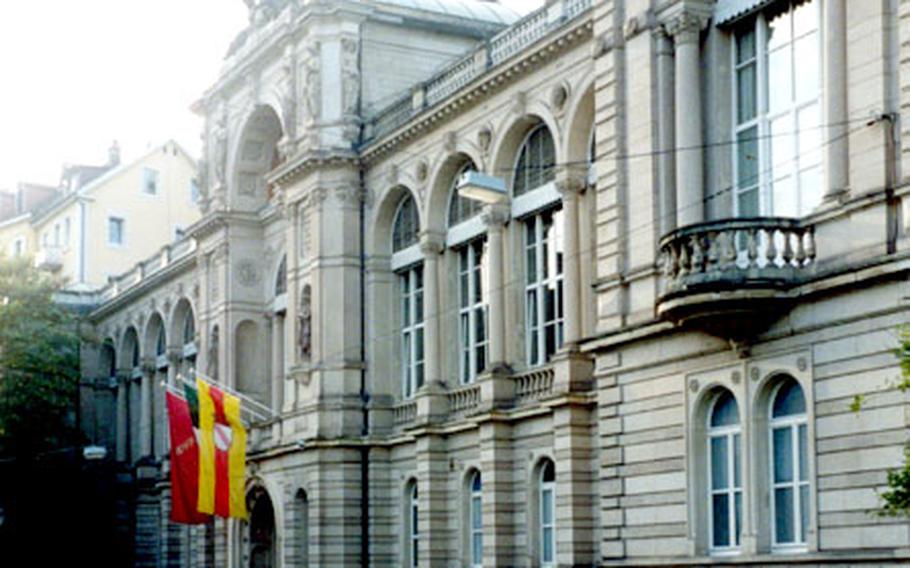 Visitors stroll along the waters of the River Oos, which gurgle ever so gently over pebbles and stones. Warm, mineral-rich waters at the Friedrichsbad soothe naked bodies. At the Caracalla Spa, bathers are swept along by swift waters in its man-made, outdoor stream.
Baden-Baden is indeed the place to take the waters. This Black Forest town of 50,000, the most elegant and famous of Germany's spas, has 23 springs spewing 800,000 liters of healing waters each day.
These days anyone can soak and sweat, rest and relax in the town's bathing complexes, but Baden-Baden continues to attract high rollers as it did when it was the stomping ground primarily for Europe's royal and wealthy, the likes of Queen Victoria, Napoleon III and Brahms.
Even Mark Twain was a Baden-Baden fan. "I fully believe I left my rheumatism in Baden- Baden," he wrote in "A Tramp Abroad." "Baden-Baden is welcome to it."
Recently I joined a group of friends for a day of bathing in the city's legendary waters.
Before taking the plunge, we learned that the springs that feed the spas were discovered in Roman times and are more than one mile under Baden-Baden's Florentine Hill where the ground never freezes.
The water, at a constant temperature of 156 degrees Fahrenheit, contains elements that are absorbed by the body and skin, and are said to stimulate blood flow, increase the efficiency of internal organs, ease congestion, muscular tightness and stiff joints. If that's not enough, bathing in the waters is also said to benefit the immune system and the healing powers of the body.
We started at the Caracalla Spa, named after that third century Roman emperor who came to soothe his imperial arthritis in the steaming waters. This glass and marble pleasure palace, which opened in 1985, offers several pools, both indoors and out, waterfalls, water jets, whirlpools, Jacuzzis, a steam room and saunas.
All the bathing is co-ed and bathers wear swimsuits. There are lounge chairs, a bistro with international delicacies, an instructor offering underwater exercise, and the popular "surge channel" where you are pushed along by a powerful current. The different pools have spouts where water surges out with the power of a fireman's hose, resulting in a massage so strong you feel you may end up black and blue.
At Caracalla, you pay 12 euros for two hours, are given a locker key, change into your suit, then set off to lounge in pool after pool, enjoy the different jet massages, rest in the marble and tile eucalyptus steam room, and sweat in the saunas which are co-ed and clothing free. In other words, you do your own thing.
Not so at the neighboring Friedrichsbad, where you follow a numbered ritual for a "Roman-Irish" bath.
Here, after you pay and get your locker, you shed your clothing and parade in your birthday suit to station number one where an attendant gives you a towel and slippers, then cautions you to follow the instructions (in both English and German) at each stop. The are different sections for men and women, with one co-ed "royal" pool.
The surroundings in this 120-year-old bath house that served the Victorian beau monde can't have changed much — marble, painted tiles, columns, frescoes of birds and butterflies and mythological scenes. Signs — in English — remind you: "Silence Please." The hushed atmosphere seems more appropriate for a church than a temple for indulging the body.
There is a recommended time for each step in this, the ultimate cleansing process. Five minutes for a shower at number one, 15 minutes for a warm-air bath at number two, five minutes of the hot-air bath at number three, and so on.
Number five, a soap and brush scrub down, is a special treat. You lie on a mat on a granite slab, are lathered up by a friendly attendant and then "brushed" all over.
"It's good for the circulation, like peeling," my scrubber, Josephine, told me. Even though I was certain she had scrubbed away several layers of skin, the process was pleasant, not painful. Josephine says she scrubs as many as 35 to 40 bodies a day on weekends. We visited on a weekday, so there were no crowds of nude bodies in the different thermal pools. By the time we got to number 11, the co-ed "thermal exercise pool" we had become less shy about nudity and even summoned up the courage to enter the pool with naked men. "At this point, what's the difference?" remarked a friend.
This is the most grandiose of the pools, under a golden dome and coffered ceiling — definitely a must-see. However, after our burst of bravery, we were a bit disappointed. We were the only bathers in the pool.
The various soaks and baths are interspersed with showers. We got to number 12 and were feeling very pruney, not to mention scouring-pad clean, so we decided to cut down the recommended time at the remaining baths.
Several times attendants told us that we still had plenty of time left and should do another round. The fee, 29 euros for the 16-step ritual, allows for 3½ hours. We raced through in half the time.
At the end you receive warm towels for drying, and then you're led to a room with lotions where you are free to cream your clean body to heart's content. The lotion is thick, rich and luxurious.
Then, the best part: a nap in a large, pale yellow room with slumbering bathers. An attendant wraps you mummy style in blankets and you dose off, awakening to feel very mellow, delightfully wiped out and gorgeously clean.
Leah Larkin, a member of the Society of American Travel Writers, is a journalist living near Stuttgart, Germany.
---
---
---
---