Bad Dürkheim: 'A festival with a heart'
---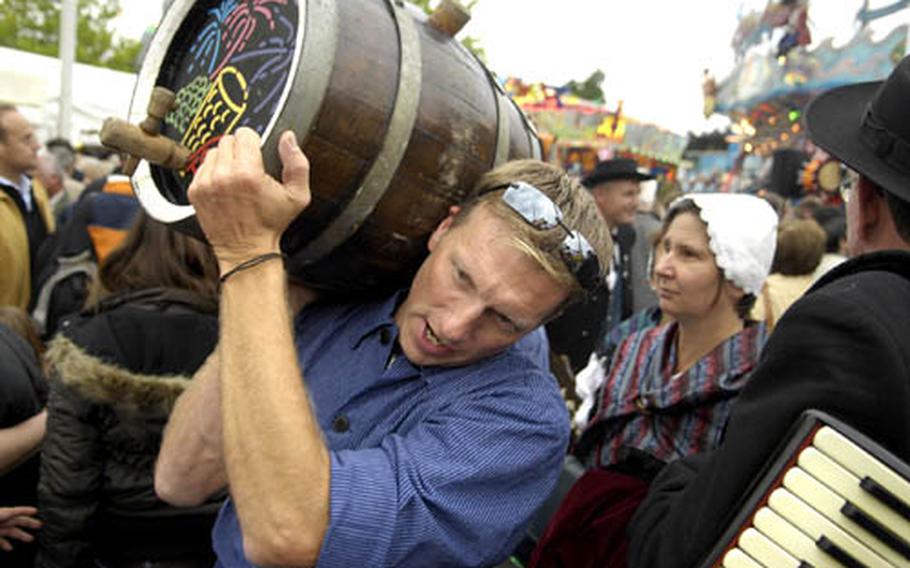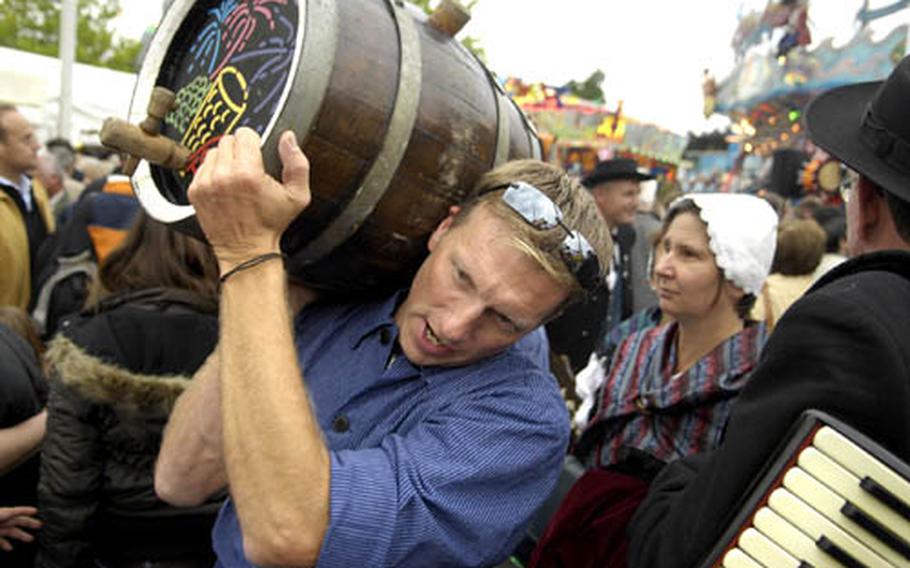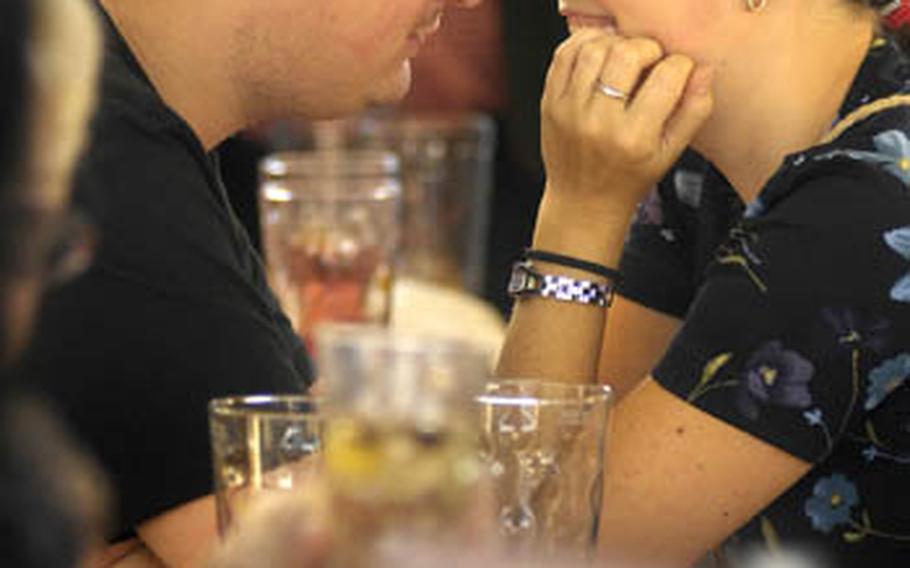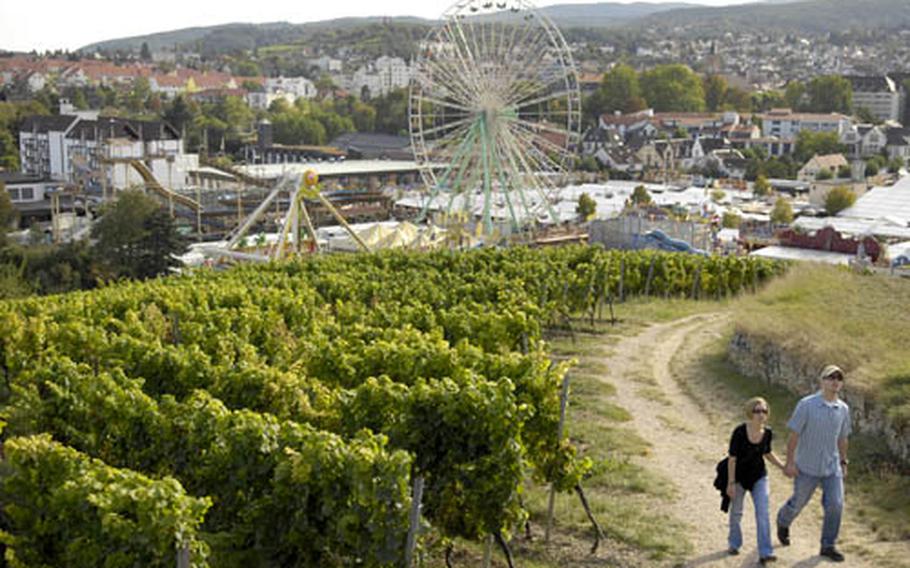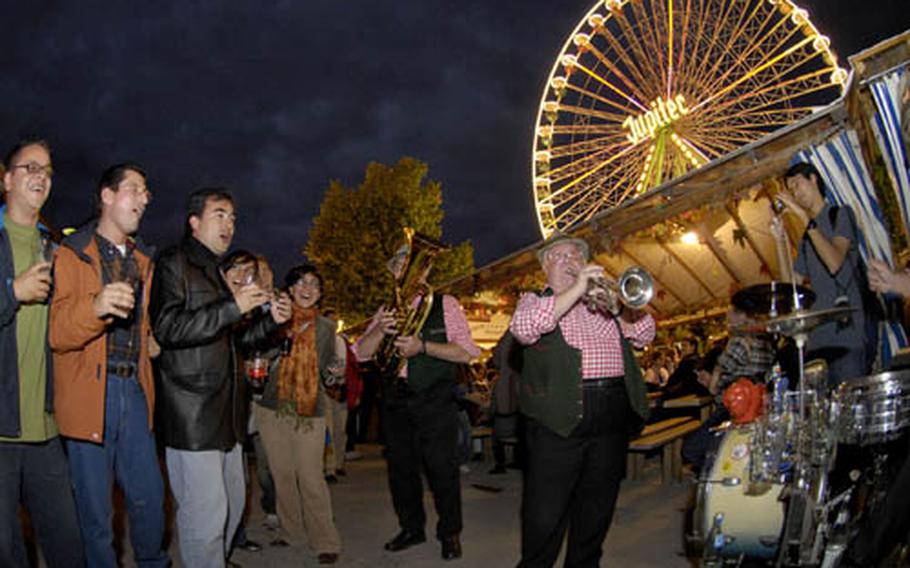 Kurt Schroeder has a simple plan to end global conflict: Round up the world leaders, take them to Europe's largest wine festival, and let Bad Dürkheim's infectious affability and hospitality turn enemies into friends.
"If they could all come, we wouldn't have any international problems," Schroeder said. "You can't help but make friends here."
OK. The ability of the town's wine festival to spread peace across the globe might be slightly overstated, but that does not mean one should underestimate the power of German wine and the festival's friendly atmosphere.
The Bad Dürkheim Wurstmarkt, which will be held Friday through Tuesday this week and next, is one of the oldest wine festivals in Germany and attracts about 1 million people annually. While the festival is held at about the same time as Oktoberfest, the similarities stop there.
Oktoberfest is known for its beer-drinking frat party-type rowdiness. The Wurstmarkt is a more refined wine-drinking affair. Make no mistake. There is plenty of drinking and good times in Bad Dürkheim, but this party has a more serene and sophisticated setting, where lively conversation is prized over the wild, bra-snapping craziness you might find in Bavaria.
Although the Wurstmarkt packs in the crowds on the busiest days, revelers don't have to throw elbows with a bunch of Aussies for a good table. There are enough tents and places to eat and drink. And if there is a wait, it won't be long.
It is the favorite time of the year for Schroeder, a Los Angeles resident who has traveled to Bad Dürkheim every year for two decades to partake in the festivities. He is so well known that he has earned the title of honorary citizen of the village of 19,000 people for his frequent trips to the fest, which is about 18 miles east of Kaiserslautern.
At last year's party, he could hardly walk a few yards among the tents and festival vendors without spotting somebody he knew or somebody spotting him. But he also isn't shy about meeting new people. He is eager to take a few new revelers under his wing to explain why the Dürkheimer Wurstmarkt beckons him and others year after year.
"The real important thing is that this is a fest about people," he said. "That's what makes it different. As a local, you see everybody you know. But you don't have to be a local to enjoy this fest. Everyone is welcome."
The party is traditionally German, but foreigners arrive to open arms. Every year, the city invites its sister cities as special guests. They come from as close as Wales to as far as Japan to try the local food and sip the area's finest white wine.
During a visit last year, we met Schroeder by happenstance and he served as one of our impromptu tour guides.
The Wurstmarkt is known as a wine festival but it started out as a sausage fair, hence the name. Its history dates to the 12th century, when pilgrims came to a chapel on a nearby hill. As the pilgrimage grew, more and more people brought sausage and wine in wheel barrows up the hill to feed the masses. Over the years, St. Michaelsberg became a bustling market. Suddenly, the religious pilgrimage became one big wine and sausage party and moved to its present location at the bottom of the hill in 1577.
Today, the market offers entertainment throughout the day and more than 300 wines, from smooth Rieslings to sweet ice wine.
The vineyard names have changed over the years, but the "heart of the fest" remains the Schubkärchler, an area of traditional wine booths where people drink at wooden benches. The tables are so narrow that is almost impossible not to strike up a conversation with the person next to you or across from you. You would think that a combination of alcohol and an occasional bump of the knees under the table would cause more conflict than congeniality. But, surprisingly, it seems to be like a party ice breaker among strangers.
Before you know it, you're doing things ordinary Americans wouldn't think of at a party. That includes sharing "community cups" of wine with strangers. But that's not all. Toward the end of the evening, Shroeder offered a sandwich of raw pork I surely thought would make me deathly ill. Raw pork? You have got to be kidding, you might say. But after more than a few sips of wine, we took the risk.
"It goes against everything you've been taught," he says, before running to a special vendor that serves the fest delicacy.
He assured us that we would like it. The pork was minced and spread across the center of the sandwich like a pate. And, to be honest, it wasn't bad. Shockingly, I didn't get sick at all. But I certainly would not try this dish at home.
By this point, the evening had turned to early morning. But the night was hardly over.
"How would you like to meet the mayor?" Schroeder asked.
Minutes later, we were drinking wine in an area called the "Weindorf," a tranquil area away from the festival's boisterous fair-like ambiance. Between sips of white wine, Mayor Wolfgang Lutz lamented about the decline in the number of Americans attending the festival due to base personnel drawdowns and shared his thoughts about why people come to the Wurstmarkt each year.
"It is a festival with heart," he said. "A lot of people who grew up here come to see people they have known for years. But you also meet a lot of people you don't know … Oktoberfest is a very special thing. But this is something different."
Those who have experienced it will agree that the Wurstmarkt is definitely unique. Perhaps it is the wine. Maybe it's the sausage. But what I remember most is the people we met. What was supposed to be a relatively quick trip to the festival ended sometime short of 3 a.m. During the course of the evening and morning, we met politicians from a small town in Wales, an English teacher who grew up in former East Germany, a regular festival-goer from Los Angeles and the town's mayor — just to name a few. Would some of that festival magic rub off on world leaders if they came to visit? The prospect didn't seem so wild after a single night at Europe's biggest wine fest. Differences seem to melt away and strangers quickly become friends.
Local poet Karl Räder succinctly captured the flavor of the Wurstmarkt. "The Wurstmarkt," he wrote, "is the only festival where you meet old friends you've never seen before."
---
---
---
---